Sharing clever and creative ways to hang wall art!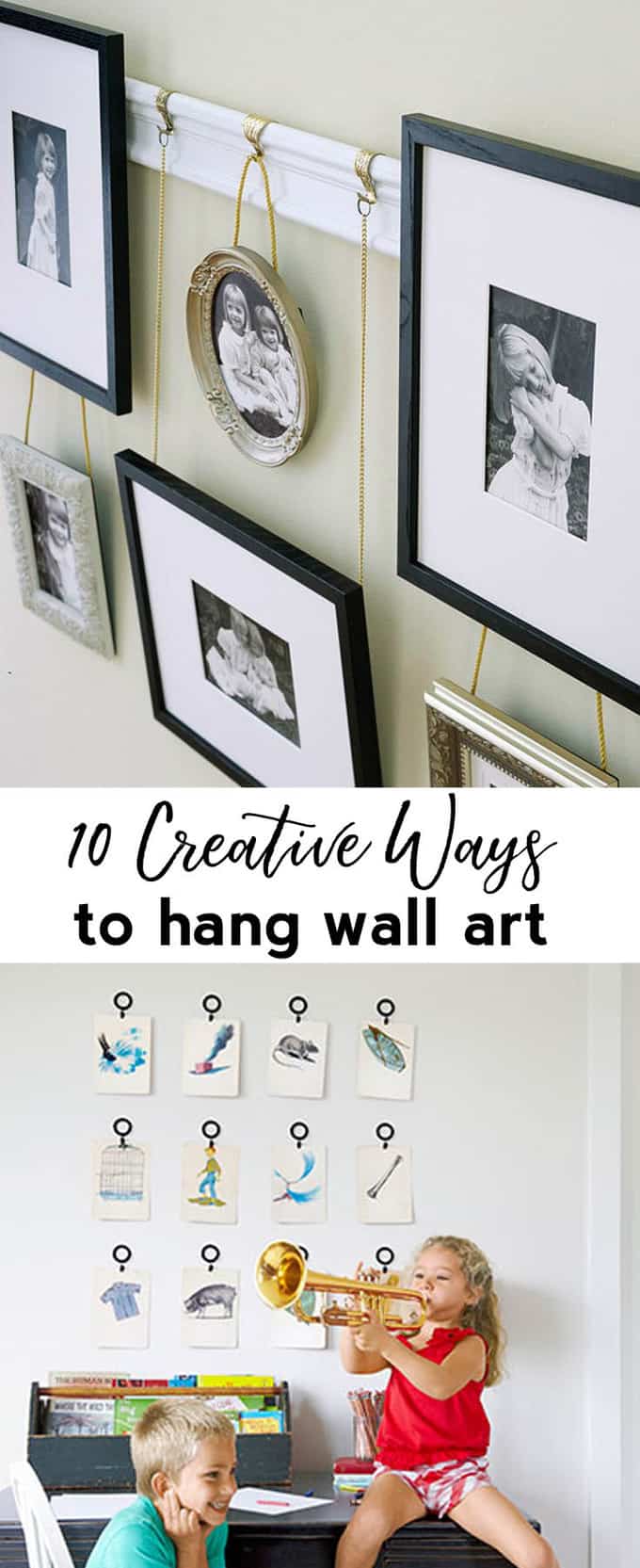 Move over hammer and nail-today, I'm sharing 10 creative ways to hang artwork in your home! Several of these I've tried, many more are on my want-to-try list. Let's get started…
image via bhg
Picture rail molding not only adds visual interest, but is a great way to hang pictures without adding numerous nail holes to your wall. We have some hanging in our family room, and love both the look and feel of it.
image via Carla Aston
Art hung on a window? Why not? I've seen this done more and more often in the design world and love the unexpectedness of it all. More examples of this design feature can be found in this blog post!
image via loft and cottage
Drapery clips to hang art? What a GREAT idea! I adore this…especially paired with these simple, vintage-inspired flashcards.
Cable hanging systems, like this one by AS Hanging Systems, are often used in museums and offices, but can easily be used in your home as well! They also have a great blog with posts such as this one on how to hang plates and other ceramic pieces.
Alisa Burke shows another creative way to hang art…with coat hangers! Love the old-fashioned look of these, as well as how easy it is to change art out! Like this idea, check out Alisa's post for a fun way to gussy up plain hangers.
image via elle decoration
A truly inspired idea, hanging art on ribbon is definitely fun and unexpected.
Inspired by Charm shares this darling idea-hang a picture using jute twine and a hardware pull!
image via country living
A wire photo rack is another great and inexpensive way to hang pictures or postcards. Especially perfect if you plan on switching them out frequently.
image via country living
Narrow shelves display this (pretty, pretty) collection of vintage mirrors perfectly.
Papermash takes the creativity one step further with her washi tape frames! Love how she used washi tape in a more elegant, and less cutesy way.
this post was sponsored, but opinions are all mine