If you're a mother of a preschooler, I am sure that you, like me, are constantly on the lookout for easy, inexpensive, media-free ways to occupy your little one's free hours. Cloud dough to the rescue. I first saw a recipe for Cloud Dough on Surviving Our Blessings, and have been looking for a chance to make it ever since.
This stuff comes together quickly and easily, and has a silky feel and pleasant scent. The basic recipe calls for 8 c. flour and 1 c. baby oil. I halved it and used 4 c. flour and 1/2 c. baby oil. Don't have baby oil? Any oil should do. If you think your kids may have a tendency to sample the cloud dough, you may want to use olive oil or something equally non-toxic.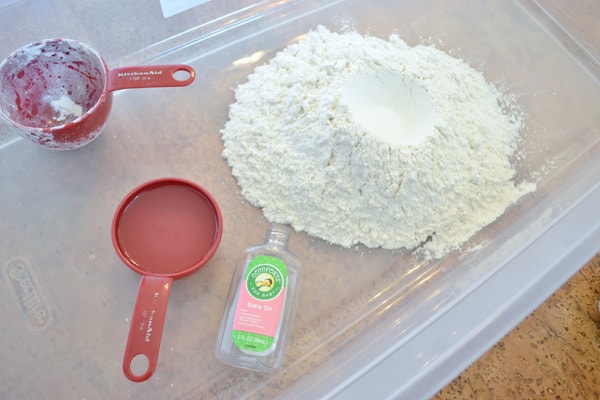 Simply measure out your flour, make a well in the center, and add your baby oil. Use your hands to mix and knead the dough. The more you handle it, the better the texture becomes.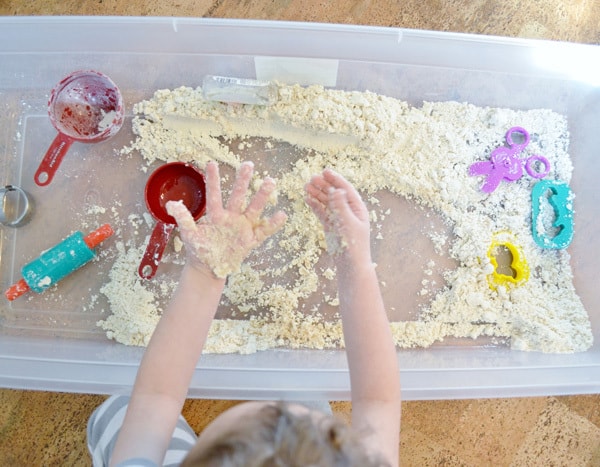 This stuff gave us hours of entertainment this week. The properties and texture are quite different than play-doh, so this was a nice change and definitely something we'll pull out again….especially when the weather gets a bit nicer and we can drag the tub outside-since it can get a little bit messy, and we pulled the Cloud Dough out twice on Friday alone, my kitchen floors have never been cleaner!
Have a great Monday!