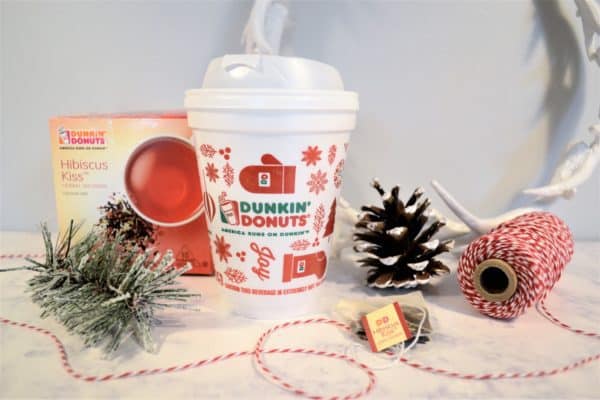 It's January-the month of new resolutions, football, home organization projects and…tea? Yep, January is National Hot Tea Month, and, while you all know how much I love my coffee, I recently got in the hot tea spirit by visiting Dunkin' Donuts to try out one of their new hot tea varieties…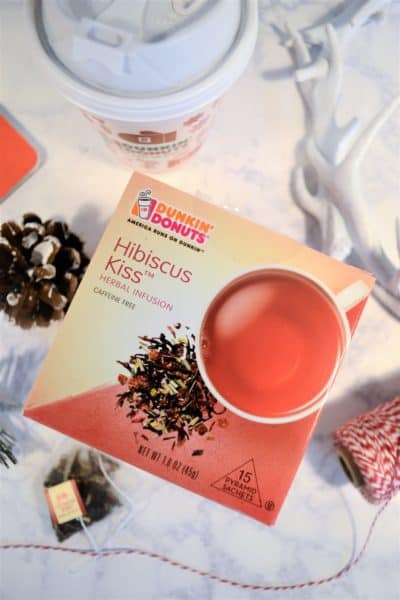 Available in both caffeinated and non-caffeinated options, Dunkin' Donuts has relaunched it's hot tea offerings with five bold and vibrant flavors. Packaged in pyramid tea sachets containing high-quality full leaf teas and herbal infusions, the new flavors include:
• Bold Breakfast Black™ Tea: A bold blend of full leaf black tea for a full bodied flavor.
• Harmony Leaf Green™ Tea: A vibrant full leaf green tea delivering a delicate earthy flavor.
• Chamomile Fields™ Herbal Infusion: A caffeine-free herbal infusion featuring chamomile flowers, citrus and herbs.
• Hibiscus Kiss™ Herbal Infusion: A caffeine-free herbal infusion featuring hibiscus, herbs and natural berry flavors (I bought a box of this flavor–I love Hibiscus!)
• Cool Mint Herbal Infusion: A caffeine-free herbal infusion combining peppermint leaves and natural herbs to offer a cool, invigorating taste (sipping a cup of this flavor as I write this!)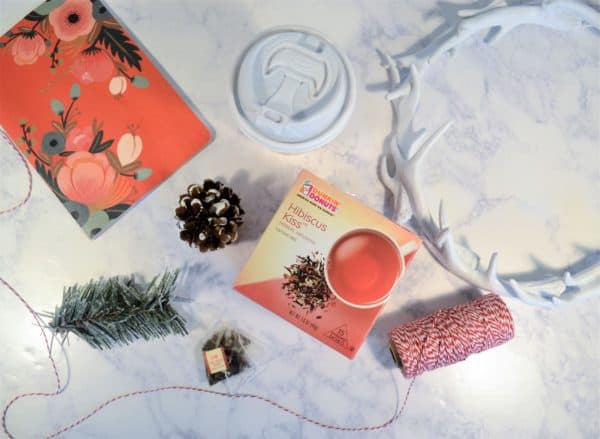 I love grabbing a cup of something hot while I run errands. Fortunately for me, our Dunkin' Donuts is fairly new, and offers a bright and colorful pit stop while running around town. When I'm really in a rush, I'll skip the trip inside and visit their convenience drive-thru.
Dunkin' Donuts offers its on-the-go guests a wide range of food and beverage options, including hot and iced coffee, espresso beverages, frozen beverages, iced tea and more, along with a selection of sandwiches and baked goods.With their full menu, including breakfast items, available all day, it's easy to pick up a bite to eat as well.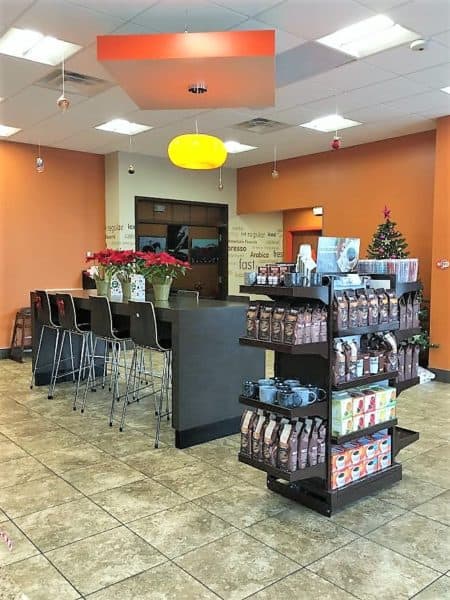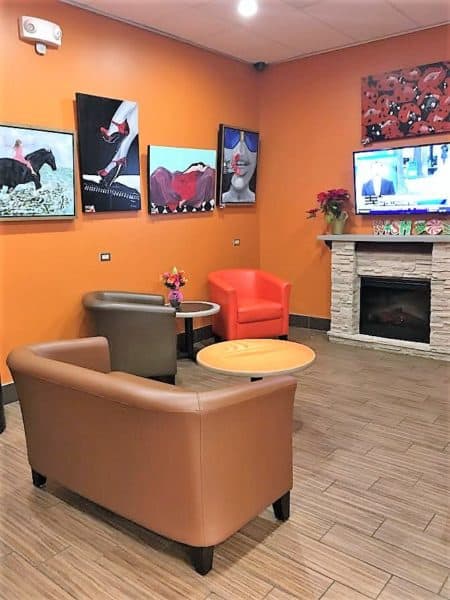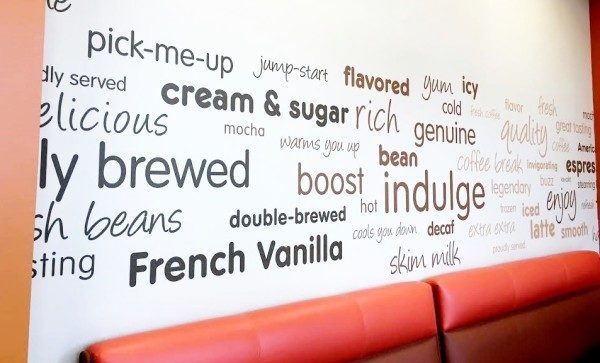 Are you a fellow tea-lover? Let me know what you think of Dunkin' Donuts' newest tea flavors, and, to add some tea-rrific art to your kitchen, print out this 8×10 free printable featuring the phrase "there'a always time for tea."
Just download to your computer, and send to your favorite photo printer to print (because of the dark chalkboard background, I recommend not printing at home). Add a frame, and that's it-easy art for you (or a tea-loving friend!)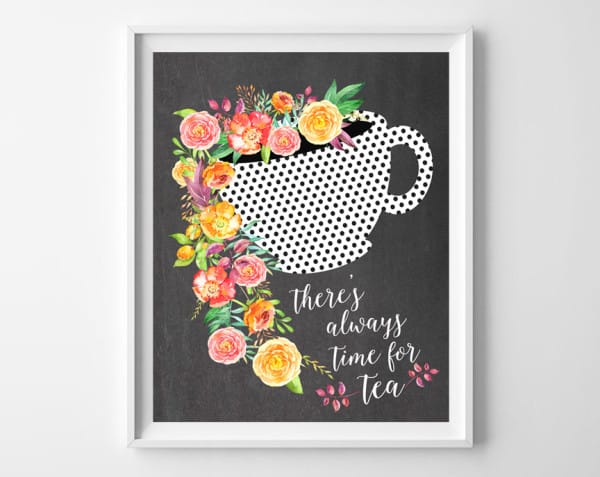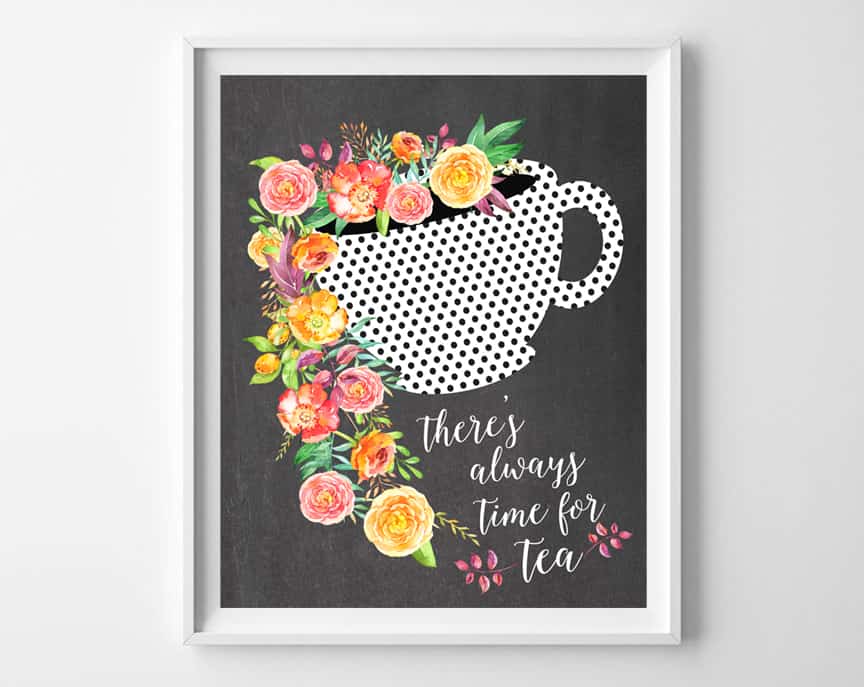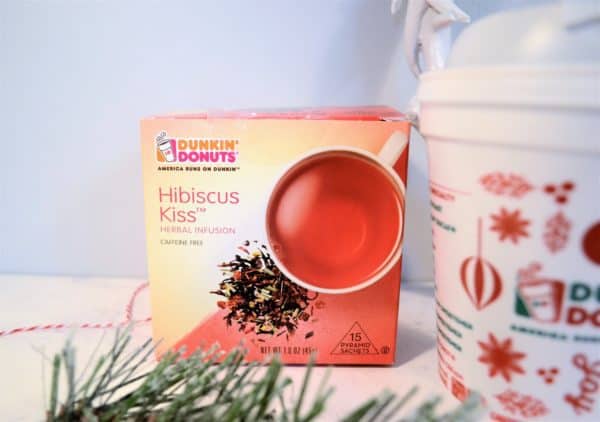 Which Dunkin' Donuts' new hot tea flavor are you most excited to try?
I received compensation for this post, but all opinions are, as always my own!