Salt! It's inexpensive, readily available, and so, so versatile! We always have salt around our home, and I love finding clever, new ways of using it. Today, I'm sharing 20 of my favorite lifehacks using salt-a true household multi-tasker!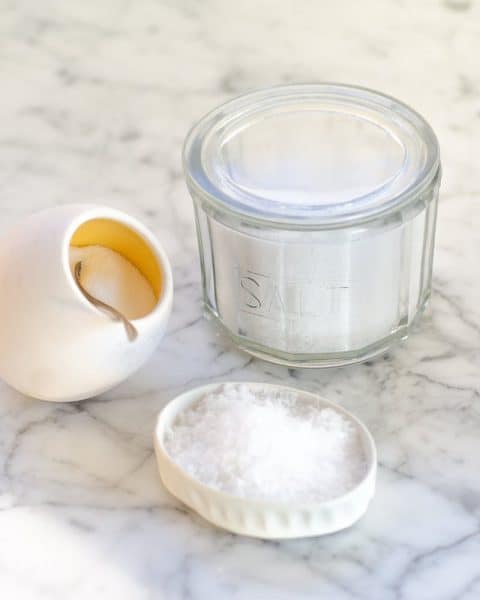 image via the kitchn
– De-stain your favorite mug. Combine salt and a bit of dish soap to create a paste to buff away dark stains and discolorations from coffee-stained mugs.
–Clean your bathroom fixtures. Cut a lemon in half and use one half to rub over your bathroom fixtures to remove hard water stains.
–Kill ants without chemicals. Fill a spray bottle with one part salt and 3 parts to water. Shake and spray for a chemical-free way to kill ants.
-Make your own Homemade Dishwasher Detergent!
–Clean artificial flowers. Place flowers in a paper bag with a quarter cup or so of salt. Shake gently to remove dust and dirt!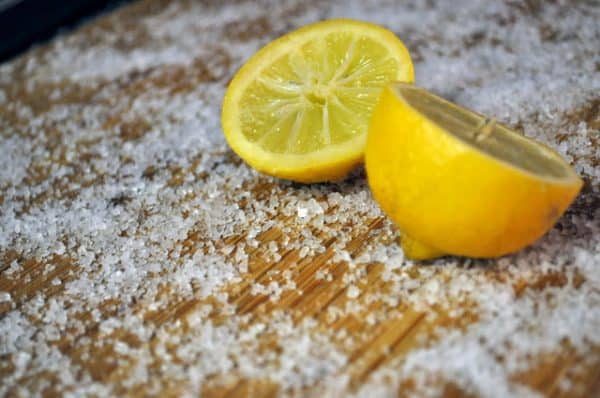 image via all kinds of yumm
–Clean your cutting board. Cut a lemon in half, and use it to rub down your cutting board. Cover board with salt and let it sit for 15 minutes. Next, rub the salt into the cutting board with your lemon half, and rinse!
–Clean your garbage disposal. Pour in 1/2 cup of salt, run some cold water, and turn on the disposal. The salt will neutralize odors and freshen your disposal.
–Remove lipstick stains from glassware. Before washing your glasses, rub a pinch of salt over lipstick stains to remove them easily.
–Easily remove shells from hard-boiled eggs. (This is one of my favorites!) Before placing eggs in a pot to boil, add a teaspoon of salt to help them peel more easily after cooking!
–Check the freshness of your eggs. Add two teaspoons of salt to one cup of water. Let dissolve, and add in an egg. If the egg is fresh, it will sink, if it's not, it will float!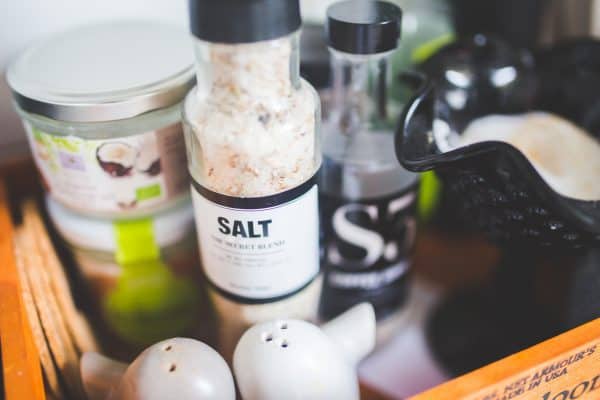 –Remove ice from steps and sidewalks. A sprinkling of salt will help remove ice and snow from slippery steps and sidewalks.
–Remove rust. Combine equal parts salt and lemon juice to remove mildew and rust stains.
–Prevent apples, pears and potatoes from browning. Apples, pears and potatoes dropped in cold, lightly salted water as they are peeled will retain their color.
-Clean tarnished silverware. Wipe down tarnished silverware with a pinch of salt before washing.
–Clean muddy footprints from carpets or rugs. Sprinkle salt on carpets or rugs to dry out muddy footprints before vacuuming.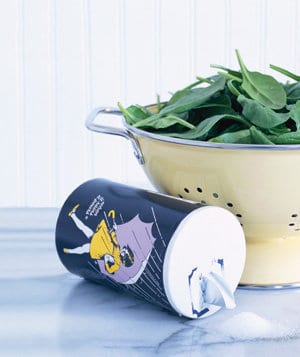 image via real simple
–Prevent oil from splattering when frying. Sprinkle a dash of salt in your pan when frying to prevent oil from splattering.
–Prevent drinks from sticking to paper napkins. Sprinkle a bit of salt on the napkin to prevent drinks from sticking!
–Keep milk fresh. Adding a pinch of salt to milk will keep it fresh longer.
–Keep salads crisp. Salting salads immediately before serving will keep them crisp.
–Clean fish tanks. Rub the inside of fish tanks with salt to remove hard water deposits, then rinse well before returning the fish to the tank. Use only plain salt (not iodized).
Did you learn something new? I certainly did! I know there are many uses for salt that I've missed-leave your favorite in the comments!
Thanks for reading all about my favorite life hacks using salt! Have a lovely day!