This shop has been compensated by Collective Bias, Inc. and its advertiser The National Milk Life Campaign. All opinions are mine alone. #KnowYourMilk #CollectiveBias
Looking for a healthier muffin recipe perfect for a quick breakfast or snack? Today's post has you covered! These Healthier Oatmeal Blueberry Muffins come together quickly, and contain one of my kids' favorite anytime beverages–milk!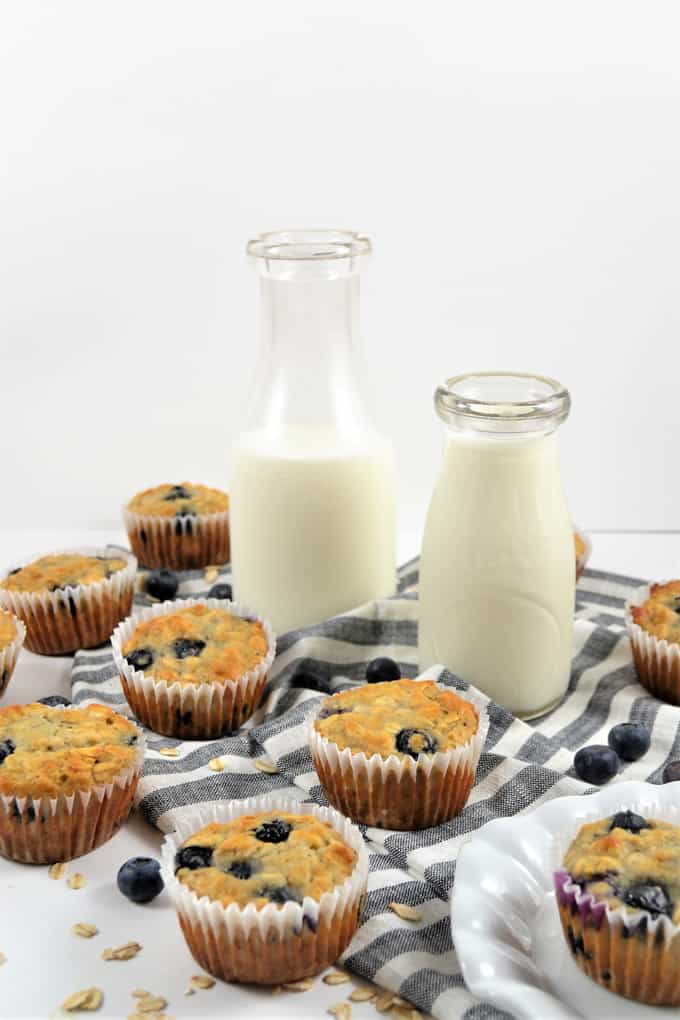 As you probably know, what you drink is just as important as what you eat. Beverages can be a key source of nutrition in our diets, and should be carefully selected. As a mom, I spend a lot of time trying to help my kids make smart choices about what foods and drinks they put in their bodies.
These Oatmeal Blueberry Muffins are a nutritious and delicious choice, and my kids love pairing them with an equally nutritious beverage–a glass of cold milk!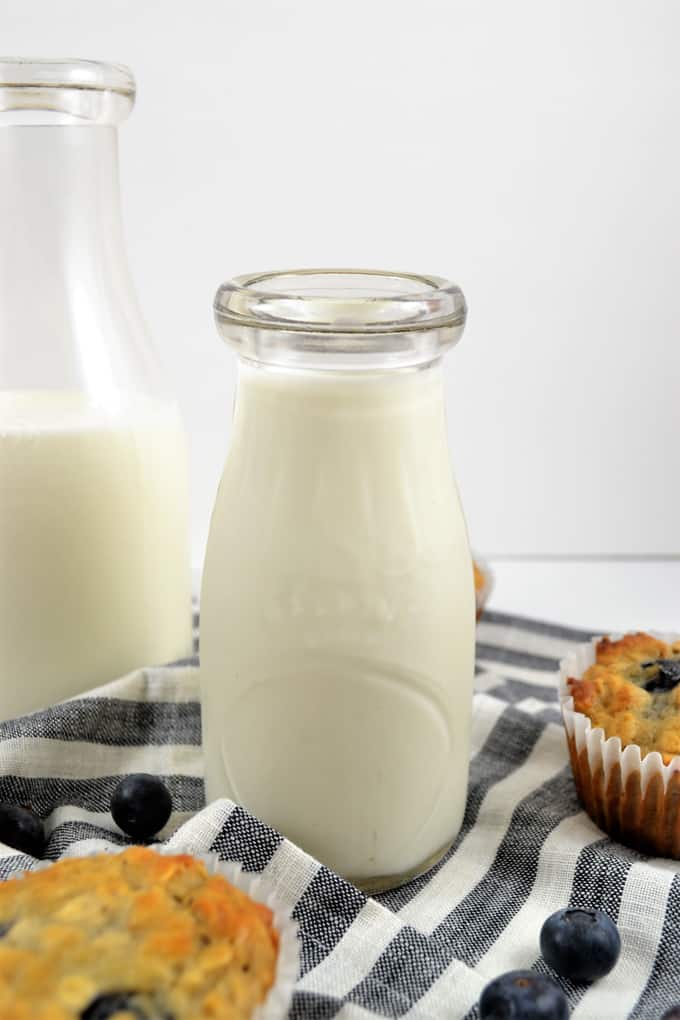 Before we get to the recipe, a few facts about milk that I've just learned. Milk alternatives have been gaining in popularity, and may seem like a simple swap for a dairy-free diet. It's important, though, to know milk and milk alternatives are not created equal.
Nutrition-wise, unlike many non-dairy milk alternatives, real dairy milk is naturally nutrient-rich. In fact, few milk alternatives can match the full nutrient package found naturally in milk, which contains calcium, phosphorus, protein, potassium and B vitamins.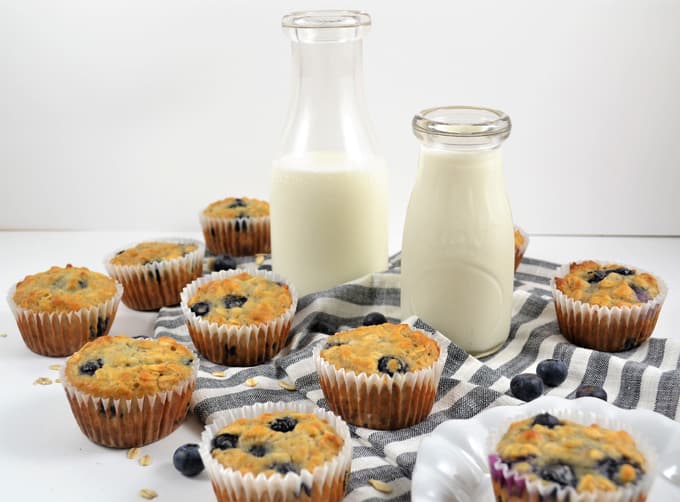 Looking at the ingredient list of dairy milk, a simple and wholesome beverage, you'll see just three things- milk, vitamin A, and vitamin D. It is minimally processed and farm fresh. Many non-dairy alternatives, on the other hand, have 10 or more added ingredients including salt, added sugar or thickeners.
Also, at just about a quarter per serving, dairy milk delivers more nutritional value per penny than just about any other beverage. Fun Fact: the average American household spends about 10% of their budget on food – nearly $80 a week. One year of dairy milk will cost the average family $628 vs. $1,222 per year for vanilla almond milk. That's nearly $600 per year in savings.*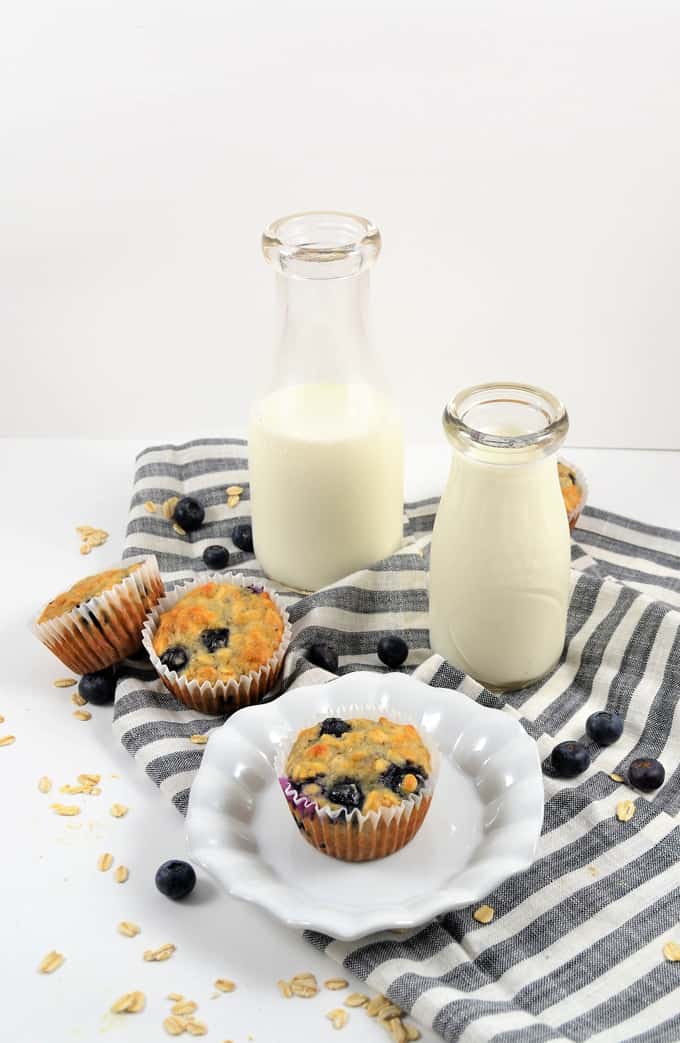 We all know, too, that taste-wise, dairy milk can't be beat! These Healthier Oatmeal Blueberry Muffins use dairy milk (I used whole milk), and they help give them great taste, texture and nutrition! Scroll down for the full recipe!
You'll simply gather your ingredients…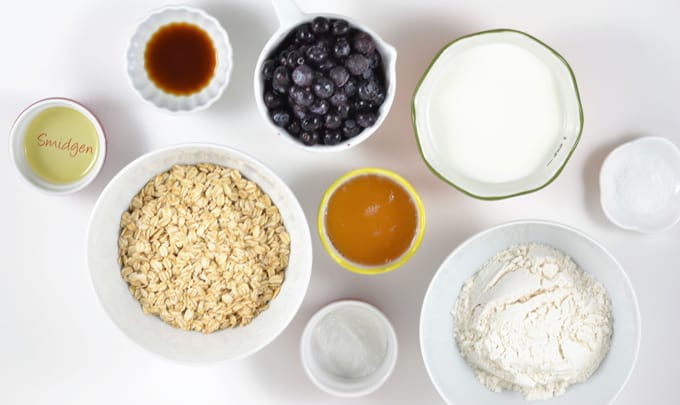 Combine the dry ingredients in one bowl, the wet in another, and combine.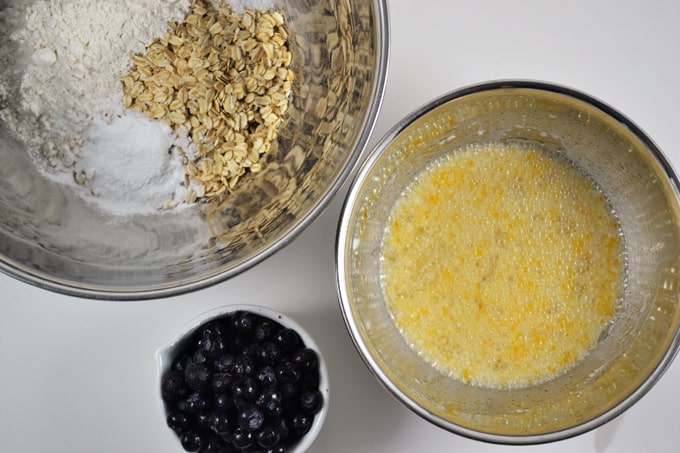 Fold in the blueberries, add to your muffin pan, and bake!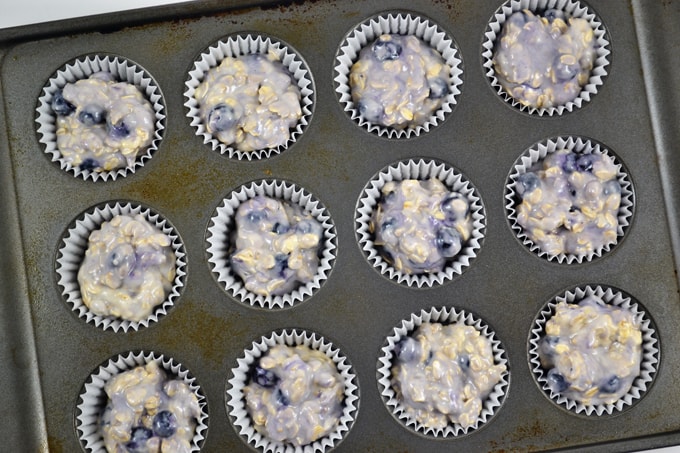 Healthier Oatmeal Blueberry Muffins
Ingredients
Cooking Spray (or Cupcake Liners)
1.5 Cups Oatmeal
1 Cup Flour
1/4 Teaspoon Salt
1 Tablespoon Baking Powder
1 Cup Milk
1/4 Cup Honey
1 Egg
2 Tablespoons Canola Oil
1 Tablespoon Vanilla Extract
1 Cup Frozen Blueberries
Directions
Preheat oven to 400 degrees.
Combine dry ingredients (flour, oatmeal, salt, baking powder) together in one bowl.
Whisk together wet ingredients (milk, egg, honey, oil, vanilla extract)in another bowl.
Add wet ingredients to dry ingredients. Stir. Fold in blueberries.
Add cupcake liners to muffin pan or just spray with cooking spray.
Spoon batter into muffin pan and bake for approximately 20 minutes.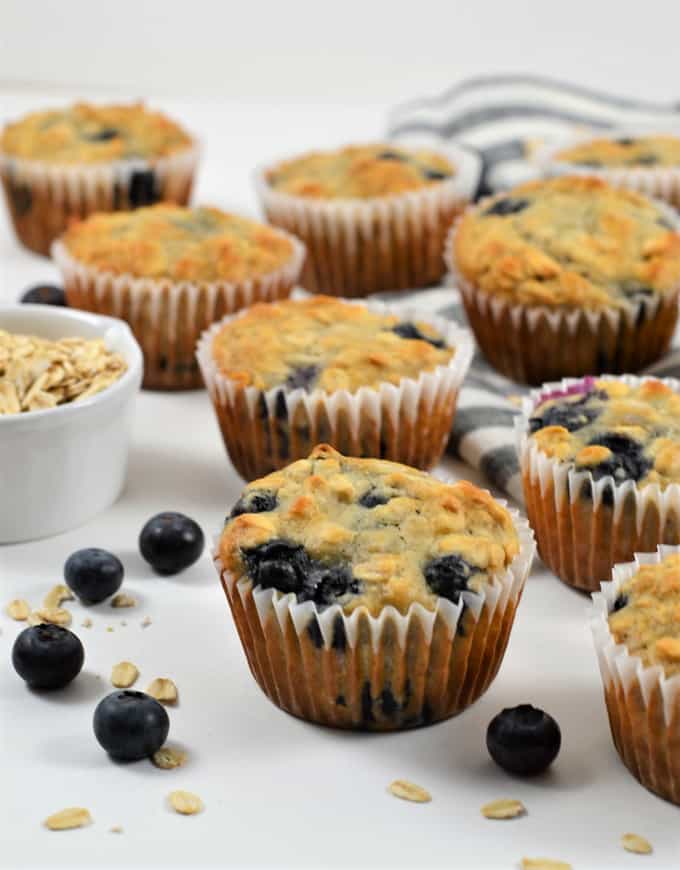 These turned out AMAZING. So moist, and I loved the addition of oatmeal for some texture and flavor! My kids loved these, as well, and they'll definitely be our go-to breakfast for the next few days…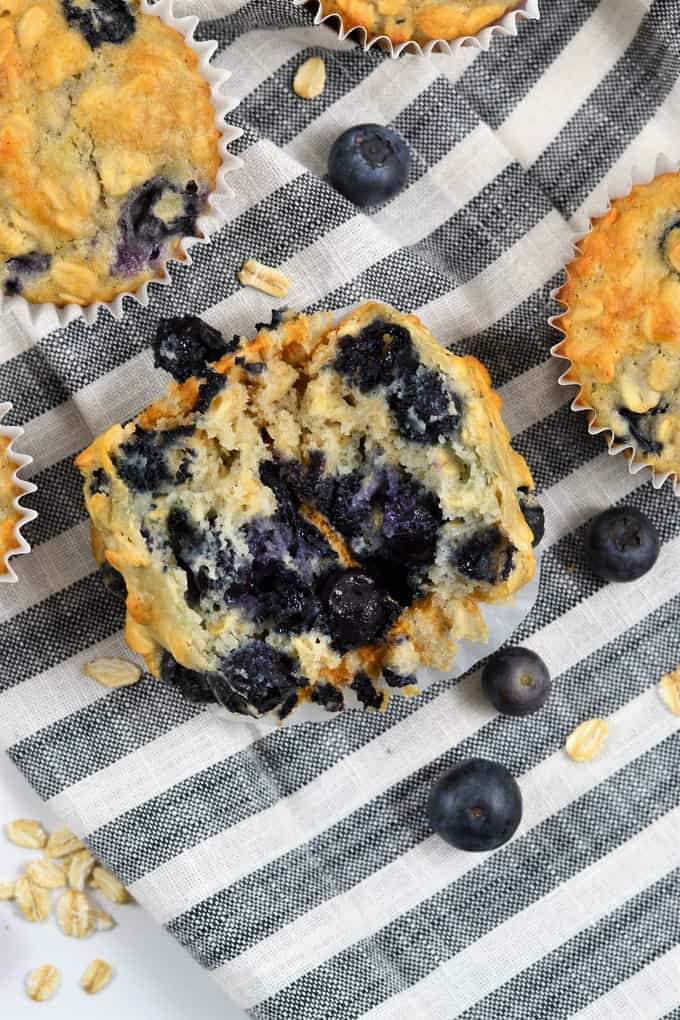 Interested in learning more about America's favorite beverage? Head to Milk Life for recipes, information and more about milk!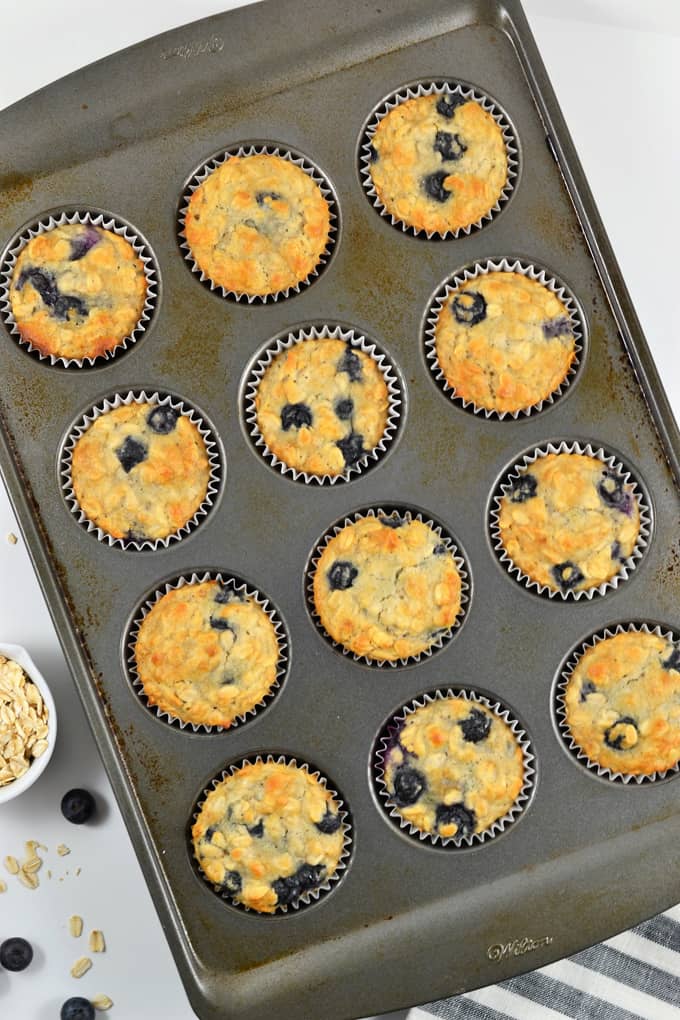 *Based on an average family size of 2.58 people per the 2010 US Census. Additional Reference: U.S. Department of Commerce Economics and Statistics Administration. U.S. Census Bureau, 2010 Census Summary.