Thinking about a Montessori floor bed for your toddler? Believe in the Montessori approach to child rearing?
This post has tips and images of kids floor beds to help you make your decision!
Today's post is all about one hot topic–floor beds for babies & toddlers!
There is one thing all parents have in common. The inevitable switch from a crib to "big kid" bed!
It's a big milestone in baby's (and parents') life, and with that, comes questions about what bed is best for your growing child.
So, today, we are going to talk all about Montessori floor beds! Hopefully this post will guide you into making the best decision for your little one.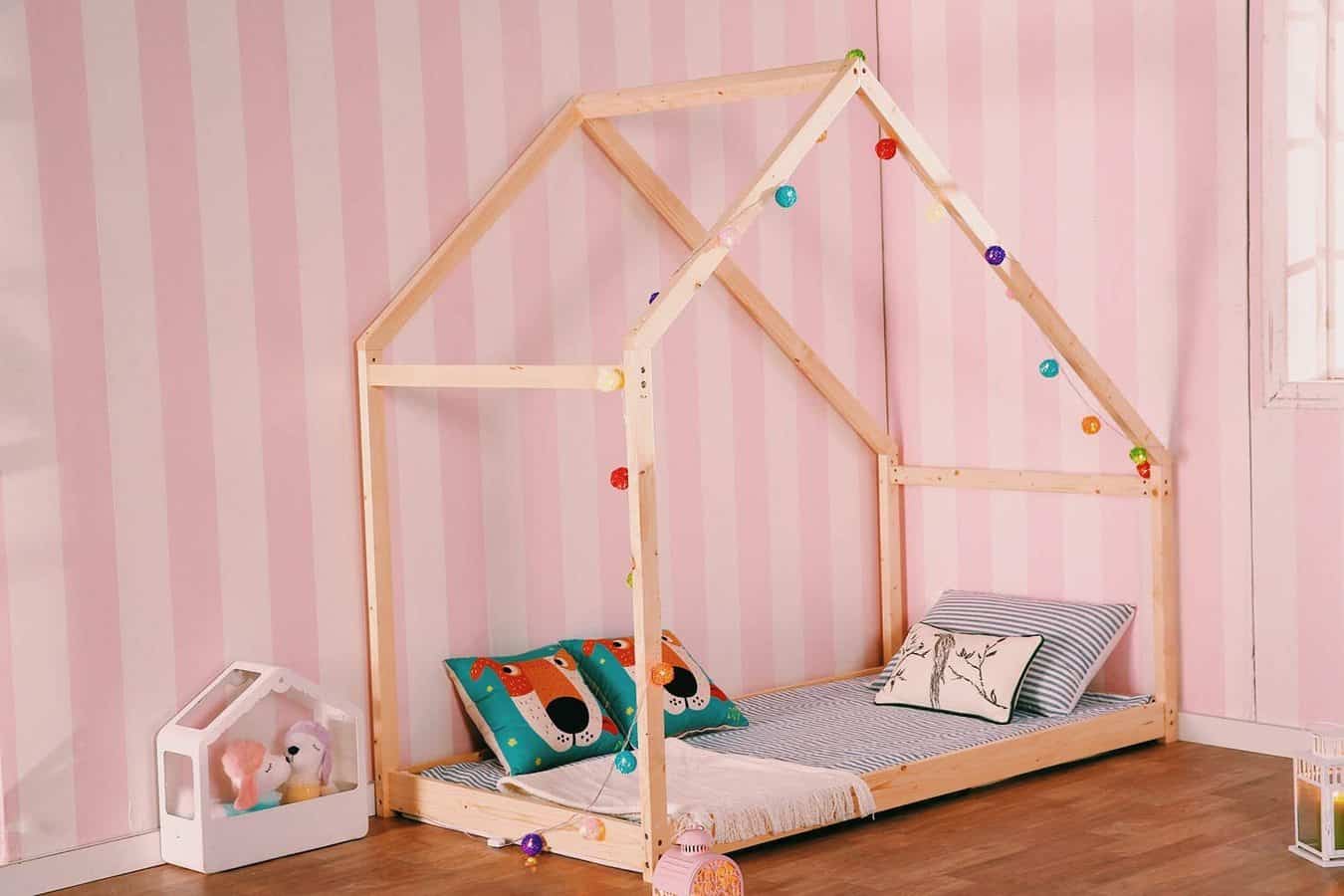 get this floor bed
What Is the Purpose of a Floor Bed?
There are several purposes of a floor bed but, in short, proponents argue that a floor bed gives your baby or toddler autonomy and enables them to strengthen their budding independence.
If you believe this, too, you may be a fan of the Montessori method of child rearing.
We will talk a lot more about Montessori beliefs further down in this post.
Floor Beds for Toddlers
Everyone has a different idea on when it's best to transition to a "big kid" bed.
Some people start earlier than most, however, and utilize a floor bed for baby.
Whether you do that, or wait until they're a little older, there are many benefits of a Montessori bed.
In short, as mentioned above, a floor bed is thought to allow children to exercise independence and follow their natural cues where sleep hygiene is concerned.
While researching floor beds for your kids, please remember to check with your pediatrician for their suggestions and guidelines before doing so.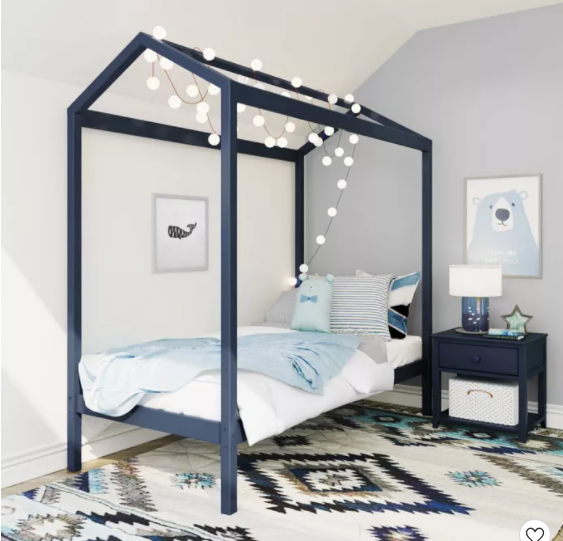 Get this floor bed at a great price from Target
Montessori Floor Beds
Low beds, or kids floor beds, are a concept created by Italian physician and educator Maria Montessori.
The Montessori method centers on a child's innate ability to initiate her own learning within a prepared environment.
Many people have questions about the Montessori Floor Beds. Hopefully the ideas in this post will help.
A floor bed also promotes a child's freedom of movement. Children are not confined. They are free to move and to get in and out of bed.
This helps promote a child's independence and freedom to explore, both of which are central to the Montessori method.
What age are floor beds for?
We usually recommend transitioning to a floor bed somewhere between 2 and 3 years.
Typically parents start to think about this when their little one begins climbing out of their crib or generally show that they are craving their own independence.
For us it was a lot more cut and dry than that. I was pregnant with our second baby, and although our first would only be 16 months old when she came, I wasn't about to buy another crib!
After much research I came across this idea of a floor bed and I am so thankful I did.
From that moment on I wondered why anyone did anything other than a crib to floor bed transition! After a year in her floor bed I can honestly say the idea is genius.
Benefits of a floor bed for toddlers
1. The first benefit of a Montessori floor bed for toddlers is probably the most obvious of reasons. One of the first worries you have as a parent is his or her child rolling out of bed after transitioning them out of a crib.
This is something you don't have to stress about with a floor bed because even if they do roll of, it's not much of a fall at all!
2. Probably the second biggest concern I hear is that they won't ever fall asleep or stay in bed. And honestly, that's a concern with any bed but a floor bed almost encourages them to get up and move around BUT that's not a bad thing!
The idea of a floor bed stems from Maria Montessori's way of thinking which stresses independence and freedom for the child within limits. You can read more about those specifics HERE.
So yes, they may get out of bed and wander around the room (which is why it's so important to baby proof the room first) but this is what they're supposed to do!
They may take longer to fall asleep at first, or they may fall asleep on the floor for the first few attempts but eventually they WILL fall asleep and they WILL stay in bed.
How long that takes varies per child. This is all part of their natural development that teaches them their own sleep cues and boundaries.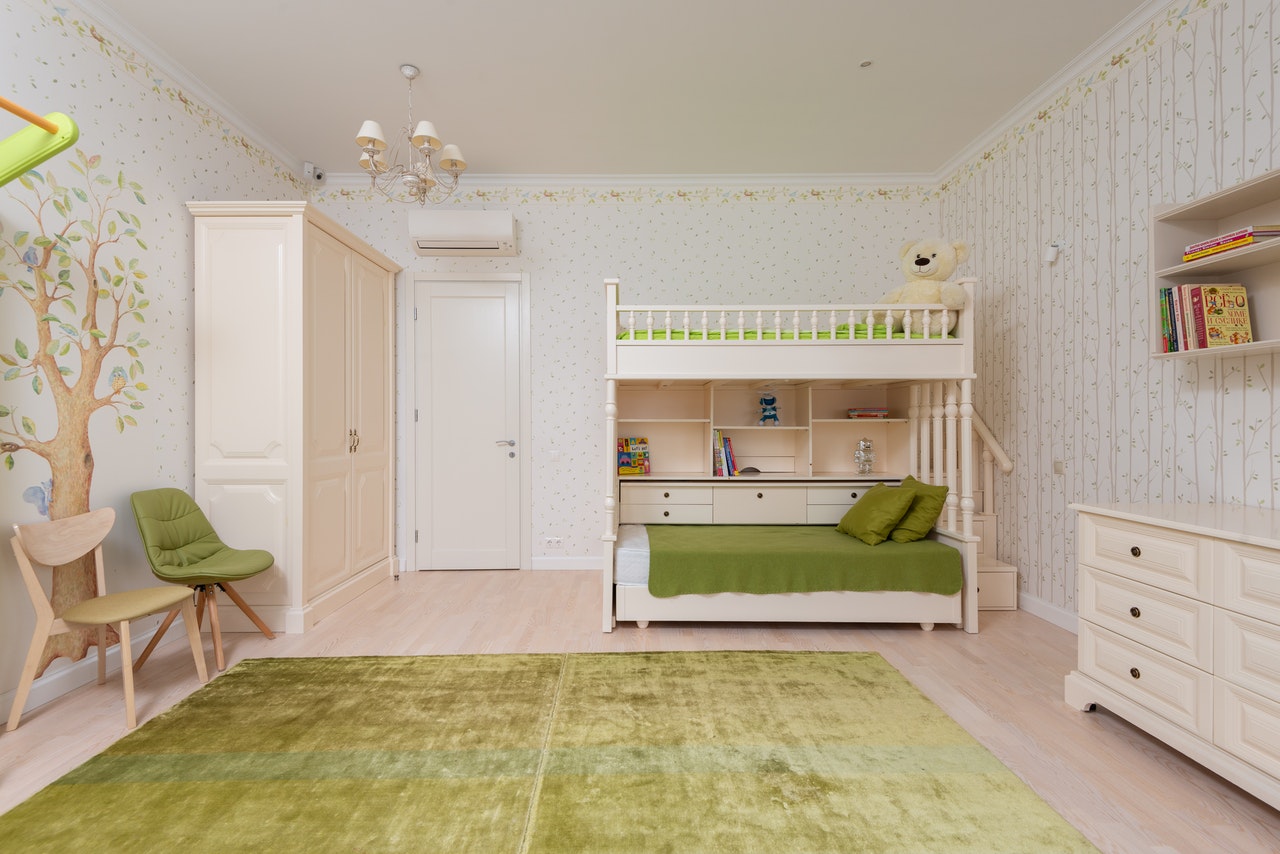 Photo by Max Vakhtbovych from Pexels
3. This option can be a much cheaper option than buying a whole new bed. You can make things super cheap and simply put a mattress on the floor and just like that, you have a floor bed. Or you can get creative and make one which is still a money saving idea.
4. Their newfound independence will surely be your morning's savior! Instead of crying from their crib, or crying to get down from bed, they will be freely able to explore and play in their bedroom.
This independent play is not only good for them but also GREAT for the tired parents! I can get a solid 30 minutes extra in the mornings by not needing to go grab her right away.
5. Their bed becomes an inviting place where they are eager to go. Not only just for sleep but for relaxing too. I can't tell you the amount of times my two year old has been found just sitting on her bed with all her stuffed animals close by reading a book.
She LOVES her floor bed and it's not a place she dreads being. This also helps when it is time to sleep because she is happy to crawl into bed and get some rest.
As she grows, her bed will always be accessible and her own little hang out space. I will also never have to ease her fears of monsters under the bed because that would simply be impossible (kidding, kind of!)
There are so many possibilities when it comes to floor beds and you can truly do as much or as little aesthetically as you want!
How Safe are Floor Beds?
Floor bed safety is an important topic, and one that should be discussed with your child's pediatrician before making any changes to your child's sleeping situation.
Here are some additional tips for making a floor bed as safe as possible:
Make sure to position the mattress away from walls or furniture, preferably in the center of the roo.
This is because your child doesn't get trapped against a wall if they roll off their bed.
Be sure to remove any choking or other potentially dangerous toys from the room.
Be sure to secure the bed to the walls (just like with all furniture). Cover electrical outlets, and remove all choking hazards.
Think about making the outside of the room safe, as well, including safety measures such as installing safety gates (if there are stairs in the home).
How to Make a Floor Bed
Here are just a few ideas for a kids floor bed frame you can easily put together yourself.
Creating your own floor bed space doesn't require a lot. A simple mattress or sleeping mat is usually more than adequate.
These ideas are inexpensive, easy and portable! Let's get started…
Mattress on the floor
The Japanese futon trend is one that's here to stay. It's been popular overseas for years, and now has finally made a name for itself in the West.
It's a great way to make the most of your home or office, and allows even the smallest of spaces to be multifunctional.
Japanese futons are uniquely designed to be folded up and stored away during the day.
This leaves plenty of room for other activities to take place in the space during the day.
Floor Sleeping Mat
A floor sleeping mat is very similar to a Japanese futon and is an easy and super affordable floor bed option.
They range anywhere from $30, to up in the hundreds of dollars.
Be sure to read reviews before purchasing to find one to fit your needs.
Trundle Bed Frame
Buy a trundle bed frame and take off the trundle wheels: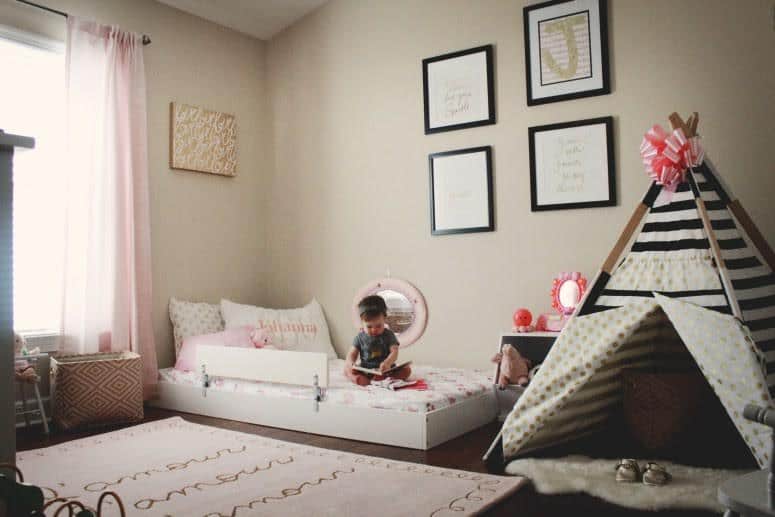 (I adore the teepee trend–here's one of my favorite finds!)
Guest Bed Ideas
Floor beds also make great guest bed ideas!
They're an affordable and portable option that are great for guests and sleepovers.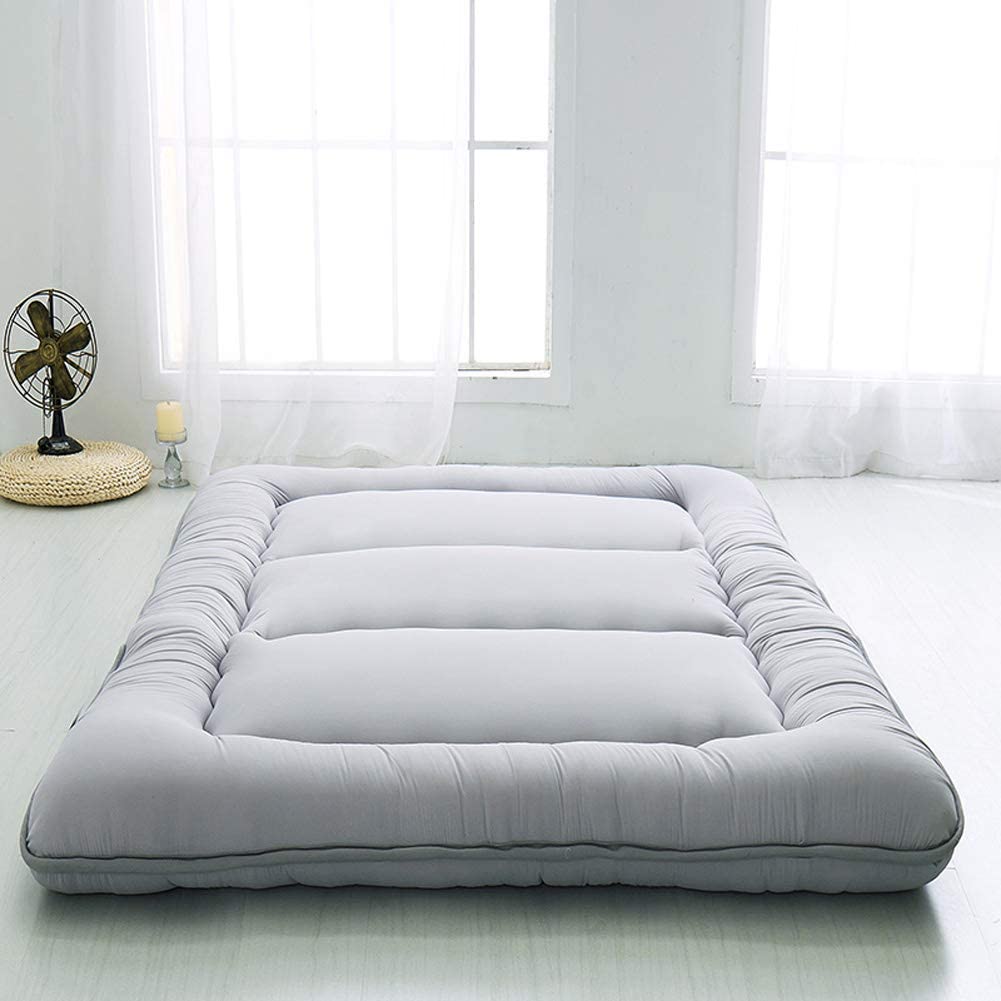 Floor Bed for Adults
Obviously, we've been talking mainly about kids and babies in this post, but a floor bed for adults is a trending idea that is here to stay!
You can use any of the above methods (Japanese futon, mattress on floor, etc) and save space and money in your own bedroom.
***
If you want an independent child who doesn't look at bedtime as a bad thing, then a floor bed is right for you!
I hope you enjoyed this read all about floor beds and let us know what you think below!
Looking for more floor bed ideas and inspiration?
We have lots more baby and child inspiration in our archives!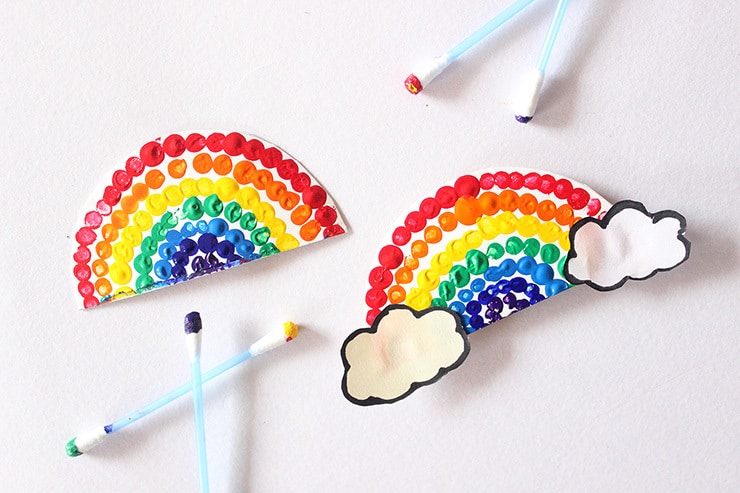 Here, we share lots of top crafts for kids!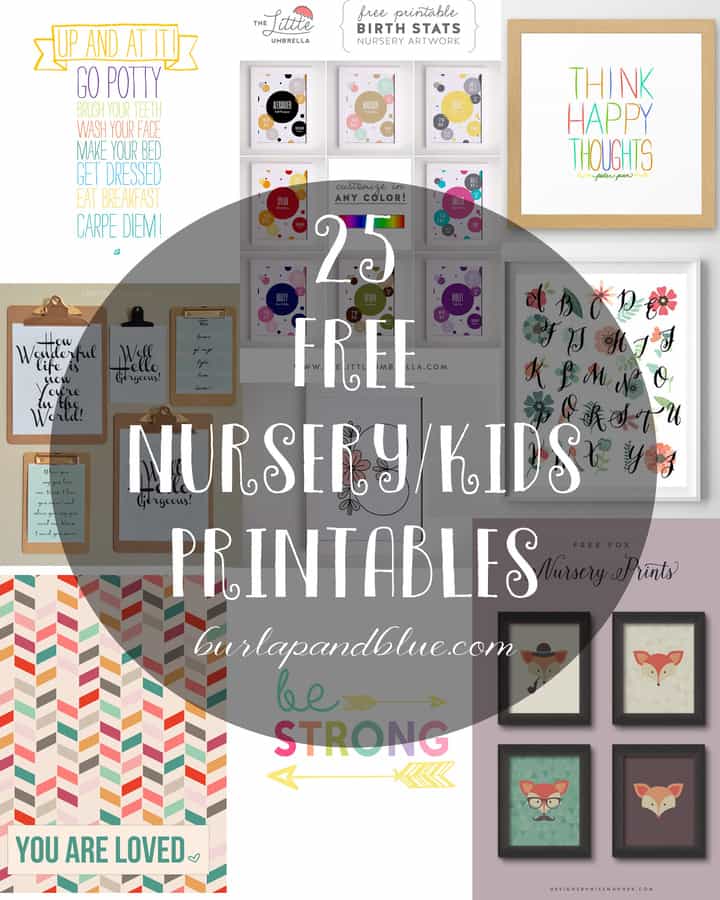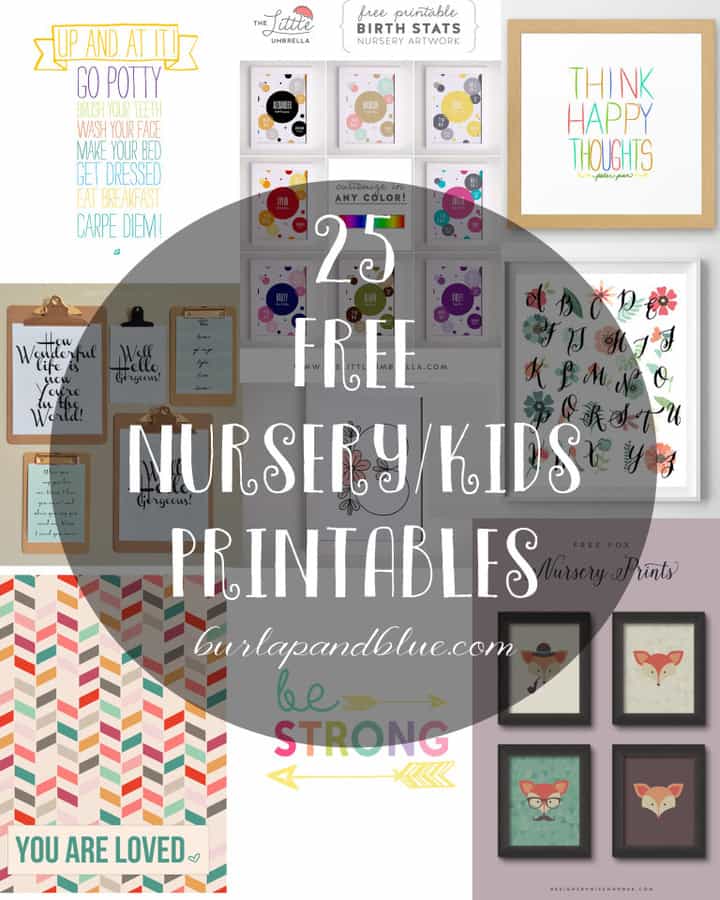 In this post, we share our very favorite printables for kids!
And if you're looking for personalized art for your nursery space, these name art printables are a great place to start!

Lastly, these free family tree printables are a fun and meaningful way to spend time with your kids while you teach them about their family history.
Thanks so much for reading all about the benefits of floor beds for toddlers. Have a great day!
Hello! I am Noelle of Oh Happy Play your one stop sport for all things KIDspiration. I hope you enjoy these floor beds for toddlers! For more montessori themed rooms and floor bed inspirations please check out my blog!
I am the mama to two little girls, 16 months apart. Being their mother has taught me so much and they are the reason I was inspired to create this blog. Through them I have been taken on this journey through motherhood and I'm excited to take you along with me.