Sharing the very best printers for stickers, and the sticker paper we love. If you're looking to find a selection of stickers printers and vinyl sticker printers for every budget, you've come to the right place.
Over the years, we've shared lot of printable stickers and Happy Planner printables stickers with you.
No matter the occasion, and no matter the theme, there are printable stickers that are perfect for helping you stay organized in a creative and fun way!
Printable stickers are also perfect for card-making, gift wrap, bullet journaling and more. The possibilities are endless!
The question I get asked more than anything is this: what are the best stickers printers for my free printable stickers?
We hope today's post will help!
And at the end of this post, we're sharing info on the best vinyl sticker printers!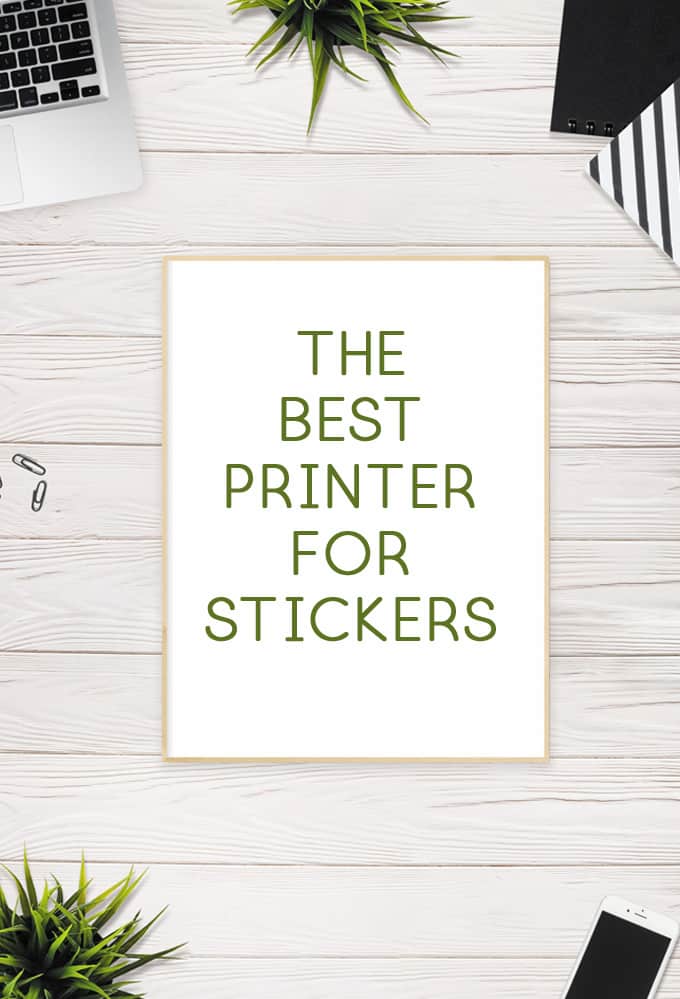 As a bonus, we're also sharing our favorite printer paper for printing stickers!
If you don't have good, quality paper as a base, it really doesn't matter how good your printer is. Your stickers just won't look as professional as possible without high quality paper.
So let's get right down to it.
Best Sticker Paper
When I want to print stickers, I want the very best sticker paper that is name brand, inexpensive, and easy to purchase (no obscure paper stores for me, thanks very much).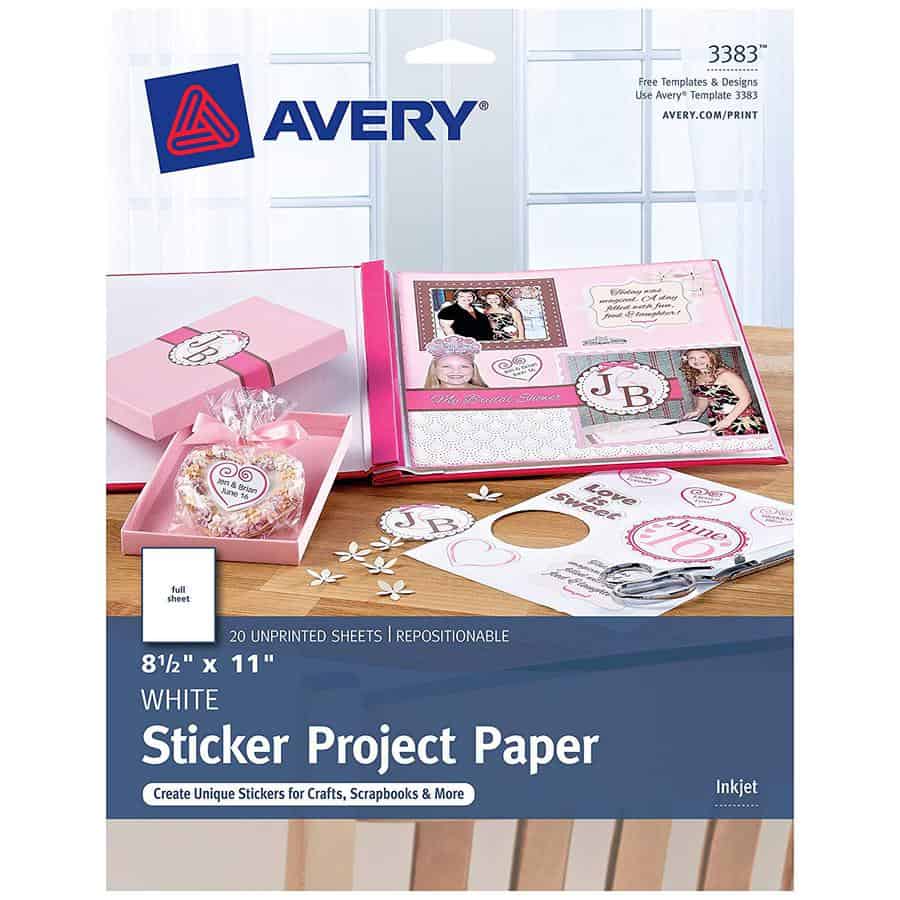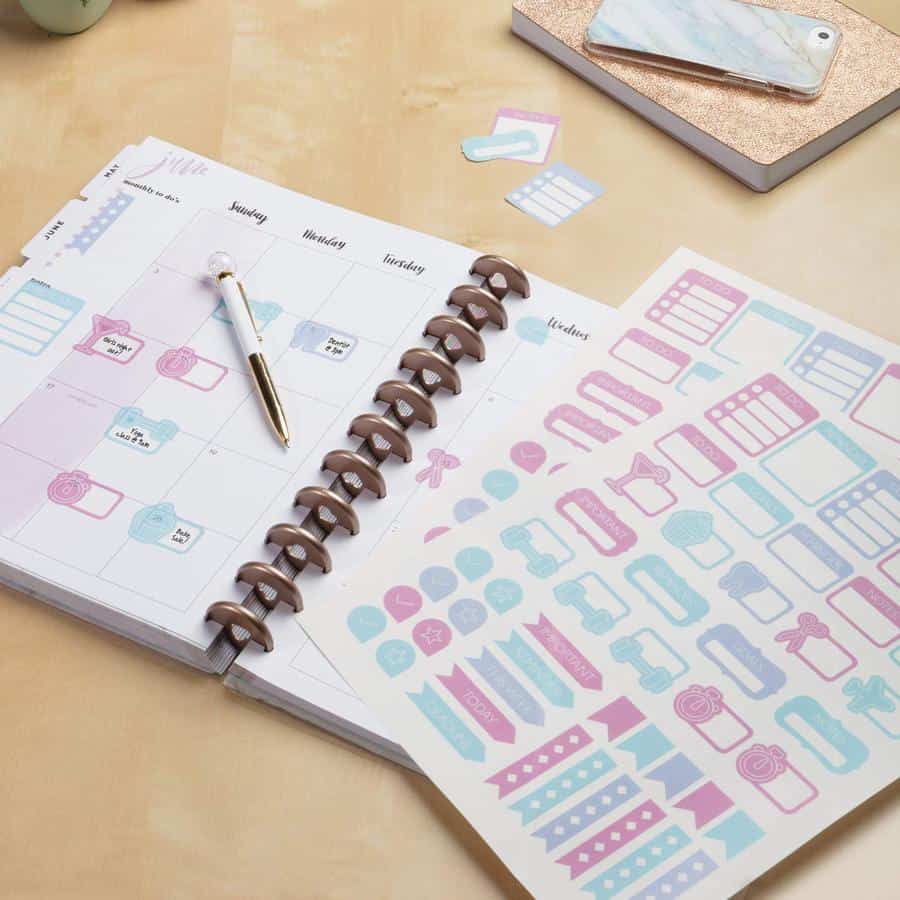 For my money, this Avery sticker paper is my go-to.
It's under $10, has a matte finish and ships free with Amazon Prime.
Currently, you can get it in packs of 5 or 90 sheets (I've seen other quantities available in the past, so be sure to check back).
Here are a few specifics of this sticker paper:
This full sheet printable sticker paper gives you the freedom to design stickers at the size and shape of your choosing
The white matte sticker paper helps provides bright elegance to your project, which is great for scrapbooking, party and holiday decorations, Christmas crafts, wedding favors, DIY gifts and crafts, and more
Guaranteed to stick and stay; the sticker paper has Ultrahold permanent adhesive holds onto glass, plastic, metal, and paper
Easy to customize the printable sticker paper with free templates and designs at avery.com/templates
The premium white finish project sticker paper is compatible with most electric die-cutting machines, and is optimized for both laser and inkjet printers
Don't forget to check out the reviews, too.
This sticker paper has almost 4,000 reviews, and 77% of them are five star (at the time of this writing).
How to Use Sticker Paper
We have an ultimate post on how to make stickers, that covers a bunch of ways to make stickers, from super simple to more professional.
But here is one easy way, using Avery sticker paper:
Avery sticker paper is super easy to use!
Simply head to avery.com, go to "find your template," enter your template number, and then hit "start designing".
You'll be able to upload your designs, edit them, and then you'll receive prompts on how to download your PDF file and print.
It's very easy and user-friendly!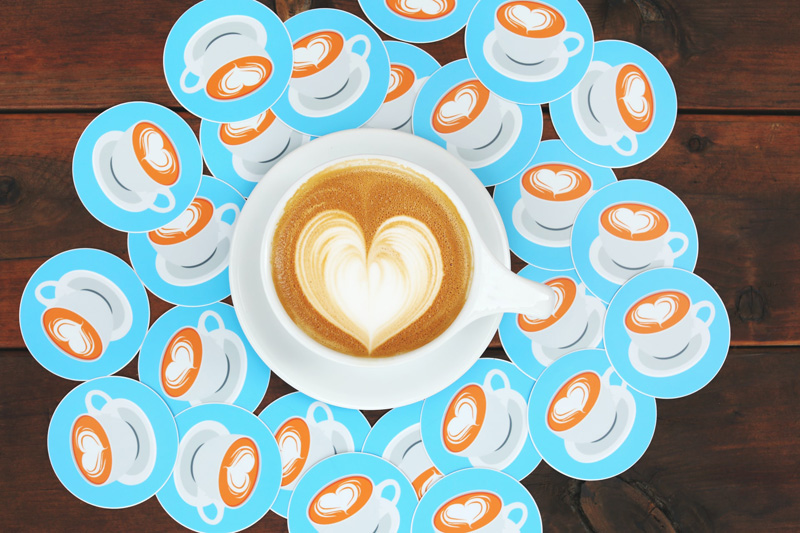 How to Laminate Stickers
After you print out your stickers, you may be looking for an easy way to laminate them!
Laminating stickers keeps them durable, helps prevent tears, and can even protect them from water, wear and tear.
To laminate your stickers, simply purchase laminating sheets, and then use the included grid to size the sticker and place the sticker on the adhesive side of a laminating sheet.
Next, lay the second sheet with its adhesive side down to seal the back side of the sticker and trim the edges.
You'll get professional, durable results without fiddling with special equipment.
What to Look for When Buying a Sticker Printer
Choose a Name Brand Printer
Name brand printers are just for a reason: they are experts at what they do and the product usually reflects this.
Name brand products may cost a bit more upfront, but you often save in the long term because they generally will last longer.
What Do You Need Your Sticker Printer to Do?
Does it need to fax? Do you want it to be able to scan documents? Do you want it to be able to make copies?
These considerations are important. Don't buy a fancy schmancy printer that can do everything if you are only looking for it to print stickers or other documents.
Should I buy a Laser Printer or Inkjet Printer?
When it comes to printing stickers, the choice of laser or inkjet is fairly minimal and can come down to many variables.
However, if you want to print colorful, eye-catching stickers, it's generally believed that inkjet printers are likely the better option.
How Much is Printer Ink?
Ink prices can vary greatly from printer to printer.
It's a good idea to get an idea of replacement cartridge cost before purchasing your printer.
HP Instant Ink
We use an HP printer and one of the reasons we chose it is because HP offers a program called Instant Ink.
Instant Ink is, quite simply, an ink delivery service that is affordable and easy.
Once you sign up to the Instant Ink service, you no longer have to go to the store again to buy cartridges. Your printer will tell HP when you're about to run out of ink. Then, they will automatically send you new cartridges before you need them.
They offer different plans to choose from according to the number of pages per month you print. And it doesn't matter if you print in color or black and white. The cost is the same!
Your monthly fee includes ink usage, shipping and recycling.
By the way, I'm not an affiliate for this program. I just use it and love it!
Best Printer for Stickers
Honestly, I don't feel as though there is one definitive BEST printer for stickers.
Really, if you buy a quality everyday printer, you'll be fine for non-commercial, everyday-use sticker printing.
That said, I'm a big fan of HP printers. For one, if you get an HP eligible for Instant Ink, it's an INK BUYING GAMECHANGER.
I talk about HP Instant Ink above, and I think it's a great deal.
We pay $3/month for Instant Ink, and get 50 printed pages a month (these can include full color pages!) It's a great deal and one we wish we'd discovered sooner.
Anyway, here are a couple HP printers to consider for all of your sticker printing needs…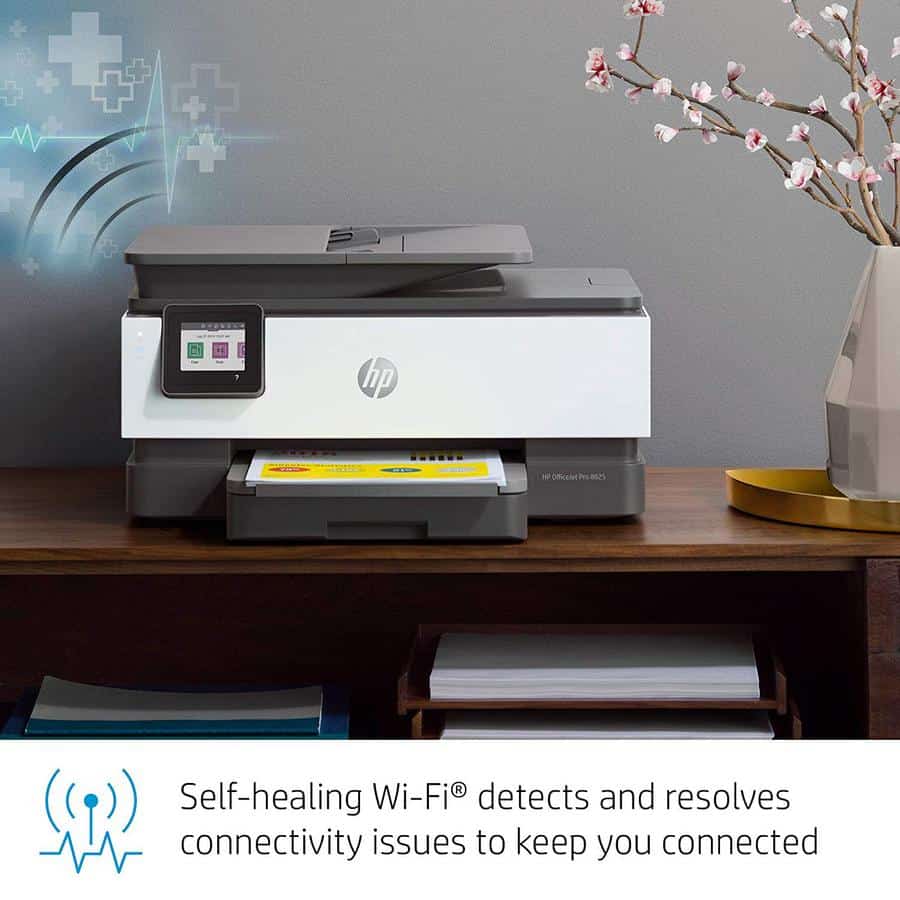 Here are some key features of this printer:
Limited time offer: 4 months of ink free, when you sign up HP instant ink service during printer setup; offer ends 1/11/2020
This home office printer offers faster printing at 20 pages per minute, Includes fast Color copy, scan, and fax for increased productivity, and is 14% smaller
Print remotely using HP smart app – access your printer and Scanner, monitor ink levels, and Print, copy, and scan on the go with our highly-rated HP smart app
Self-healing Wi-Fi – ensures you stay connected by detecting issues and automatically undergoing up to 3 Stages of reconnection to keep your Wi-Fi stable and reliable
Choose an INK REPLENISHMENT SERVICE: save up to 50% with HP instant ink or save 10% on all reorders with Amazon Dash
Replenishment upon activation; Your printer measures ink levels and places smart reorders when you are running low
Sustainable design – This inkjet printer is made from recycled plastics and other electronic to 15% by weight of plastic
One-year limited hardware warranty – get help with 24-hour, 7 days a week FREE HP web support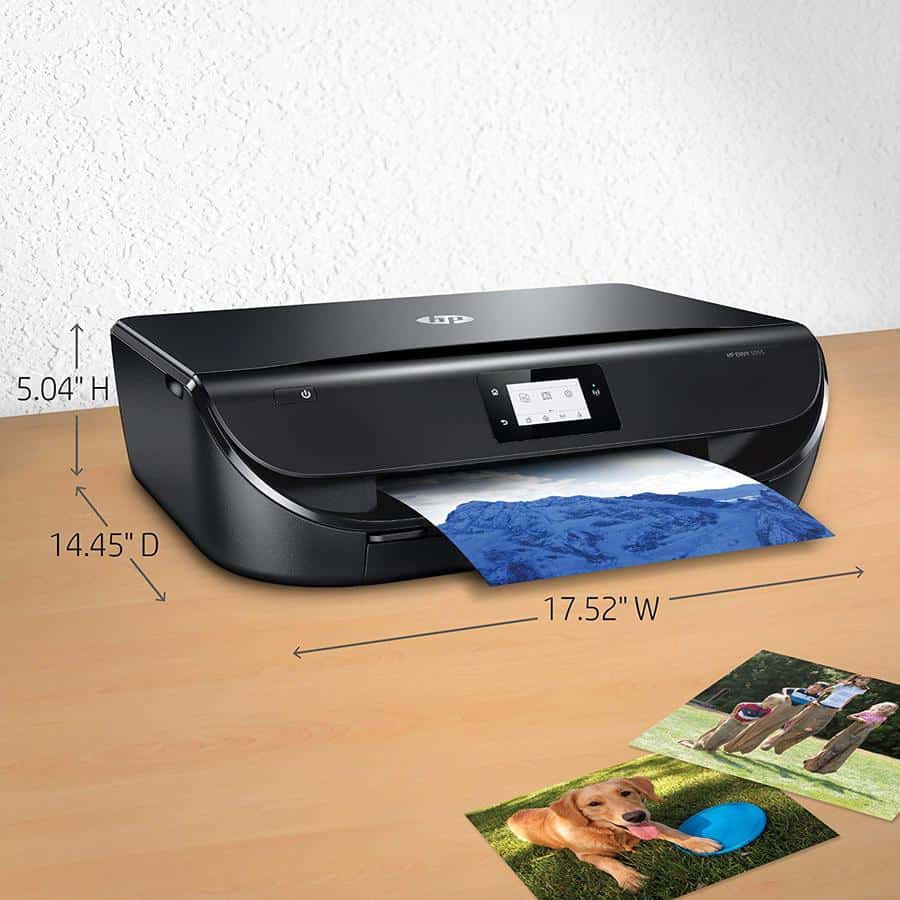 Some key features of this HP printer include:
LIMITED TIME OFFER: 4 MONTHS OF INK FREE, when you sign up HP Instant Ink service during printer setup; offer ends 1/11/2020
Step up and create projects at home – Print, scan, and copy borderless, high-quality photos and documents with crisp, sharp text using this versatile all-in-one printer
Our most powerful printing app ever – The HP Smart app allows you to easily set up your wireless printer, scan documents with your camera, and print from social media or the cloud, such as iCloud, Google Drive, and Dropbox
Choose an ink replenishment service: Save up to 50% with HP Instant Ink or save 10% on all reorders with Amazon Dash Replenishment upon activation; your printer measures ink levels and places smart reorders when you are running low
Spend less on ink and never run out – With optional HP Instant Ink, you get ink automatically ordered by your wireless printer and delivered to your door for as low as $2. 99 per month (subscription required)
Wide range of paper size support – This all-in-one printer works with letter, legal, 4 x 6 in, 5 x 7 in, 8 x 10 in, and No 10 envelopes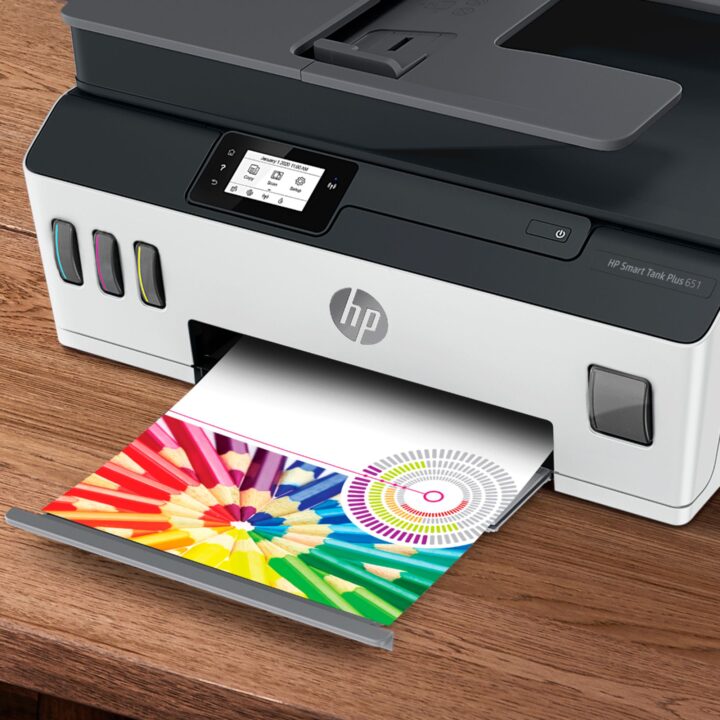 Here are some key features of this printer:
This high-quality ink tank printer with an automatic document feeder plus fax delivers up to 2 years of ink in bottles included in the box.
This printer delivers your documents at high speed. Work fast with the 35-page autofeeder.
Quickly access, and print documents and images on your smartphone from Dropbox and Google Drive.
Get high-quality scanning, and share to Dropbox, Google Drive, e-mail, or the cloud.
Connect your smartphone or tablet directly to your printer, and easily print without accessing a network.
Get up to 8,000 color pages or up to 6,000 black pages.
Count on dark, crisp text, and get vibrant color graphics for all your prints.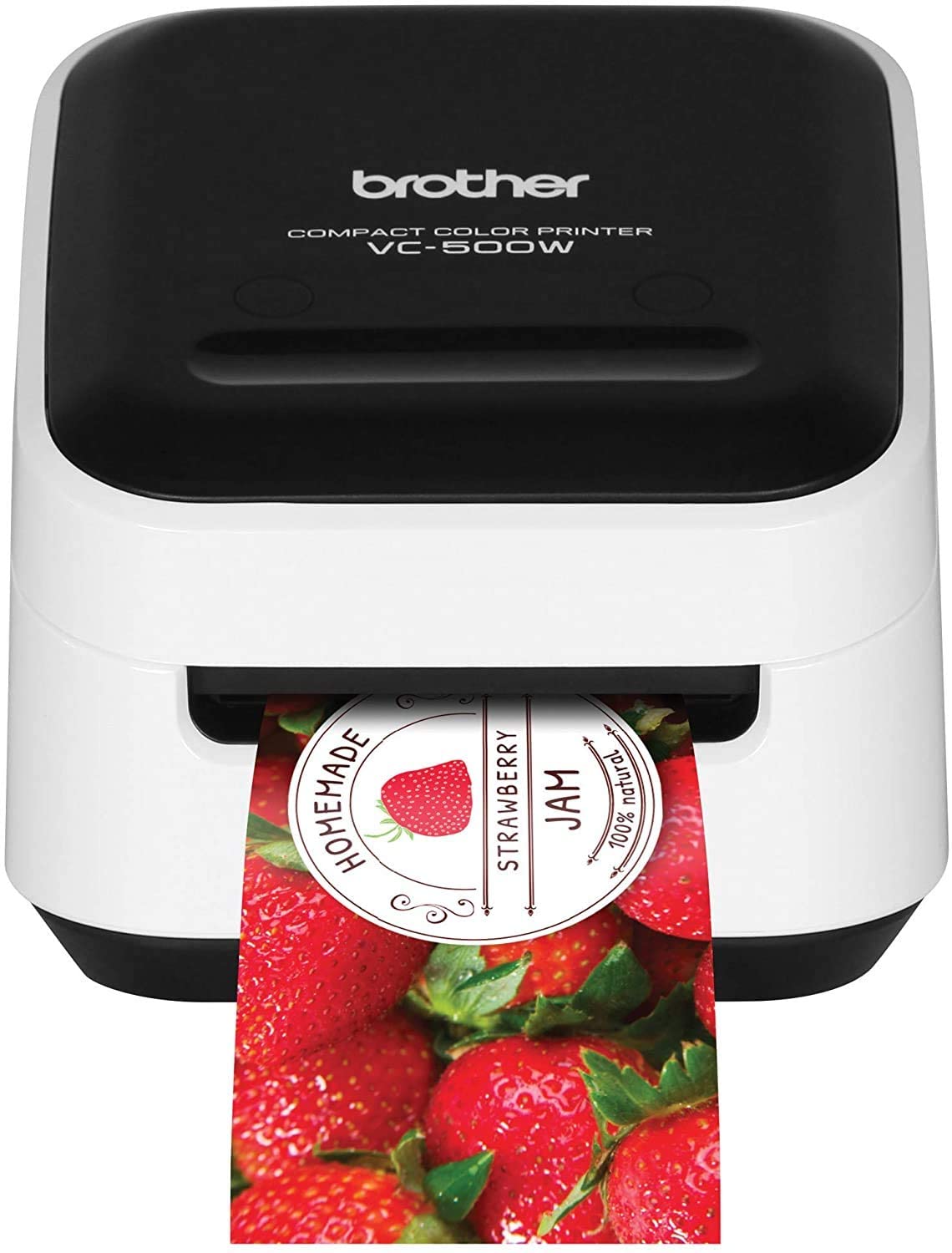 Here are some key features of this printer:
Able to print without ink or toner: This Brother VC-500W compact color printer uses ZINK Zero Ink Technology to deliver rich, vivid full color, without ink or toner.
Easy to connect and use: Wi-Fi/Wireless direct lets you connect to print wirelessly from virtually anywhere. You can also create and print from your mobile phone when connected to a wireless network.
Free label editor app lets you get creative: The FREE Color Label Editor app includes thousands of elements, including frames, fonts, art, backgrounds, and ready-made designs.
Able to print full color labels and photos up to ~2" wide and 17" long.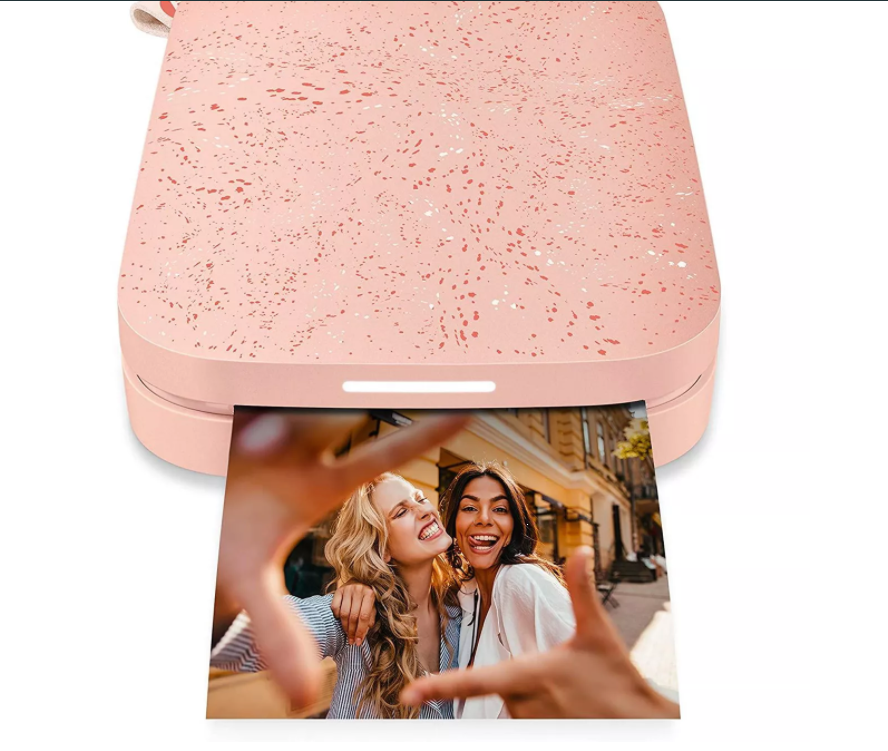 Here are some key features of this printer:
Under $100 and potentially an additional 5% off with RedCard
Ability to add filters, borders, stickers, and more with HP sprocket app.
Bluetooth 5.0 with sleep mode saves battery and wakes immediately to print.
Easily connect multiple friends to print at the same time.
Send photos straight from your smartphone to the HP app to edit, print, share with friends, and stick to your scrapbook, journal, collage, photo wall, and more!
Zink Zero Ink premium paper resists smudging, tearing, and fading.
Vinyl Sticker Printer
Now, let me be clear. You do not need a cricut, silhouette or fancy cutting machine to make vinyl stickers.
However, a cutting machine definitely helps if you're looking for professional-looking vinyl stickers.
If you go this route, check out the best vinyl for cricut to help make your vinyl-buying decisions a bit easier!
Hope this helps in your search for the best printer for stickers and best sticker paper!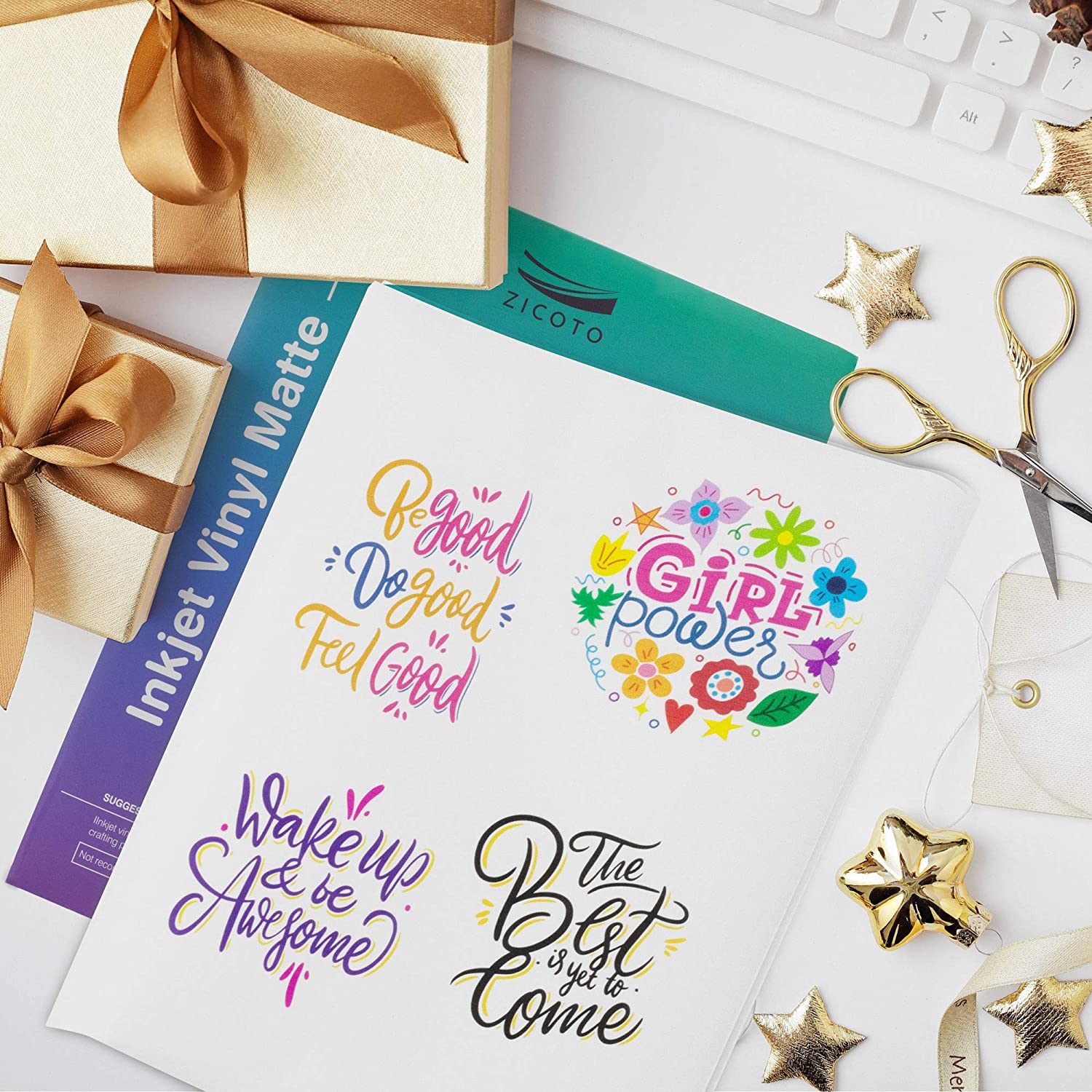 Here are some key features of this vinyl sticker paper:
With these vinyl sheets, you can create gorgeous water-resistant labels for multi-purpose use both indoors & outdoors. To do this, simply add a clear layer of UV resistant sealer spray to boost durability.
This thick matte sticker paper comes in a set of 15 white vinyl sheets – perfect for any of your projects.
This printing paper for vinyl stickers works perfectly with most inkjet printers, laser printers & cutting machines.
Each adhesive vinyl sticker paper comes in the standard size of 8.5×11" and absorbs ink beautifully for great results.
These sticker labels look superb as unique wall murals, vinyl decals for cars, bumper stickers, vinyl stickers for laptops, on coffee mugs, etc.
This vinyl printable decal paper provides price and vivid colors.
The ink dries very quickly within just 5 minutes and the application is super easy and smooth.
Best Printer for Stickers Cricut
If you have a Cricut machine, you already know how wonderful and versatile they can be!
You can use a Cricut (or Silhouette) machine for many things, one of them is printing stickers.
We have shared our picks for best Cricut for Beginners in an ultimate post, but here's our favorite Cricut for vinyl stickers.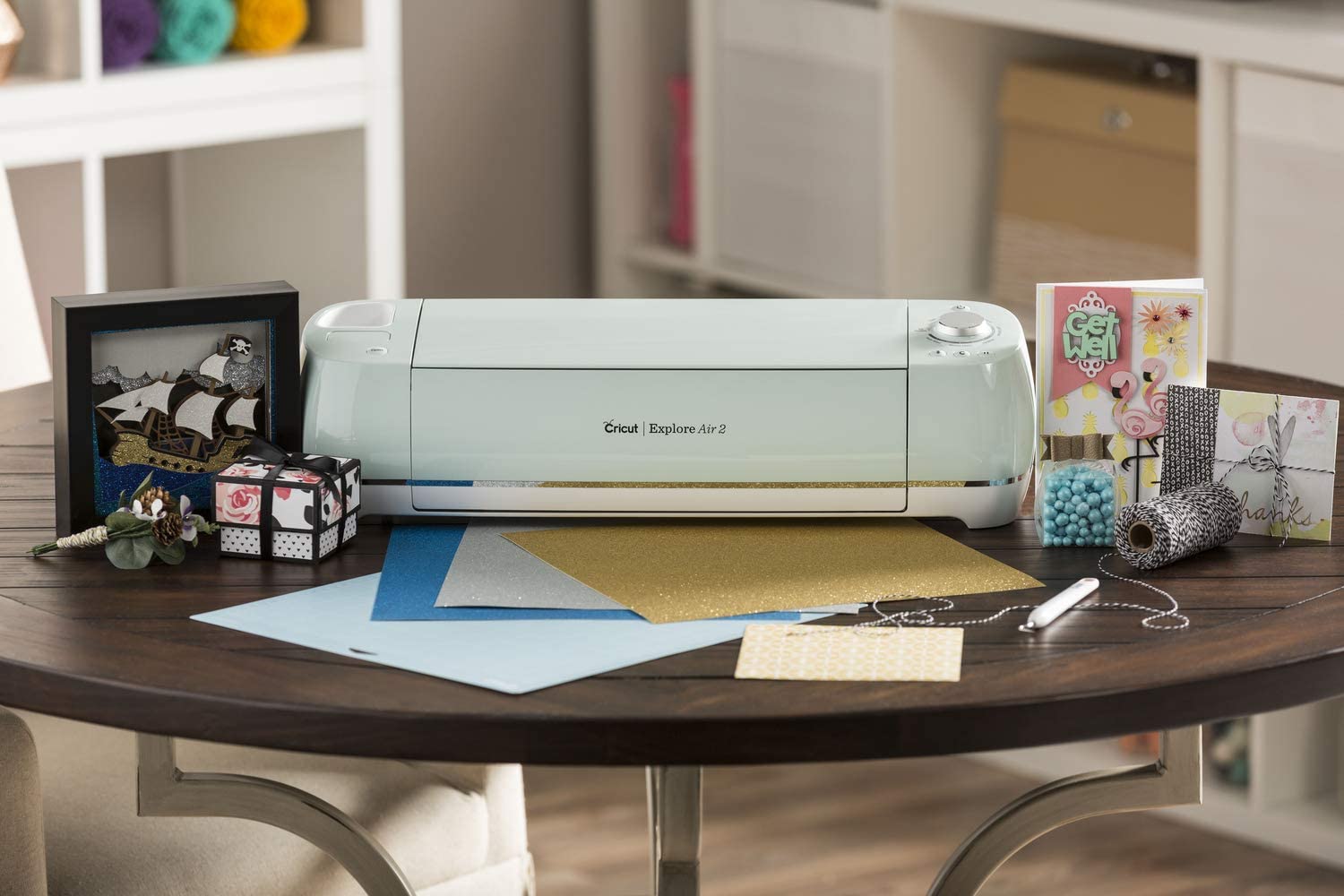 Here are some key features of this best printer for stickers Cricut:
The Cricut Explore Air 2 is your personal DIY cutting machine. It will flawlessly cut over 100+ different types of materials including premium vinyl, iron on and htv vinyl, cardstock, faux leather, adhesive foils, specialty paper, poster board and more.
Each machine includes a Cricut Premium Fine Point Blade and Housing, a Cricut 12 inch x12 inch Light Grip Adhesive Cutting Mat (perfect for vinyl and htv projects), a Cricut Black Fine Point Pen, access to Cricut's design software Design Space, and a 2 week free trial to Cricut Access.
Upload or create and design your own images for free from your computer, tablet or mobile phone using Cricut's free design software design space. Enhance your design space experience by subscribing to Cricut Access, Cricut's vast library of over 100,000 images, fonts, and make it now projects and designs.
When you buy a Cricut you become part of a close-knit community of crafters, makers and DIYers. There are dozens of groups across all social media platforms that allow our members to share tips, ask for help and share their projects and inspiration with an amazing community.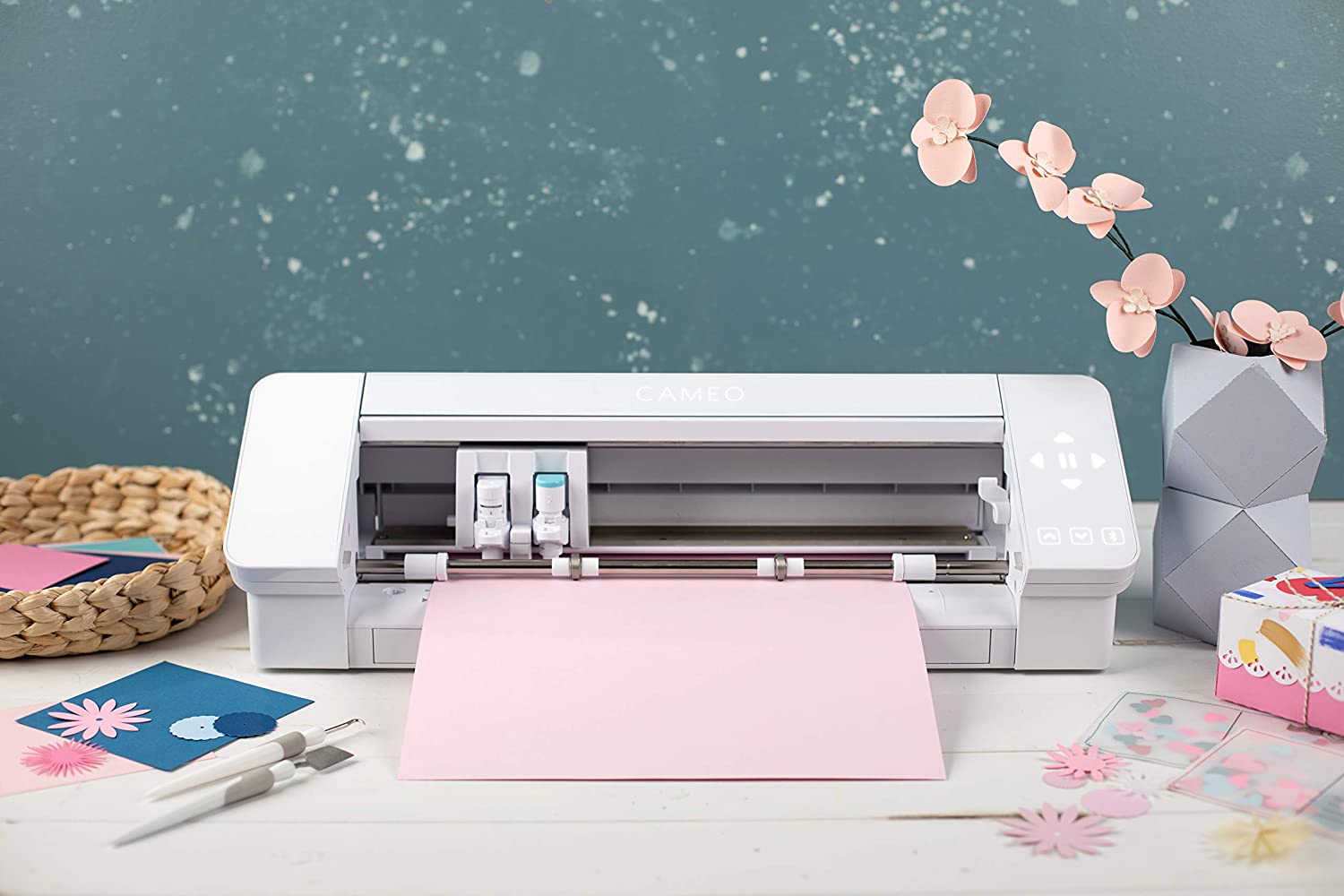 Here are some key features of this Cameo 4:
The silhouette Cameo 4 is the evolution in desktop cutting. The sleek Backlit touch panel lets you load, unload, and pause your projects in style.
Conveniently stored in the machine's compact pull-out drawer is a new built in roll feeder for quickly cutting vinyl and heat transfer material directly from a roll. On the back of the Cameo 4 You will find a built in cross cutter allowing for a clean straight edge cut on your vinyl roll for your next project.
The Cameo unique dual carriage allows for tool Type detection. The machine's ultra-smart system uses tool sensor technology that detects what tool you are using which then triggers the silhouette Studio software to adjust cut settings automatically.
The Cameo 4 stands apart from previous models with the new dual motor system, which allows you to cut in two distinct ways. Carriage one provides the Cameo 4 with unparalleled speed. It is operated from a solenoid motor that gives makers smooth and intricate cuts. Cameo 4 can cut or sketch up to 3x faster than previous models without sacrificing accuracy. Carriage two is operated by an entirely different style of motor that allows for unprecedented power.
The Cameo 4 carriage 2 boasts additional cutting force! With the increased downforce of the Cameo 4, we now offer a new rotary and Kraft blade (Sold separately) that have been specifically designed to operate with the Cameo smart tangential technology. With smart tangential technology the Cameo 4 cuts thicker material without sacrificing quality with each cut. The Cameo 4 offers true mat-less cutting which allows cutting cardstock, paper, and other materials without using a mat.
The autoblade has been reconfigured especially for the Cameo 4. This second generation autoblade will have a single-tap reset which will reduce the time needed for the Cameo 4 to automatically adjust the blade setting for your project.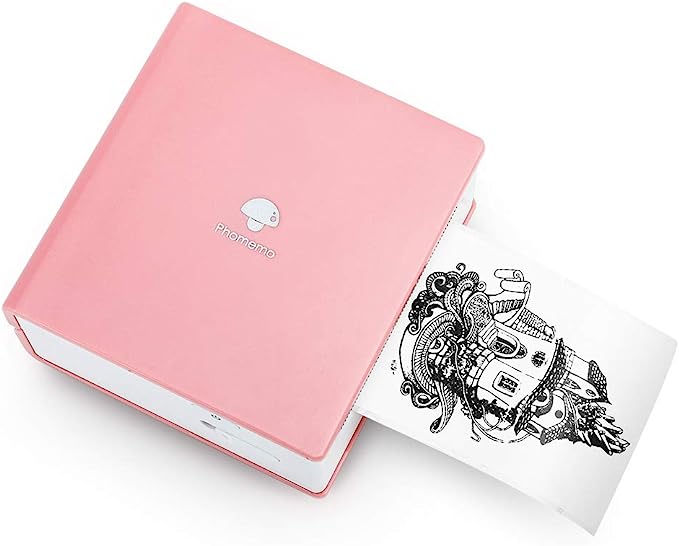 Key features of this printer:
This mini printer is perfect for carrying around in your backpack or bag!
Printer uses a wireless Bluetooth connection.
Perfect for kids or teens! Gift for birthdays, stocking stuffers, Hannukah or Christmas!
Want some inspiration for free Happy Planner printables?
Start here –>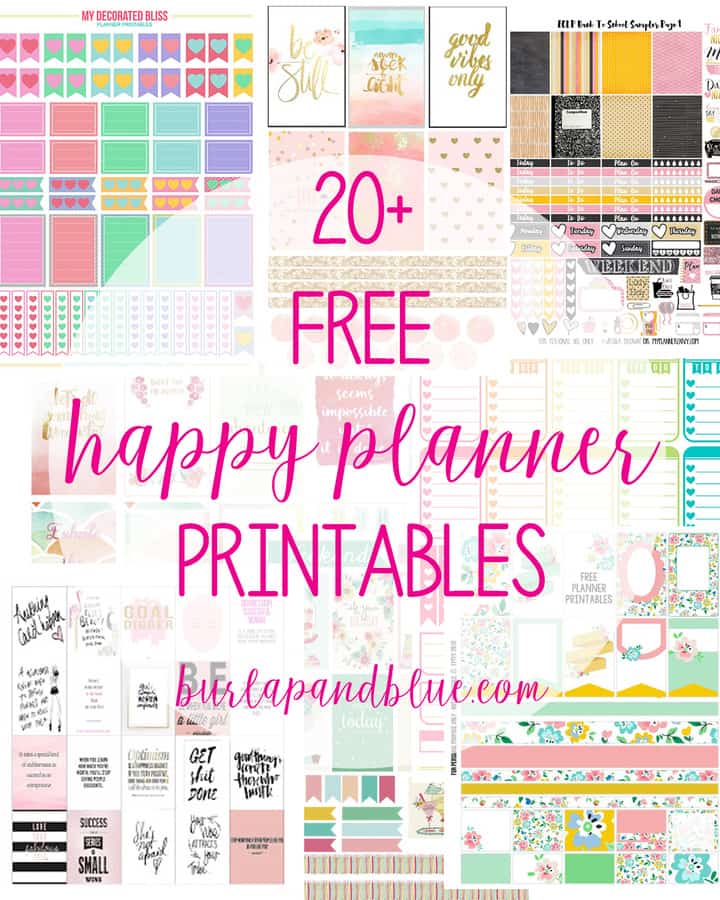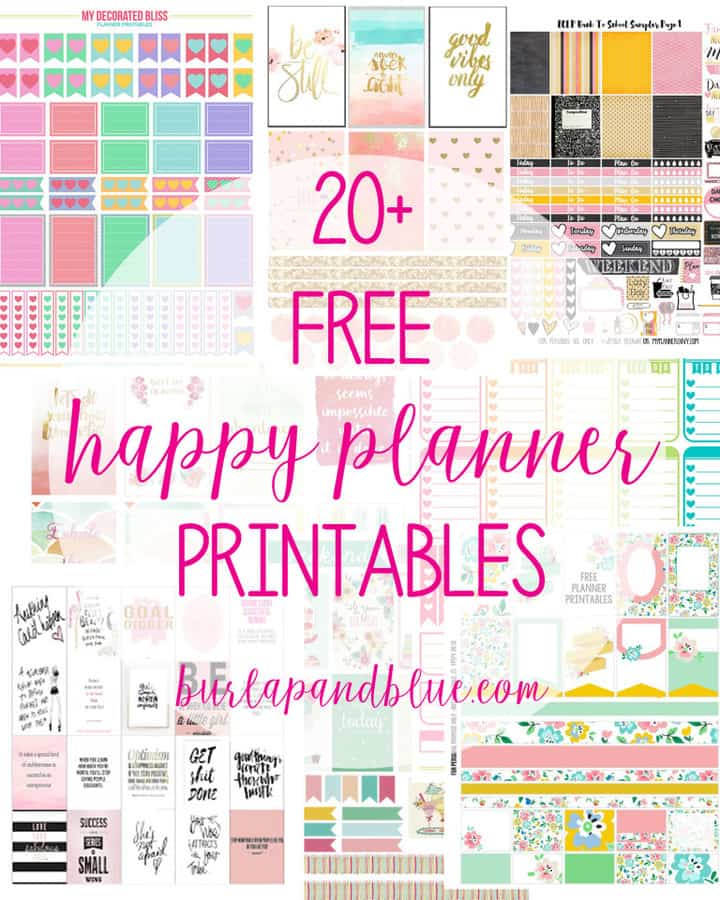 We share some free Happy Planner printables here!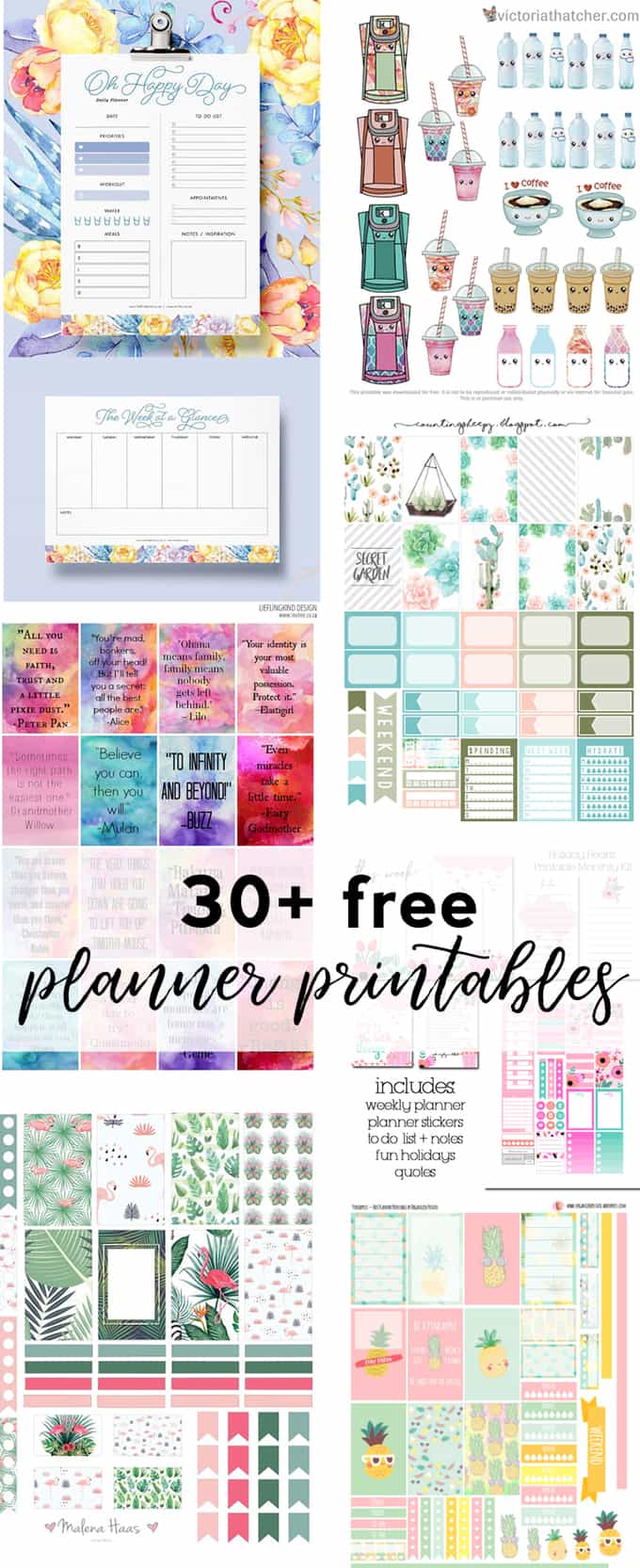 Here are even more, free planner printables!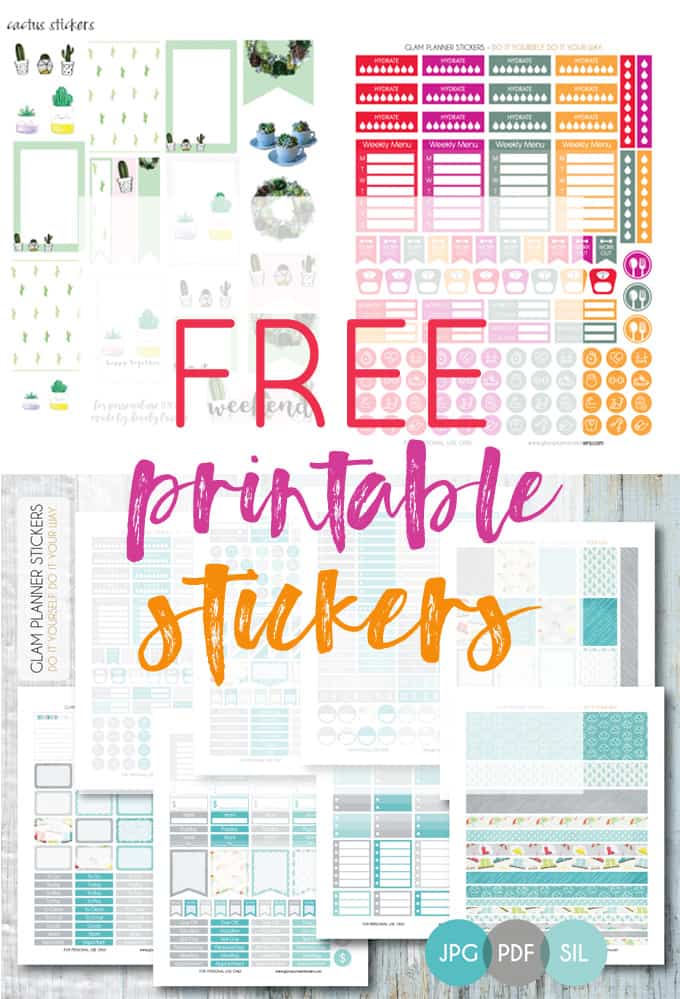 and this post has free printable stickers!
Thanks for reading all about our favorite printers for stickers. Have a great day!