I participated in an Influencer Activation on behalf of Influence Central for Kenwood Vineyards. I received product samples and a promotional item to thank me for my participation.
The holidays are quickly approaching (anyone else wondering where the first half of November went?), and, to me, that means good eats, time with loved ones, and a chance to reflect and be thankful for the people, things and experiences in our lives. This weekend, with the help of Kenwood Vineyards, I put together a small wine tasting party, and I am sharing the details (and a free printable) with you today in hopes of inspiring your own holiday get-togethers!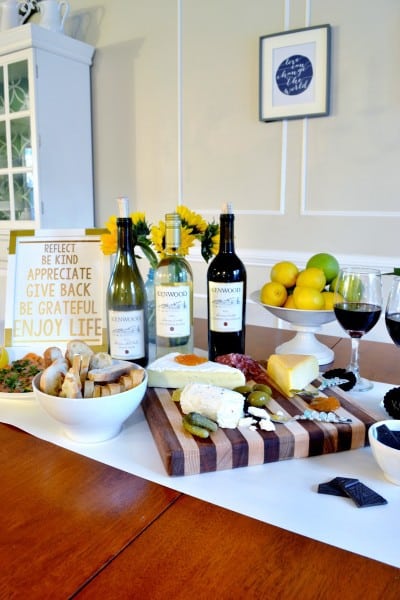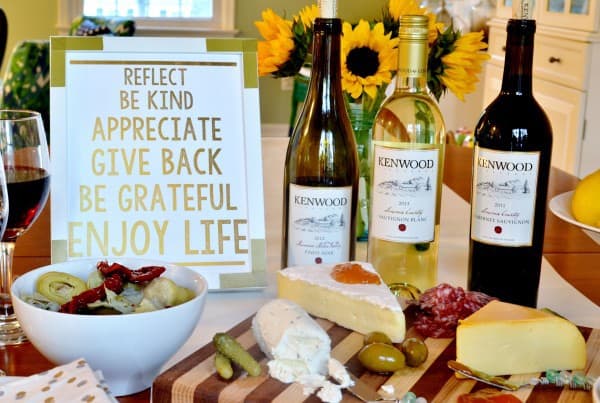 Located in the heart of Sonoma Valley, Kenwood Vineyards is dedicated to producing premium wines truly representative of Sonoma County's world-class vineyards. They source grapes from many vineyards in Sonoma's best appellations, most farmed sustainably using natural pest control, and use a "small lot" style of winemaking, where each lot from each vineyard is kept separate during the winemaking process. This allows the winemaker to assemble wines with character, broad complexity and superb balance.
We tried three of Kenwood's wines-a Sauvignon Blanc, a Pinot Noir (our favorite!), and a Cabernet Sauvignon. The Pinor Noir was drinkable and refreshing, with plenty of fruit undertones, the Cabernet Sauvignon was deliciously bold and complex, and the Sauvignon Blanc was bright, crisp and perfect for Summer sipping.
Best of all, Kenwood Vineyards is looking to end hunger this holiday season by matching donations to WhyHunger, a recognized leader in the movement to end hunger by connecting people to nutritious food and and supporting grassroots solutions that inspire community empowerment and self-reliance. And in the spirit of giving back, Kenwood Vineyards is donating $25,ooo to WhyHunger. In this busy season of giving and receiving, I think it's so important to think about ways to give back to those less fortunate. This has become even more important to me since having kids, and we are always looking for ways to help those less fortunate.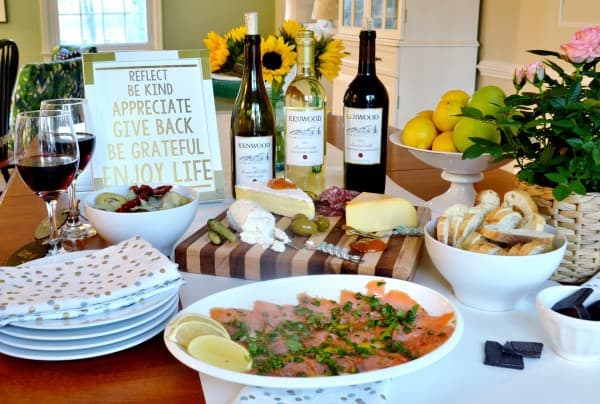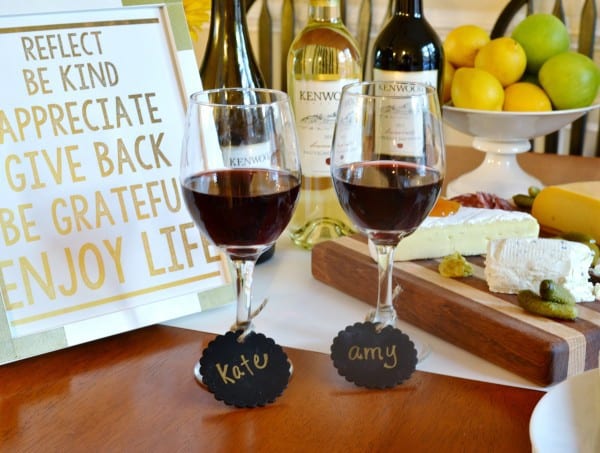 Want to throw your own wine tasting event? The ingredients are simple-a variety of good wines, cheeses and a baguette are all you really need. I threw in some olives, marinated vegetables, and some yummy smoked salmon to round out the meal (we found the salmon at Whole Foods, and dressed it with some herbs, lemon and capers).
For our cheeses, I chose a Truffle Goat Cheese, a Triple Cream Brie, and a Double Cream Gouda. I usually recommend serving both soft and hard cheeses for variety, but these three, though all on the soft side, are favorites of mine, and I wanted to serve cheeses that I knew and loved.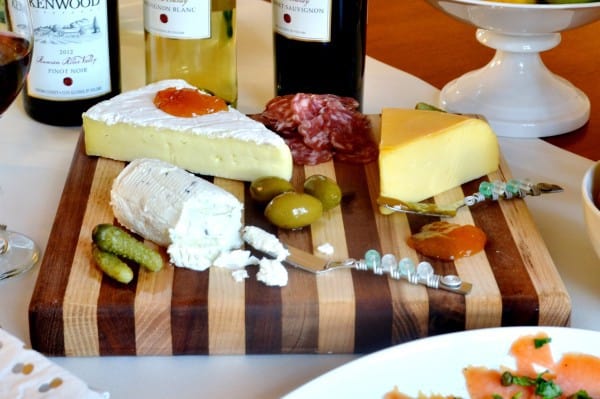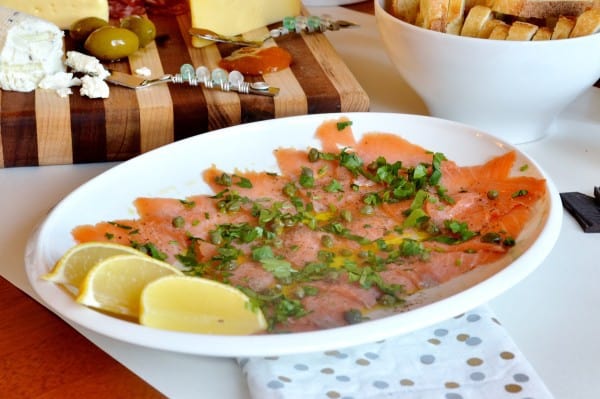 Our decor was simple; a paper table runner, some fresh flowers, and this gold foil-look printable, kept the decor easy and unfussy. Oh, and don't forget the cute wine charms-I used chalkboard tags from Michaels along with some jute twine.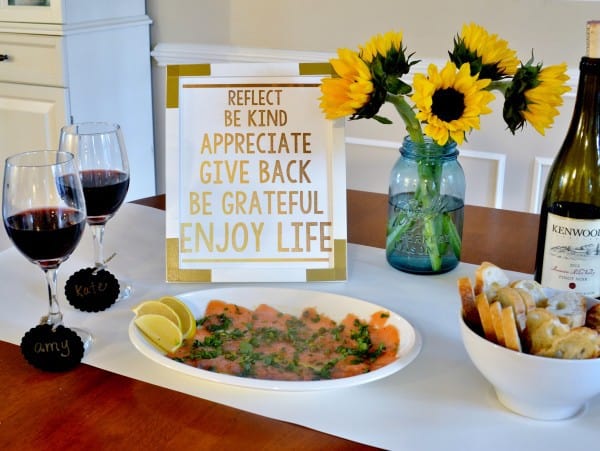 I had so much fun planning and executing this event, and I hope I've inspired you in your own holiday get-togethers! Just remember, holiday entertaining doesn't have to be elaborate and stressful; spending time with friends and family, and appreciating all the blessings in life is what's important! Though, good food and wine doesn't hurt either, and I am so happy to have found a new go-to wine for my holiday gatherings!
Connect with Kenwood Vineyards:
Facebook (use the hashtag #ShareYourTable to share your holiday meals and connect with others!)
Website
Twitter