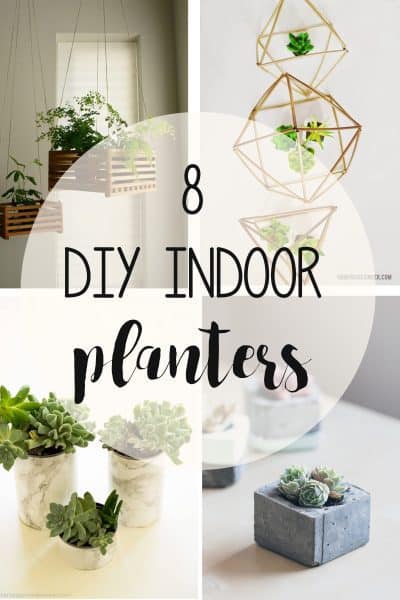 Flowers. Everyone loves them. Even if you're allergic to them, you can still appreciate the beauty, color, and life they bring to a garden or home. Specific flowers are used for specific occasions, and each flower is said to have its own meaning. Whether they're in our yards or in our homes, we love decorating with flowers as well as other plants. So instead of using normal, plain, and usually expensive planters, why not make your own? You can make new, awesome planters using recyclable materials even! It's easier than you think, saves you money, and helps the planet!
Yogurt Container Planters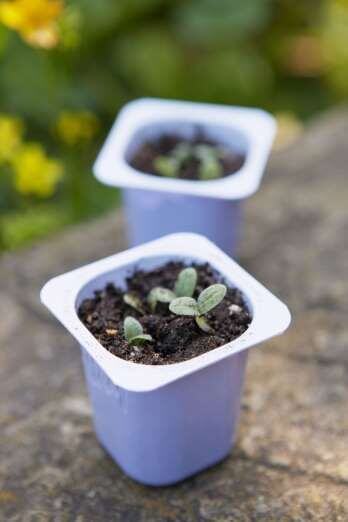 Source: Pinterest
This simple project involves recycling yogurt containers to make small planters for herbs. This is definitely one of the easiest DIY projects you can do! Basically, you'll only need a plastic food container (like a yogurt container) that is usually thrown away once it's empty. To make it look special, apply decals, glitter, or spray paint it. Once dry, you can then use it to plant small herbs and let it decorate your home office, kitchen, or living room.
DIY Book Planters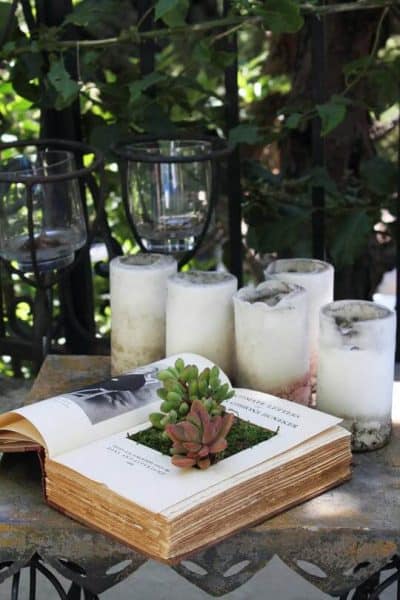 Source: Apartment Therapy
This project is simply amazing to look at. It's also very original: who would've thought of using a book as a planter? To make your own, find some books that you no longer plan to read or visit a second-hand bookstore to find a good-looking hardcover. Cut a hole in the center of each book. To prevent dirt and water from deteriorating the book, fit plastic sheets in the hole and cut the excess. You can also stack more than one book to make a taller option, where you could even fit a pot inside. Just make sure you secure them together with glue and voilá: your new planters are ready to rock!
Wooden Crate Planters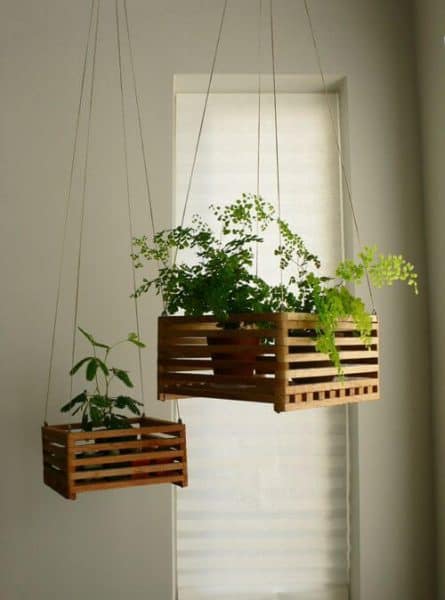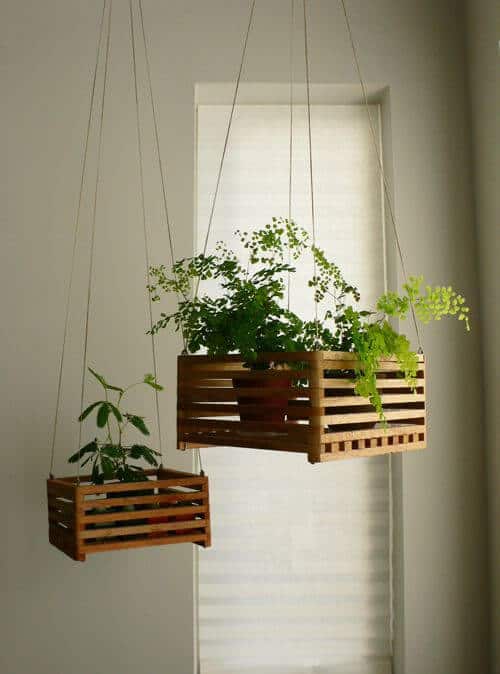 Source: Pinterest
Making planters out of wooden crates is both original and simple. Because of a crate's generous size, you will be able to put more than just a single plant in it. It can even transform your patio and bring life to it! You can also put your the planters in your kitchen, so you'll have fresh spices and herbs for your cooking. You can use small crates to hang, like on the picture above, or even use normal-sized ones beside your sofa. Just make sure to have good water drainage and you're good to go!
Modern Cement Planters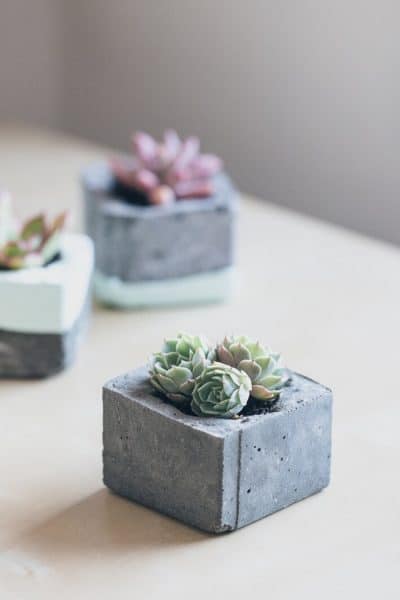 Source: Curbly
Modern cement planters can be made by anyone! This project is stylish, simple, and downright lovable. For your mixture, pour four parts sand and one part cement in a bowl. Look for old containers that have unusual forms, like bowls, boxes or even milk cartons. They can be used as your molding trays. After you're done filling the container with the mixture, place a small cup inside wrapped in plastic. Let it dry for two to three days. Remove the molding tray and you're done! For drainage, all you have to do is drill some holes. Need a visual for this? Check out this simple tutorial!
Pram Planter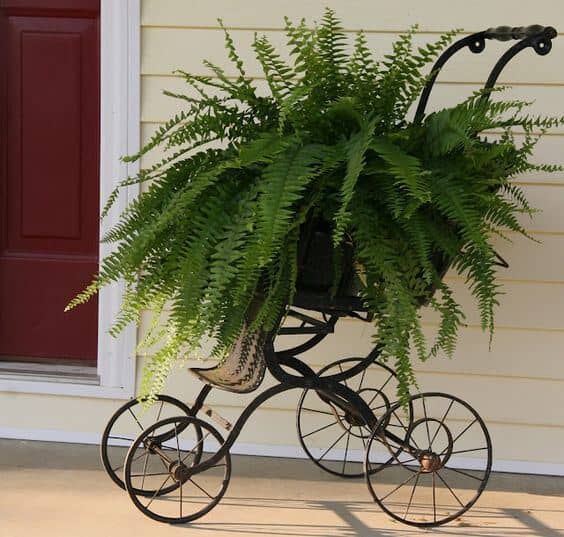 Source: Pinterest
Remember those vintage baby carriers? They are perfect for a modern and stylish planter! You'll only need to cover it with green paint. This will ensure that your pram will turn into a beautiful indoor planter. And hey, since it has wheels, it means you can transport it around your house and make it a part of your home's decoration! Could it be any more fun?
Recycled Upside-Down Planters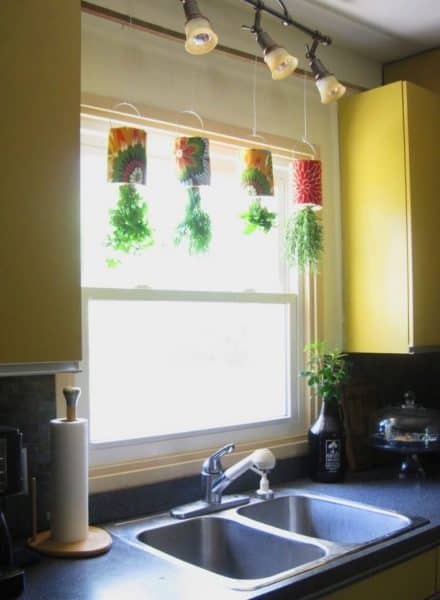 Source: Curbly
Contrary to what most people think, plants can actually grow upside down! It's not just possible, but it also looks pretty good. To make your own, get a coffee can that has a plastic lid. Drill drainage holes at the bottom of the can and flip it. Fill it with soil so you can then add your plant. In order to contain the soil, trace the bottom of your can with a landscape fabric. Cut out a circle that's the same size as your plant's stem. Cut holes in the can's plastic lid, and put it on. Flip the planter, and voila! You have a cool upside-down planter that can be a topic of discussion when guests visit your home!
DIY Marble Planters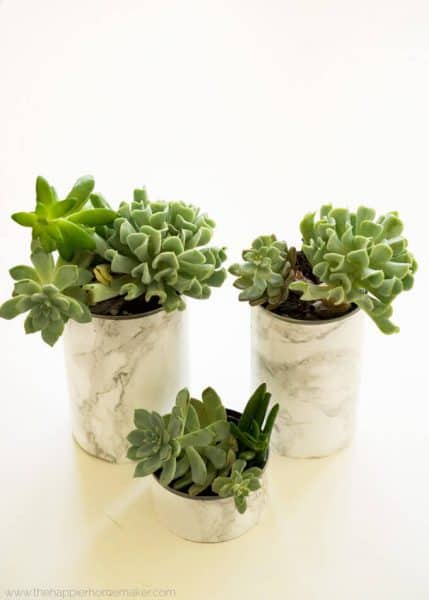 Source: The Happier Homemaker
These marble planters are easy, quick, and cheap to make! The materials that you will need are: a small container, marble-looking contact paper and scissors or craft knife. To make it, you'll only need to apply the contact paper to the container and cut the excess. You're done! Succulents are perfect for these type of planters, as they don't require much attention to drainage.
DIY Geometric Planters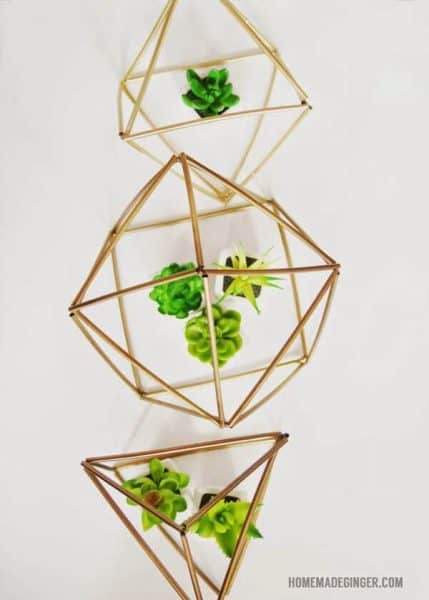 Source: Homemade Ginger
If you don't have a spot within your home to hang planters, you will love this concept! This geometric addition to your planters can sit on any flat surface. All you have to gather are supplies such as wire and straws! Now that you have your materials, string the wire through straws. Twist them together so you can have a shape that's flat at the bottom. You can finish faster if you string multiple straws and just bend them instead of twisting wires at the end of every junction. Once you're satisfied with the shape that you've made, spray paint it. In the picture, you can see a golden color was chosen to add even more style to it. Let it dry and you're done!
Article written by Isadora Guidoni, also a writer for homeyou.com, where you can find decor and remodeling ideas and professional contractors for any home improvement project. Check more on Facebook and Pinterest.