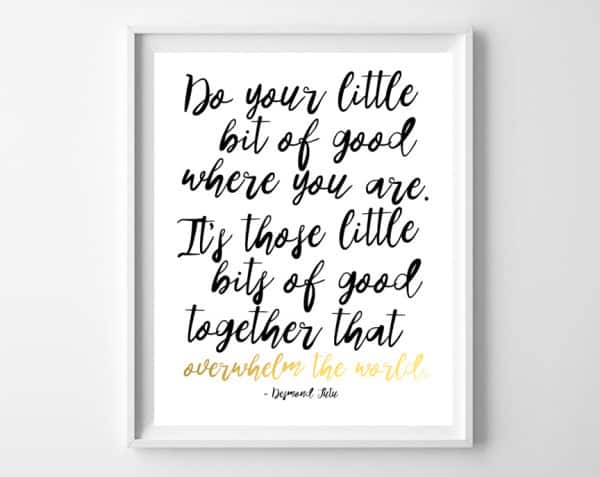 you can download this 8×10 printable here
I've had the privilege of sharing CARE's important and relevant work on this blog before. It's admittedly a bit of a departure from my usual content, but when I had the opportunity to share CARE's most recent cause-the plight of children in the world's youngest country, South Sudan, I knew it was something I couldn't turn down. CARE is a leading humanitarian organization fighting global poverty by empowering women and children.
July 9th, 2016 is the 5th birthday of South Sudan. A 5-year-old child in South Sudan was born into peace, but, sadly, has no memory of anything but war. In June, a CARE representative talked with 5-year-olds around South Sudan, giving us a heartbreaking glimpse of the lives of children in conflict.
I'd like to share a couple of these stories with you in the hopes of illuminating a few of the faces behind the conflict.
South Sudan turns 5 in July. So does Zeieya.

Zeieya's home was destroyed when war came to her town in 2014.
Zeieya has no toys. Her favorite game is pretending to grind sorghum to eat. 2.8 million people in South Sudan are in urgent need of food assistance. Zeieya doesn't go to school. Instead she spends hours collecting firewood for money.
South Sudan has the highest proportion of girls who aren't in school of any country in the world.
——————————
South Sudan is 5 years old. So is Chianyal.

Chianyal lived in a forest before finding shelter in a UN camp.
2.3 million South Sudanese have lost their homes since fighting began in 2013.
Chianyal skips rope and makes mud figurines with other kids in the camp. 180,000 South Sudanese live in UN protection camps. Chianyal doesn't go to school so she can look after her baby sister Nyanen.
———————————
Having two little ones of my own, I can't help comparing their experiences at age 5 (preparing for Kindergarten, playdates with friends, trips to the library), with the experiences of these South Sudanese five-year-olds.
CARE has helped more than 300,000 people in South Sudan, but international funding is only a 1⁄4 of what is needed to help South Sudan recover.
If you'd like to help further, consider making a donation to South Sudanese relief here. A donation of any amount helps!