This post is sponsored by BabbleBoxx.com on behalf of Erie Insurance
We purchased our home a little over a decade ago, and have no immediate plans to move, yet I'm still always curious about what's on the market, what features people want in their homes, and which features they regret prioritizing.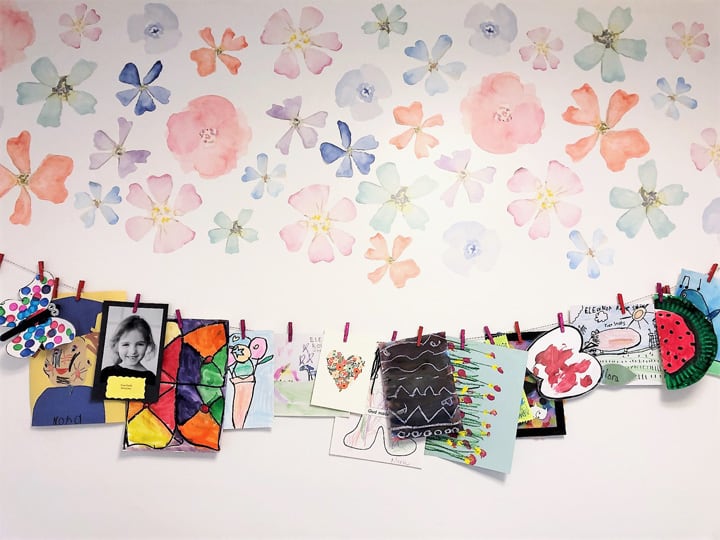 So when I saw that Erie Insurance, a popular provider of homeowners insurance, put out a survey asking 500 homeowners about the features they wanted (and got) when purchasing a home, I was definitely interested in the results.
Interestingly, by only a slight margin, the majority of homeowners (94.6%) said they like or love their home and wouldn't change anything about it.
The list of features homeowners wanted and got, but would not choose again was worth noting! A fireplace made the list, but the #1 feature homeowners got, but wouldn't choose again, surprised me (let me know what you think–I have this feature personally, and absolutely love them)!
The survey also goes into why homeowners claim they regret certain features, as well as which features homeowners didn't get, but wish they had (I agree all the way with #1)!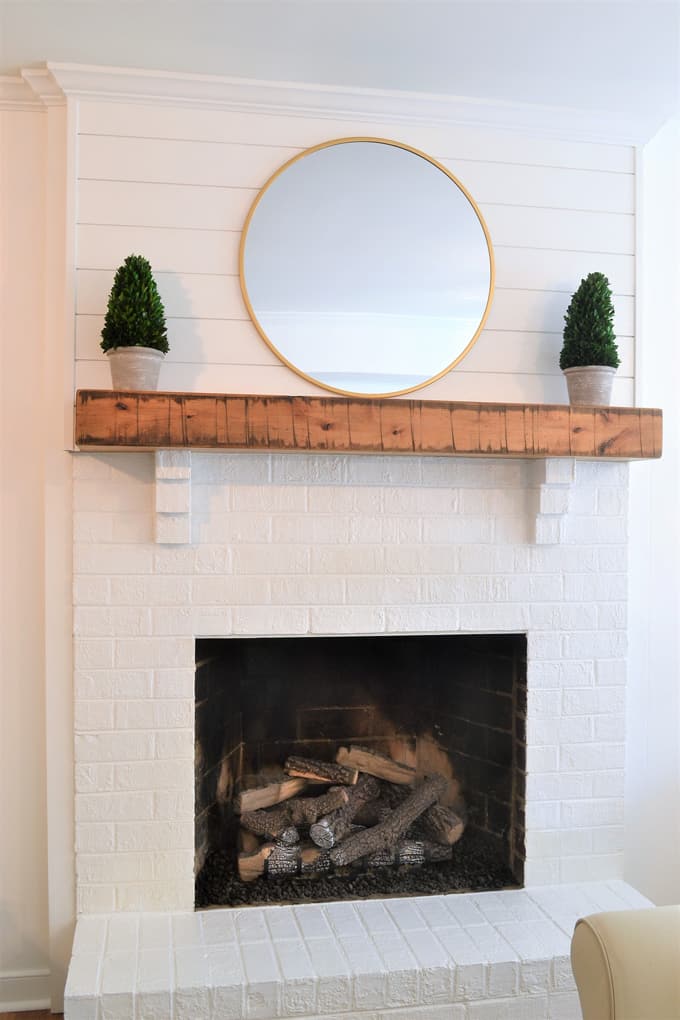 Another interesting, but alarming point: the survey found out many people are not aware of one of the most important benefits of insurance a homeowner can have. It's called "guaranteed replacement coverage", which, in short, would pay to rebuild a home in today's dollars.
One of my favorite parts of our home is the art we can create within it's walls. Both of my kids are creative, and, almost daily, create something that we want to display.
Displaying homemade art is not only perfect for looking back and revisiting favorite pieces, it's also a great way to fill up an empty wall in your kids' bedroom or playroom!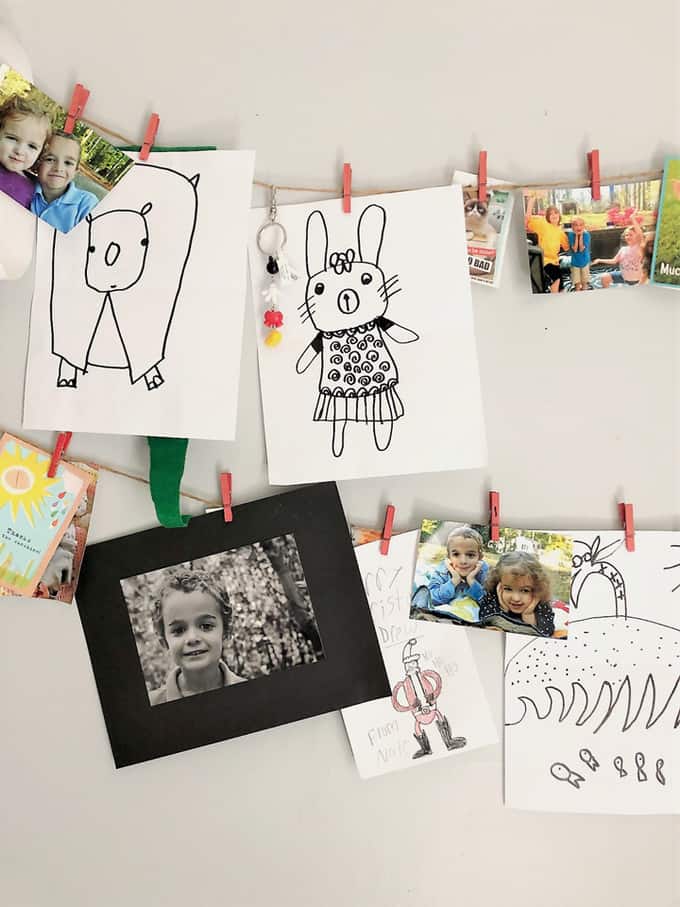 I created super-simple, DIY wall displays in each of my kid's bedrooms. Here's how to make one for your child (or even yourself!)
Start with a blank wall! This is my daughter's bedroom wall. The top half is covered in wall decals, and I knew an art display would be perfect right below it.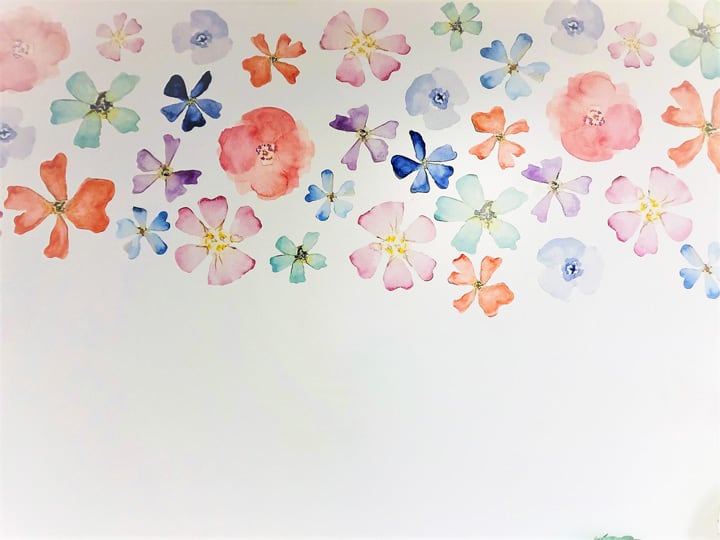 All you need is a command hook (or nail), clothespins and some twine. I used bakers twine for my daughter's display and jute twine for my son's.
Simply add the hook to your wall, knot your twine and attach one end to your hook. Repeat at the other end of your wall.
If you find that your art is too heavy for your command hook, consider switching to a nail. It's not quite as pretty but can hold a lot more weight!
Add your clothespins (I used mini ones) and your art!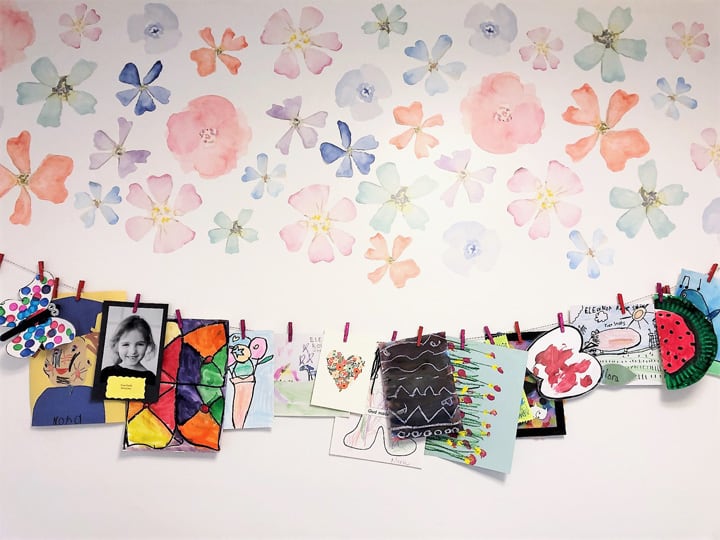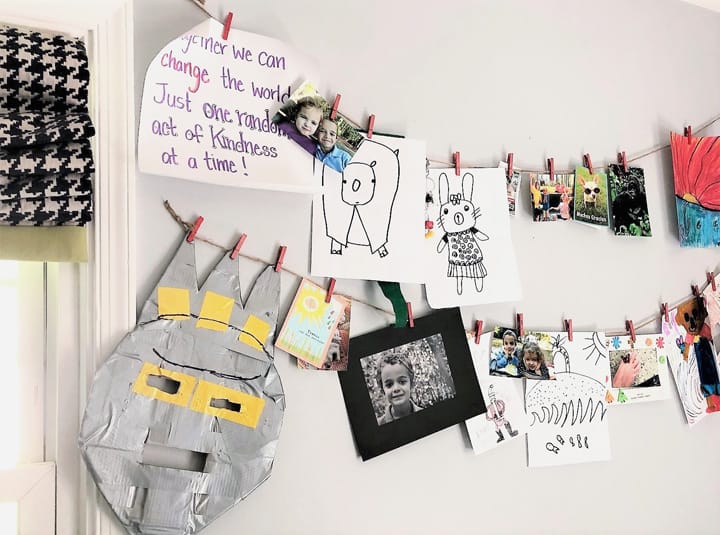 And there you have it! An easy and attractive way to display art, photographs, cards, or whatever you wish!
At Erie Insurance, every homeowners insurance policy comes with a local agent who's there to help you understand the coverage that's best for you and your home. Check out the survey page for more information about home trends, and to find a local agent!
Thanks so much for reading all about Erie Insurances' Survey of Homeowners and DIY Artwork Displays! Have a lovely day!