(Have you entered our huge sponsor giveaway yet? Over $400 in lovely goods are going to one lucky reader!)
Hello, Friends!
I'm so excited to start a new series on the blog today with tips and tricks for all you Etsy sellers. Sell in another venue? Don't worry, the vast majority of it will be applicable to you, too!
There is lots of good advice out there on what to sell and how to sell it, and I see no need to reinvent the wheel. I'm only going to focus on those things that I do consistently and successfully to help my own sales. Maybe they can help you, too?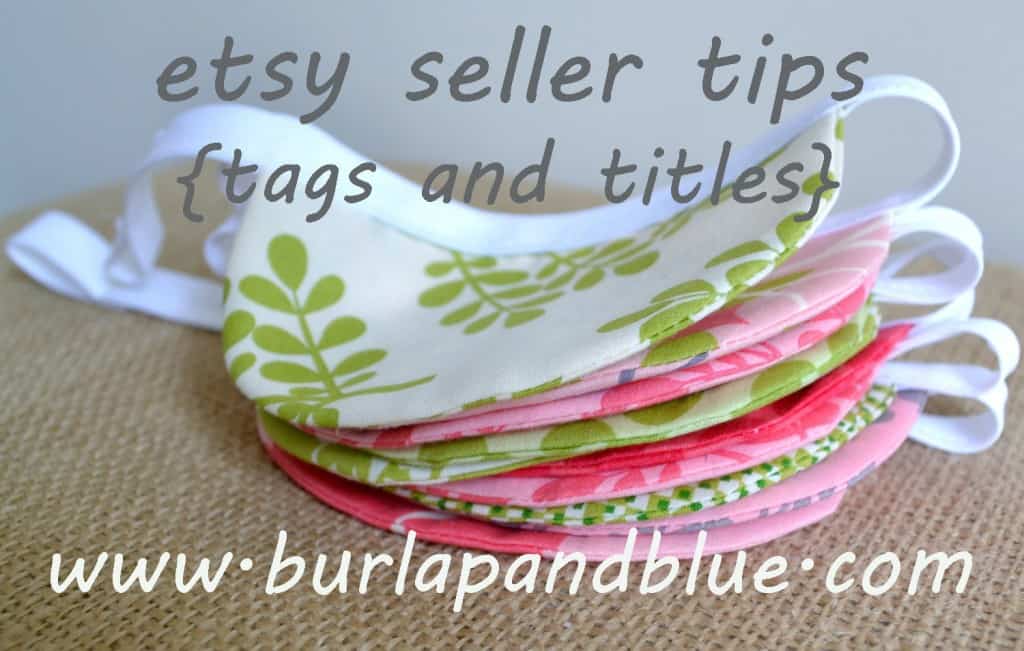 You've created this fabulous item and you've taken great pictures, but the hard part isn't done yet. As a seller, it's your job to create titles and tags that will bring the traffic (and then the sales) to your shop.
First up-titles. Your item title has many important functions as far as attracting potential customers to your shop. In addition to being a major factor in Etsy's Relevancy Search, your title also affects your Search Engine Optimization (this Etsy guide to SEO has lots of good info) and, lastly, your potential buyer's impression of your item. Your title needs to be relevant, engaging, and descriptive.
There are lots of tips out there for figuring out the best keywords to use in your title, but I want to mention one of my favorite-Google Keyword Tool. Here's how I use it: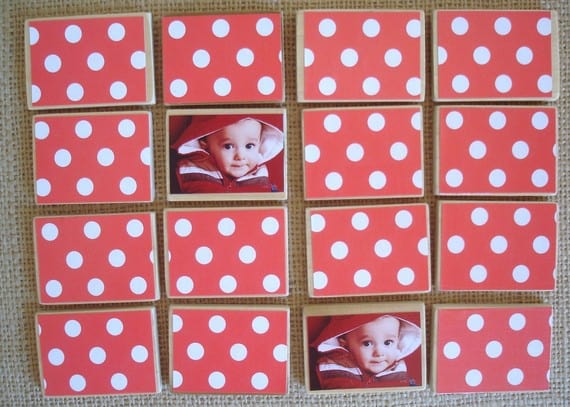 I sell this personalized matching game in my shop, and want to know what keywords people are searching for to help me create the best title possible. For optimal SEO, it's important to know that the beginning of your title bears more weight than the end. Knowing this, I know that I need to put the keyword heavyweights (those words that are most searched for, and will, therefore, bring the most traffic to my listing) at the beginning.
This is where Google's Keyword Tool comes into play. By typing in possible words/phrases that people might use when searching for my item, I can quickly figure out which search terms are most popular and how many folks are searching with it. I put in four possible search terms, "wooden toy," "matching game," "custom game," "children's toy," and here are the results…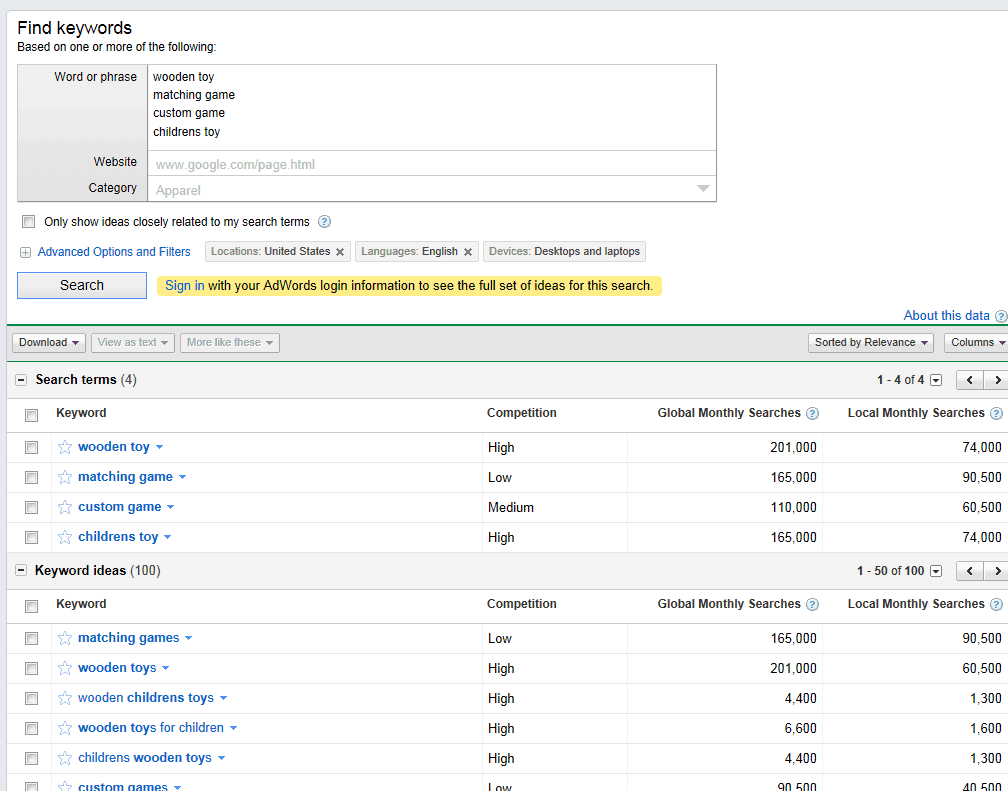 The results are relatively close, but you get the idea. "Wooden Toys" is a popular search term; "Custom Game" is not (relatively speaking). Using this information, this is the Title I decided on:
Wooden Toy- Custom Matching Game / Unique, Personalized Children's Gift-Birthdays / Stocking Stuffer
Just make sure that your title is relevant and that the words you choose accurately describe your item.
Next up-Tags. Etsy allows you 13 tags (or keywords) in order to help your item be better found in search results. First up, these Etsy Dos and Don'ts on Labeling Your Items is a good place to start. In short, label your item accurately (no misleading). Secondly, realize that word pairs have more weight in search results than individual words. For example…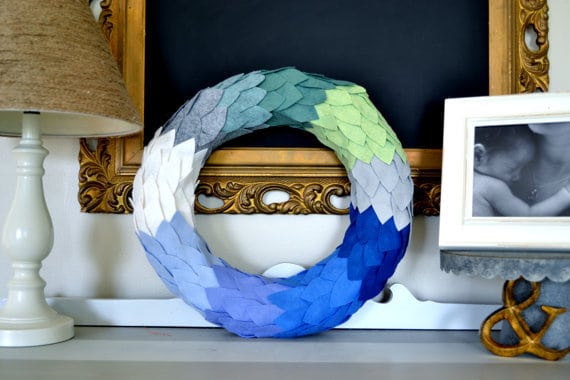 I sell this felt wreath in my shop. If someone searches the term "ombre wreath", they have a greater chance of finding me if one of my tags is "ombre wreath," verses "ombre" being one tag, and "wreath" being another. Again, it's good to know what people are searching to help you input the most popular and accurate terms possible!
As with both tags and titles, make sure to vary your wording in each of your listings to get more traffic to your shop! For example, I sell scalloped garlands in my shop…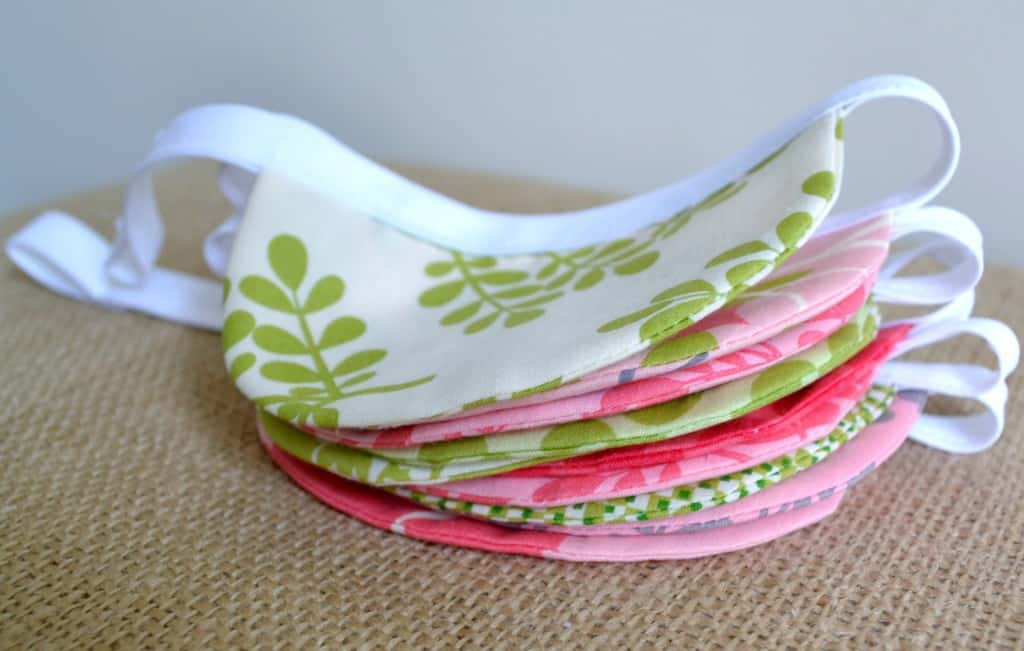 They are all very similiar, but my titles and tags vary per listing. For example, here are 2 of my titles for my garlands:
Vintage Inspired Bunting/Garland-New Baby/Shower Gift-Blue, Green, White
Pink and Green Garland-New Baby/Shower Gift
I also made sure to vary my tags to include colors, who this item may be for, where this item might be displayed, fabric designs, etc. For example, in one listing I may use the tag "nursery garland," for another I might use the term "nursery decor."
So tell me, was this post helpful? What other seller tips posts would you like to see?