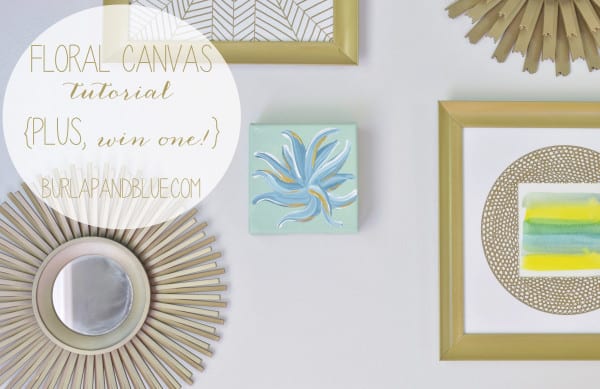 Yesterday, I shared my bedroom gallery wall with you all, and my favorite part of this wall, by far, is the mini floral canvas. Today, I'm going to share the tutorial for you to make one (or more!) of your own. Plus, at the end of this post, I'm giving one away! So let's get started…
Materials:
mini canvas (I used a 4″x4″ wrapped canvas)
acrylic/craft paints (background color, main flower color, white, and accent color)
wide, angled paintbrush
skinny paintbrush
round foam brush or a sponge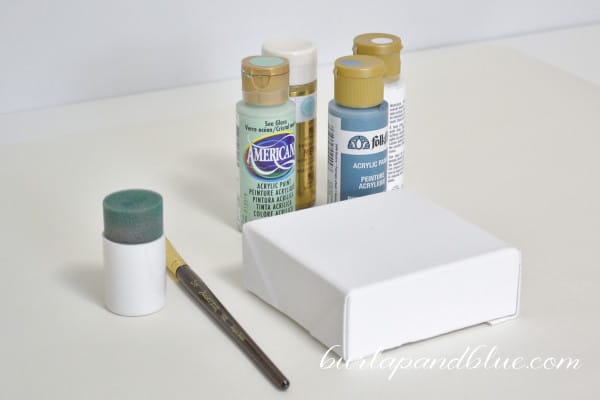 Step 1: Choose your background color (I find it's easier to use a lighter color for the background, and a darker color for the flower itself, but it can be done the other way around as well-the flower itself may just need a couple extra coats of paint). Use your sponge or foam brush to apply color to the entire canvas (sides included!) Let dry.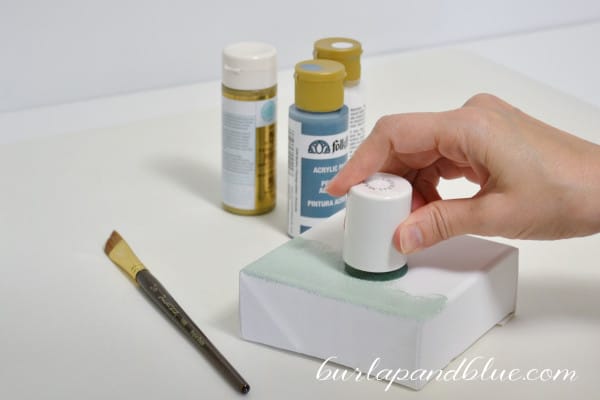 Step 2: Take a pencil, and lightly sketch out some thin lines to create the petals for your flower. This is completely unscientific and free hand-you really can't mess it up. More confident painters really don't even need to do this much, but, then again, if you're an expert painter, you probably aren't reading this tutorial:)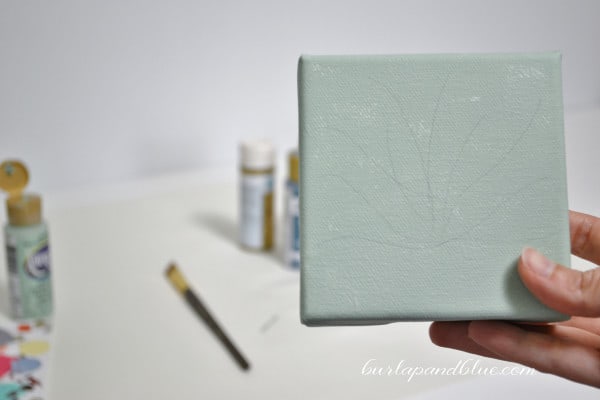 Step 3: Let's get our brush loaded and get ready to paint! Take your main flower color (I used slate blue) and squeeze a generous amount onto your palette (or paper plate, if you're fancy like me). Next to it, squeeze out some of your white paint (you won't need much). Dip the brush into your main color, and be generous! You want your brush to be pretty full. Then take your brush, and dip just the tip into your white paint.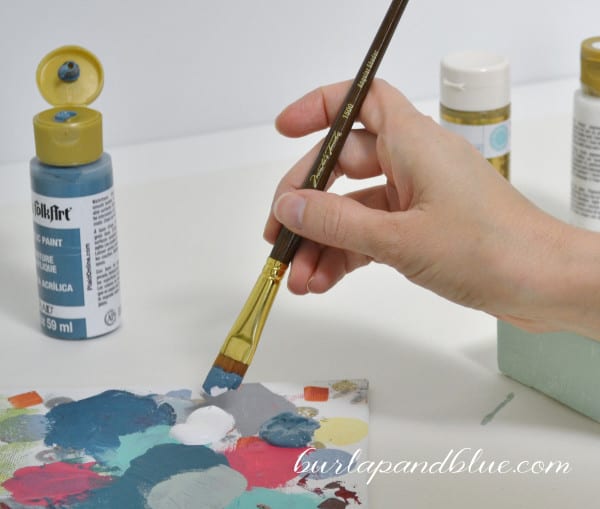 Step 4: For the entire stroke, we will keep the tip of our brush on the canvas, not turning the brush onto it's side. The only thing that will change is the pressure…at the beginning of the stroke, keep the pressure light, as you move through the stroke, put more pressure onto your brush.
So to begin, put the tip of your brush on the end of one of your "petals". Keep the pressure light (to get a nice sharp tip), and move the brush along your petal, increasing the pressure as you go.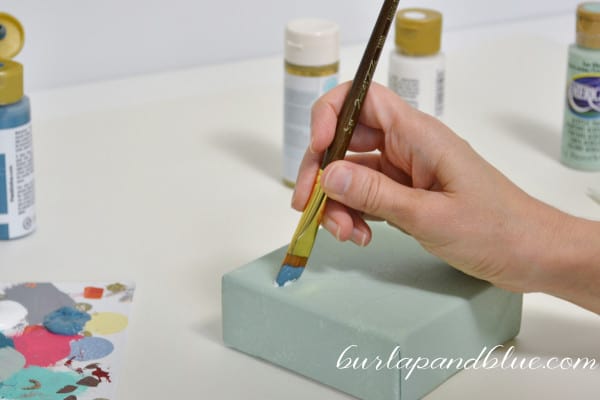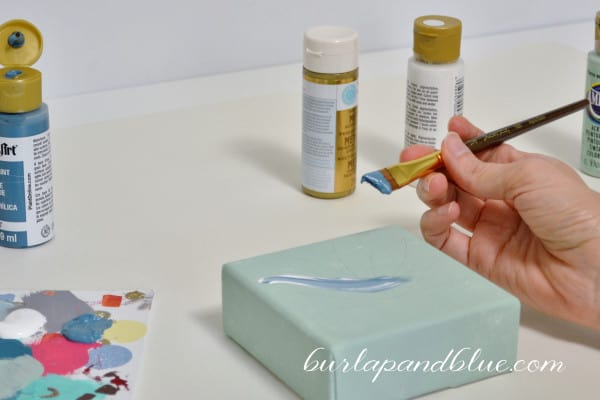 Notice how the petal got thicker as you moved through the stroke? That's what you're after. Reload your brush, and complete another petal. Repeat until your flower is as full as you'd like. I went back and added a few more petals once I painted in all the ones I had drawn…I wanted my flower a bit fuller than I had sketched out. Notice how my petals are different lengths, and point in different directions as well.
Let dry. If you'd like to do a second coat, or add more white (or color) to your petals, now is the time.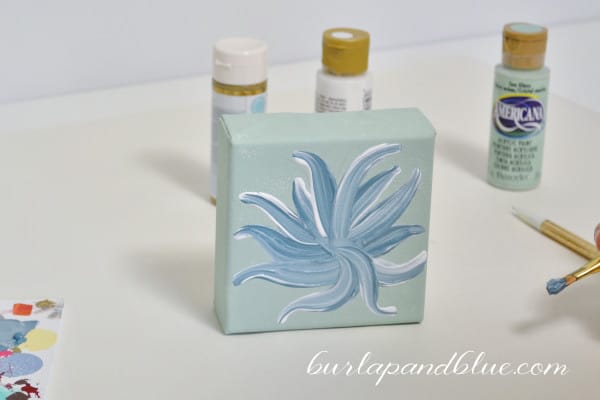 After your canvas has dried, it's time to add an accent color to give your work a bit of dimension and depth. I chose gold, but any color will do (a dark color like navy or charcoal would've worked here, too). Take your skinny paint brush, add a bit of paint, and brush a little on each petal.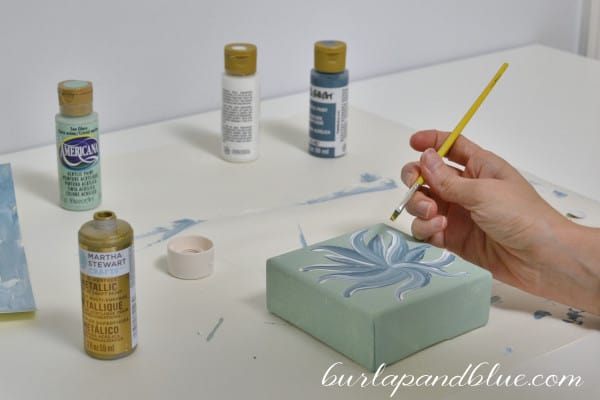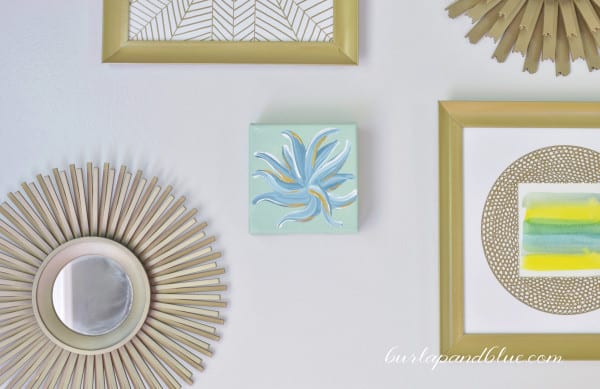 Let dry, and you're done! Aren't you proud of yourself? In about 20 minutes you've created one-of-a-kind floral canvas that would be a perfect addition to a gallery wall, bookshelf, or mantle.