Summertime is moving season! Home-selling peaks this time of year, making it a popular time for families to relocate to another area of town or across the country.
Whether your family is moving across the neighborhood or to another state, relocating is a big change for everyone, especially children. Kids aren't as used to adapting so their new environment may seem scary and unknown to them. Consider also that they'll be waking up in a new place, nowhere near old neighbors have may have become best friends. They'll also have an unknown neighborhood park nearby.
One great way to ease the anxiety that comes along with moving is to make it fun! Kids love playing games so get them excited to explore their new home with this scavenger hunting activity and printable.
This scavenger hunt activity is great for families on the move or even families just looking for fun activities for children to take advantage of during the summer months.
Some other fun move-in activities to try include:
Take a family walk around the neighborhood

Explore a nearby park

Start a new tradition such as movie nights or taco Tuesdays
Click here for more printables to ease your family into a new home!
The following scavenger hunt is perfect for little ones who can walk around their new house but are still learning to read and count. See if they can find the items listed below or walk through the house with them pointing out each object! Use this to help them feel more at ease with their new home and to learn where everyone sleeps.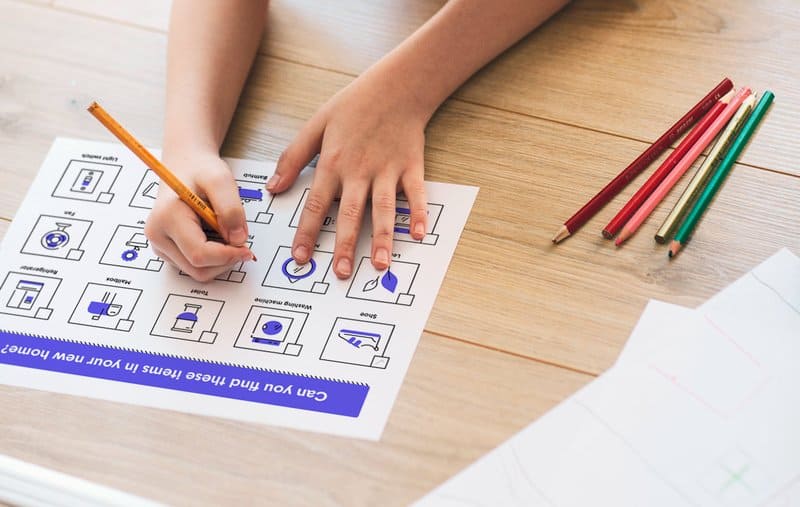 The following scavenger hunt is perfect for older kids who need more to occupy them. Set them up with a crayon and this printable and make it a race to see who can finish first! They'll love scouring their new home for these items and counting how many windows and cabinets they can find. The last task calls for PJs for movie night — winner gets to pick the flick!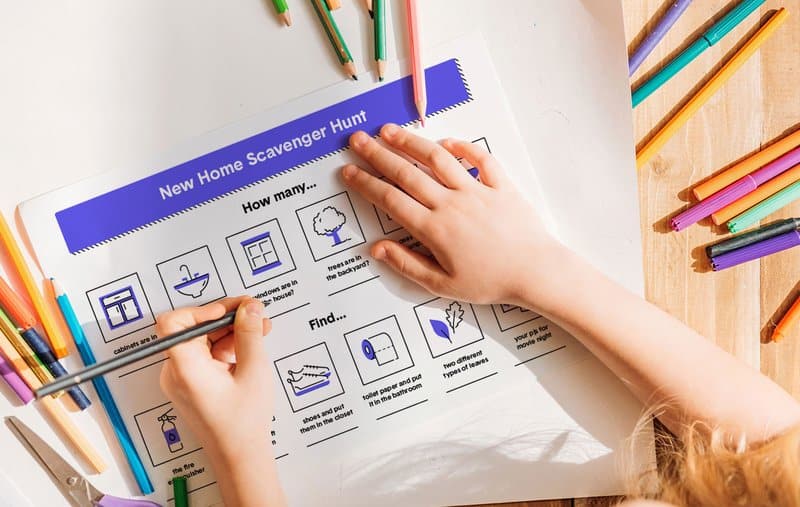 Have kids of varying ages? Want to customize the scavenger hunt to the features in your home? Download our customizable scavenger hunt and make up your own items for your children to count and find. Just be sure to have a fun prize waiting for them at the end!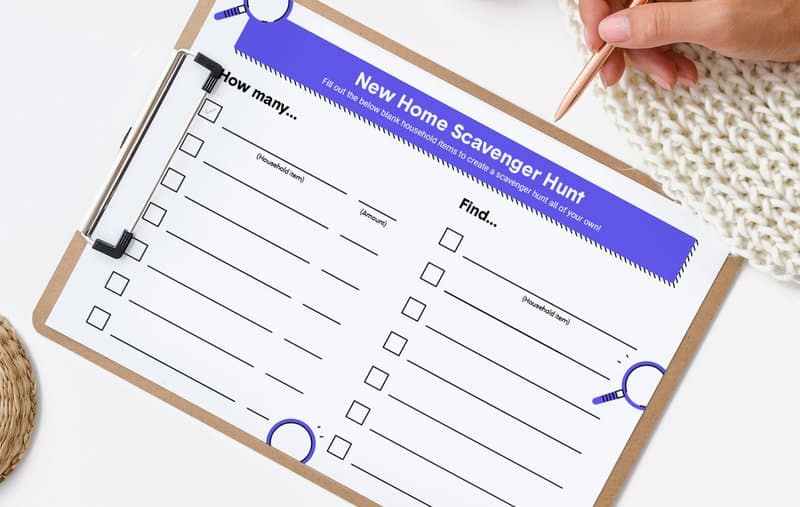 Moving Tips and Tricks
There are steps you can take to ensure your children transition into their new homes and lives as smoothly as possible. By communicating openly, making the experience fun, and sticking to established routines you can help to decrease their anxiety and encourage excitement for new adventures. Below, we broke down eight tips to follow before, during and after a move to help your children achieve acceptance and get to know their new home.
#1: Have a family meeting
As soon as you know that moving into a new home is going to happen, it's best to get your kids involved so they have more time to wrap their heads around the idea. Hold a family meeting and explain exactly why you are moving and the timeline of when things will be happening. Let them ask questions and talk through any concerns they have to help them feel more comfortable.
To help get them excited about this new move, a family meeting is a great time to talk about what they want to see in their new home and new neighborhood. Take their suggestions seriously, and factor it into your house hunting decisions. If the house has already been selected, make sure to talk about what the new home has that your current one doesn't. It's important to stay positive during this initial meeting to set the tone for the rest of the move.
#2: Let them be a part of the process
One of the main reasons that moving can be so stressful for children is the lack of agency they feel. And while they may not have any control over whether or not they move, you can still provide them some idea of control through the selection of their new home, room or even just the decor inside their new space.
Take the time to talk to each of your kids individually, allowing them to choose the color scheme, paint colors, layout or theme for their new room. This will help get them excited for the upcoming move and help them get comfortable with calling a new place home.
#3: Stick to a schedule
In the months or weeks leading up to the move, it's important to try to keep your kids routine as normal as possible. Staying on schedule in terms of bedtime, dinner, and extracurriculars as long as possible helps to bring a sense of normalcy to your children's lives and can reduce the anxiousness and worry that moving can bring about.
Once the move approaches, be open with your kids about the changes to their new schedule. If they have to stay up later to travel or miss out on a regular playdate or activity, give them plenty of reminders ahead of time to avoid a potential meltdown. This way, your kids will be more prepared to handle the lifestyle changes that come with a big move.
#4: Make packing fun
The idea of packing up all your belongings can be intimidating to anyone, but especially for children who may not understand what is going on. If they are old enough, involve them in the packing process, making a game out of who can fold and pack up the most boxes first. Offer prizes like a pizza party, music selection on the trip to the new house, or their choice of candy.
If your children are too young to help pack, however, it's important to clearly explain to them what packing means. They may start to panic if they believe you are going to get rid of all their favorite toys, so let them pick out a few favorites to keep with them and explain they will see all their other toys at the new house. If your new house is nearby and ready to move in early, try taking your children there every week with a few of their toys that way they feel comfortable playing in their new room.
#5: Say a proper goodbye
Childhood homes are hard to leave, so planning an activity or party to officially say goodbye to the house can provide children with much-needed closure. Starting a scrapbook filled with pictures from fond memories in the house, including ones you make while packing, can help provide a sense of comfort that the old home will not be forgotten. Plus, it's a great way to look back on your memories after your family is settled into your new home.
Outside of scrapbooking, consider throwing a "see you later" party before you make the big move. Rather than a "going away" party, a "see you later" party implies that the move isn't forever and that your children will still be able to maintain the relationships they made after the move. Invite your friends and family for one last BBQ at your old home, and make sure to show everyone pictures of the new house for encouraging comments that will help your child get excited about the move.
#6: Make a day-of plan
Moving day is a hectic experience, no matter if you are hiring movers or doing the heavy lifting yourself. It's important to set up a plan for your children so they don't get upset and derail the entire day. If they are young, consider setting up a playdate or getting a sitter until you are ready to hit the road, that way you can focus on the task at hand. Make sure to provide plenty of easy to travel games such as cards, coloring books and electronic devices to keep them occupied.
Getting ready to move? If in Europe, be sure to look into Transport Executive for your moving needs.
If they are older, getting them involved in loading up the van can help to occupy their minds and make the whole process go a lot faster. Ask your teen to invite their friends over for pizza and to help them move, making sure to provide time for them to say goodbye. Minimizing stress is vital to an easy transition into a new home, so do all that you can to help your kids adjust to their new normal.
#7: Help the kids unpack first
Aside from bare essentials such as toiletries and kitchen supplies, prioritize unpacking your kids' belongings first. This will allow them to decorate their room however they want, meaning they will be more excited to fill their drawers with clothes and let you get back to the work of unpacking the rest of the house.
#8: Create new rituals
While some routines – like their bedtime – should stay as consistent as possible throughout the move, a new home is a great time to establish new family rituals they will love. Take a look at your new neighborhood and consider getting outdoors or trying out a new family hobby. If there aren't any big activity centers nearby, even a nightly neighborhood walk or weekly movie night can help your children adjust to the recent changes.
New rituals are also great for helping your children make new friends, which is one of their biggest stressors after a move. Consider frequent trips to the park where they can meet new people, sign them up for a local sports team or reach out to parents in your neighborhood to set up a playdate. Encourage them to try new things throughout the first few months in their new home and their confidence will begin to skyrocket as they start to fit in with their new peers.