Have a craft or DIY blog? Then you'll want to know about Hometalk! Hometalk sends over 15K views to my blog a month, and today, I'm sharing all about how to increase blog traffic using the power of Hometalk!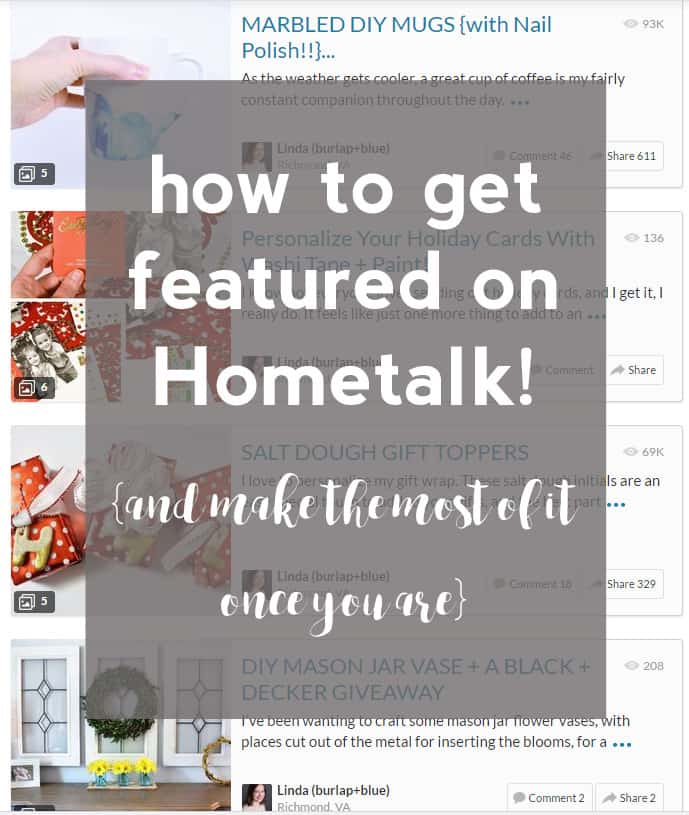 As a blogger, I spend a lot of time chatting with other bloggers who want to grow their traffic. More than anything, I get asked for tips and tricks for growing blog traffic, without spending a lot of money. There are so many (fantastic) paid ebooks, courses, business coaches, etc. that will help you gain more traffic, but not a lot of legitimate, proven, FREE ways to grow your blog.
Today, I'm sharing one of my favorite–Hometalk, and 5 ways to really make the most of it. Just to clarify, this is not a paid or sponsored post; I get nothing from sharing this with you all, other than the warm fuzzy feeling of helping fellow bloggers 😉
Basically, Hometalk is a forum for you to post your already-published blog projects. It's a great way to get your work in front of a wider audience, who will then click through to visit your blog and (hopefully) stay a while!
If you're new to Hometalk, you'll create your profile, upload a headshot and cover photo, and start adding projects. It's as simple as that!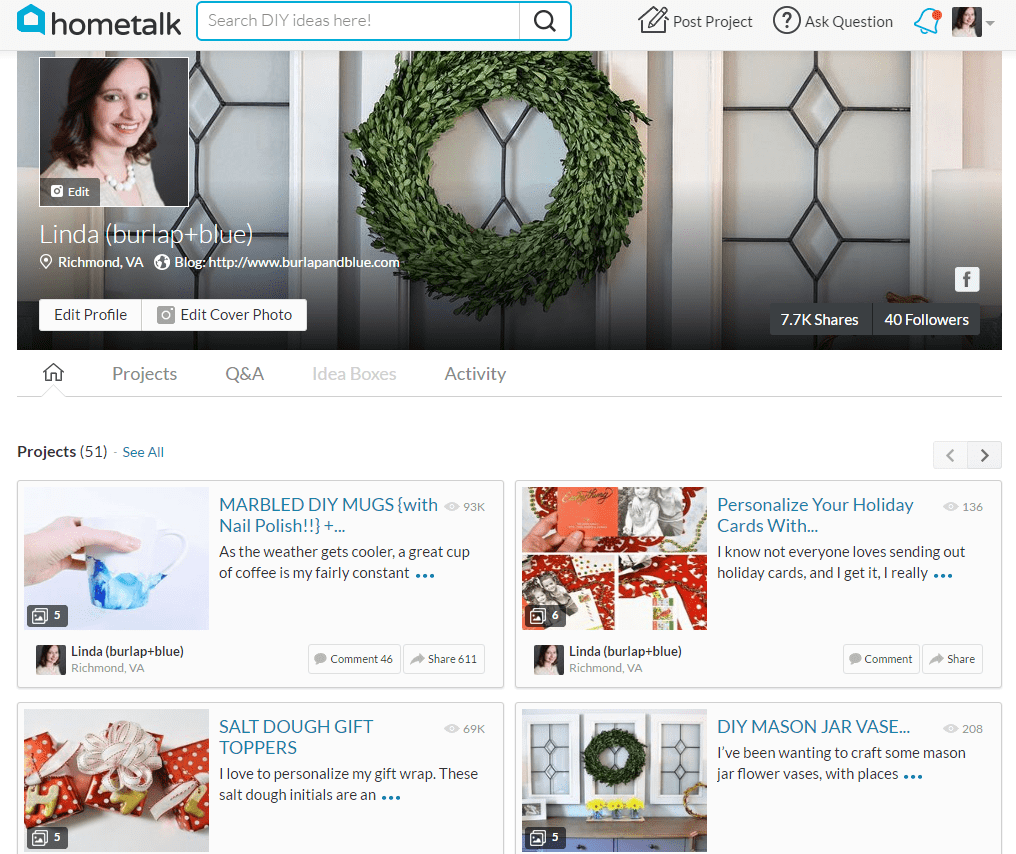 So, you've begun posting projects, and want to know how you can capitalize on your experience and, of course, bring some of that Hometalk love to your own blog. I hear ya. Today, I'm sharing 5 ways to help you take the next step and get your projects featured by Hometalk, while directing some of that traffic to your own blog.
1. Post quality projects. This may go without saying, but it bears repeating. High-quality, seasonally-appropriate posts will always have the best chance of being featured. Hometalk sends out a weekly email with a hashtag challenge that will also increase your chances of being featured either on Hometalk itself or one of it's social channels.
In addition to seasonally-appropriate projects, make sure your photos are high-quality. The better your photos, the better the chance that Hometalk will want to show them off!
2. Make sure posts are at least 100 words and contain 3 images. The reason for this is two-fold. Once you hit the minimum number of words + images, you are able to add your blog post link to the end of your project, encouraging readers to check out your original post. Plus, you will then be able to add 2 hyperlinks to your post! This is a FANTASTIC way to draw readers to your site.
Using the following format: [url=yourlink.com]yourtext[/url], you can direct readers to a related blog post, a giveaway, even one of your social media pages. SUCH a valuable tool!
3. 100 words + 3 images is nice, but 200 words + 4 images is even better. Why? Because posts of 200 words and 4 images makes you eligible for the Hometalk Traffic Program for Bloggers. If you're a blogger, you definitely want to be a part of this!
In short, this is Hometalk's way of rewarding bloggers who regularly share high-quality content. Bloggers who share three high-quality posts within a 90-day period become eligible for an email feature, where Hometalk links to one of your blogs posts (on your blog, not Hometalk's site)! You can read more about the Traffic Program on Hometalk's blog.
Why would you want to be a part of this? Take a look below…

That spike in traffic was from my most recent Hometalk email feature. On average, I get between 9-12 THOUSAND extra pageviews a day when Hometalk features me. Very impressive.
4. Capitalize on high-traffic projects within Hometalk. The Traffic Program isn't the only way Hometalk takes care of it's bloggers.  If you look at a recent screenshot of my Hometalk projects, out of the last 6 projects posted, 3 of them received over 69K views. That's a lot of eyeballs on your work. How do you take advantage of this? High-traffic posts tend to get a lot of comments, be sure to take a few minutes each day to go through and respond to questions and comments. I don't know this for a fact, but I think the engagement lets Hometalk know that this is a post people are interested in. If nothing else, responding to readers is a great way to build community.
Also, consider adding in a giveaway to your post. For my Marbled DIY Mug post (93K views!), I went back in and encouraged readers to head to the blog post for a giveaway. This is a great way to get readers to your own site and build your traffic and following.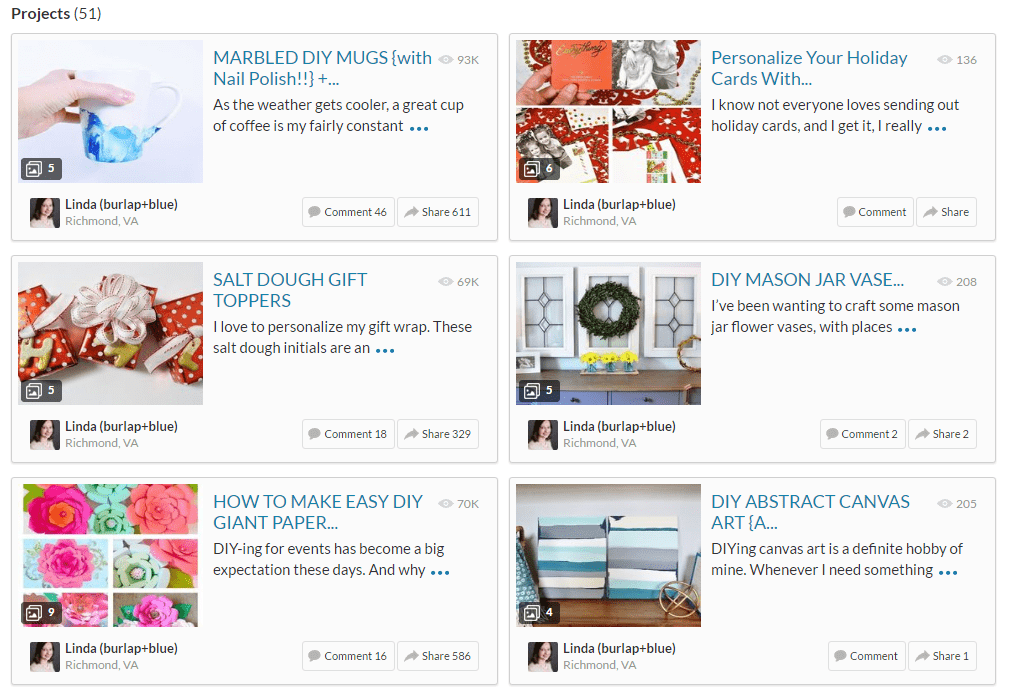 5. Lastly, be sure to give Hometalk some social love, too. Hometalk's social channels are filled with active, engaged readers who love a good DIY project. When I post a new project to Hometalk, I'll often tweet or post on Facebook to share with my readers that a new project is up. Be sure to tag Hometalk in your post, and you'll not only get your post in front of Hometalk fans, but Hometalk may even retweet or share your post!
I also make sure I'm pinning Hometalk projects to my own boards on Pinterest–my readers and fans love the variety of projects on Hometalk (not just my own), and it's a great way to share the love!
Are you a Hometalk blogger? Did I miss anything? Leave a comment with your favorite Hometalk tips!
Thanks for reading all about How to Increase Blog Traffic with Hometalk! Have a lovely day!