Hello B+B Ladies!
I'm Melissa from Bless this Mess I'm so excited be here. When I chatted with Linda about a guest post I knew that it needed to be a recipe, that's definitely my strong point, but what do ninja DIYers eat? As I pondered this questions I knew that the recipe needed to be pretty quick and easy, you all have a lot going on. I also love real food (you know, the kind you understand what it is and how it is made). So when you throw the two together you get a simple but very tasty dish that just about anyone can make.
I present to you a quick but a bit nontraditional ham and cheese quesadilla. Sometimes you just need a little twist on a classic to make it fun and new. The salty ham and the crunch of sweet bell peppers swimming in cheese just can't be wrong. These are great for lunch or serve with a side of sweet potato fries and a fruit salad and you have dinner.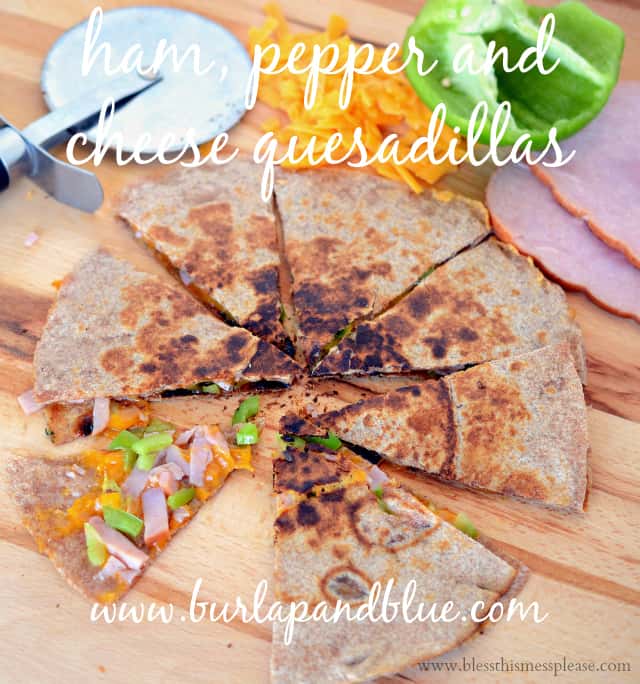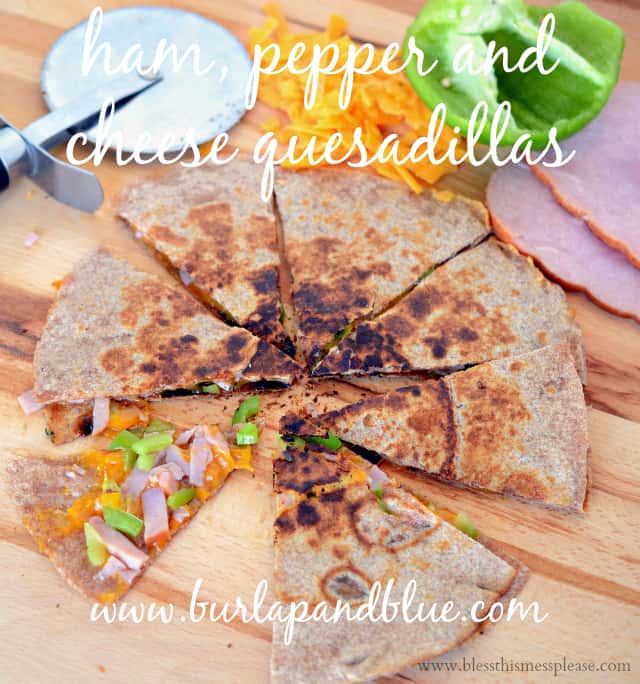 Ham and Cheese Quesadillas
Makes 2 8-inch quesadillas
4 8-inch tortillas
1 cup chopped ham
2/3 cup cheese
1/2 cup chopped bell peppers
Mustard or ranch for dipping
Heat a heavy bottomed skillet on the stove-top over medium heat. Place 1 tortilla on a plate or cutting board, spread half of the ham, cheese, and then bell pepper over the tortilla. Place a second tortilla over ham, cheese,and bell peppers. Carry the quesadilla on the plate or cutting board over to the hot pan and carefully slide it onto the hot pan. Let the tortilla cook for a minute or so, until lightly browned, and then carefully flip it over and cook on the other side. The goal is to have warm meat and melted cheese without burning the tortillas, so keep an eye on things and lower the heat if the tortillas are cooking too fast, or if your stove tends to cook hot, start with a lower temperature. Remove the warm quesadilla from the pan and transfer to a cutting board. Using a knife or pizza roller, cut the queadilla into 6 or 8 wedges. Serve right away with mustard or ranch for dipping.
Notes:
White or whole wheat tortillas, you choose.
Cheddar, Swiss, and pepper-jack are all great cheese choices.
Now a little more about me-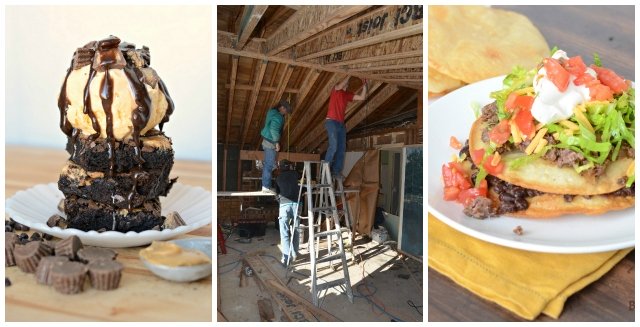 Here are my three favorite posts from the past month.
1. The Ultimate Chocolate and Peanut Butter Sundae – you need this in your life.
2. Turning our bonus room into a master bedroom (complete with vaulting the ceiling!)
3. Steak Tostadas – the steak carnita meat is done in the crock pot 🙂
Unlike most food bloggers, recipes aren't all that I share. We are currently living in a crazy huge remodeling project and I love to keep readers updated on the progress. After 18 months of living in the mess we are almost done with the entire house, leaving literally no surface untouched. We've knocked down, removed, and rebuilt nearly every surface in the whole house. I washed dishes in a bucket for 9 months last winter while we worked on the kitchen, really! It's a fun project that I think you'd like. You can check out all my remodeling posts under the "Our Biggest Mess Tab" at the top of my page. I also love my three backyard hens, seasonal decor and crafts, and projects for little hands. If any of that appeals to you be sure to stop by Bless this Mess and say hello.
Thank you so much for having me Linda keep the great ideas coming! And thank you all for letting me commandeer her blog today.