Thank you Angel Soft® for sponsoring this post. Ditch the spray and switch to Angel Soft® with Fresh Lavender-Scented Tube.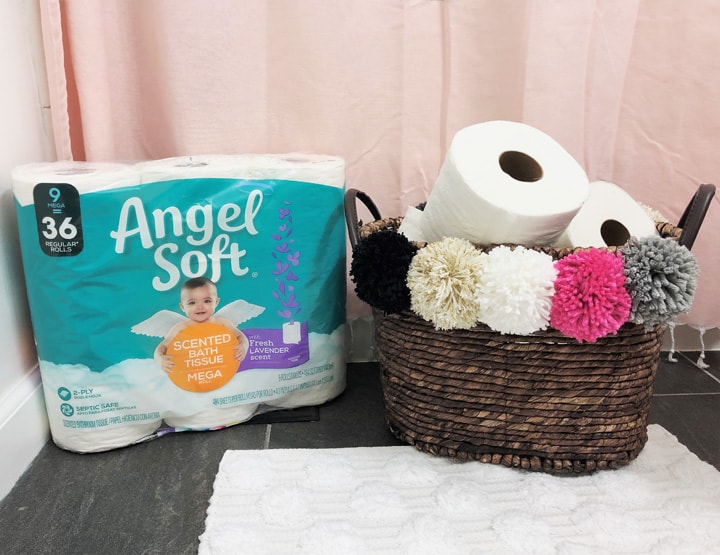 Recently, my husband and I decided to give our guest bathroom a mini-update. We wanted to make it lighter, brighter, and a bit more modern.
Here's what our bathroom looked like before our update: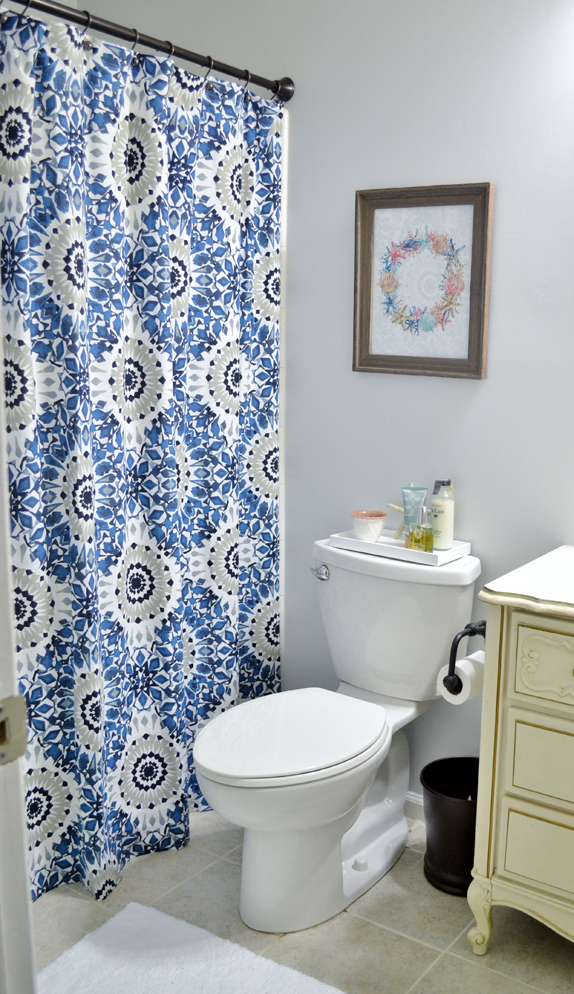 And here's the after. A few small changes can make a world of difference!
We painted the walls white, added a dark gray tile floor, a new vanity, and chose a peach, white, and gold shower curtain that was our starting point for our color scheme.
We kept our tub, toilet, mirror, and fixtures.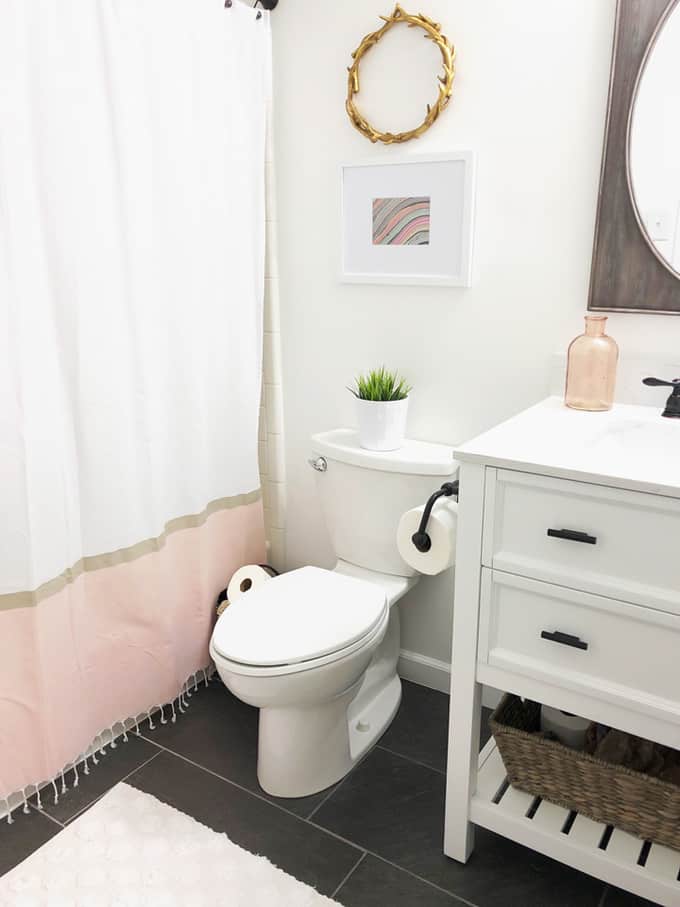 In addition, since our guest bathroom is so small, I wanted an easy and attractive way to store extra rolls of toilet paper. In just a few short hours, I made this adorable pom pom basket!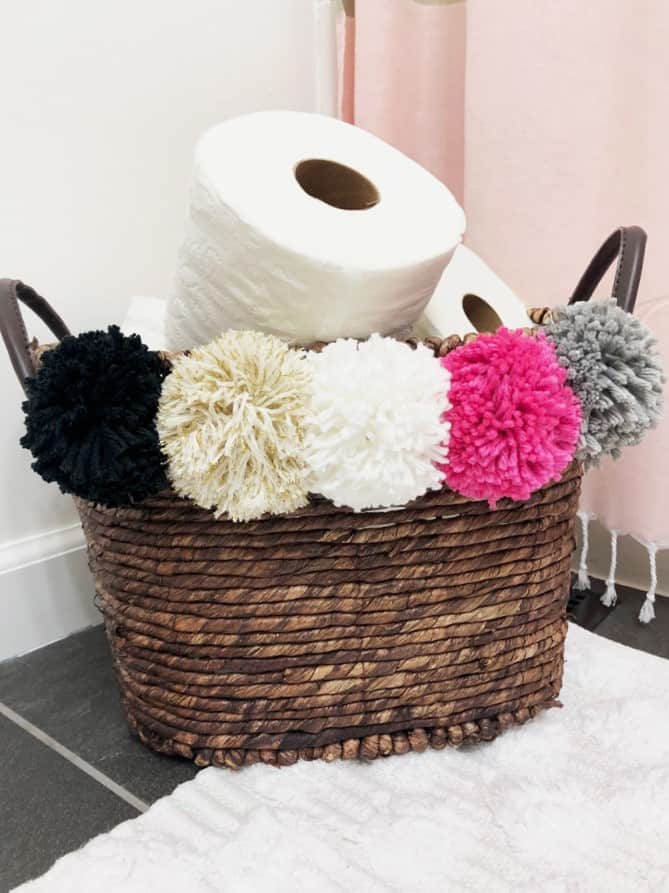 When I discovered Angel Soft® with Fresh Lavender-Scented Tube (the scent is cleverly applied in the tube), I knew it would be the perfect choice for filling my new basket, AND for delivering a fresh, slight scent to my bathroom.
I love having a subtly-scented bathroom, without having to use any candles or sprays.
Want to make your own pom pom basket? These are perfect not just for toilet paper, but for toys, throw blankets, extra pillows, and anything you want to corral in an attractive and easy way.
Here's how to make your pom poms for your basket.
Gather your yarn. You can choose all one color, or choose several colors to match your decor. These are the colors I ended up with.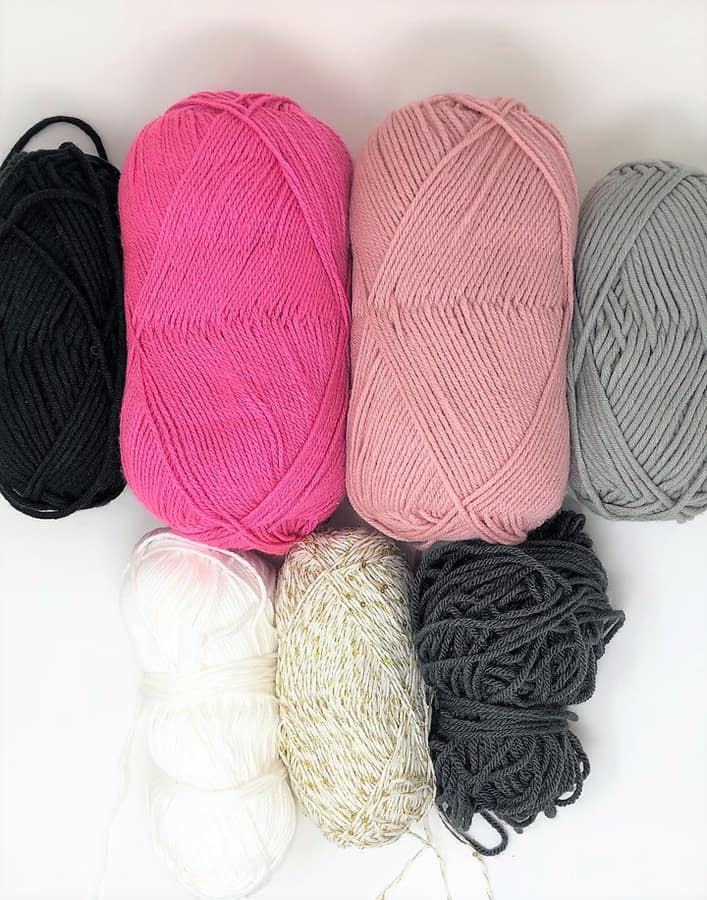 I used a pom pom maker I found for under $5 on Amazon, and it's easy for adults and kids to use (my kids are 6 and 10 and LOVE helping make these)!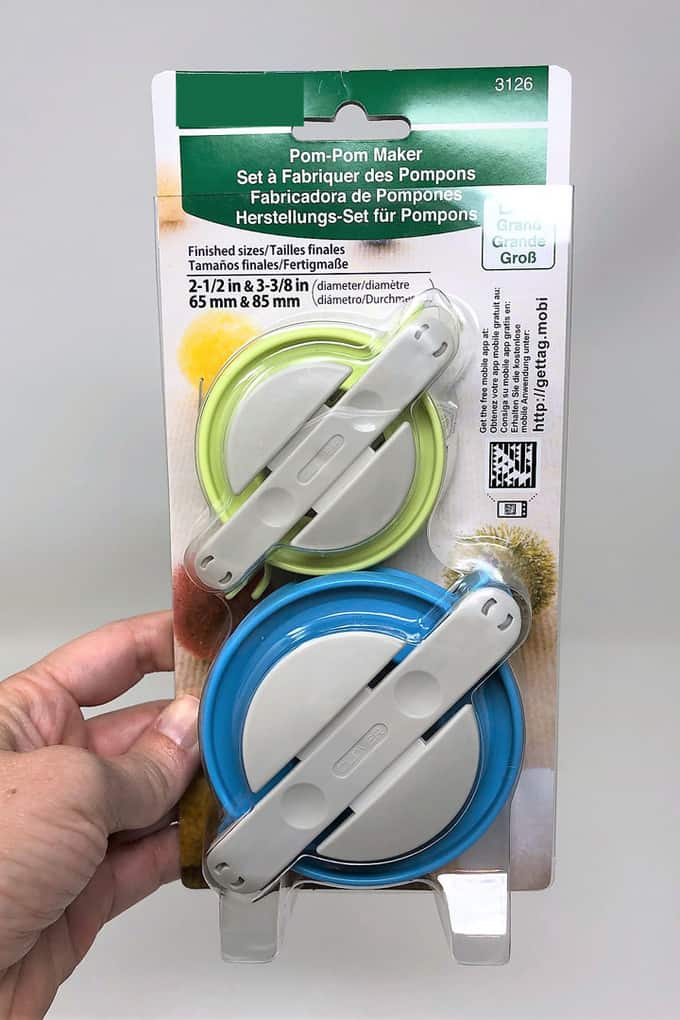 To make a pom pom, choose your size (I used the larger of the two pom pom makers), and open up the arms of the pom pom maker.
Choose your yarn, and begin wrapping your yarn around one arm of your pom pom maker. The more yarn you use, the fluffier your pom pom will be! At the very least, you want to make sure there's no blue showing through your yarn. Again, the more you wrap, the better!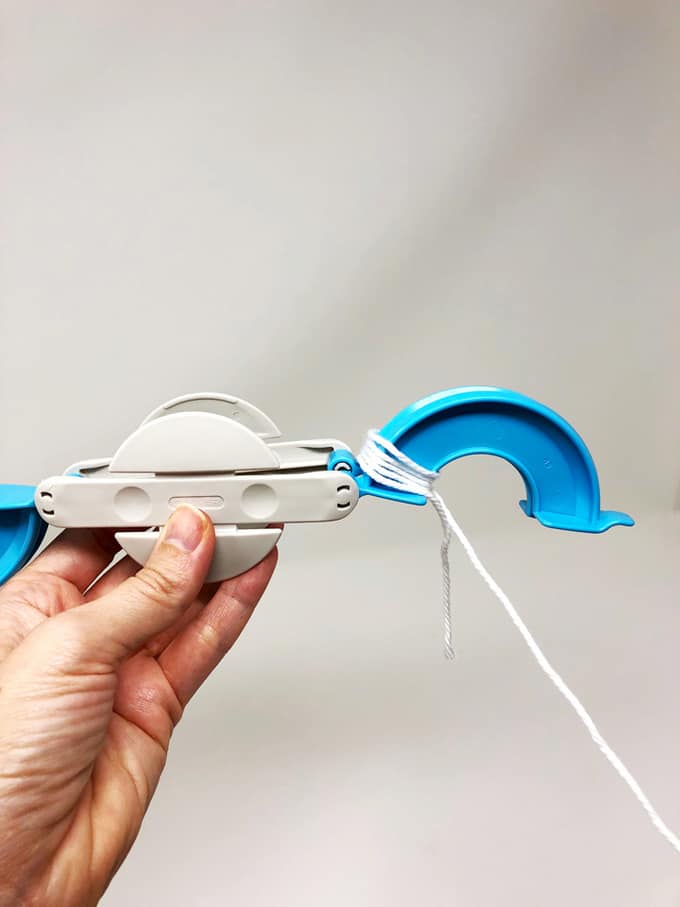 After you wrap one arm, begin wrapping the second arm of your pom pom maker.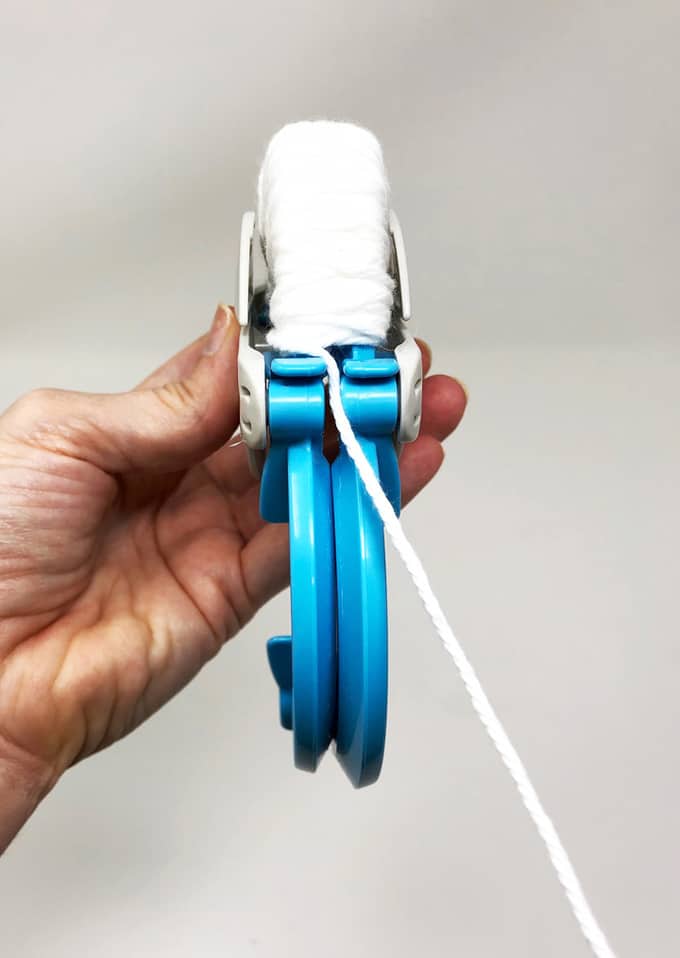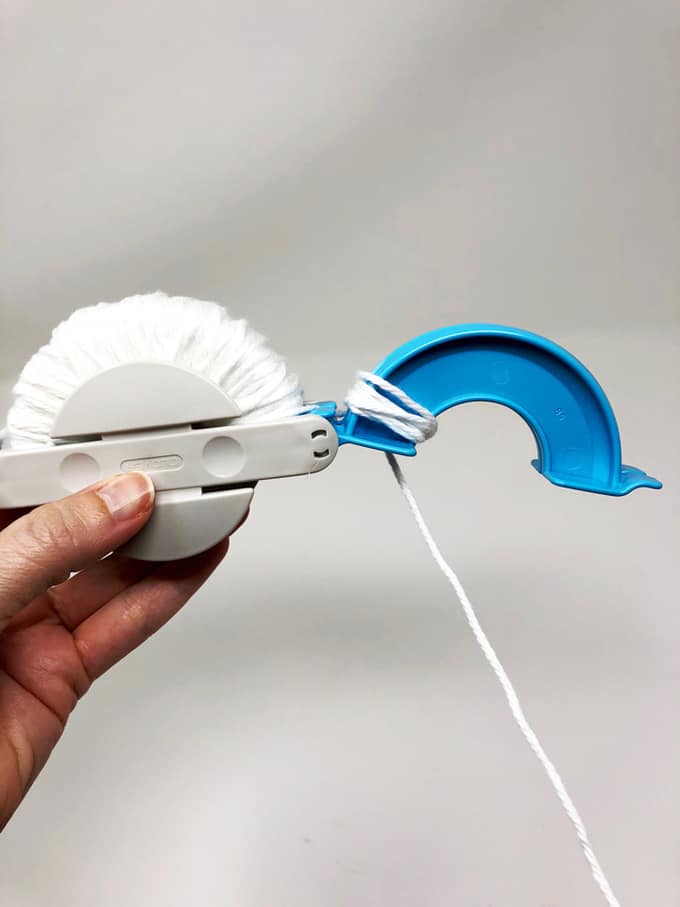 Here's what it'll look like once your pom pom maker is fully wrapped. Close the arms back up, and you're ready to cut.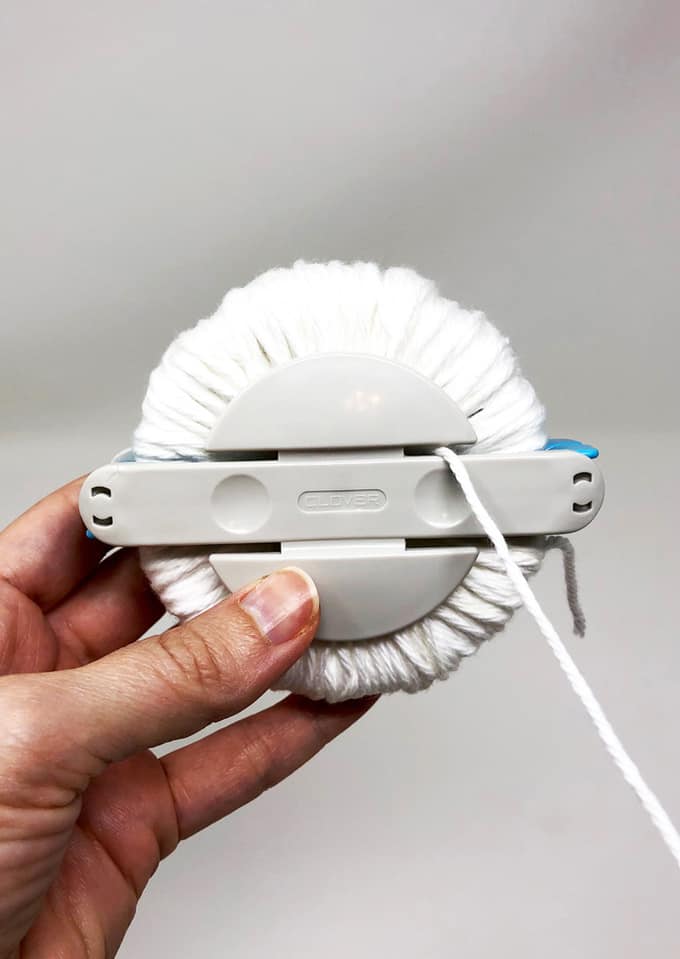 Place your (sharp!) scissors in the groove, and cut the yarn all the way around your maker.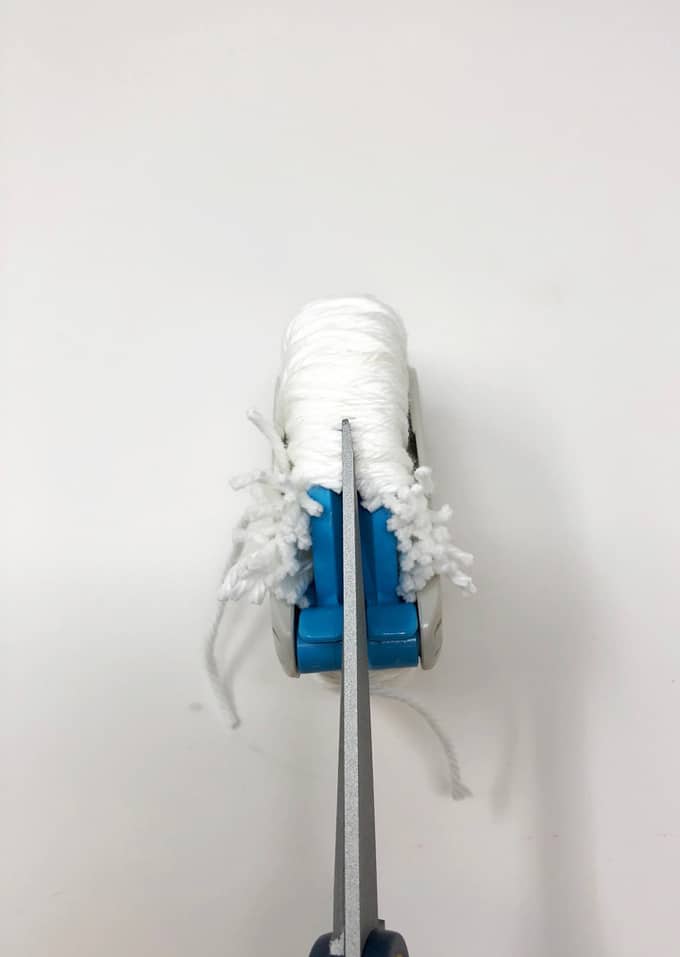 Once that is done, take a piece of yarn or twine and insert it between the grooves. Make several TIGHT knots to secure your pom pom. If you don't pull tight enough, the pom pom will fall apart.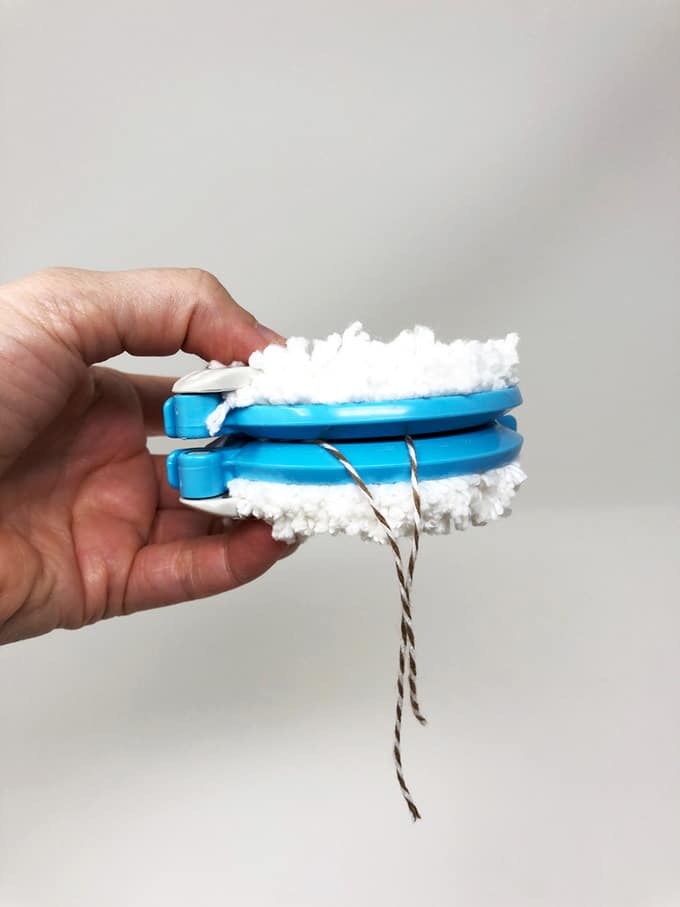 When you're done, remove the pom pom from the maker and you'll have a fluffy, cute pom pom!
Make as many as you want to decorate your basket.
Then, take your basket and hot glue your pom poms where you'd like them. I chose to add five pom poms to each side of the basket, but you could scatter them around your basket (similar to a polka dot design), wrap the pom poms all the way around your basket, or whatever you'd prefer!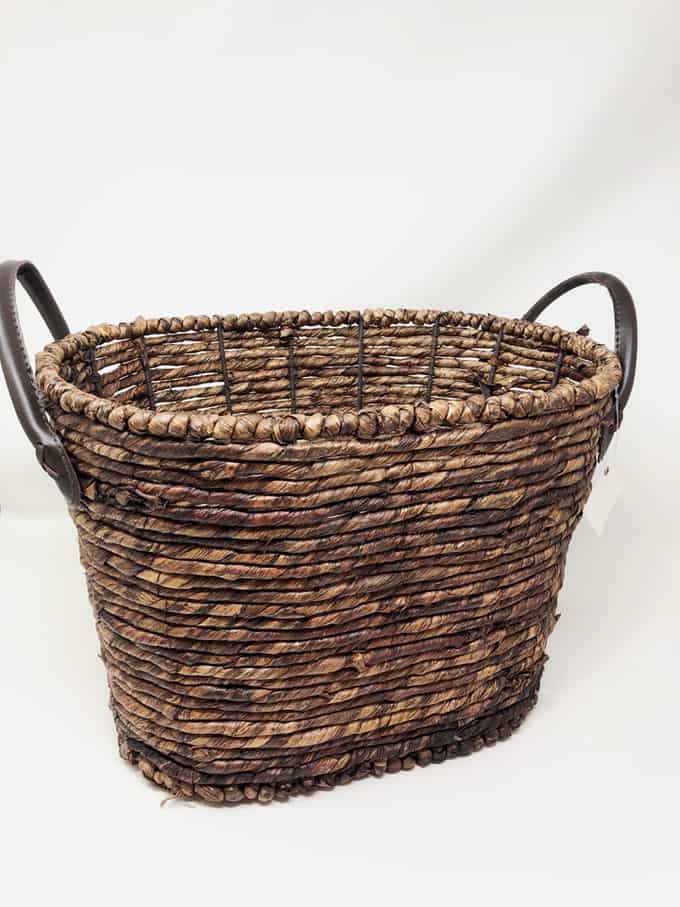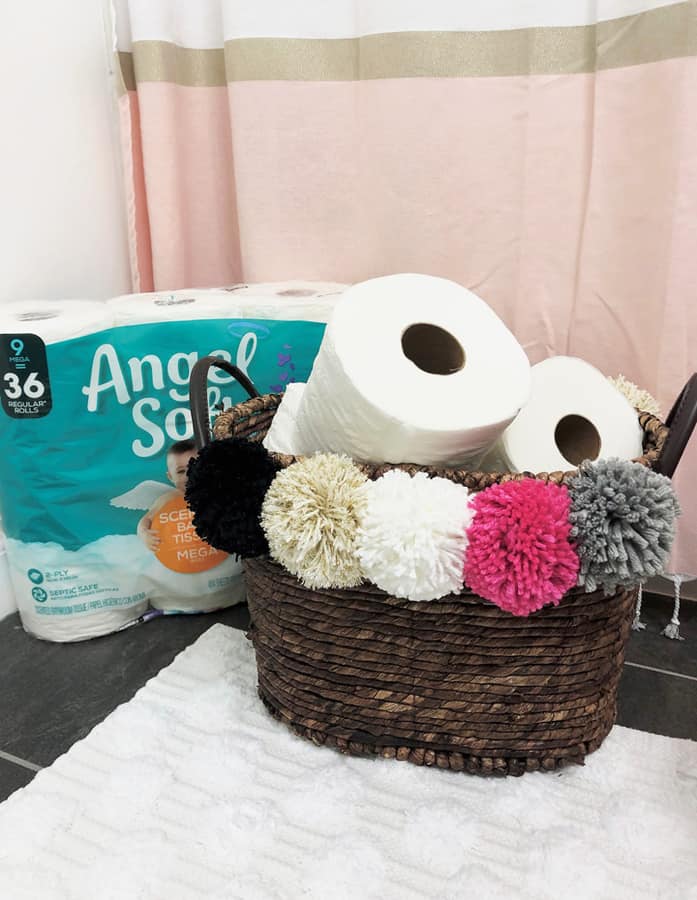 I love how Angel Soft® with Fresh Lavender-Scented Tube gives my guest bathroom a light, fresh scent without candles or sprays.
I filled my new pom pom basket and set it out so we'll never again run out of toilet paper!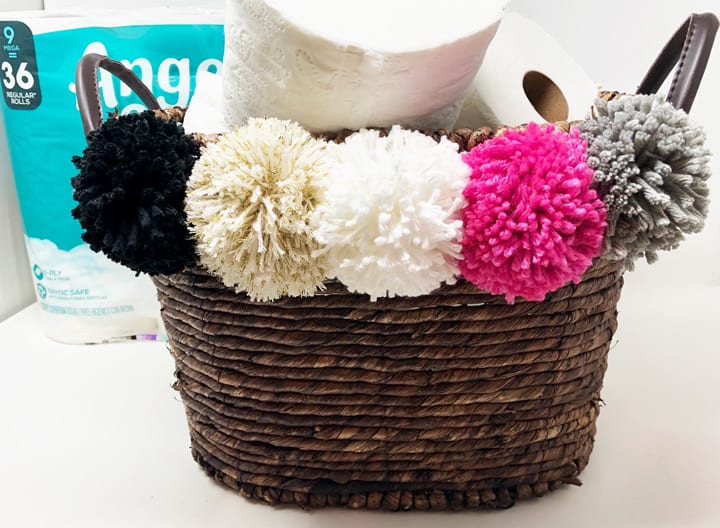 Thanks so much for reading all about how to make a pom pom basket + Angel Soft® with Fresh Lavender-Scented Tube! Have a lovely day!