Thanks to Andrew, from Scrappy Geek, for sharing this recipe with us, today!!
Want to learn how to make a tequila sunrise drink? It will only take you a minute to make each drink, and the colorful effects will make you look like a professional bartender, too! Let's talk more about this tequila sunrise recipe!
What's tequila sunrise? Glad you asked. Today we'll discuss what it is, and how to mix tequila sunrise drinks for you and your friends.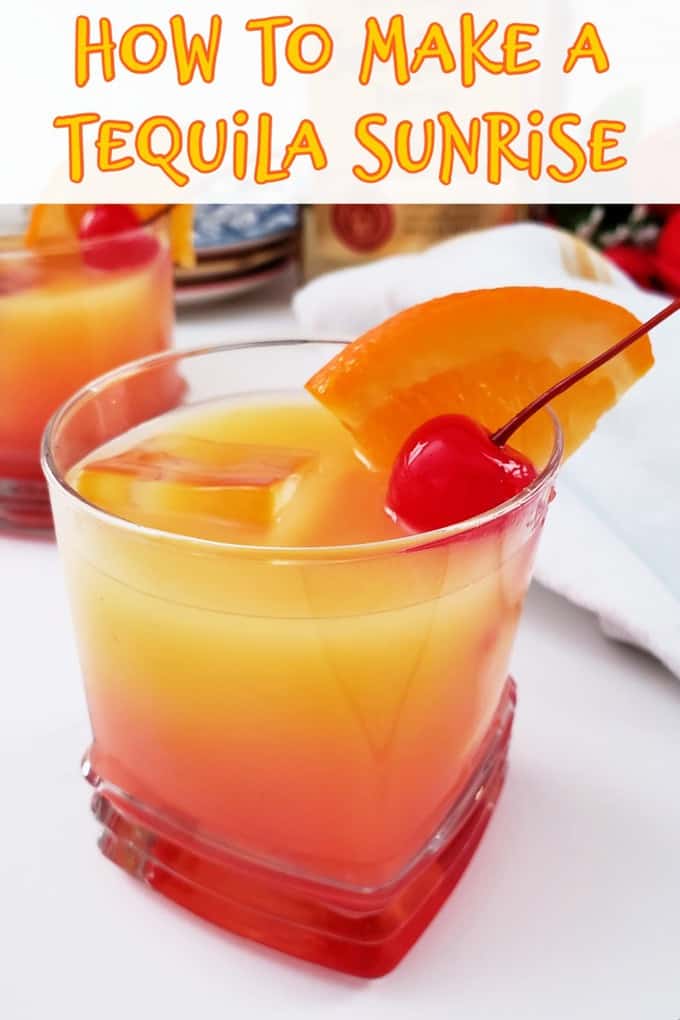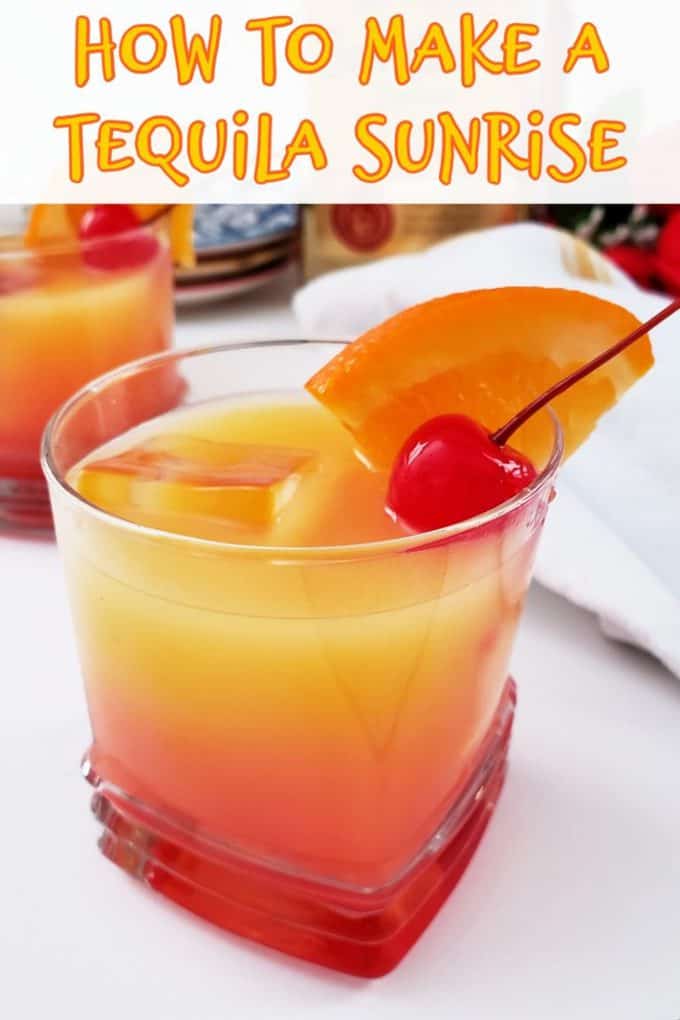 It's bold, refreshing, and nostalgic. I think this cocktail can be enjoyed at any time of day. It reminds me of a nice relaxing beach, as it should. Perhaps while on vacation you like a morning cocktail?
How To Make A Tequila Sunrise Drink
A little mixed drink after breakfast or with brunch is nice once in a while. This tequila sunrise recipe is perfect for just that.
What's Tequila Sunrise
Tequila sunrise is a fun and colorful cocktail drink. It's easy to make with just a few simple ingredients.
The drink consists of tequila, orange juice, and grenadine syrup. It's made directly in a glass with ice. They're typically served in high-ball glasses.
The grenadine syrup sinks to the bottom and slowly rises, hence the name tequila sunrise. Because the syrup on the bottom of the glass is red, and the orange juice on top is orange, and the colors blend together, it looks like a rising sun.
Is Tequila Sunrise A Well Drink
Yes, this is a well drink. A well drink consists of the least expensive alcohol at a particular bar.
Usually, this includes tequila. There is also top-shelf tequila. Top-shelf alcohol is more expensive and would not be considered a well drink.
If you're ordering at a pub, you should ask the bartender for clarification. This way you don't end up blowing your entire night's budget on one drink.
Is Tequila Sunrise A Girly Drink
This colorful and fruity drink is ideal for those who want a cocktail drink without a boozy flavor. Some may see the colorful cocktail as a girly drink.
However, is there really such a thing? Is tequila sunrise a girly drink? Hmm. Perhaps, perhaps not.
Regardless if you're a man or a woman, if you like the flavor of the drink; bottoms up!
How To Mix Tequila Sunrise
Tequila Sunrise is one of the easiest drinks you can make, and one that looks fancy at that. Learning how to mix tequila sunrise is easy.
No need to break out the shaker for this drink!
You'll simply add the orange juice and tequila to a glass with ice and stir. After the OJ and tequila are mixed, then slowly add the grenadine syrup.
The syrup will sink to the bottom of the glass, creating the rising sun look you're going for. No need to stir in the grenadine!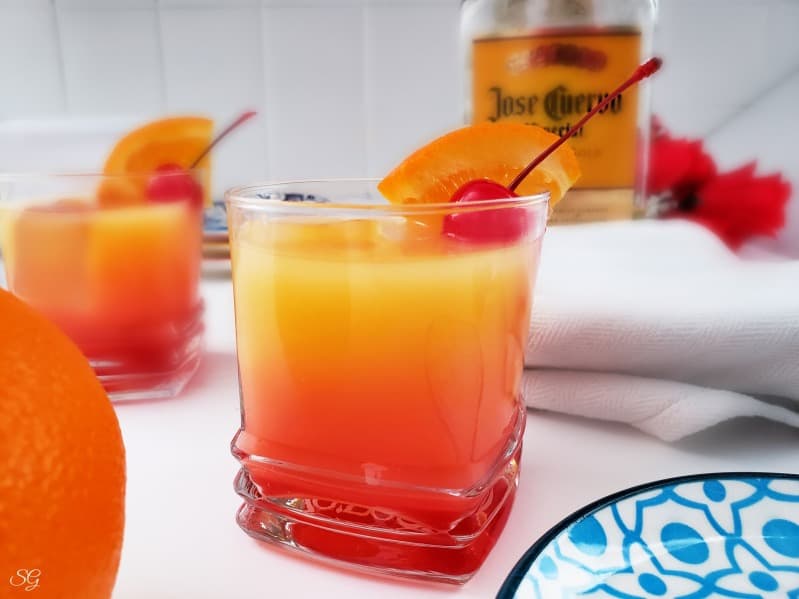 What Does Tequila Sunrise Taste Like
Tequila sunrise tastes like a fruity drink without the abundance of alcohol flavor. For the most part, you'll taste the orange juice and grenadine syrup.
The grenadine flavor comes from pomegranate and sugar. This combination actually gives you a sweet and slightly tart flavor in your drink. It's quite refreshing and a good change of pace from other cocktails.
The hint of tequila is quite mild, not like the heat of a shot at all. No need to lick salt and suck on a lime wedge with this drink!
How To Make Tequila Sunrise
Let's learn how to make tequila sunrise cocktails!
Grab your cocktail glasses and let's begin.
Ingredients
Tequila. Well, that's a no-brainer. For the first ingredient, you can pick your favorite tequila. If you're not sure which one you should use, or your not familiar with what tequila to use for this drink, go with Jose Cuervo. It's a classic tequila that nearly everyone likes.
Orange Juice. Once the drink is together, this creates the top layer of the sunrise. The orange sky, if you will. I prefer orange juice with no pulp, but that's a personal preference. Grab your favorite OJ!
Grenadine Syrup. There's no guessing on this one, grenadine syrup is simply pomegranate juice and sugar, boiled down to make a syrup.
Oranges. These make perfect garnishes for your cocktails. While they're not necessary, they will make your drinks look professional, and impress your friends. Cut up an orange into wedges or slices, and place one on the edge of each glass once the drink is made.
Cherries. The second garnish. I like them with stems, place the cherry on top of the ice after the cocktail is made. Can you tie a cherry stem with your tongue? I can!
Ice. The first ingredient into the glass, and just as important as the rest. It will keep you drink chilled and help slow down the rise of the grenadine.
How to Make a Tequila Sunrise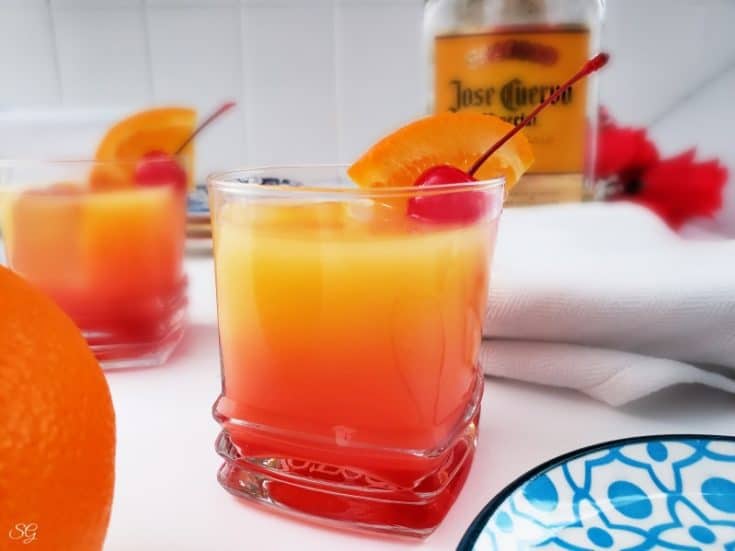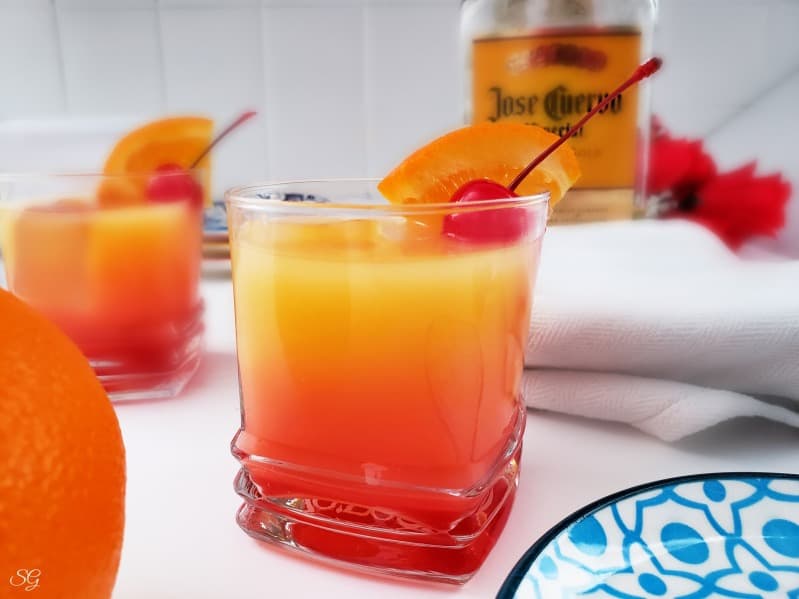 This tequila sunrise recipe is easy to make and delicious. It's colorful and doesn't have a strong alcohol flavor. It's a perfect drink for kicking back, relaxing, and pretend your on a sandy beach somewhere!
Ingredients
1.5 oz tequila
3 oz orange juice
3/4 oz grenadine
1 cup ice cubes fill each glass
Instructions
Add ice, orange juice, and tequila to a glass. Stirring until well combined
Pour grenadine down the inside wall of the glass, allowing it to settle at the bottom
Garnish with cherry and orange wedge
Directions:
Place the ice in your glass and add in orange juice and tequila. Stir it with a cocktail stirrer to mix it together.
Next, you'll slowly add in the grenadine. Pour it in nearest a side wall off the glass, not down the center. This will help it sink to the bottom of the glass and give you the perfect sunrise look!
This easy tequila sunrise recipe will surely please a crowd of thirsty friends!
Thanks so much for reading all about How to Make a Tequila Sunrise.
Have a great day!