Paper flowers are so, so popular right now. They are gorgeous, on-trend and spectacular to look at. I'm honored to have Abbi, from Mama's Gone Crafty, here today to share another fabulous tutorial and paper rose template! If you didn't catch her How to Make Paper Flowers post, you'll definitely want to check that out as well.
 Who knew that a flat boring piece of paper could be crafted into a three dimensional gorgeous rose?! I first started designing paper flowers 6 years ago right after my own wedding. I keep thinking that eventually I will run out of new designs and ideas, but that day hasn't come yet!
The paper rose is one of my most sought after designs, because, well who doesn't love roses?! In this post I'm sharing my 6 different rose templates I've designed over the last few years.
Paper flowers are so much fun to make. Partly, I think because you can tweak a little here and there, curl a petal forward instead of backwards, and completely change the look.
Of course they can be used any way a real flower can too. Plus, they will never wilt or need to be thrown away!
Before I tell you about all these fabulous paper roses I have to make that boring statement…
***These flower designs are my personal creations and also my bread and butter to my family, so pretty please do not under any circumstances use these for anything other then personal event decor; I know you're too awesome to do such a thing anyways right? I do LOVE seeing what creations you come up with so please feel free to share them with me. Thanks! 
(I do offer event planner licenses if you wish to use my templates to build flowers for events. Contact me about an event license if you are interested.)
So let's jump into a bed of paper roses… 😉
1. Scarlet Style Rose
Miss Scarlet Rose here is always been at the top of my favorites list out of the 70 some flower templates I've created. This template has some amazing versatility too since the flower measures 9 inches in diameter once made. Making these perfect for filler flowers in backdrops, centerpieces or maybe even bouquets!
I'm also in love with Scarlet because the pictures turned out so perfect! I'm sure my fellow photography geeks will understand! Check out the templates. 
2. Ruffle Rose
Next up I have my
 Ruffle Rose
 which is an oldie, but a goodie. This is actually the first paper rose I ever made!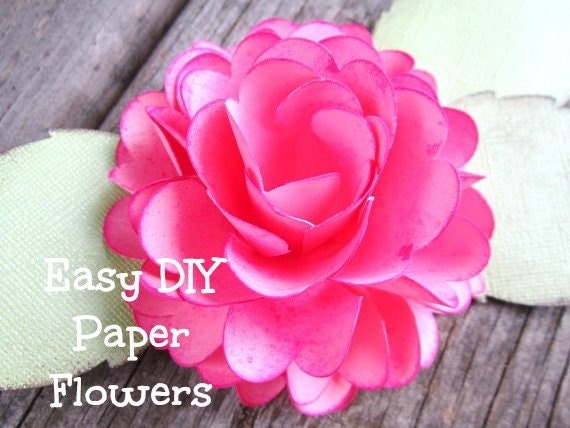 Pssss… This is the rose I use to make my paper flower pomanders!
They aren't as hard to make as they look. I promise! You can make them is lots of different sizes too. Pomanders, or there more widely known name, flower balls, work wonderful for aisle decor or hanging from a trellis.
 Check out the 
video 
to make these Pomander Kissing balls for your next event!
3. Ruby Rose
Miss Ruby here was my most popular requested flowers for bouquets and centerpieces I used to create for events. Love the look of this rose? I have a full video on how to build below.
4. Rosie Giant Rose
Yes I really named my giant rose Rosie. I guess I've become more original then I originally was. If you followed that. 🙂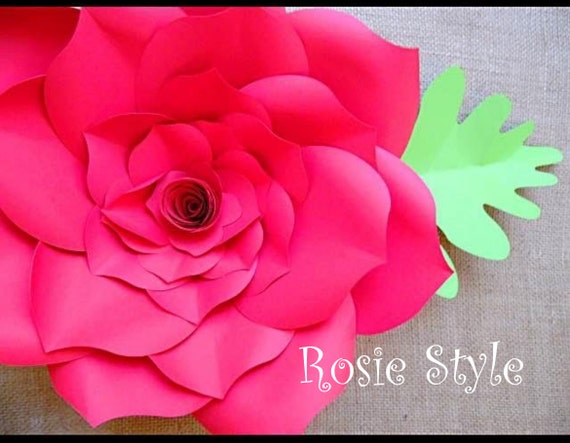 You will want to use 
Rosie
  to add some large beautiful roses to your next backdrop! This one measures about 13-14 inches in diameter.
Of course you will want a flower buddy to go with Rosie so she isn't lonely. Hop over to 
view all giant templates 
to accompany Miss Rosie.
Paper flower backdrops are really popular for events because they make wonderful photo backgrounds.
Diana Rose
These last two roses are my latest designs. It's really crazy to see how far I've come. I wish I had an old photo of what some of my first flowers looked like. Let's just say I've done a lot of improving!And on that note, make sure to be patience with yourself when making these. It does take some practice.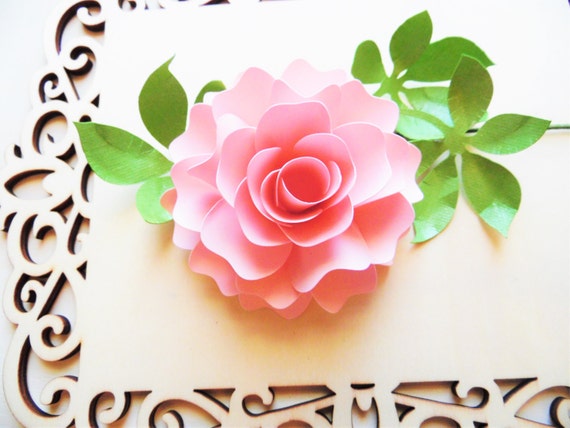 Both these photos here are the same template. Say what? Yes you can make totally different looking flowers with the exact same templates, making them even more economically then you already thought! 
 View Diana rose templates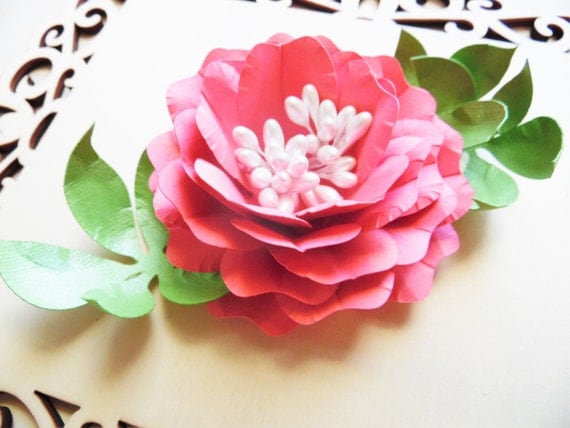 You can see how I make each design in this 2 part video 
here! 
Ansley Rose
Last, but not least is Ansley Rose. Sounds like a girls name, right? I think if my husband and I end up with a girl when we have our 3rd child this name will be in the running for sure!
Ansley is the latest hottest rose from my Paper to Petal Artistry design collection. In fact I just posted the video tutorial.
There are countless paper flower design ideas but the classic nature of the rose is hard to beat!
What are some of your favorite flowers from nature? If there one you would love to see me design? I would love to hear your thoughts! 
Don't forget to follow! You won't want to miss all our lovely paper crafts!