Ever wanted to know how to make paper flowers?
You've come to the right place! Paper flowers are so popular right now, you can use them for nurseries, shower decor, and anywhere you want a touch of whimsical fun!
Paper flowers are such a thing right now. They are gorgeous, on-trend and spectacular to look at.
I'm honored to have Abbi, from Mama's Gone Crafty, here today to share her DIY giant paper flowers. I am so impressed by these, and I know you will be, too!

DIY-ing for events has become a big expectation these days. And why not?
It's more fun to add your personal touches and no doubt more cost effective!
Today I will be sharing my easy method for creating giant paper flowers for backdrops.
Giant paper flowers are great to use at any event from weddings, to baby showers to even home decor! In fact my first full set I ever did was for my daughter's nursery.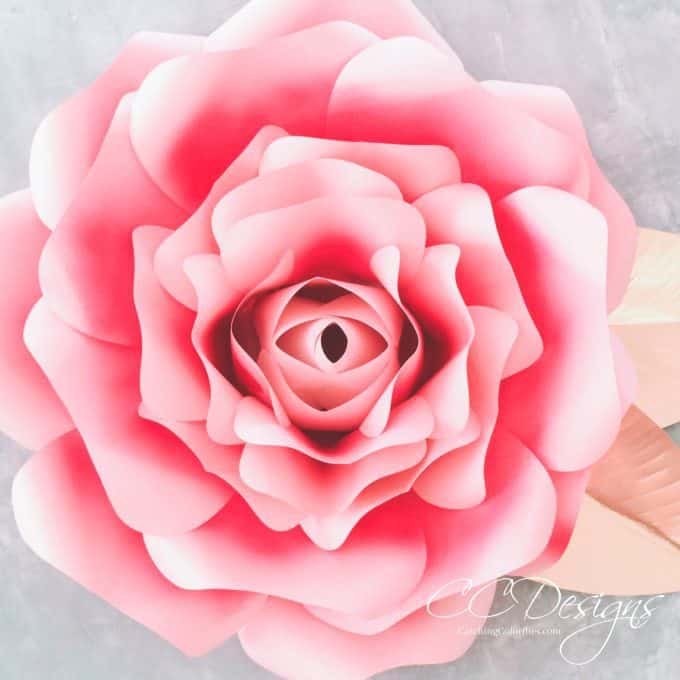 And a lot of people want to know how to to this for themselves and to customize it just like they want.
What supplies do I need to make paper flowers?
So let's dive in… Here are the supplies you will want/need:
Glue gun
Scissors
Wooden dowel
Patience (these take a while, but are well worth it!)
***These flower designs are my personal creations and also my bread and butter to my family, so pretty please do not under any circumstances use these for anything other then personal event decor.
I know you're too awesome to do such a thing anyways right? Thanks!
(I do offer event planner licenses if you wish to use my templates to build flowers for events. Contact me about an event license if you are interested. Under NO condition are the templates or design methods to be resold.)
How do you make paper flowers step by step?
I am using Everly Style flower template in this tutorial.
If you prefer something different don't worry I have over 30 different giant flower templates!
Files are all compatible with cutting machines and easy to use for those who want to hand cut instead, which is the method I will be using here.
For the hand cut method you will need to print out the templates from your computer onto a heavy card stock cut the templates once and use these to trace over the card stock you will use to actually build the flowers from.
If you have access to one laminate the templates so they are extra durable.
Begin by laying your template on your card stock of choice and trace your petals.
Largest base petal– 6-8 cuts
2nd layer– 6-7 cuts
3rd layer– 6 cuts
4th layer– 5-6 cuts
If you are using a machine see this tutorial for petal set up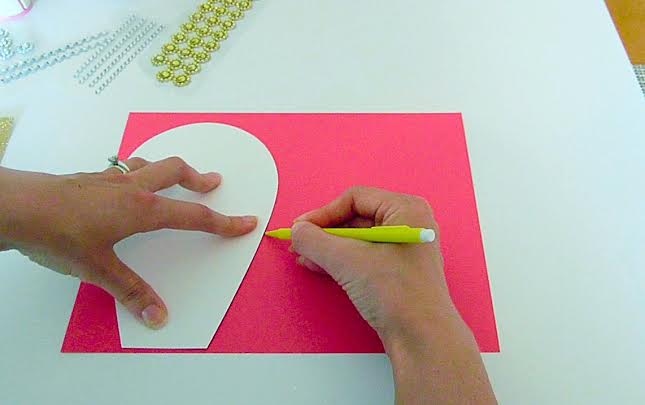 Once completed these templates make about a 13 inch flower in diameter.
You can always send the PDFs onto a printer and have them enlarged for bigger flowers or use the PNG image I include in all the zip files to alter in a simple program like Microsoft publisher.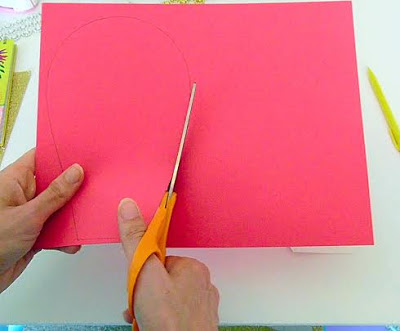 Cut all your petals out once you have finished tracing. Y
ou can make this process quicker by stacking 2-3 sheets on top of one another and cutting several out at once.
Use binder clips to help keep paper from moving.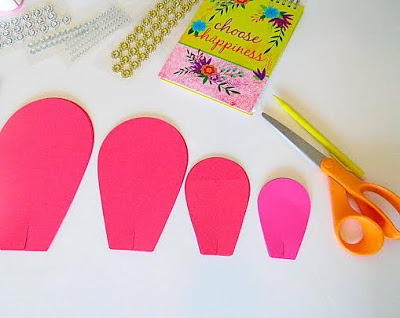 Now you want to cut slits at the bottom center of each petal, about an inch, slightly less on the smaller petals.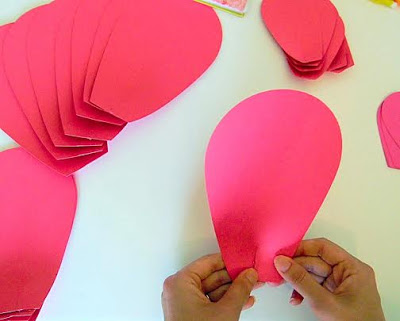 Starting with the 1st layer put glue on the inside edge and over lap the slit, but not too much or your petals will be too tight when assembled to get all the smaller layers in.
Do this with all the petals. You can over lap a little more on the 3rd and 4th layer.
Next you will curl all the petals back.
You can do this by hand or use a thick wooden dowel or a fat pencil works too.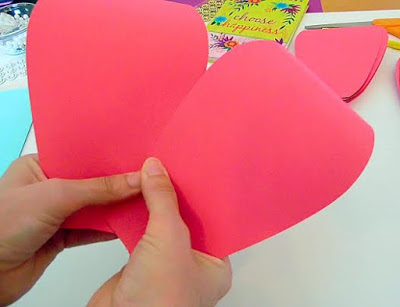 Assembly time.
Starting with your 1st layer base petals, you want to add some glue to the outer edge of one petal and precede to over lap another petal at about a 45` angle and press firmly for a second or two.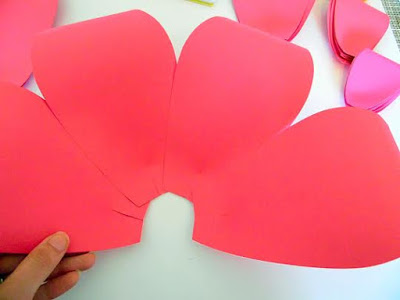 Continue in this way until all the base petals meet together forming a circle in the center of the flower.
Watch the angle of placement as you go around making sure you leave enough room for the petals to come together evenly at the end of the circle.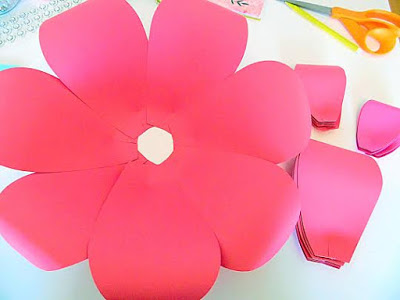 Use a circle punch or cut out a small square if you don't have one to glue over the open bottom.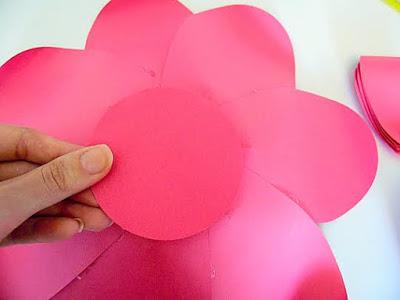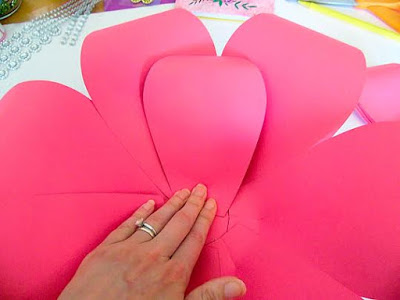 Start the 2nd layer of petals, alternating between the base petals as shown above.
Continue alternating petals, adding the 3rd layer.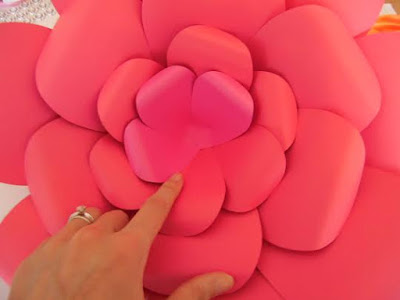 Continue alternating petals, adding the 4th layer.
To create the rolled center fold a piece of card stock in half length wise, cut the paper down the middle.
Lay the 2 pieces on top one another and fold in half again.
Begin cutting slits all the way down the paper.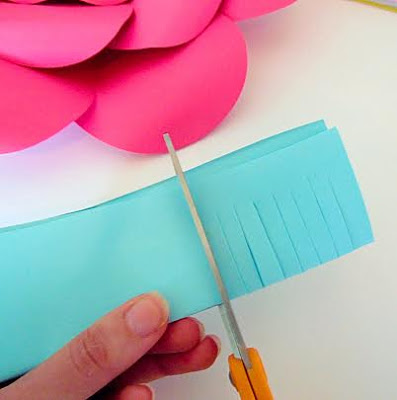 Separate the two pieces after you are through cutting all the slits.
Starting rolling the first piece adding glue along the edge as you go.Optional—you can use the dowel to make the rolling easier.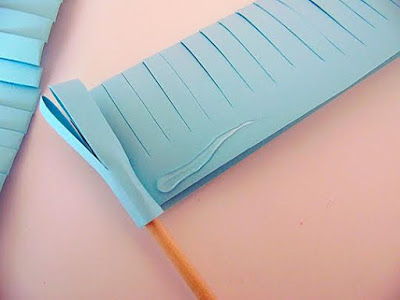 After you finish rolling up the first piece continue by adding on the next one.
Glue the center in and admire you pretty flower!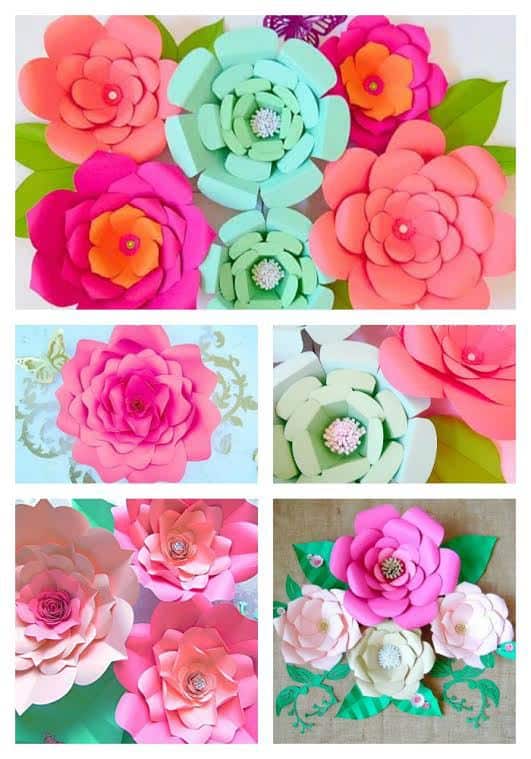 Thanks so much for reading all about How to Make Paper Flowers Step-by-Step! Have a great day!