This post is sponsored by theTUNDRA. All opinions are mine alone. #myTUNDRAgroup #ExploreTheTundra
I spend a lot of time on social media, and I'm always looking for the next, big social platform to connect with others, share my work, and be inspired.
Luckily for me (and you!) I think I've found it!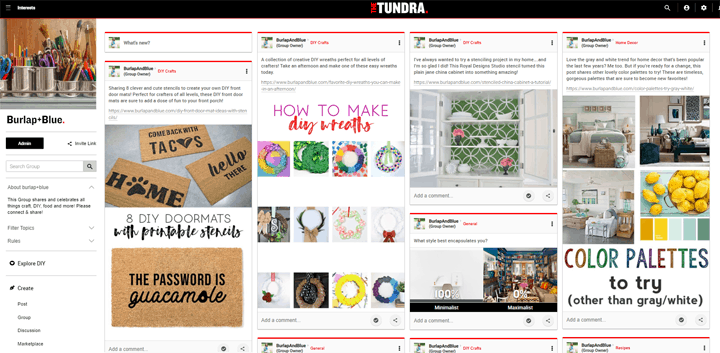 Why theTUNDRA?
theTUNDRA is more than a new social platform, it's a community of Enthusiasts looking to connect with others to share interests and ideas.
You can join various groups, or create a new group of your own where you can share links and videos, start discussions or create a poll–all in one place.
Here's where you can join my inner circle of Enthusiasts on theTUNDRA!
I will give a follow back to each new follower I get this month, so please join me!
I'm excited about theTUNDRA for a couple of reasons.
Most importantly, I think we need more authentic social media sites out there, and I think this is one of them. Not to mention, as an influencer and content creator, I've seen the value of being engaged and active with newer social sites as early as possible. As theTUNDRA grows, so will my content, reach and influence (as will yours).
A few pointers for navigating theTUNDRA
After you set up your account, you can begin setting up your profile.
I did this by adding a picture and quick bio. I also linked my other social media accounts.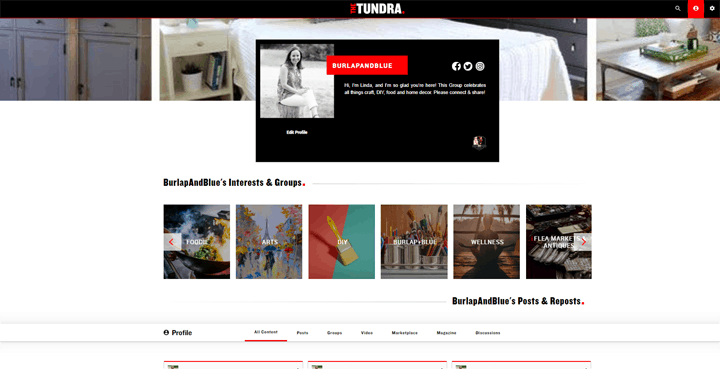 See above where it says "burlapandblue's interests and groups?"
You can choose those by clicking the three lines on the top left side of the your profile page (next to the word INTERESTS).
Simply hit the plus sign to add an interest.
Then, when you click on any of your interests or groups (from your profile-which you reach by clicking the face icon on the top right of the screen), new posts, videos, and inspiration will show up.

To see some "suggested groups" options, simply hit the "settings" button on the top right of the page, and then click "my groups."
You'll see ideas for some other groups to join. Just click on the group, type "yes" to accept the rules, and you're in.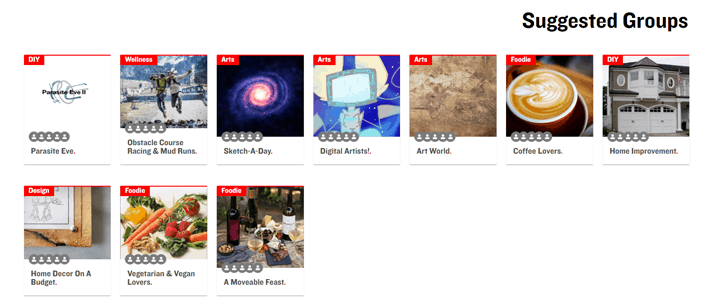 Honestly, though, the best thing you can do to familiarize yourself with a new platform is just go in and play with it!
It took me all of twenty minutes to start my group, begin adding posts, find new interests, and join a few other groups that interested me.
Joining theTUNDRA
Add your profile picture and a brief bio
Go to "settings", then go down to "my groups" to see various groups you may be interested in joining
Start interacting with content by commenting, hitting the "checkmark" (this is their version of a "like"), or hitting the "share" button!
Let me know if the comments if you join! I'll be sure to follow you back!
Interested in starting your own group? Easily do this by going to the All Groups page, and click the "+GROUP" button (in red).
The All Groups page can also be accessed from the Interests drop down on the top left corner of the homepage.
Let me know if you're starting a group. I have some other hints and tricks you may find helpful.
See you on theTUNDRA!