Looking for the BEST Kool Aid playdough recipe? This recipe is super soft, no-cook, and perfect for kids to help make!
I am so excited to share this playdough recipe with you all today.
My kids LOVE making and playing with playdough, even though they are almost eight and twelve!
So, today, I wanted to share my favorite Kool Aid Playdough recipe. This recipe is a no-cook recipe that yields soft, scented playdough that lasts for months.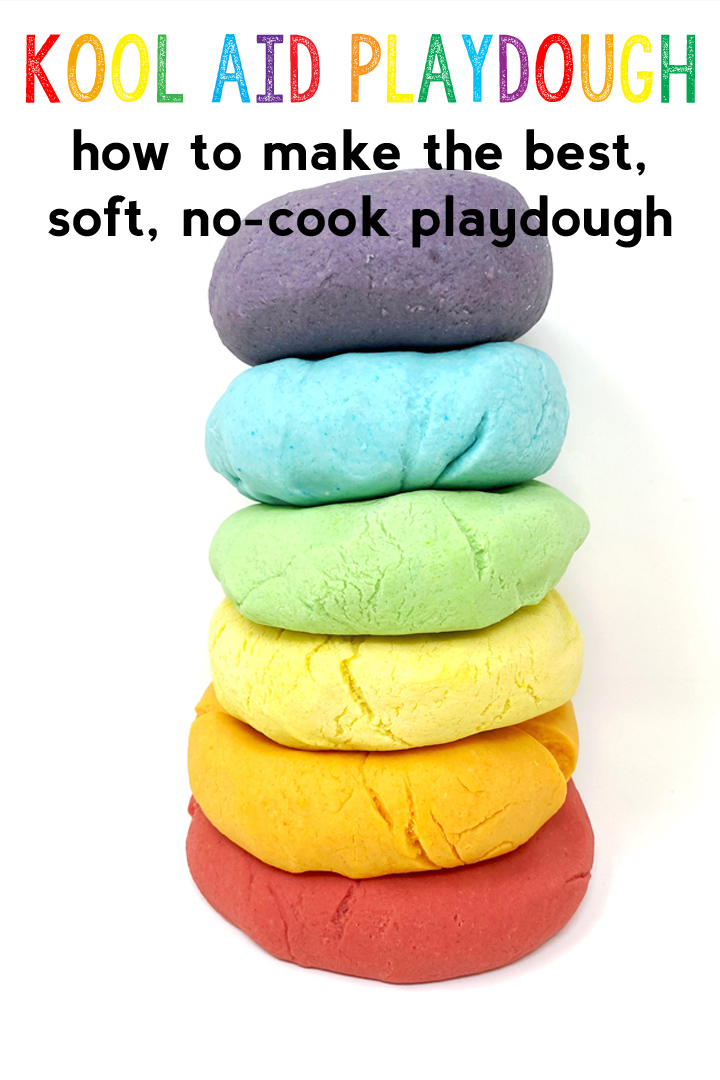 Full, printable recipe card is below.
First, let's talk about why we use some of the ingredients in this playdough (and what you can substitute in if needed)!
What Do You Need to Make Playdough?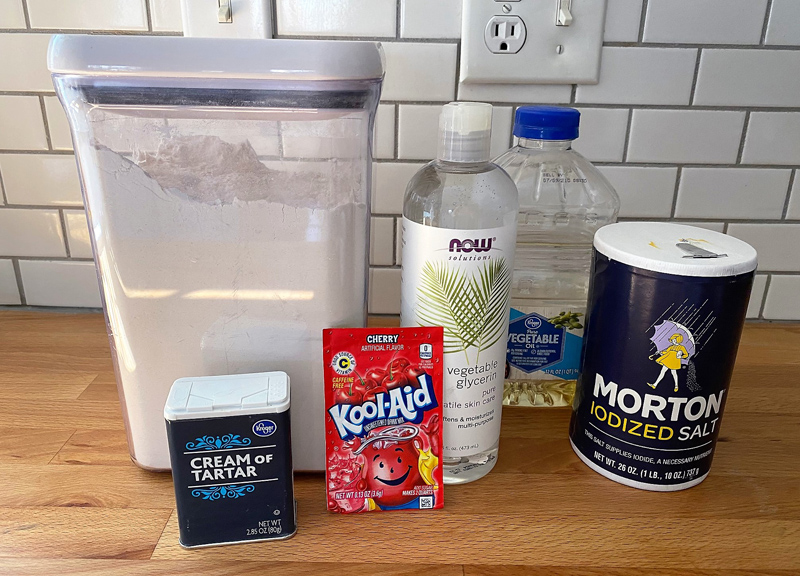 This playdough recipe has six basic ingredients (plus the boiling water):
What Does Oil in Playdough Do?
The oil in playdough helps hydrate the playdough, making it moist, as well as less sticky.
I use vegetable oil in this playdough, as it's inexpensive and readily available. I've also used coconut oil.
You can easily sub in any oil you want/have around the kitchen.
The only oil I would not use is olive oil, only because the stronger scent may affect the scent of your finished playdough.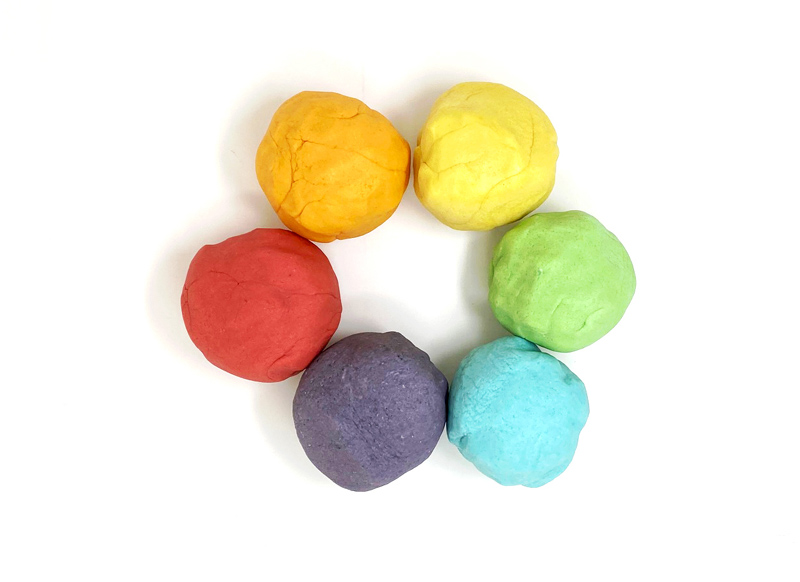 Why Do You Need Glycerin for Playdough?
Honestly, you don't really need the glycerin to make playdough.
Glycerin is a fairly inexpensive addition to playdough, though, that helps give it additional moisture as well as it's attractive sheen.
How Do You Make Playdough Last Longer?
The only "secret" to making playdough last as long as possible is to keep it away from air!
Be sure to store your playdough in an airtight container. You can also wrap in plastic wrap before storing.
An airtight container will help keep this Kool Aid Playdough soft and squishy for months!
Why Do You Put Cream of Tartar in Playdough?
Quite simply, the cream of tartar is what makes this playdough super SOFT!
Kool Aid Playdough Recipe
Kool Aid Playdough-An Easy, No-Cook Scented Playdough Recipe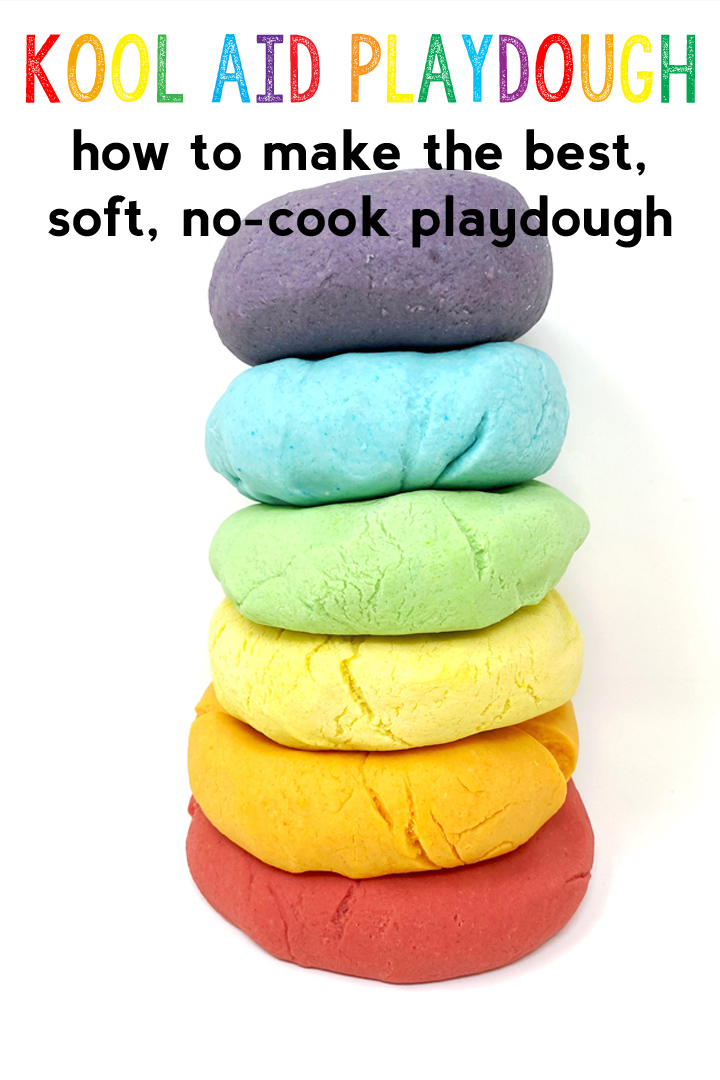 Looking for the BEST Kool Aid playdough recipe? T
his recipe is super soft, no-cook, and perfect for kids to help make!
Materials
1 Cup Flour
1/4 Cup Table Salt
1 Tablespoon Vegetable, Coconut, or Avocado Oil
3/4 Cup Boiling Water
Instructions
In a bowl, combine your flour, salt, packet of Kool Aid, cream of tartar, oil, and glycerin. Mix well.
Slowly add in your boiling water (this step is for adults, only!) and combine with a spatula or wooden spoon.
Mixture will appear overly wet and sticky, but this is OKAY!
Let cool in the bowl for 3-6 minutes, then knead your playdough until it comes together.
Playdough is ready when the color is uniform and it is completely cooled. Don't rush the kneading process! It can take several minutes to form your perfectly soft, stretchy playdough!
Store in an airtight container. This playdough will stay soft for months if stored properly.
And that's it! We spent an afternoon the other day making six different colors and it only took a couple hours (including clean up)!
We just love this easy recipes like this and our glitter glue slime recipe. We hope you do, too!
Have you made Kool Aid Playdough before? I'd love to hear what you think!
Thanks so much for reading all about our Kool Aid Playdough-An Easy, No-Cook Scented Playdough Recipe. Have a lovely day.