While in TJ Maxx the other day, I came across some plain glass jars, with pretty seagrass-ish lids. Not knowing what I'd do with them, I left. And, like I do on so many other occasions, I was back in less than a day. I came home with two of these coastal-inspired pretties….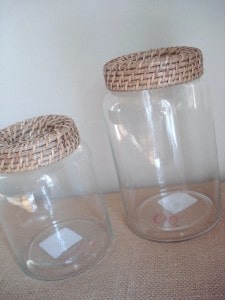 ….and a plan to turn one into a lamp. A day later, I had this….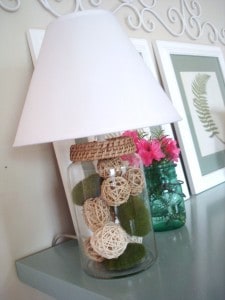 And, true to form, a day later, after flipping through the new Country Living and being inspired by a glass lamp filled with book pages, I had something different still….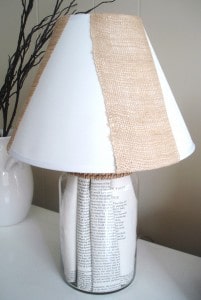 (the white lampshade was bothering me, too)
In short, I LOVE it. I'm all about options in home decorating and my mind is already filled with fun stuff to fill it with. Best of all, it was easy to make.  I'm not going to go through the entire lamp-wiring process (don't want be responsible for anyone's house burning down and such), but if you plan on doing something similiar, I'll give you a couple of quick pointers….
1) Since you will need to drill a hole through the jar top, and you would preferably like to do this without unravelling the whole top, fill the top with a clear adhesive and let dry overnight.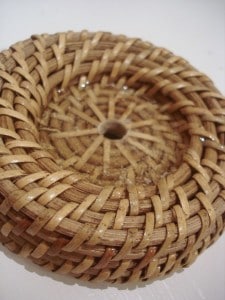 This will allow you to drill a clean hole without any unravelling. Very important.
2) The lamp kit you buy will probably come with an unattractive, brown cord. For around $5 you can purchase a clear or white cord to replace it with (totally worth it in my opinion!)
What would you fill your glass jar lamp with?
linking to:
tatertots and jello
between naps on the porch