This post was sponsored by KILZ® Paint & Primer as part of an Ambassador program for Influence Central and all opinions expressed in my post are my own.
Every couple of years, I find myself in the mood to give the rooms in my home a quick refresh. It's always amazing to me how a gallon of paint and a few new accessories can give a space a whole new look. I've been considering a refresh of our master bedroom (and attached bath), and decided to spend the weekend preparing and getting inspired for the project!
Here are a couple images of our bedroom currently. The upper walls are a light grayish-blue, and the bottom walls are a darker slate blue. Accent colors include yellow, gray, gold and aqua.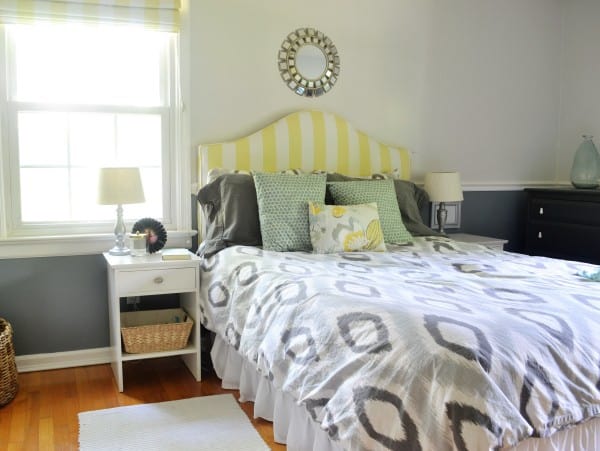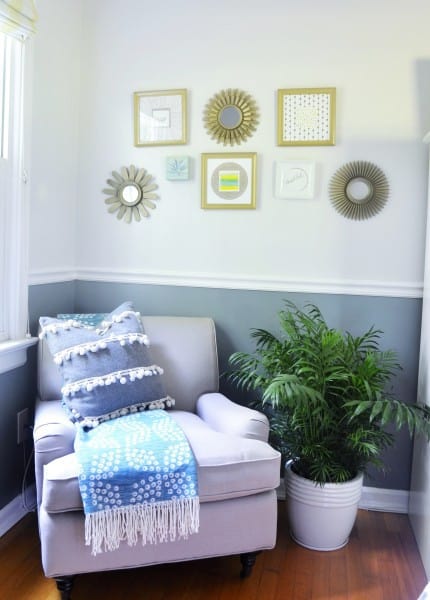 Wanting to lighten and brighten the space, and knowing I'd need a high-quality paint to adequately cover the darker walls, I headed to Walmart (a store I'm often at anyway!) to check out their selection of KILZ® Complete Coat™ Paint & Primer.
The KILZ® Brand is well-known in the blogging world as being the brand DIYers trust when they want to start their projects right. DIYers know that that getting the right products is crucial to getting them to the Perfect Finish.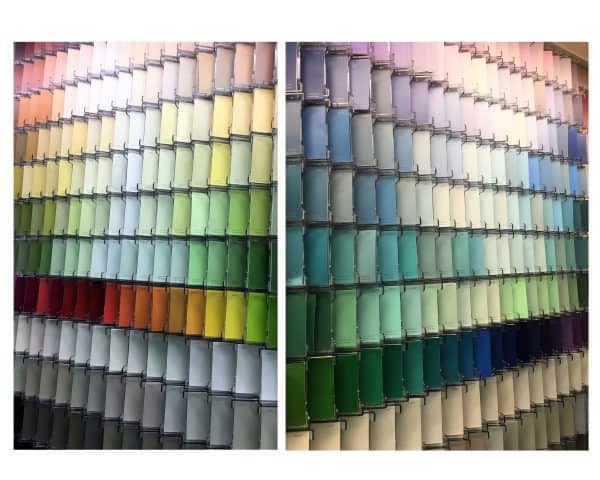 As a color lover, walls full of paint chips just make me happy. KILZ® does not disappoint in this regard. I loved looking through all the color options available (and especially love that KILZ® Complete Coat™ Paint is an exterior and interior paint in one–so versatile!). I knew that I wanted to use KILZ® COMPLETE COAT™ Paint, which is a low VOC, low-odor paint with excellent coverage.
Choosing the right white wasn't the easiest task, but it was made easier knowing that all KILZ® Paint colors available at Walmart are on-trend and versatile for so many spaces and decor styles.
Before I choose paint, I also have an inspiration piece or two in mind for the finished space. I gather magazine clippings, bedding, fabric, art, and any other pieces that I want to inspire my new space.
For this room redo, I was inspired by this cheerful landscape painting by Emily Jeffords. I knew I wanted it in the finished space, and I loved the layering of whites, grays, blues and yellows, all of which I knew would work well in both the bedroom and the bathroom. I ended up choosing Shaved Coconut as the paint color I will use.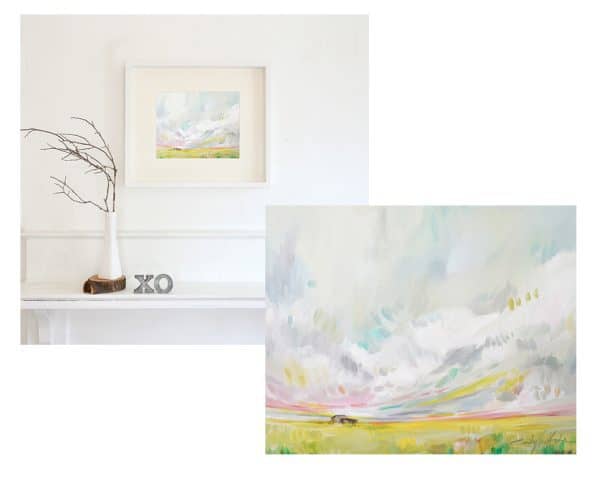 I can't WAIT to show you what color I chose AND how the rooms turned out!
I'd love to know–what room are you planning on refreshing this spring/summer? Any tips or tricks for me as I prepare to spruce up my own spaces?
Thanks for reading all about my bedroom inspiration and how I'm preparing to paint with KILZ®! Have a great day!