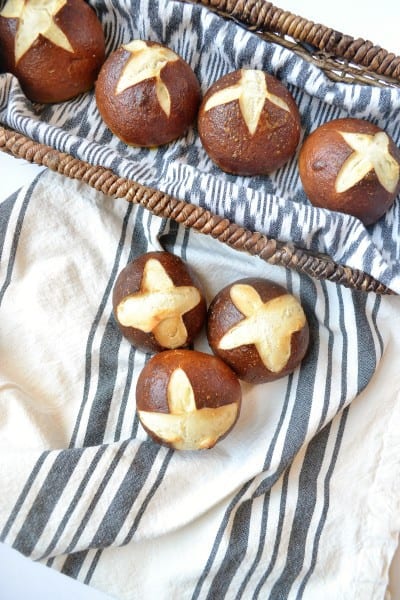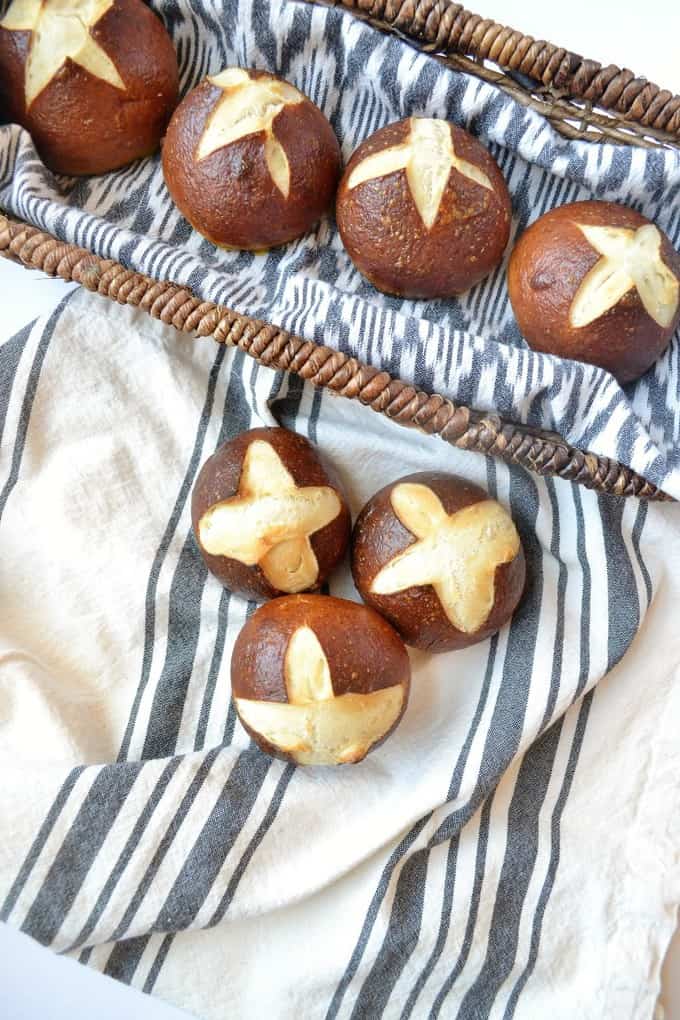 My husband does many things well, but these delicious pretzel rolls may be one of the BEST. We make these in big batches, freeze, and pull out as we need them. Though, I'm not sure why we even bother to freeze them; they never last longer than a few days!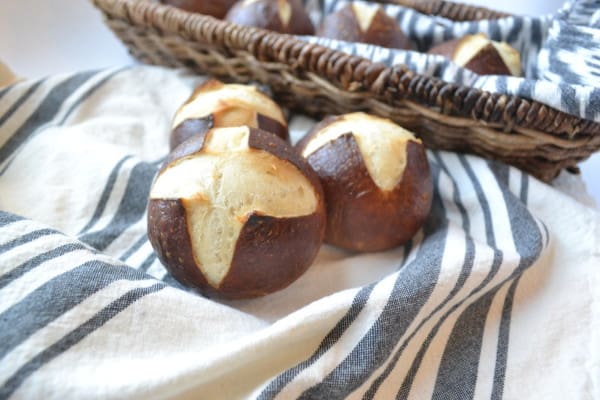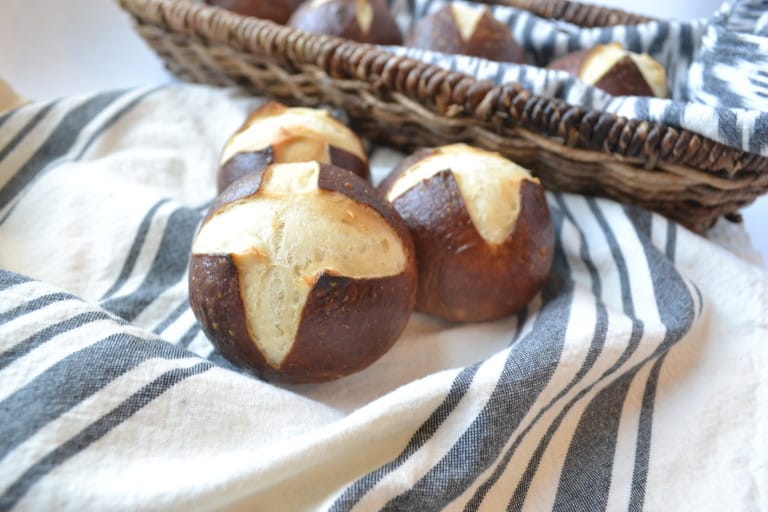 Ingredients
1 1/2 cups Warm Water (110 degrees or cold water mircowaved for 1 min in a 1100 watt microwave)
1TBSP Sugar
1 1/2 TBPS Salt
1 packet Active Dry Yeast (Approx. 2 1/4 tsp)
22oz All Purpose Flour (Approx. 4 1/2 cups)
2oz Butter, Melted
8 cups water
1/2 Cup Baking soda
1 Egg Yolk
1 TBPS Water
Directions
Place warm water, salt and sugar into work bowl of stand mixer with dough hook attachment. Sprinkler yeast packet on top of water and allow to sit until foamy, approx. 5 minutes.
Add melted butter to work bowl and turn on the mixer to its lowest setting. Slowly add the flour to the work bowl. Once the dough comes together, increase the speed to medium and allow to knead for 4-5 minutes, or until the dough cleanly pulls away from the side. Place the dough into a large oiled bowl and cover with plastic wrap. Allow to rise for 1 hour in a warm place, or until doubled in size.
Turn the dough out onto an oiled work surface and cut into 12 roughly equal pieces. Roll pieces into balls, stretching the dough to achieve a nice tight "skin", and crimping the rough surfaces together on the bottom. Preheat over to 450 degrees.
In a 3qt saucepan, bring the 8 cups of water and the baking soda to a full boil ( add the baking soda to water before bring to a boil! Adding baking soda to boiling water will cause the water to rapidly boil over and could cause scalding.) Add the dough balls to the boiling water 2 at a time for 30 sec, making sure the balls do not stick to each other or to the bottom of the pan. Remove the balls to a sheet pan lined with parchment paper, placing the crimped side down.
Beat the egg yolk and TBSP water together into an egg wash and brush liberally onto each ball. With a sharp knife, gently cut an "X" on the top of each roll ( Not just for aesthetics, the cuts allow for a little expansion as the rolls bake.)
Bake at 450 degrees for 16 minutes, rotating each tray 1/2 midway through. Allow to cool for 10 minutes before serving. If freezing, allow to cool completely before placing in gallon ziptop bag.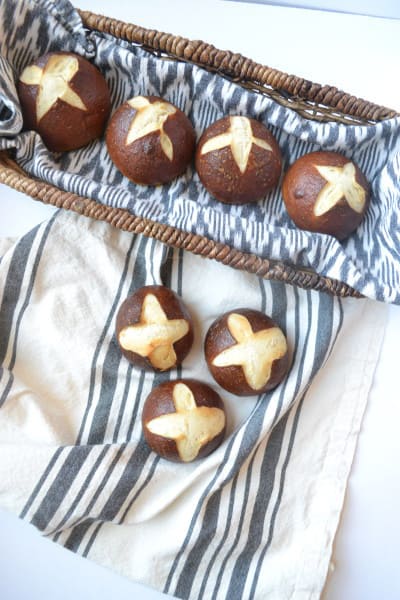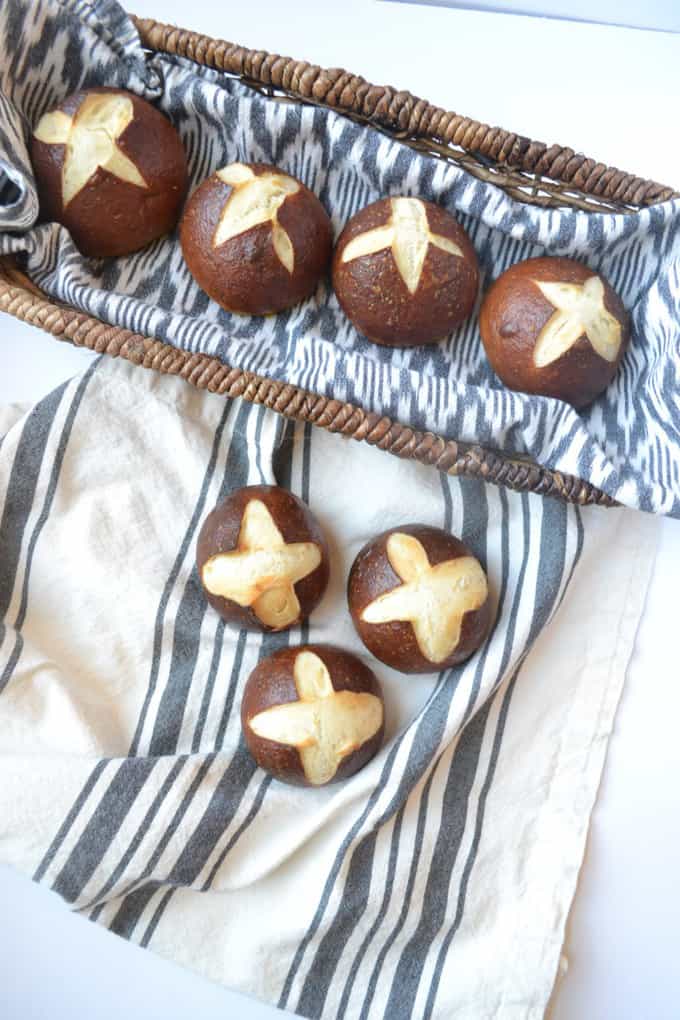 Thanks for reading all about this delicious pretzel roll recipe! Have a lovely day!