Looking for an alphabetical list of the states? We've got you covered. Check out our list our the states in alphabetical order, and then take a look at our list of the states abbreviations.
There are many times a list of the US states in alphabetical order comes in handy.
Use this list whenever and however you need, whether it's for a trivia or crossword clue, or just to gain some new knowledge!
After the list, you'll find a list of the abbreviations for each state, as well as a free printable!
Let's get started…
Alphabetical List of States
Here we go with the list of states in alpha order:
Alabama
Alaska
Arizona
Arkansas
California
Colorado
Connecticut
Delaware
Florida
Georgia
Hawaii
Idaho
Illinois
Indiana
Iowa
Kansas
Kentucky
Louisiana
Maine
Maryland
Massachusetts
Michigan
Minnesota
Mississippi
Missouri
Montana
Nebraska
Nevada
New Hampshire
New Jersey
New Mexico
New York
North Carolina
North Dakota
Ohio
Oklahoma
Oregon
Pennsylvania
Rhode Island
South Carolina
South Dakota
Tennessee
Texas
Utah
Vermont
Virginia
Washington
West Virginia
Wisconsin
Wyoming
50 states song alphabetical order lyrics
Did you know there is also a song that lists the 50 states in abc order? There is!
I remember having to memorize this song in third grade, and then recite it while pointing to the correct state.
There are several versions of this song. Just head to YouTube, choose your favorite, and let the memorizing begin!
List of Postal Abbreviations of States
And here are the postal abbreviations for each state:
Alabama: AL
Alaska: AK
Arizona: AZ
Arkansas: AR
California: CA
Colorado: CO
Connecticut: CT
Delaware: DE
Florida: FL
Georgia: GA
Hawaii: HI
Idaho: ID
Illinois: IL
Indiana: IN
Iowa: IA
Kansas: KS
Kentucky: KY
Louisiana: LA
Maine: ME
Maryland: MD
Massachusetts: MA
Michigan: MI
Minnesota: MN
Mississippi: MS
Missouri: MO
Montana: MT
Nebraska: NE
Nevada: NV
New Hampshire: NH
New Jersey: NJ
New Mexico: NM
New York: NY
North Carolina: NC
North Dakota: ND
Ohio: OH
Oklahoma: OK
Oregon: OR
Pennsylvania: PA
Rhode Island: RI
South Carolina: SC
South Dakota: SD
Tennessee: TN
Texas: TX
Utah: UT
Vermont: VT
Virginia: VA
Washington: WA
West Virginia: WV
Wisconsin: WI
Wyoming: WY
List of States Printable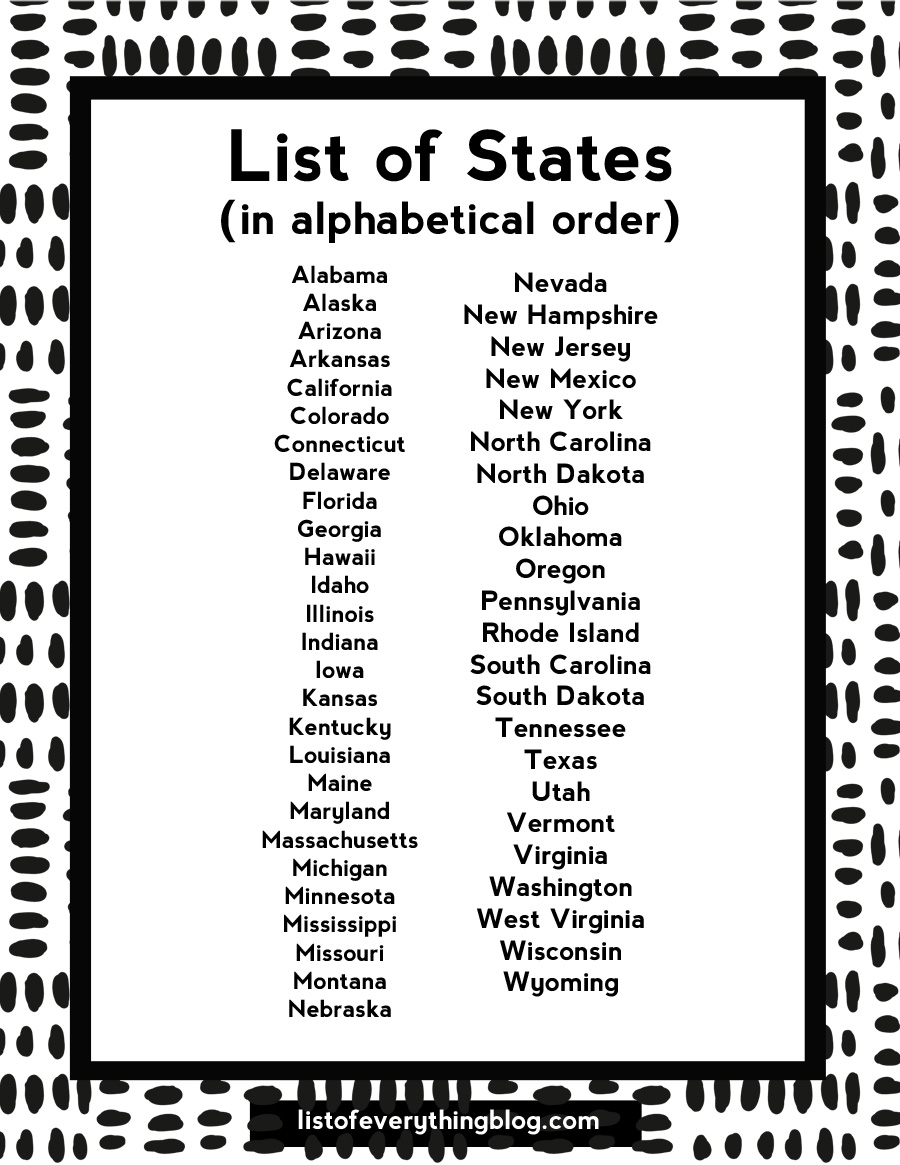 Looking for a printable list of states in abc order?
Download and print this PRINTABLE LIST OF STATES and place in a sheet protector to keep and reference when needed. Also great for homeschooling!
Looking for more fun knowledge? Check out our Asian Countries in Alphabetical Order list!
Thanks so much for reading all about our Alphabetical List of the States. Have a great day!