Take the guesswork out of buying a stylish and inexpensive sofa with today's post!
A quality sofa is one of the best investments you can make in your home. It can set the tone for your living space and, if it's comfortable, can encourage friends and family to linger.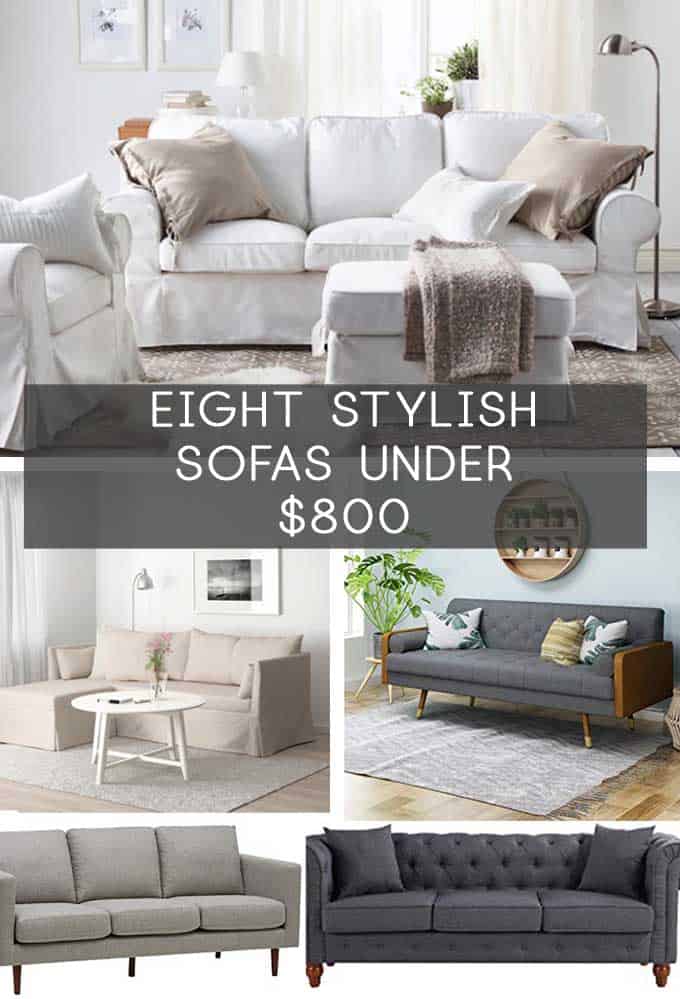 This doesn't mean it has to cost a fortune, though.
I've compiled some of my favorite stylish, but not too trendy, sofas, all under $800. Take a look at the list, then scroll down to see the most common sofa buying mistakes.
Eight Stylish Sofas for Under $800 (and Three Features to Avoid)
Stylish sofas for under $800!

Photo Credit: www.amazon.com

A Chestefield sofa for under $500? YES.

This comfortable chesterfield style large sofa has a tufted design for that classic and sophisticated look (though some assembly does appear to be required).

Photo Credit: www.ikea.com

Like so many others, I LOVE my EKTORP sofa!

Photo Credit: www.target.com

Casual, with clean lines, this contemporary sofa from Target is perfect for any living space.

Photo Credit: www.roomstogo.com

I love the natural-colored denim slipcover for this Rooms to Go sofa!

Photo Credit: www.ikea.com

This sleeper sectional is an AMAZING bargain!

Photo Credit: www.target.com

I love the clean lines and reversible chaise in this sofa from Target!

Photo Credit: www.amazon.com

This modern sofa has enough classic elements to blend with your existing style. Plus, clean lines, comfortable seating and durable fabric give this piece functionality as well as smart design.

Photo Credit: www.amazon.com

This modern sofa features wood sides and rounded legs for a true Mid Century feel.

In my opinion, you can't go wrong with any of the above sofas!
Just like with everything, there are common sofa-buying mistakes that are more common than you'd think.
Buying the Wrong Size Sofa
It's so easy to buy a sofa that's too big or too small for your space. When you're in the showroom, sofas can look deceivingly small.
Before buying, make sure you measure your space to ensure you find a piece that fits your space well.
Choosing the Wrong Color
Often, we'll be attracted to a sofa in a trendy color, and then hate it a couple years later.
Personally, I only buy large pieces of furniture in neutral colors. I then add color with throws, pillows and other accessories.
Buying a Poor Quality Piece
I know not everyone can afford a $1500 sofa, but you'd be surprised at the quality you can buy if you just do a little research beforehand. A sofa that will fall apart in two years will not save you any money in the long run.
Thanks for reading all about Eight Stylish Sofas for Under $800. Have a great day!