Inspirational or powerful words have the ability to increase self-compassion, reduce stress, and improve our well-being.
ProFlowers has created 8 beautiful floral printables that each highlight a power word whose purpose is to encourage, inspire, and motivate you to be your very best self.
These printables can be hung at home, in your office, or given to a friend.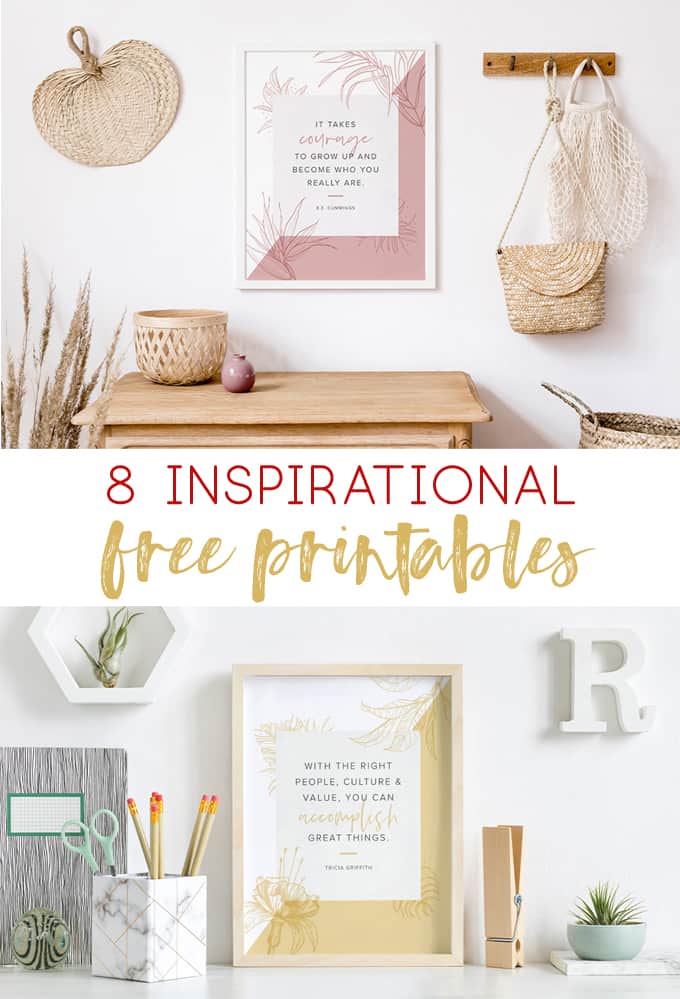 Along with the printables, there are 52 inspirational quotes from influential people that you may share with a friend or family member who needs some positivity. While reading each quote, focus on the purpose of each power word in the phrase to provoke deeper thought and derive valuable lessons to bring into your own life.
You may find all the wonderful printables here, along with 52 inspirational quotes from influential people!
Free Floral Printables
(scroll to end of post to download ALL free printables!)
Motivational Words to Live By Every Day
We often find ourselves looking for things to improve or searching for the motivation to reach our goals. As the research shows, words can motivate us to achieve our dreams and aspirations. Use these words to empower yourself.
Excellence
"Perfection has to do with the end product, but excellence has to do with the process."– Jerry Moran
"Excellence is a continuous process and not an accident."– A. P. J. Abdul Kalam
"We are what we repeatedly do. Excellence then is not an act, but a habit."– Will Durant
"The road to excellence is always under construction."– Anonymous
Determination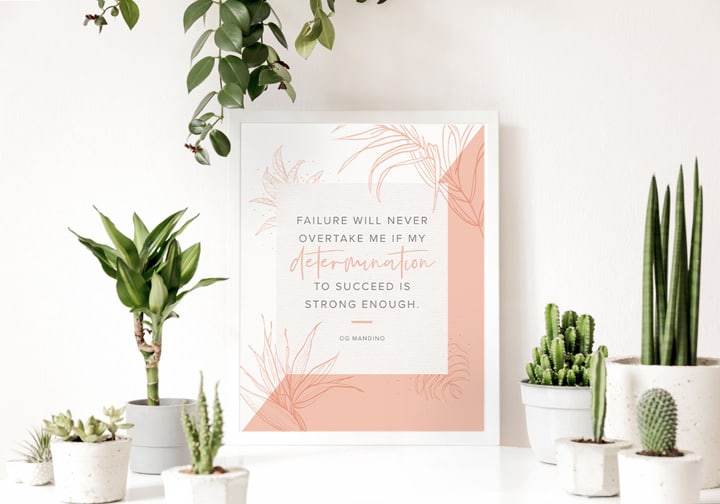 "You've got to get up every morning with determination if you're going to go to bed with satisfaction."– George Lorimer
"Failure will never overtake me if my determination to succeed is strong enough."– Og Mandino
"A dream doesn't become reality through magic; it takes sweat, determination and hard work."– Colin Powell
"Happiness is an attitude of mind, born of the simple determination to be happy under all outward circumstances."– J. Donald Walters
Commitment
"Commitment is the foundation of great accomplishments."– Heidi Reeder
"Once you have the commitment, you need the discipline and hard work to get you there."– Haile Gebrselassie
"The biggest commitment you must keep is your commitment to yourself."– Neale Donald Walsch
"When you're surrounded by people who share a passionate commitment around a common purpose, anything is possible."– Howard Schultz
Words of Encouragement for Work
Surrounding yourself with words to motivate you during your workdays will push you to exceed the limits you once thought you had. While you grind out your hard work, accompany yourself with a lovely office plant friend.
Focus
"Successful people maintain a positive focus in life no matter what is going on around them."– Jack Canfield
"Stay focused and stay determined. Don't look to anyone else to be your determination — have self-determination. It will take you very far."– Justice Smith
"To create something exceptional, your mindset must be relentlessly focused on the smallest detail."– Giorgio Armani
"Focus on you — your soul, spirit, blessing people with who you are, and following your heart's passions."– Ally Brooke
Success
"Success usually comes to those who are too busy to be looking for it."– Henry David Thoreau
"Success is walking from failure to failure without loss of enthusiasm."– Winston Churchill
"Success is no accident. It is hard work, perseverance, learning, studying, sacrifice and most of all, love of what you are doing or learning to do."– Pele
"Put your heart, mind, and soul into even your smallest acts. This is the secret of success."– Swami Sivananda
Accomplish
"I long to accomplish a great and noble task, but it is my chief duty to accomplish small tasks as if they were great and noble."– Helen Keller
"People do not decide to become extraordinary. They decide to accomplish extraordinary things."– Edmund Hillary
"With the right people, culture, and value, you can accomplish great things."– Tricia Griffith
"If you take responsibility for yourself you will develop a hunger to accomplish your dreams."– Les Brown
Words of Wisdom About Life
When you find yourself lost or falling off your life path, use these words to help guide you in the right direction. You will find yourself coming to a clearer mindset when practicing gratitude and following each lesson derived from these wise quotes.
Fulfillment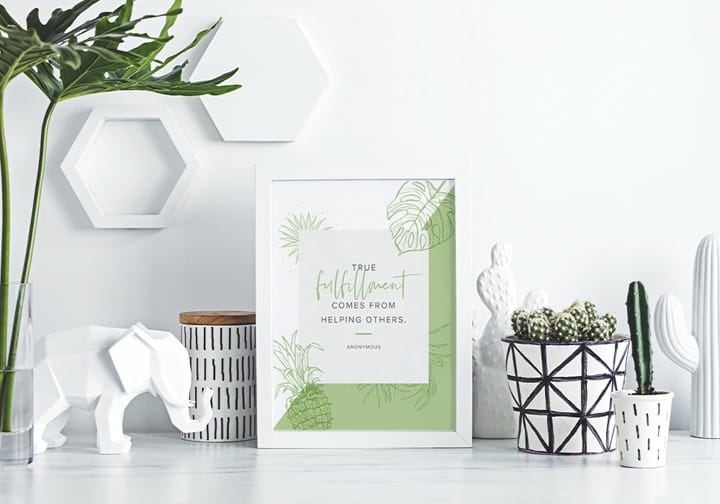 "True fulfillment comes from helping others."– Anonymous
"True success, true happiness lies in freedom and fulfillment."– Dada Vaswani
"People want riches; they need fulfillment."– Robert Conklin
"Success without fulfillment is the ultimate failure."– Tony Robbins
Patience
"Patience is the companion of wisdom."– Saint Augustine
"I've learned that anything in life worth having comes from patience and hard work."– Greg Behrendt
"Be patient. Patience is the mother of all virtues."– Hrithik Roshan
"Adopt the pace of nature: her secret is patience."– Ralph Waldo Emerson
Mindfulness
"Mindfulness is a way of befriending ourselves and our experience."– Jon Kabat-Zinn
"With mindfulness, you can establish yourself in the present in order to touch the wonder of life that are available in that moment."– Thich Nhat Hanh
"Life is a dance. Mindfulness is witnessing that dance."– Amit Ray
"It takes a little bit of mindfulness and a little bit of attention to others to be a good listener, which helps cultivate emotional nurturing and engagement."– Deepak Chopra
Encouraging Words for Friends
No matter if they are needed or you're sending just because sharing encouraging words with the ones you love and care for shows compassion. Show your companions you care with these encouraging words or friendship quotes.
Dream
"Hold fast to dreams, for if dreams die, life is a broken-winged bird that cannot fly."– Langston Hughes
"All our dreams can come true, if we have the courage to pursue them."– Walt Disney
"The future belongs to those who believe in the beauty of their dreams."– Eleanor Roosevelt
"Follow your dreams, believe in yourself and don't give up."– Rachel Corrie
Hope
"Nothing can be done without hope and confidence."– Helen Keller
"Hope lies in dreams, in imagination, and in the courage of those who dare to make dreams reality."– Jonas Salk
"We must accept finite disappointment, but never lose infinite hope."– Martin Luther King, Jr.
"A good teacher can inspire hope, ignite the imagination, and instill a love of learning."– Brad Henry
Courage
"Courage is the commitment to begin without any guarantee of success."– Johann Wolfgang Von Goethe
"It takes courage to grow up and become who you really are."– E.E. Cummings
"Everyone has talent. What's rare is the courage to follow it to the dark places where it leads."– Erica Jong
"All you need is the plan, the road map, and the courage to press on to your destination."– Earl Nightingale
Click the button below to download your free floral printables!

Thanks for reading all about our Free Floral Printables for Your Home. Have a great day!