Looking for a fall or winter wreath to decorate your front door? Today, I've rounded up my favorite cool-weather wreaths to buy!
As is often the case, one (small!) home project often snowballs into many more.
A few weeks ago, my husband and I started a few outdoor projects, including replacing the soil in some of our beds with gravel and planters. We've been slowly adding onto the to-do list, which now includes repainting our front door and finding a new fall wreath.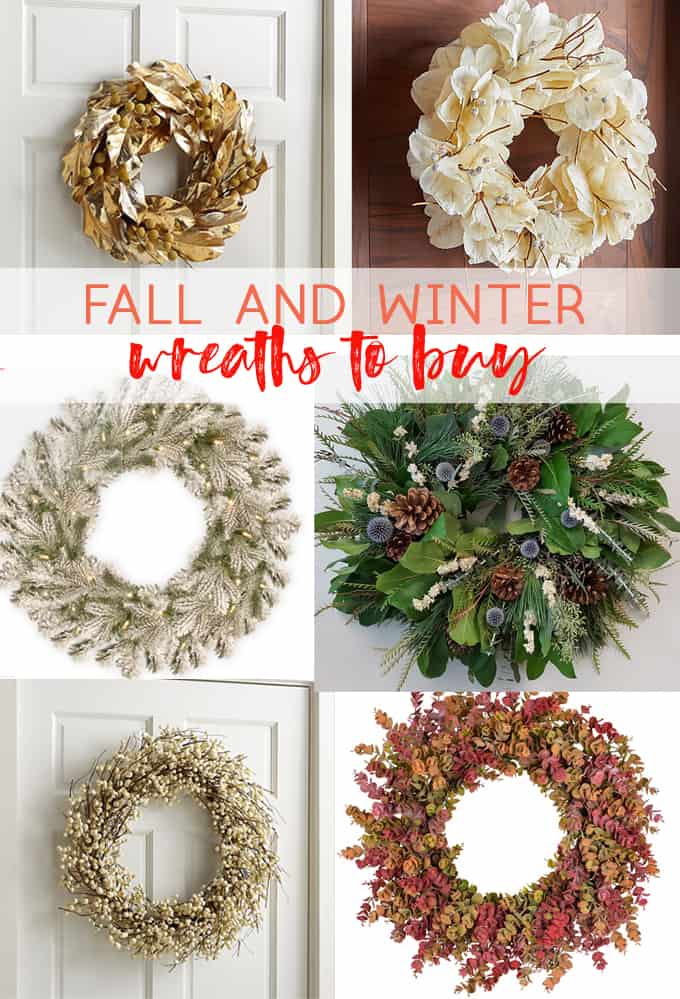 Currently, this twig and succulent wreath is on our door, and it's been there for over a year now. It's time for something new!
I've spent hours browsing for a new wreath, so I thought I'd share some of my favorite finds with you all, all under $100.
Favorite Fall and Winter Wreaths to Buy
Sharing some favorite fall and winter wreaths to adorn your front door!

If I wanted a fresh wreath, this would have been a contender! I LOVE this magnolia and pepperberry wreath!

Photo Credit: www.ballarddesigns.com

I love the whimsy and asymmetrical design of this gorgeous winter wreath from Ballard Designs.

Photo Credit: www.jossandmain.com

This faux spruce wreath features 50 clear lights, and would look amazing contrasted against a dark front door or foyer wall!

Photo Credit: www.ballarddesigns.com

I was so close to buying this cotton leaf wreath! I love the colors and textures, and it's at a great price point.

Just look at those bright fall colors and all that texture! I love a full wreath, and this one definitely delivers.

This winter wreath features gorgeous, white berry clusters.

This live wreath from Pottery Barn features salal, seeded eucalyptus, gravellia, pine cones, larkspur and echinops.

Photo Credit: shop.magnolia.com

If you love all things Fixer Upper, you need this gorgeous wreath from Magnolia!

This is one of the two wreaths I ended up buying the other day. Best of all, this one is currently on clearance! Snap it up!

And this is the second wreath I picked up, perfect for the holidays, and it's also on sale!!

I'll soon share pics of our updated front porch, but until then, I hope you found a wreath to inspire your own fall and winter decor.
Thanks for reading all about my Favorite Fall and Winter Wreaths to Buy. Have a great day!