It's official-we all love Fixer Upper style rooms!
Today, I'm sharing Fixer Upper Kitchens, full of the rustic, farmhouse decor that we all love so much!
After my first post, earlier this year,on favorite Fixer Upper Dining Rooms, it was clear to me that we Just. Cannot. Get. Enough. of Chip and Joanna's fantastic, vintage-y, farmhouse style.
So, naturally, I knew we needed a follow-up post with even more favorites!
Today, we're focusing on Fixer Upper kitchens. Gorgeous kitchens filled to the brim with Chip and Joanna's signature style.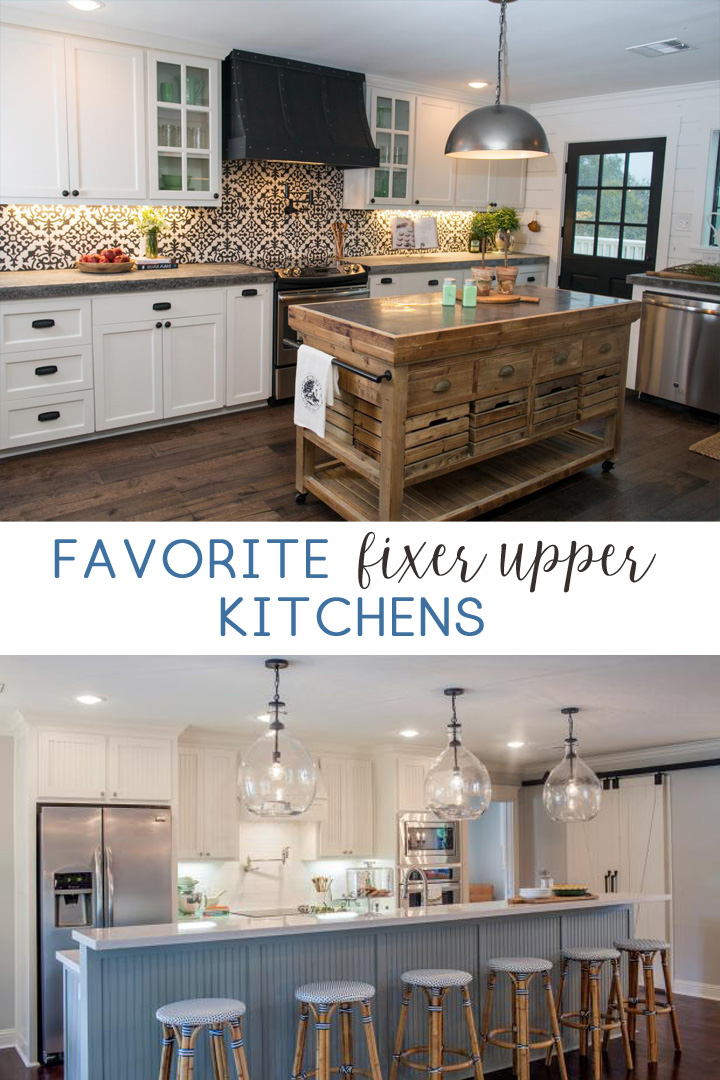 Looking for more specific ideas for getting the Fixer Upper style for your own home?
This post is all about Fixer Upper vignettes & tablescapes, and here I share lots of ideas in various price points for getting the look for less!
Fixer Upper Kitchens
All of the kitchen spaces I'm about to share below have several things in common.
Natural wood and bright white seem to be a theme in so many of these spaces (and one that I LOVE–I have a Pinterest board on the subject for more inspiration!)
Also, look for lots of vintage elements. Vintage plant stands, rustic beams, vintage mirrors…these all give these spaces so much character.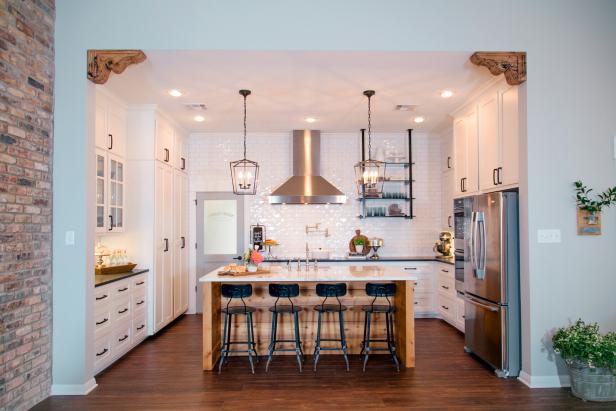 Natural brick is the epitome of the Fixer Upper style if you're lucky enough to have that option in your own home.
Also, take note of those gorgeous, industrial bar stools and light fixture!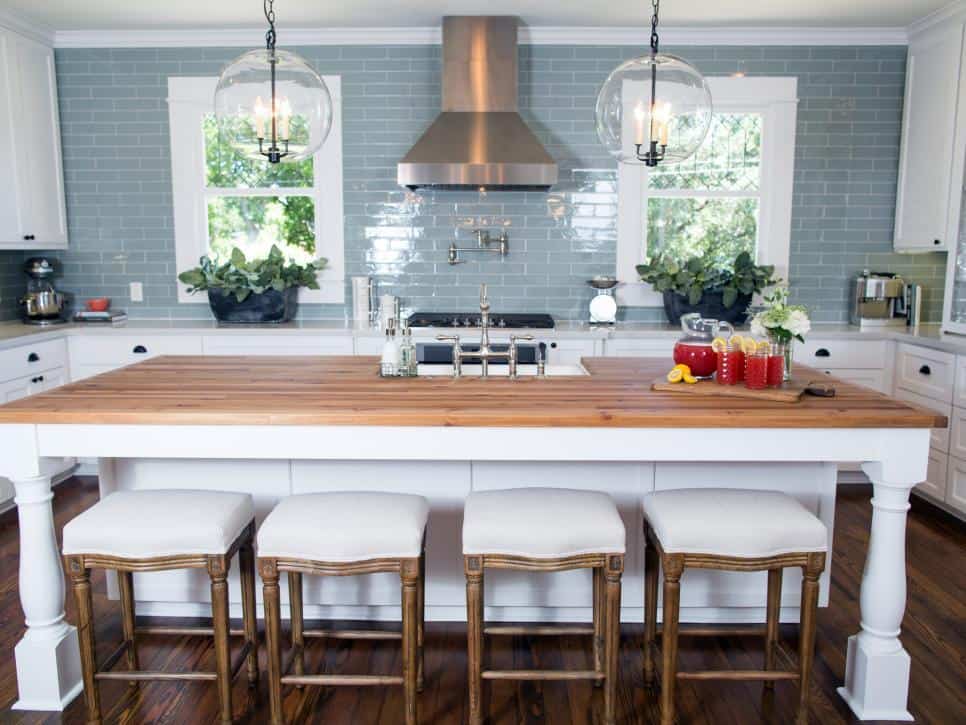 I love that in addition to the natural wood and white in the kitchen above, Chip and Joanna chose a super fun color for the tile!
This moody slate blue is the perfect accent color for this space.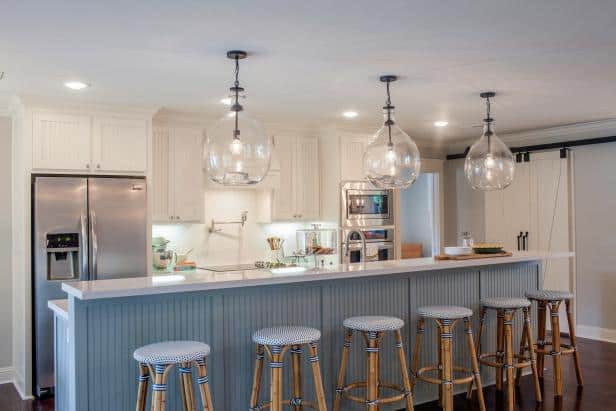 Here's that beautiful blue again!
When in doubt, it's hard to go wrong with white, natural wood, and one accent color like they did here.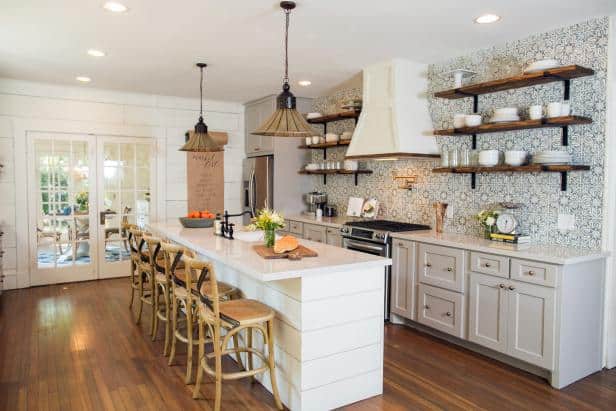 A fun, tiled wall is a statement wall sure to impress!
Again, notice those vintage-inspired light fixtures and the bright white against those gorgeous natural wood floors.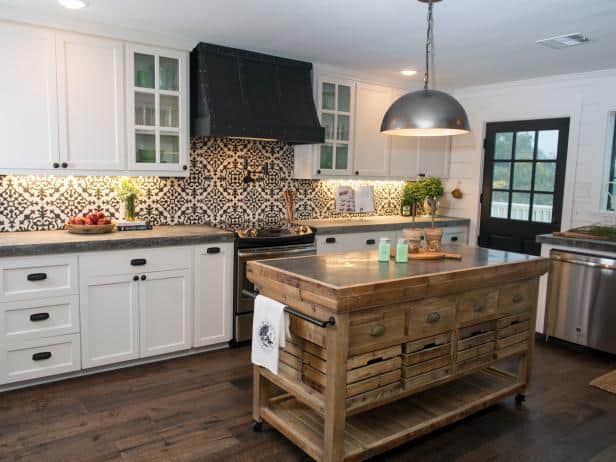 Again with the gorgeous tile! Black and white is always in style and a bold tile option was the perfect way to go in this kitchen.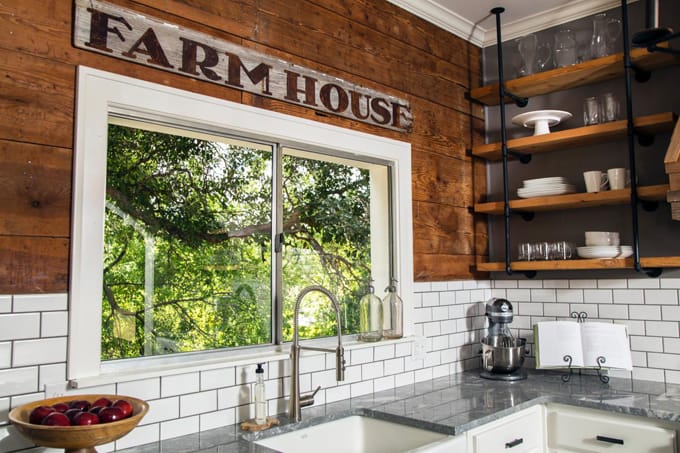 Vintage signs are always a great go-to in Chip and Joanna's rooms.
You can make one yourself, or check out ebay or flea markets to find one for your own space.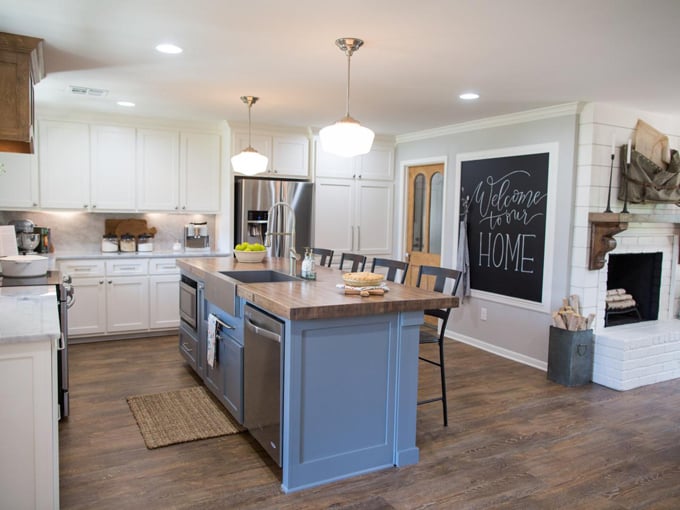 I love, love, love adding a chalkboard to give a home some personality!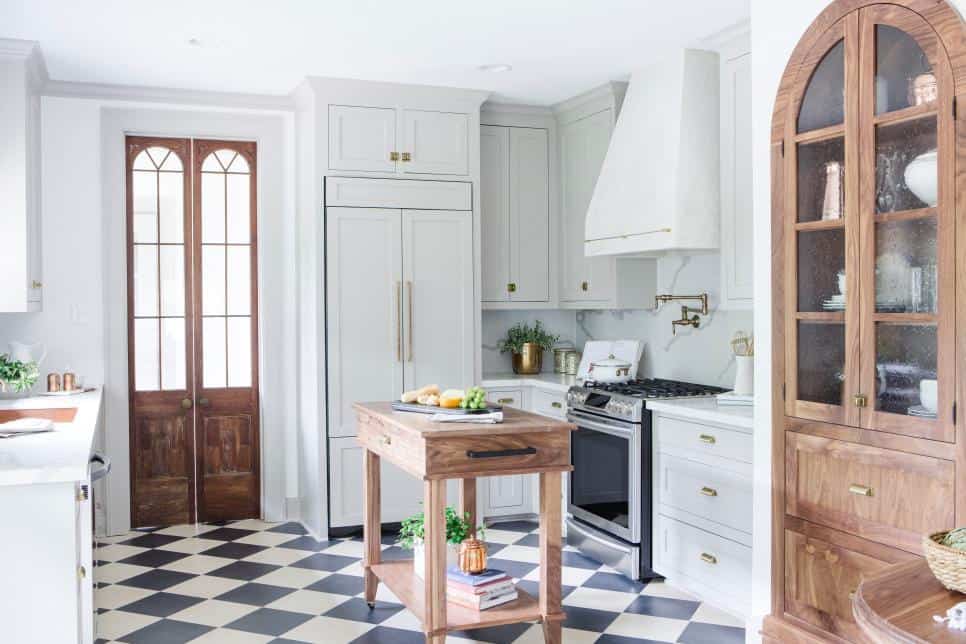 Chip and Joanna are great at finding interesting furniture pieces for the homes they makeover. Love the pantry on the right side of this picture.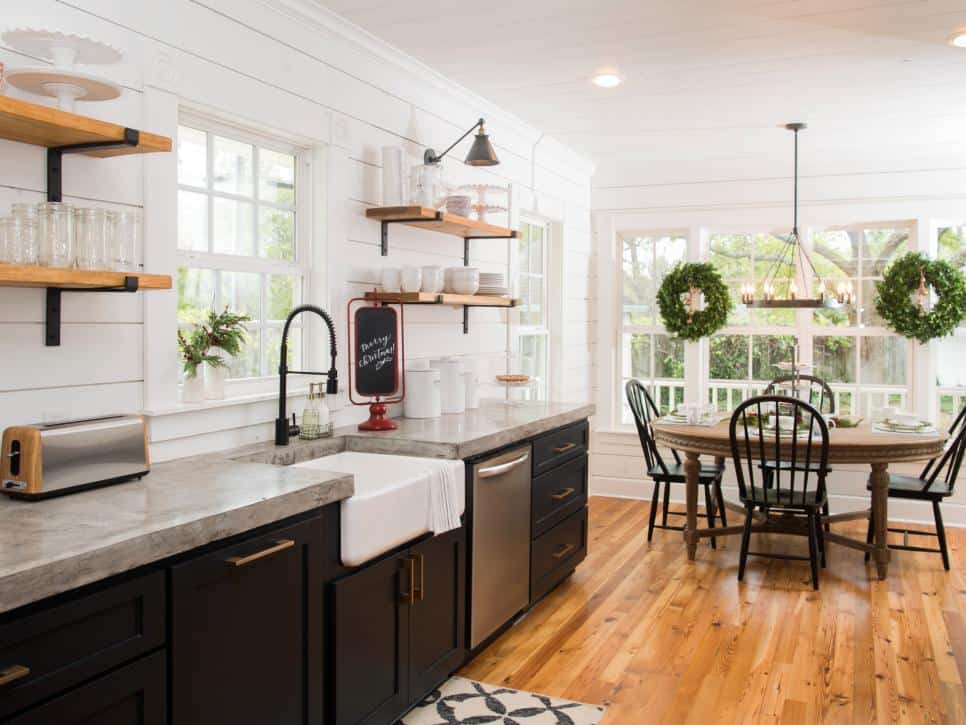 Who wants a Fixer Upper Christmas? The above Christmas themed kitchen uses all of the usual Fixer Upper elements, and adds in some boxwood wreaths for color and texture.
images via HGTV
Which Fixer Upper space do you love most?
Thanks for reading all about my favorite Fixer Upper kitchens.
Have a great day!
Check out our archives for other Fixer Upper posts & inspiration!