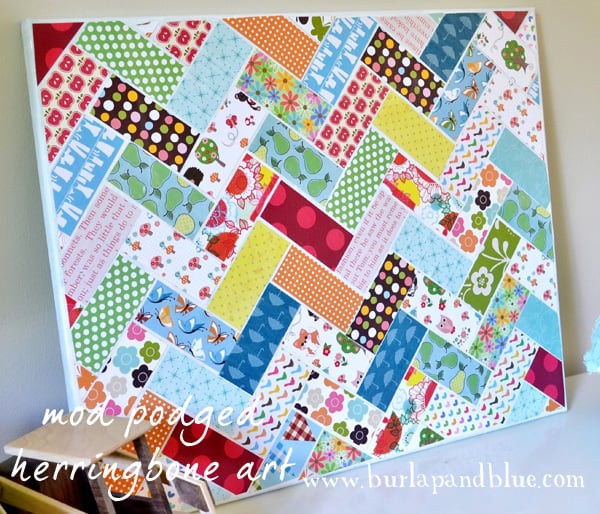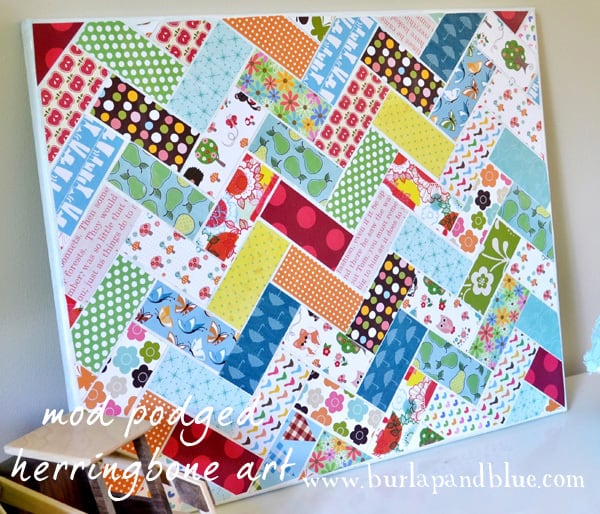 I'm always on the lookout for new ways to gussy up a blank canvas. In fact, I shared one last week in my easy DIY painted canvas post.
When I saw this tutorial on Our Humble Abode for herringbone art, I loved the idea and decided to put my own spin on it.
I used some of my favorite kid-inspired scrapbook paper and my trusty Mod Podge and created a fun and unique piece of art!
Materials:
scrapbook paper
Mod Podge
foam brush
canvas
scissors
Step 1: Cut your scrapbook paper into pieces approximately 1.5″ x 4″.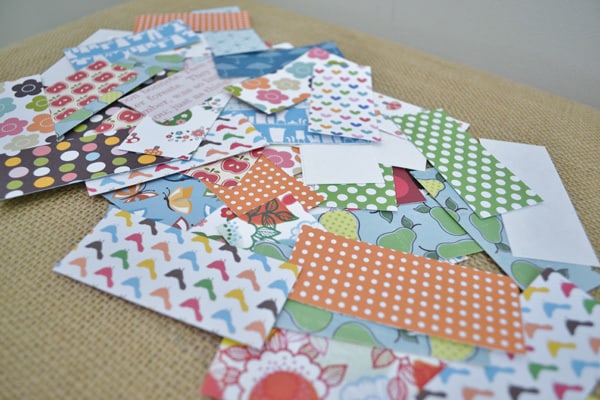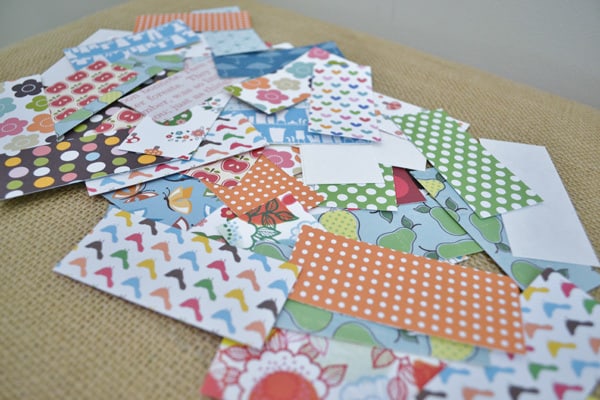 Step 2: Take your pieces, and begin to construct a herringbone pattern onto your canvas. I started in the bottom left corner, but it doesn't really matter where you begin.
I used a piece of double sided tape to keep each piece in place.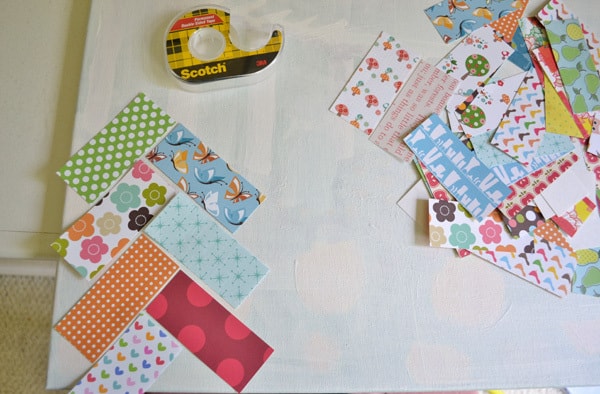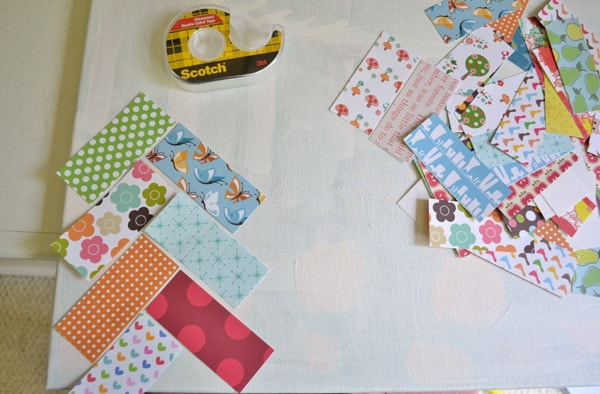 When you're done, you'll have something that looks like this…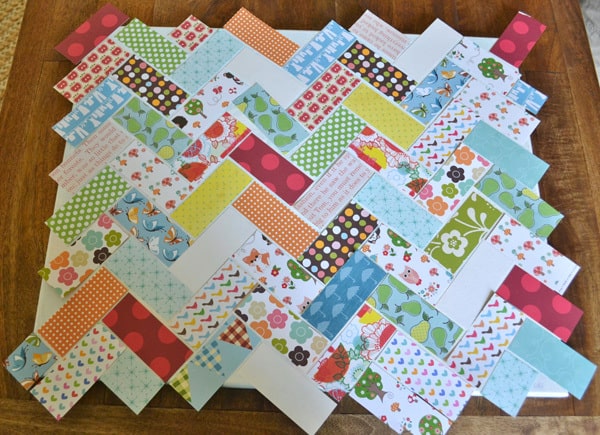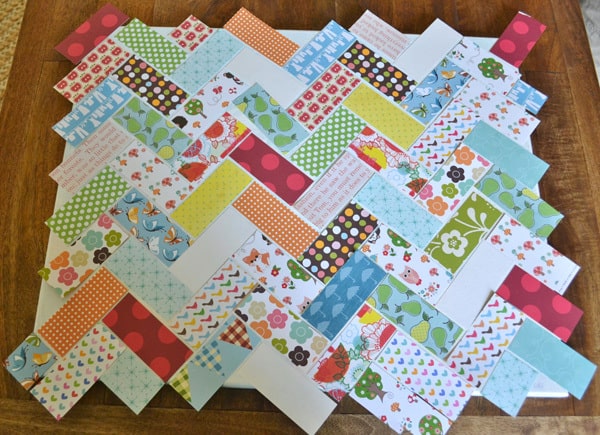 Step 3: One by one, remove each piece of paper, spread a layer of Mod Podge down onto your canvas, and press your paper back into place.
I started removing 2-3 pieces at once, but the Mod Podge was drying too quick to get the pieces set into place, so I went to removing and Mod Podging them one at a time.
When you get to a piece that hangs over the canvas, you'll need to trim it before adhering to the canvas. This step definitely took the longest, probably an hour and a half or so, but it was well worth it…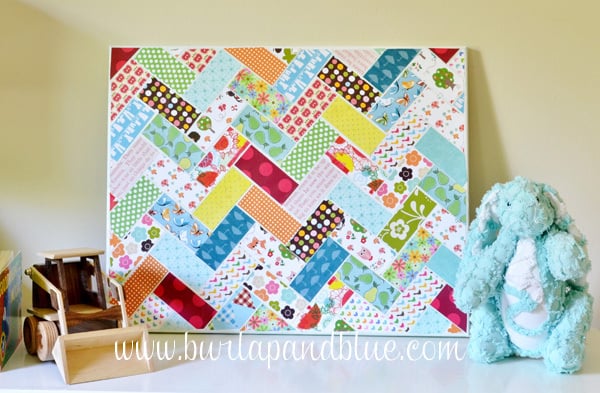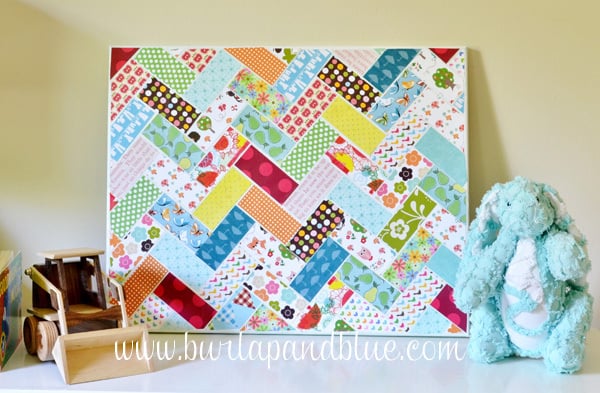 This fun piece will find it's home in my kids' room, but I'd love to use the same technique to make a piece for another area of my home!
What do you think? How would you put your spin on this piece? I can think of so many ways to customize it!
I'd love to see a piece with all black and white papers, or a piece using cut up watercolor paintings made by my little one!
Thanks for reading!!