Do you want to create delicious, wholesome foods for your family, but never seem to have the time to go beyond opening a package and sticking it in the microwave?
Heather at has the desire to help time crunched foodies create the comfort foods they love, in the precious little time they have.
Today, she shares a post on how to make easy beef stroganoff!
This one pot meal is a family favorite, even in the summer. It's warm and comforting in the cooler weather months, but since it comes together so quickly, I love to make this all year long.
Traditional beef stroganoff is served with mushrooms added, but the boy doesn't like them. For his sake, I usually leave them out. If you want to add them, add 8 ounces of sliced mushrooms with the onions and garlic.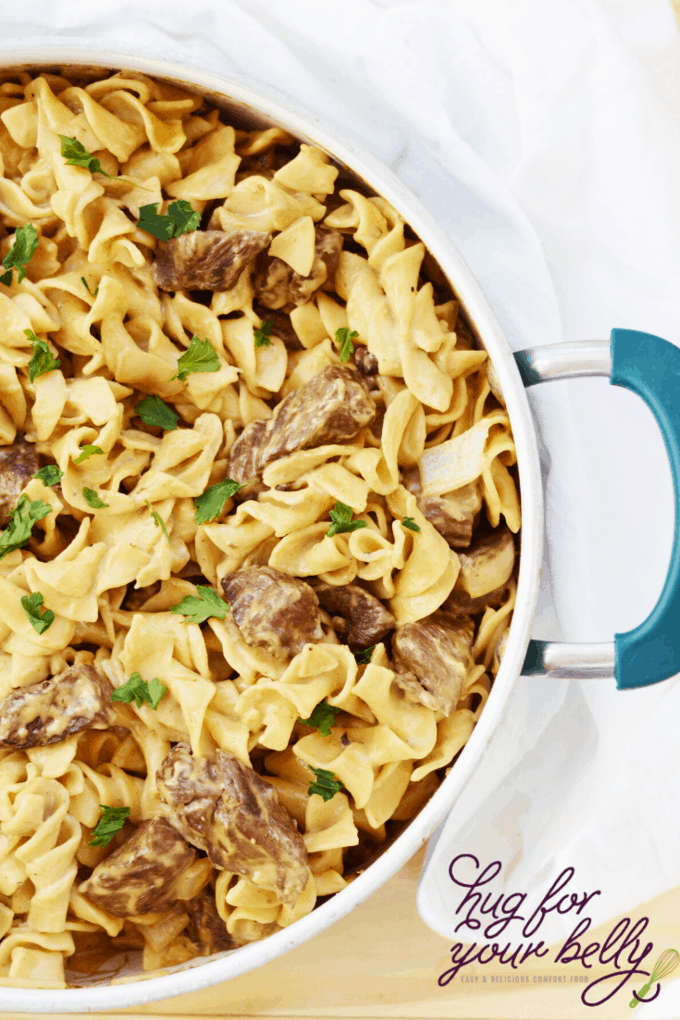 IS BEEF STROGANOFF EXPENSIVE TO MAKE?
No. This creamy beef stroganoff uses 2 pounds of cubed sirloin steak, that you can often find on sale. However, if you need it to be less expensive, you can substitute ground beef, or even stew meat for the sirloin steak.
IS THIS BEEF STROGANOFF KETO FRIENDLY?
To make this beef and noodles keto friendly, you will need to make a few substitutions.
Substitute the flour for arrowroot powder (not necessary if using cream)
Swap out the egg noodles for shiritaki noodles
Cut down the amount of onions to 1/2 an oion
Use heavy cream instead of milk for the roux, and you can forgo the arrowroot powder
CAN YOU MAKE THIS BEEF STROGANOFF RECIPE GLUTEN FREE? WHAT ABOUT DAIRY FREE?
Sure! Simply swap out the flour for arrowroot powder, and use gluten free noodles instead of plain egg noodles to make this creamy beef and noodles gluten free. To make this dairy free, use vegan butter, and beef broth instead of the milk.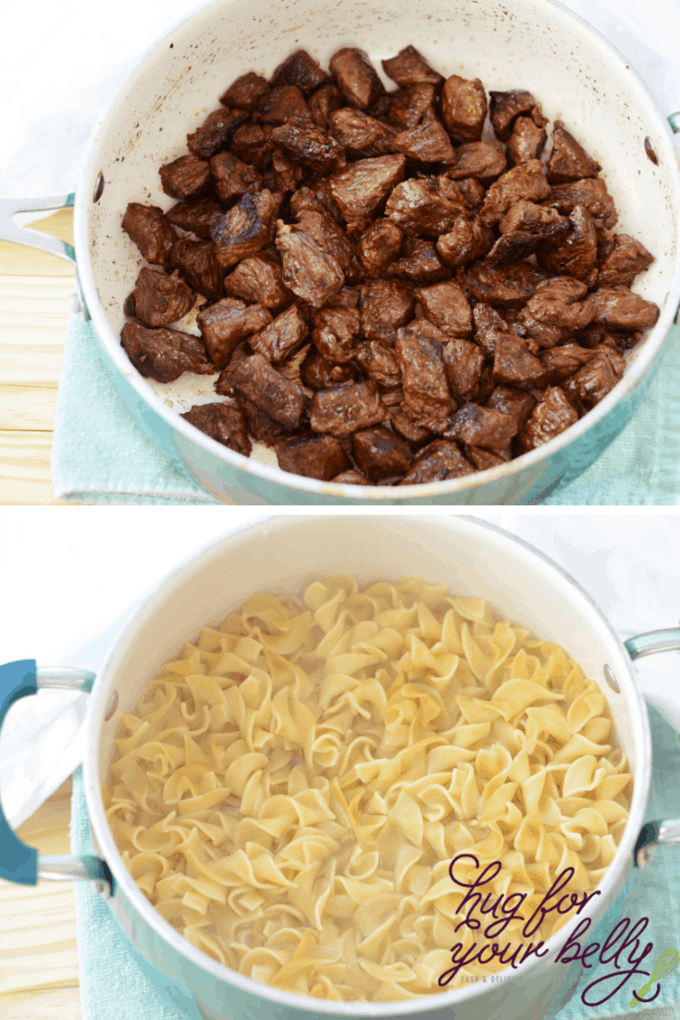 HOW DO I MAKE THIS EASY BEEF STROGANOFF?
Cook noodles according to package instructions, then drain and set aside.
Brown the sirloin steak in avocado oil, then remove to a plate.
Saute the vegetables, and make the roux.
Finish off the sauce with the sour cream, and stir in steak and noodles.
Season with salt and pepper, and paprika.
Top with fresh chopped parsley and serve.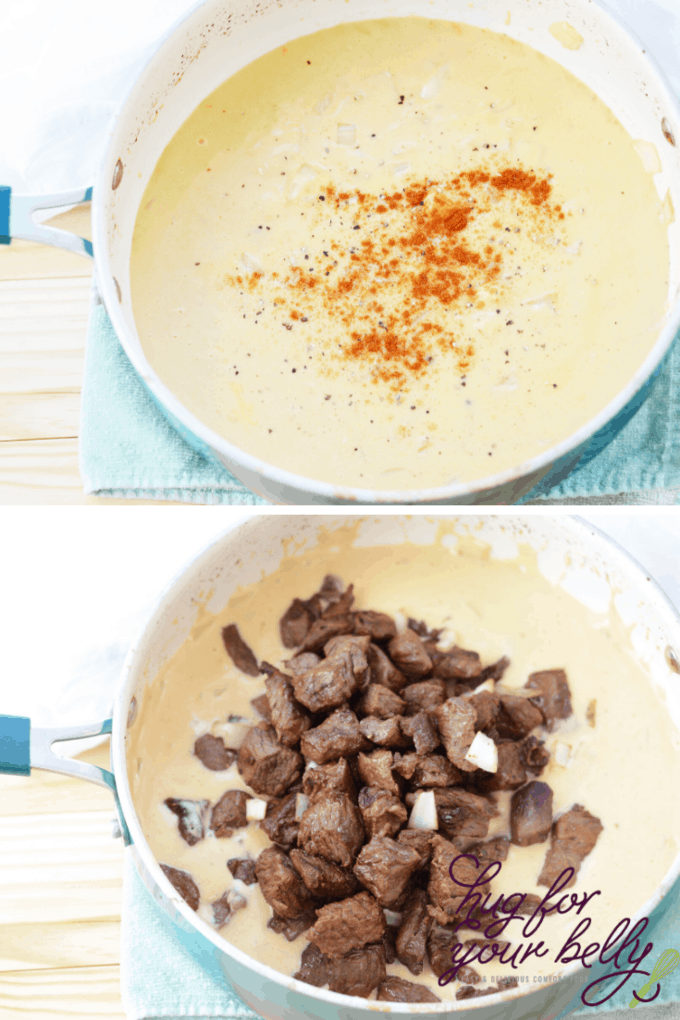 WHAT TO SERVE WITH BEEF STROGANOFF: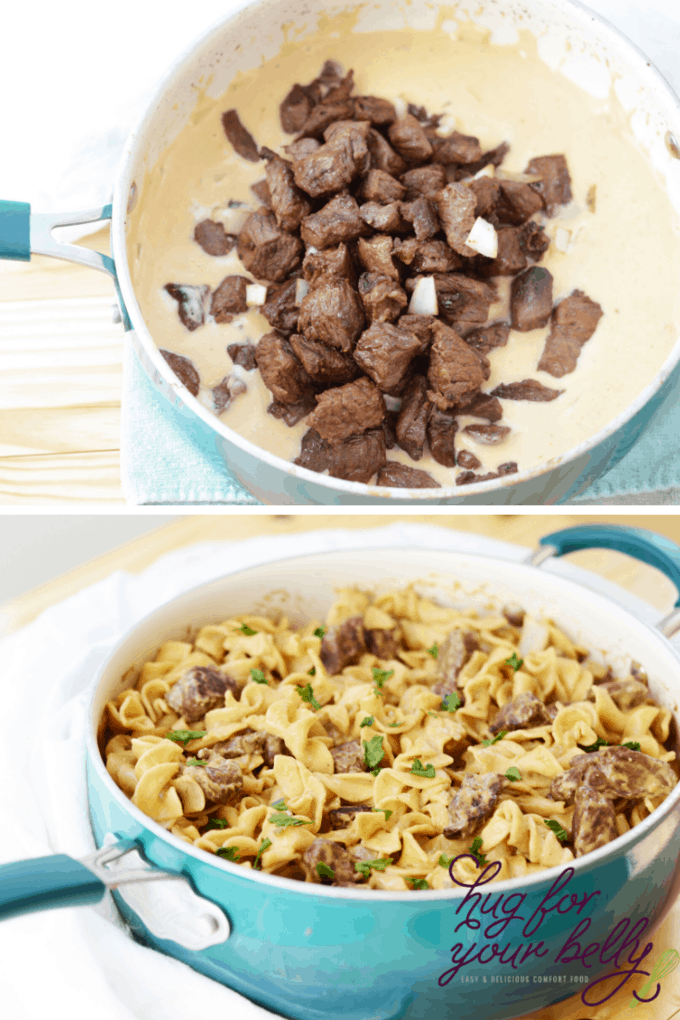 How to Make Easy Beef Stroganoff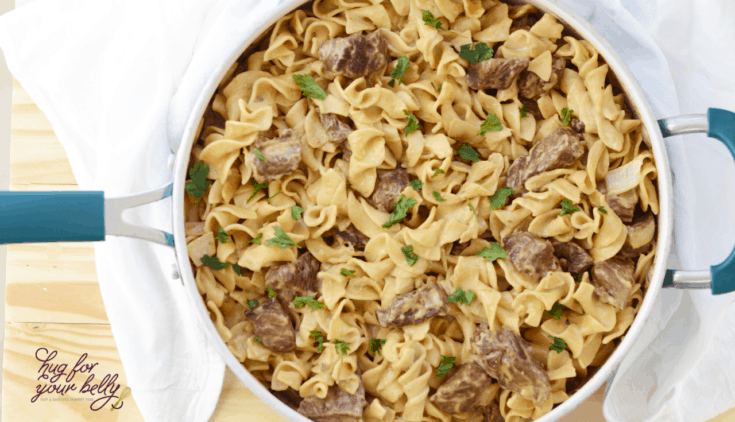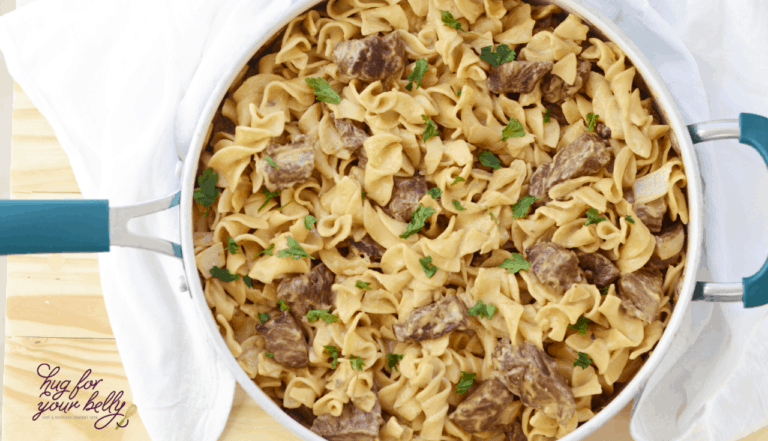 An easy dinner that comes together in less than 30 minutes, this easy beef stroganoff will be a hit for the whole family! Tender sirloin steak mixes with egg noodles in a creamy sauce that will be a hug for your belly!
Ingredients
1 12 ounce package egg noodles
5 Tablespoons avocado oil, divided
2 pounds sirloin steak, cut into 1 inch cubes
1 medium onion, diced
3 cloves garlic, minced
1 Tablespoon butter
1 Tablespoon flour
3/4 cup milk
⅓ cup sour cream
1 Tablespoon Paprika
1 teaspoon salt
1 teaspoon black pepper
Fresh Parsley, chopped
Instructions
Fill a large boiling pot with water and bring to a boil. Add egg noodles to water and reduce to medium heat. Once noodles are finished cooking, drain them and set aside.
Place the cubed steak in a skillet with half of the avocado oil. Brown the meat then remove it and set aside.

In the same skillet, add the onion and garlic and the rest of the olive oil and saute until the onions are translucent.

Add the butter to the pan, and melt. Stir in flour, and allow to brown gently, forming the roux. Add the milk, and spices to the onions and bring to a slight boil.

Add in the sour cream and stir well before adding the cooked beef back to the pan.

Allow to simmer for about 5-10 minutes on low before adding the noodles, mix well, and remove from heat.

Garnish with freshly chopped parsley if desired, serve immediately, and enjoy!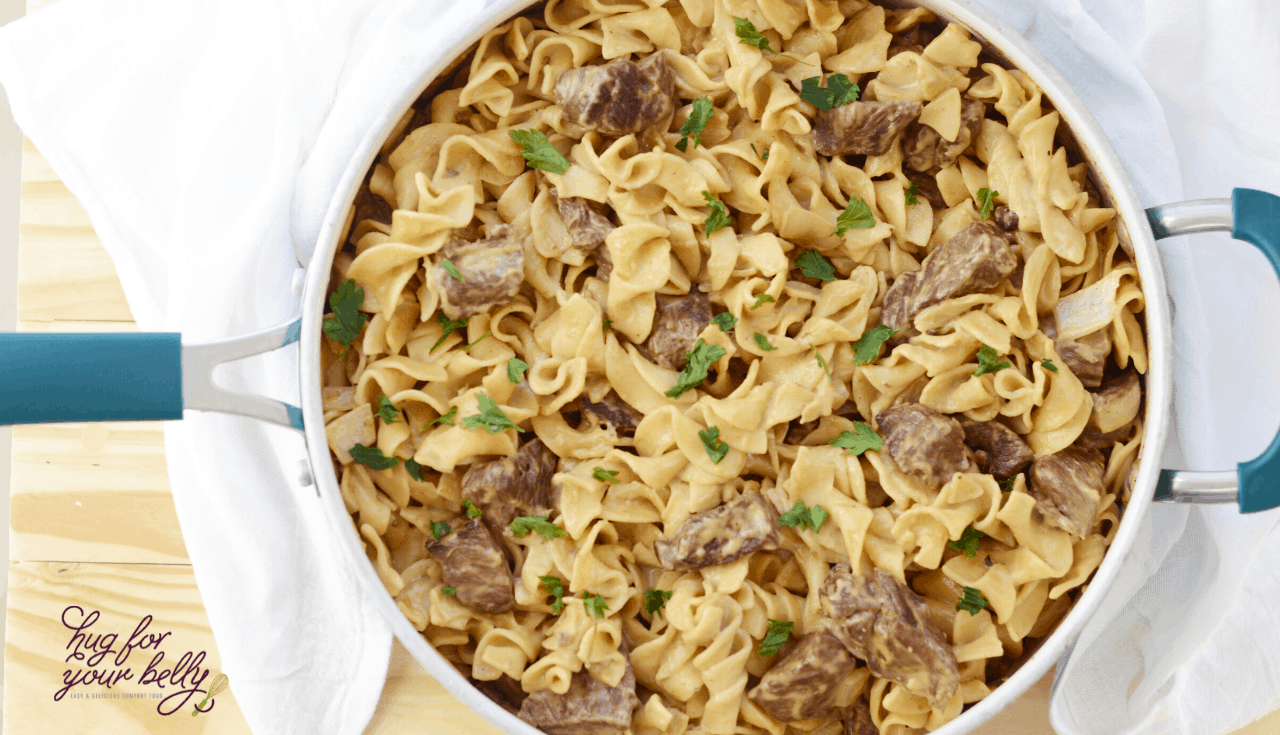 Thanks so much for reading all about How to Make Easy Beef Stroganoff.
Have a great day!