Last day of school printable signs for the 2019-2020 school year are here and ready to commemorate the end of the year and beginning of summer vacation! See below for printable signs for every grade!
I don't know how we're already talking about the end of the school year, but here we are, and what a strange end to the school year it has been. My first and fifth graders are finishing out the school year at home, and they're definitely missing their friends (as well as the structure of a normal school day)!
No matter how the end of your kids' school year went, it's time to remember it with a free printable sign!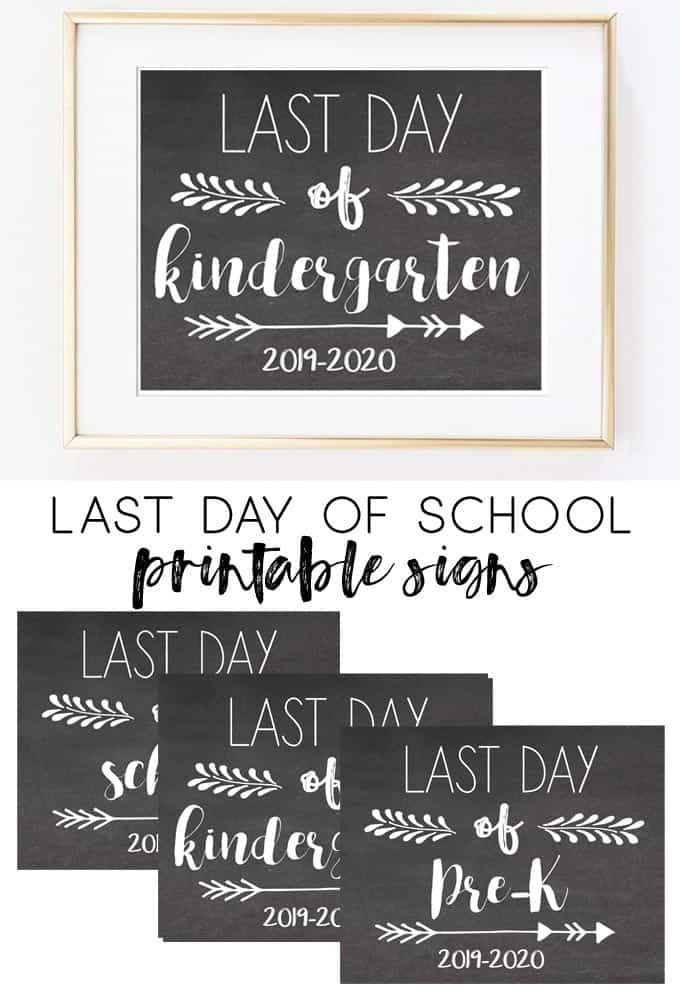 Printable Last Day of School Signs
If you printed my first day of school signs for this year, here's your last day of school printable signs for 2020.
I'm also offering a white-background school sign this year (for those printing at home and looking for a version that uses less ink) that I'll post soon!
I'm also planning on making and sharing a "quarantine-style" last day of school sign for those whose school year ended untraditionally (which appears to be most of us!)
These are the perfect, easy, and inexpensive way to remember the last day of school. Print out your sign (instructions below), and take a pic to commemorate the end of another year of school.
pre-k
kindergarten
first grade
second grade
third grade
fourth grade
fifth grade
sixth grade
seventh grade
eighth grade
ninth grade
tenth grade
eleventh grade
twelfth grade
first day of school (generic)
Our last day of school printable signs are so easy to print!
Click on the sign(s) you'd like to download, and save to your computer.
Send to your favorite photo printer to have printed on either matte cardstock or photo glossy paper (at-home printing is, of course, an option, but I find professional printers usually print colors and images better, especially chalkboard).
These print best at 8×10, but you can easily resize to 5×7 or 8.5×11.
Frame, display and admire!
If you use these signs, I'd LOVE to see a pic and share with other readers. You can email me or tag me on facebook or instagram!
Thanks for reading all about our Last Day of School Signs Chalkboard 2020. Have a lovely day!