Wondering how to make those adorable yarn pom poms? Today, I'm giving you a quick and easy tutorial that is perfect for kids and adults alike!
Yarn pom poms are one of my very favorite DIY craft ideas.
They come together quickly, and the supplies are so inexpensive. Making pom poms is one of my favorite indoor hobbies, especially for the cooler months!
I started making them a couple of years ago, and my seven year old daughter has picked it up (she was making some just last night, in fact).
The cool thing about pom poms is how versatile they are. I will share some easy ways to use them at the end of this post.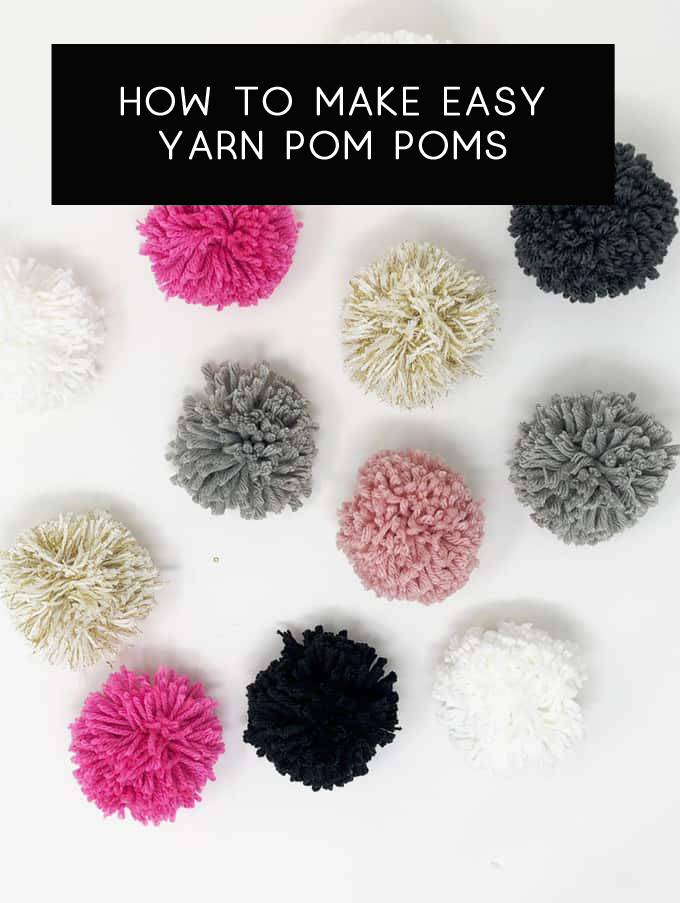 What is the Best Pom Pom Maker?
There are many pom pom makers on the market, and most of them basically work the same way.
I've heard good things about clover brand pom pom makers. They have great reviews and seem to be well priced.
I used this pom pom maker and had great results (and it's under $10 for the set). In this set, I received two pom pom makers, one is 2 1/2" and the larger one is 3 3/8″.
They're the ideal size for embellishing baskets, gift wrap, scarves and more.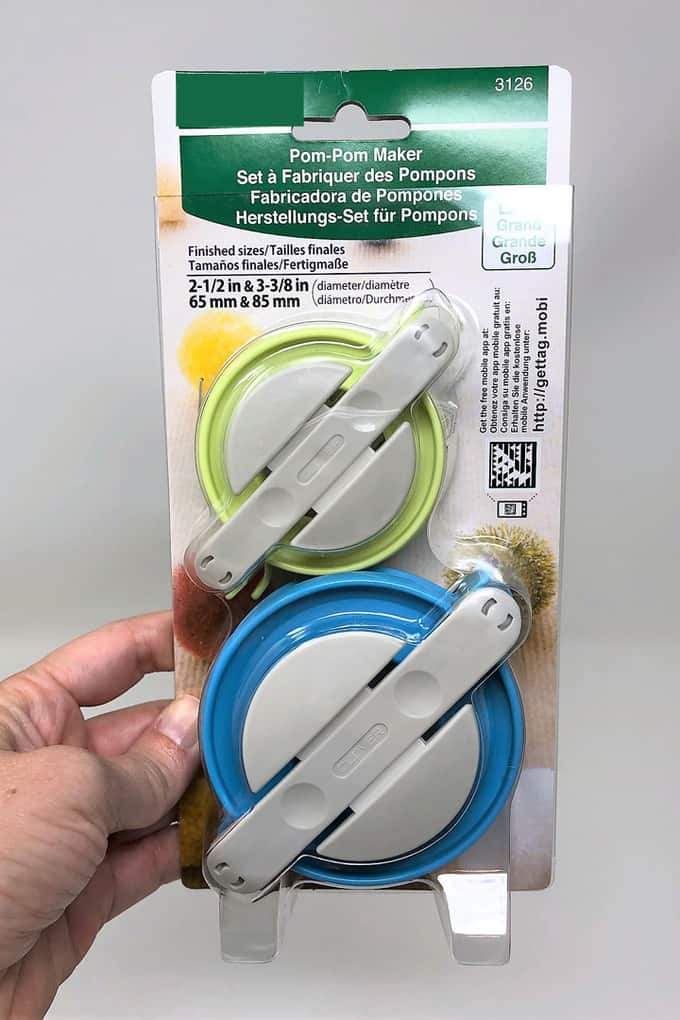 No matter what you get, though, I'm going to take you through the basic process.
It took me a couple minutes to get the hang of how these work, but once you figure it out, you can make pom poms quickly and easily.
Turn on your latest Netflix binge, and you can make a bunch without even thinking about it.
How to Make Yarn Pom Poms
Full DIY card with instructions is below. The card is printable if you'd like to keep the instructions nearby as you make these pom poms.
In short though, here are the basic steps.
Gather your pom pom maker, scissors, and yarn.
Any yarn will do, these are the colors I chose. Think about your end project, or what you will use the pom poms for to help you decide on a color palette.
These pom poms are going to decorate a basket in our bathroom and these are the basic colors of our bathroom.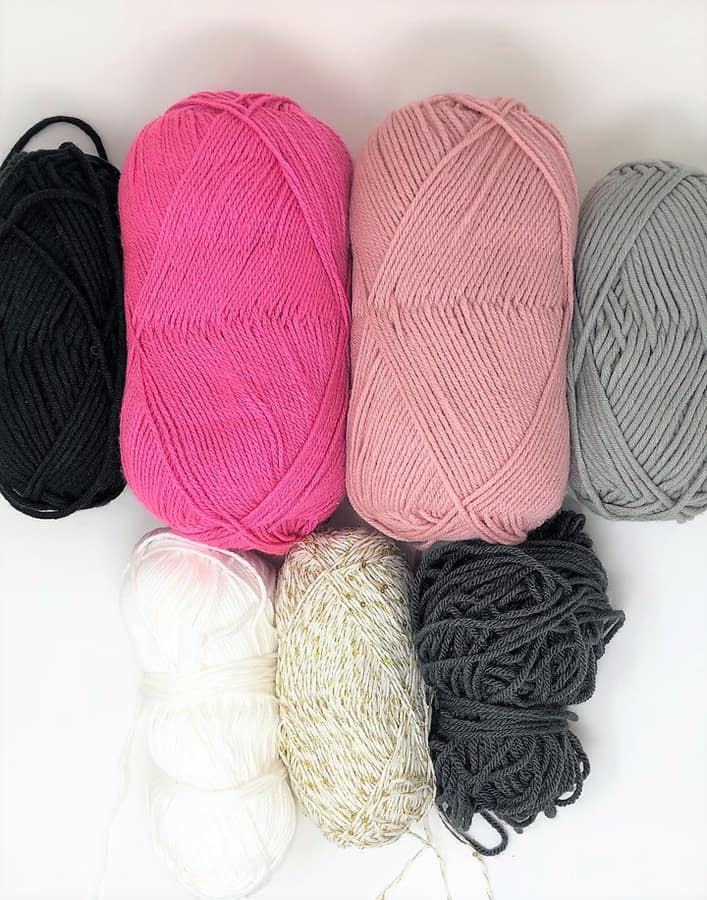 Next, open your pom pom maker and begin wrapping your yarn.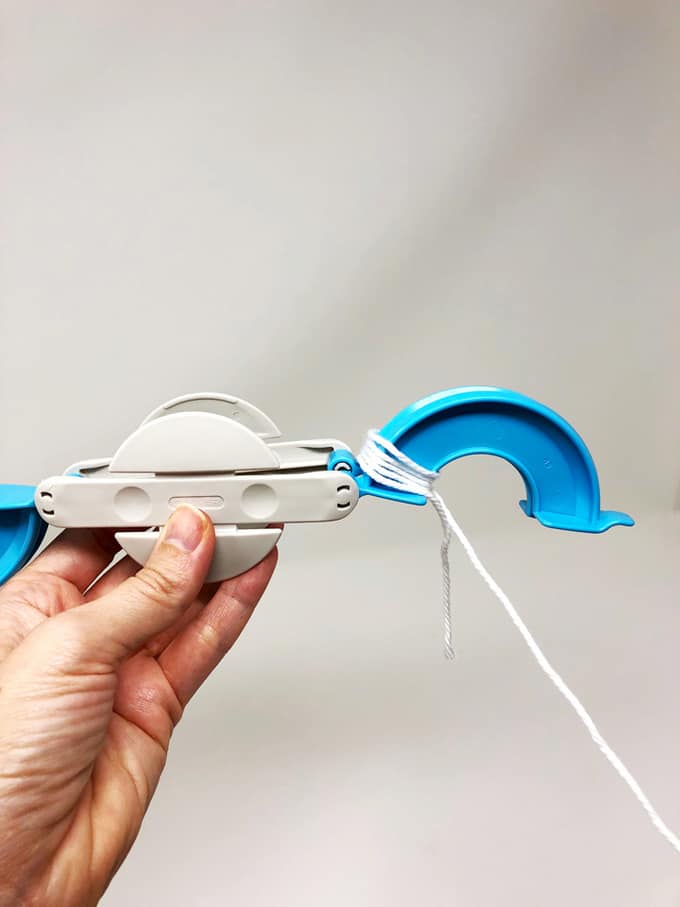 After fully wrapping one set of arms, close them and begin wrapping the other set.
This picture may help better than a description….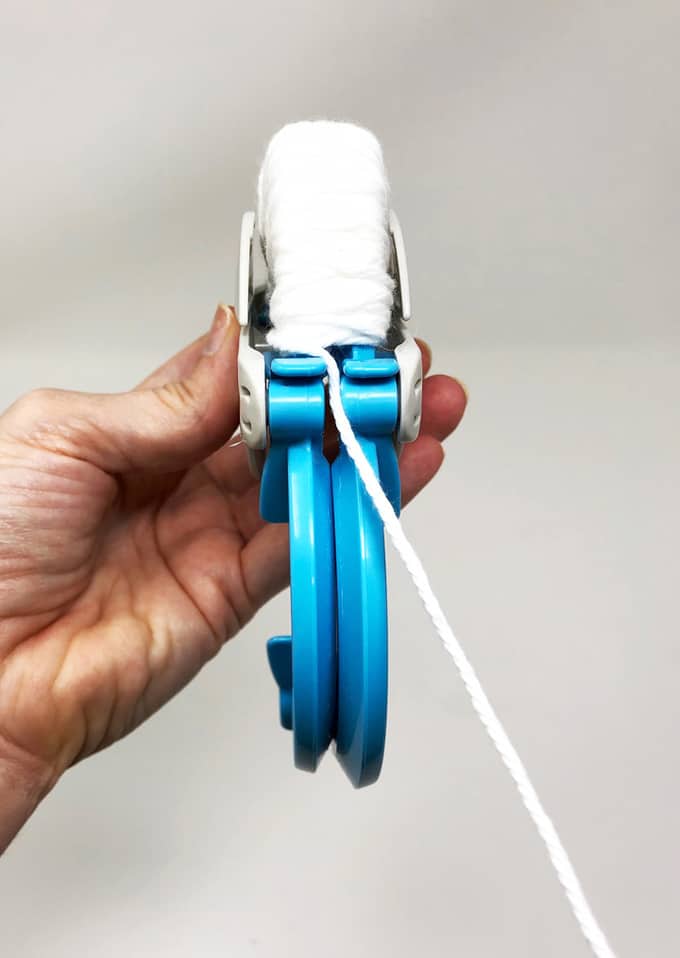 Once your pom pom is fully wrapped, and your arms are both closed, here is what you will have.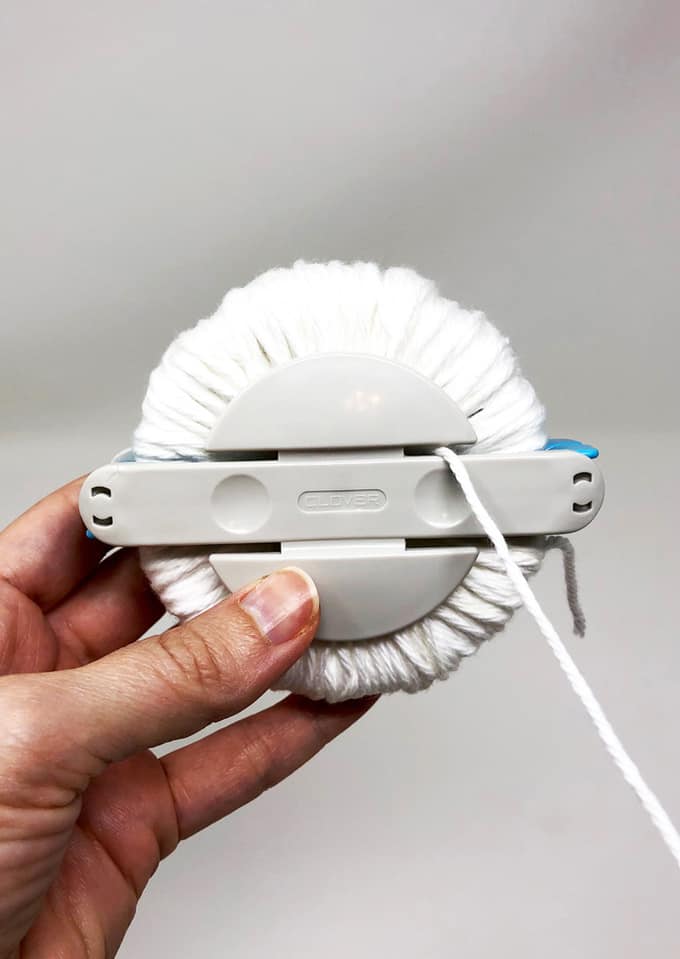 Making sure your scissors are very sharp, cut all the way around your pom pom maker.
This is an adult job; kids shouldn't be attempting this step because your scissors need to be sharp to make it work.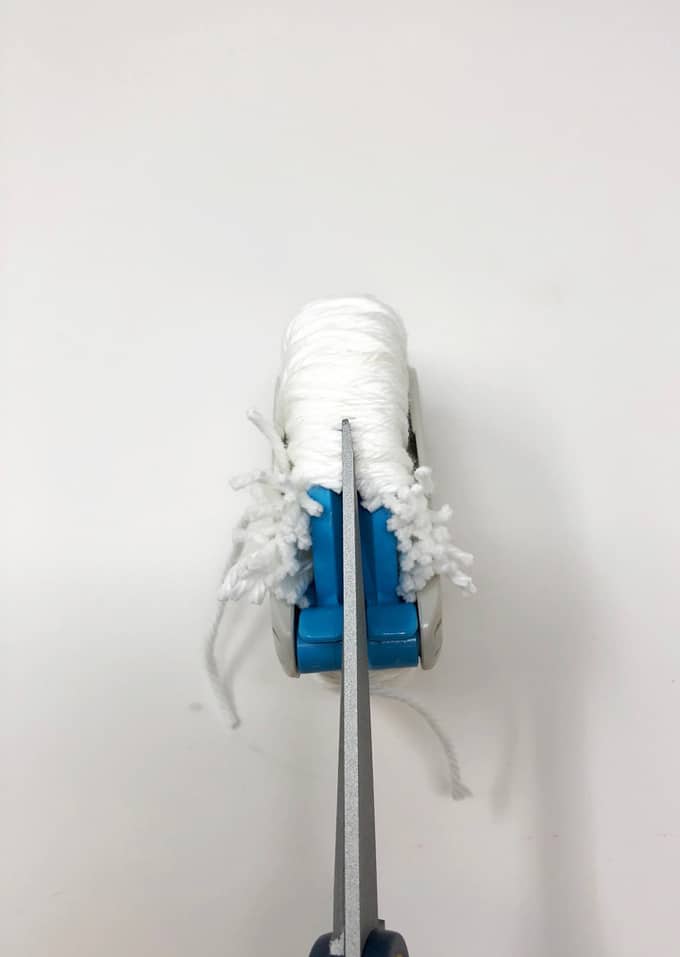 Here's what you have after you have cut all the way around and tied your string or yarn TIGHT around your pom pom pieces (see below DIY card for more tips).
This step is very important or your pom pom will fall apart.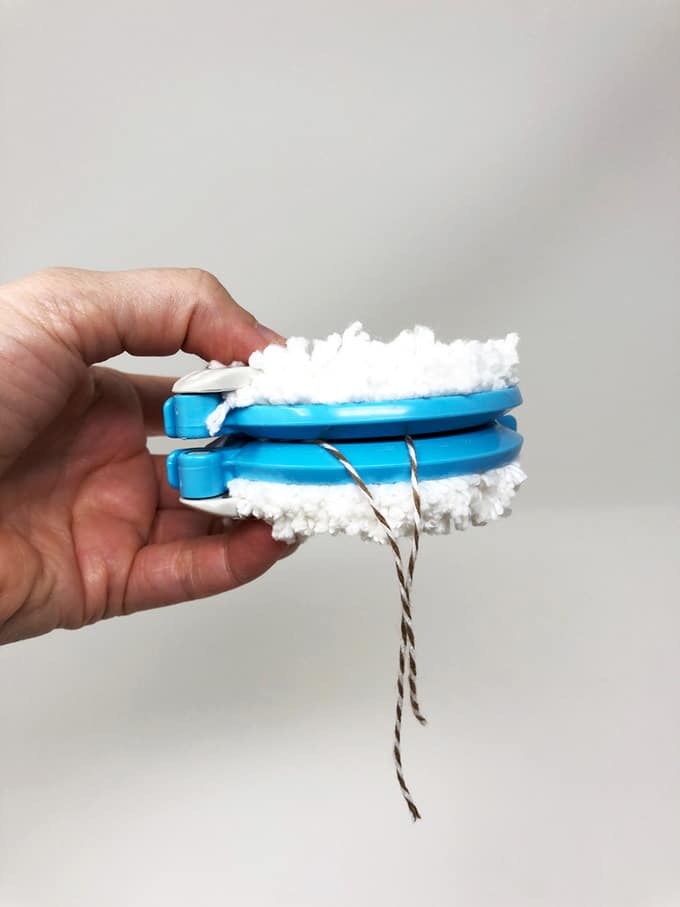 Carefully take your pom pom maker apart, and you are left with a fluffy, full pom pom!
How to Make Pom Poms with Yarn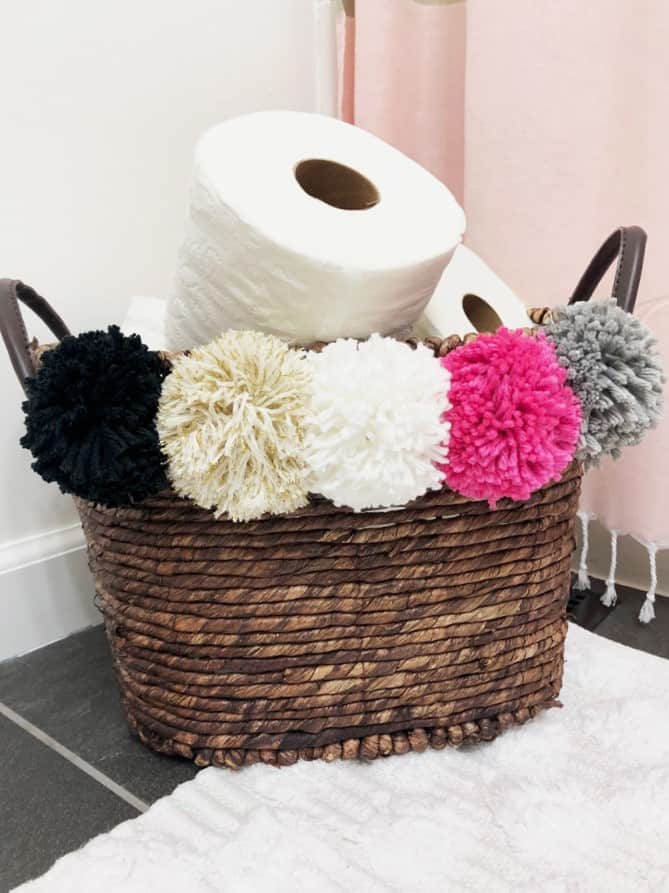 Wondering how to make those adorable yarn pom poms?
Today, I'm giving you a quick and easy tutorial that is perfect for kids and adults alike!
Materials
Instructions
To make a pom pom, first choose your size (I used the larger of the two pom pom makers).

Next, open up the arms of the pom pom maker.

Choose your yarn, and begin wrapping your yarn around one set of arms of your pom pom maker.

The more yarn you use, the fluffier and more full your pom pom will be!

At the very least, you want to make sure you are covering the arms fully and the plastic arms do not show through. Again, the more you wrap, the better!

After you wrap one set of arms, take your yarn and begin wrapping the second arm of your pom pom maker.

See pics in post to see what it'll look like once your pom pom maker is fully wrapped. Fold the arms back up, and you're ready to cut.

Place your very sharp scissors in the groove, and cut the yarn all the way around your maker.

Once that is done, take a piece of yarn or twine (I find thinner twine works better to secure the yarn tightly) and insert it between the grooves.

Make several TIGHT knots to secure your pom pom. If you don't pull tight enough, your pom pom will not hold together well.

Once you have tied your pom pom together, carefully remove the pom pom from the maker and you'll have a fluffy, adorable pom pom!
Notes
You can use all one color of yarn, or hold and wrap two colors at once for a more colorful pom pom.
Experiment with using thicker yarn and thinner yarn to see the difference!
In my opinion, tying the pom pom together and cutting the yarn is the hardest part. I do this part for my seven year old. Kids will need help with these step and sharp scissors should be kept out of their reach.
I used my pom poms to create a colorful and fun basket!
Here is a before pic of the basket….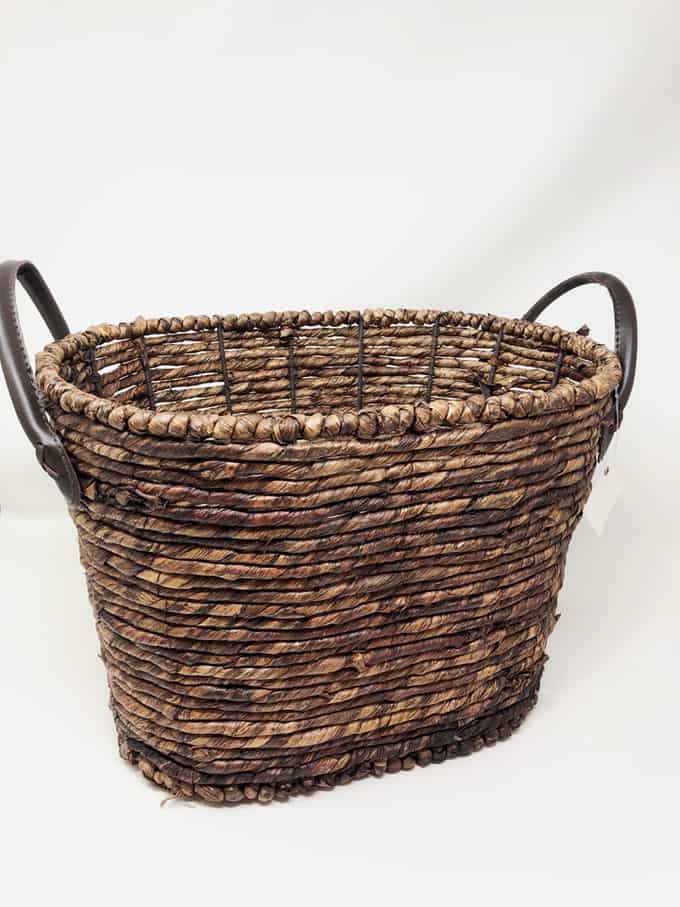 We keep this basket in our bathroom to store toilet paper and it adds such a unique touch to an otherwise simple room.
I found my basket at homegoods, and to attach the pom poms I simply used hot glue.
Everyone comments on this basket and can't believe I made it myself. I tell them it was super easy and they can make one, too! 🙂
And here is the finished basket…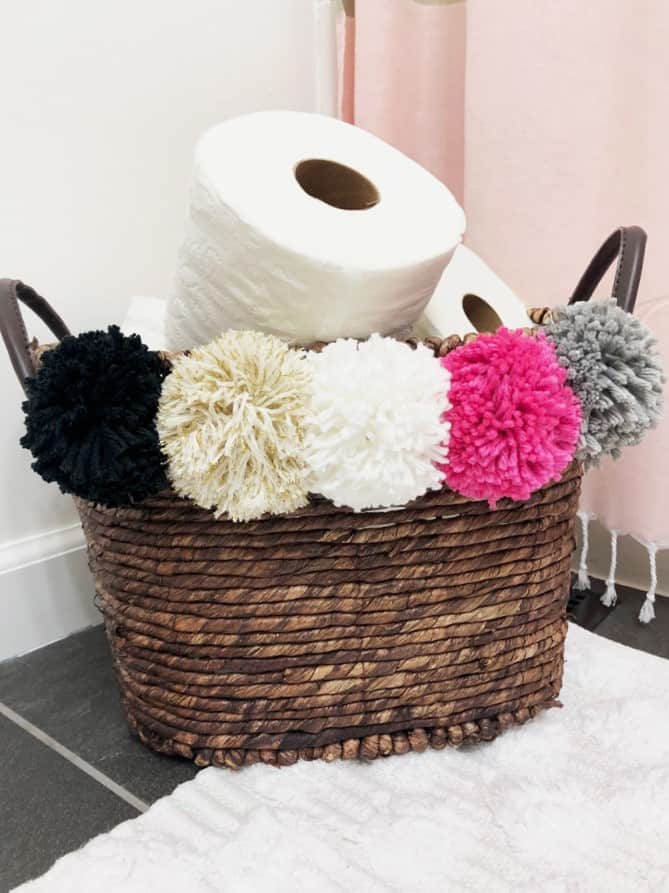 What to Do with Pom Poms
Here is a list of fun things to make and do with your completed pom poms.
How to attach your pom poms will depend on what you are making.
For some of these projects, hot glue will be your best friend. For others, you may want to tie your pom poms onto your project.
decorate a basket
embellish a scarf
make earrings or other jewelry
decorate a knit hat or beanie
make a garland or bunting
decorate a picture frame or wooden sign
make a wreath
decorate a pillow
make a unique rug
decorate gift wrap
embellish a bed spread or duvet
make a wall hanging
What else can you think of to do with yarn pom poms?
I truly love making these, and I hope you do, too. Leave a comment if you make your own yarn pom poms, and let us know what you use them for!
Thanks so much for reading all about How to Make Pom Poms with Yarn. Have a crafty day!