This is a sponsored conversation written by me on behalf of Tyson Foods Inc. The opinions and text are all mine.
I know I'm not the only one with busy weekday nights. This month alone, we have everything from play rehearsals to sports practices to music and dance lessons, and, of course, the majority of our activities cut right into our dinner time.
Our family has always placed importance on sitting down together to share a meal, so I knew I needed to be on the lookout for easy, yet delicious and quick meal options. I need something that everyone will love, and that I (or my husband) can get on the table quickly.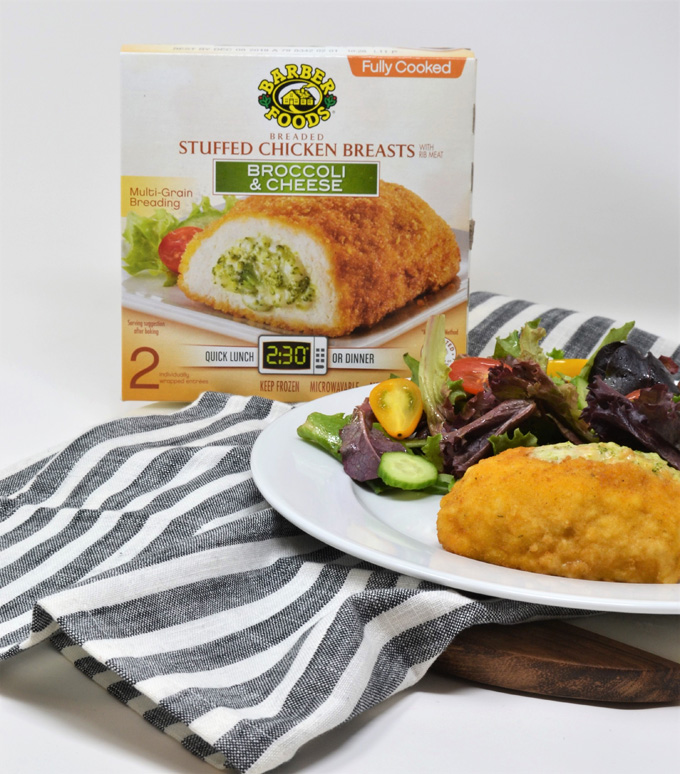 I've recently become a huge fan of Barber Foods® Stuffed Chicken Breasts, especially when I realized that they are the ideal weeknight meal option, especially when paired with a vegetable or green salad!
While on a recent shopping trip to Walmart, I discovered that they offer them in a fully cooked version, making them even more convenient. I can literally have dinner on the table in 15 minutes flat!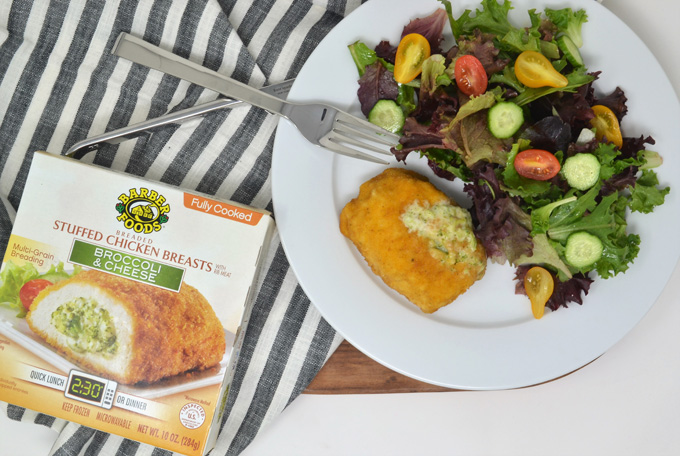 We tried both the Barber Foods Cordon Bleu Stuffed Chicken Breasts and the Barber Foods Broccoli & Cheese Stuffed Chicken Breasts. My husband and son love the Cordon Bleu version, and my daughter and I are big fans of the Broccoli & Cheese variety!
I love how these can be either baked in the oven or microwaved for those days when dinner needs to be on the table in a hurry (which unfortunately seems to be most days lately)!
They come two to a package, and their chicken (which is always raised responsibly and without hormones) features a crispy, golden breading. The Broccoli & Cheese version is hand-stuffed with a flavorful and creamy cheese and broccoli filling. So delicious!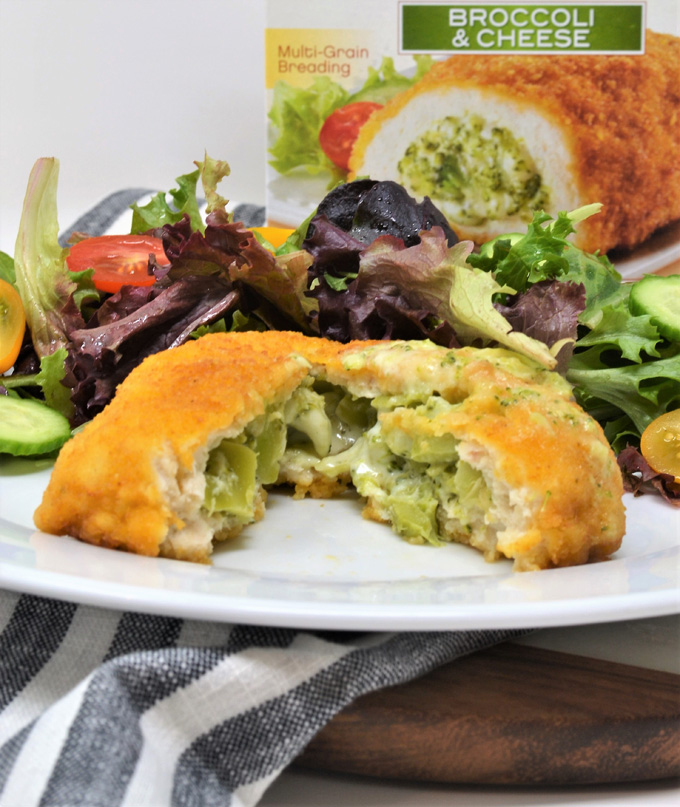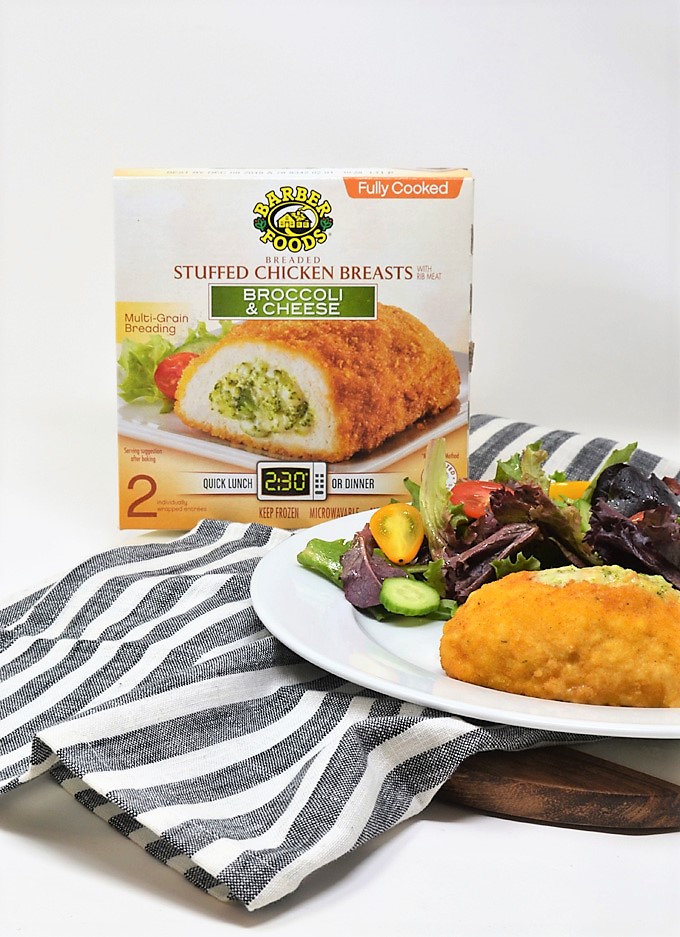 And now you can save even more on your favorite Barber Foods products with the Shopkick savings app! Next time you're at Walmart, be sure to take advantage of this special promotional offer from 4/28-5/25! Your family will thank you!
Barber Foods Stuffed Chicken Breasts can be found in the freezer section, but be sure to look up! They are usually found on the top shelf of their freezer section.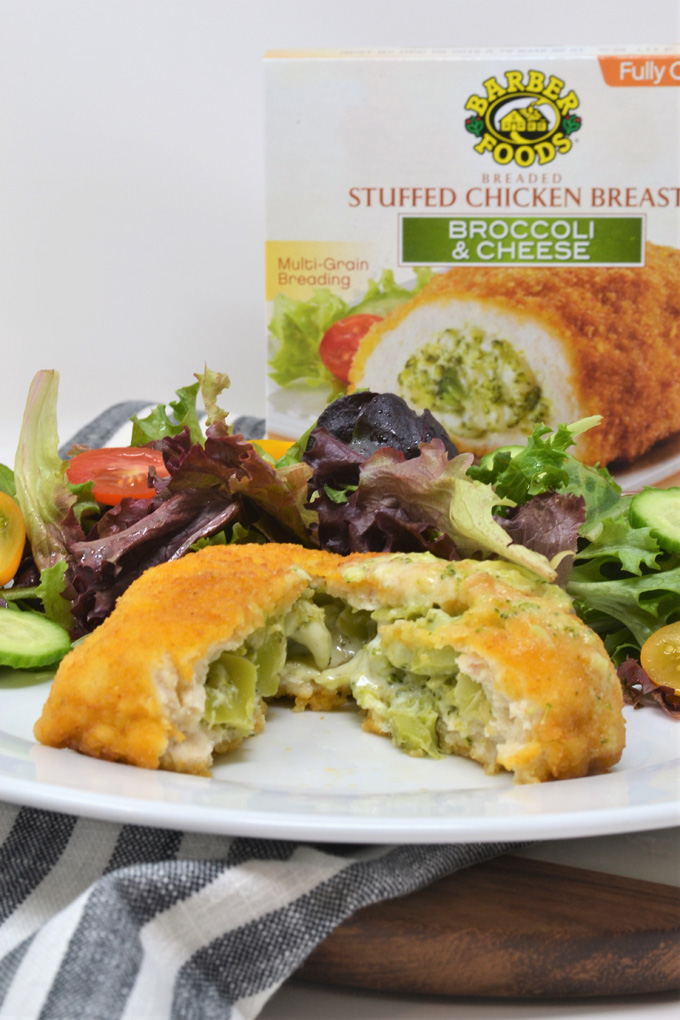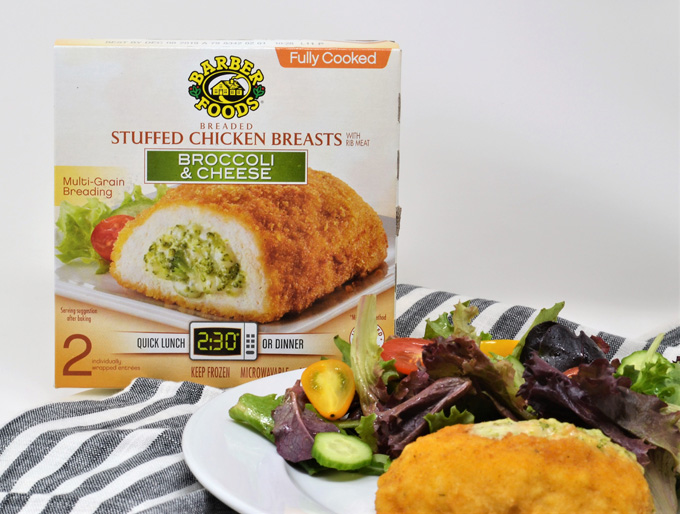 Because sharing an easy and delicious meal with my family is one of my favorite things, I'm sharing with you today three free watercolor kitchen printables to gussy up your own kitchen or eating area!
These watercolor printables features gorgeous illustrations, along with the name of each fruit/vegetable in French. Place them all together, or separate them for inexpensive and charming wall art. They'd even make a great gift for your foodie friend!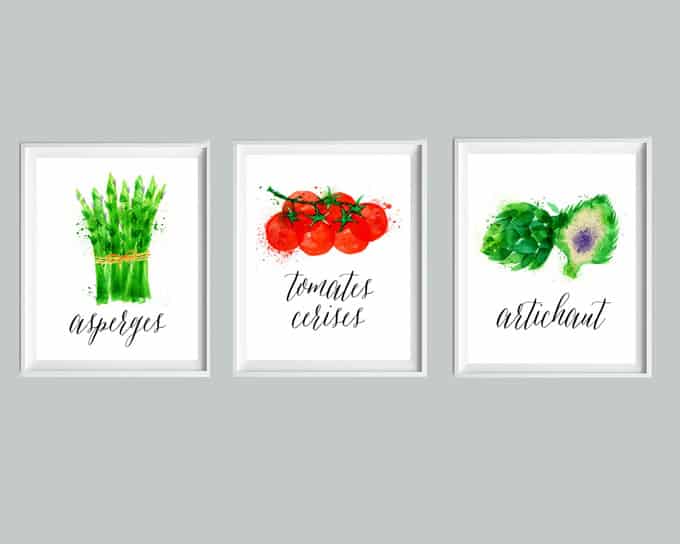 Our printables are so easy to download and print out:
Click on the printable(s) you'd like to download, and save to your computer.
Send to your favorite photo printer to have printed on either matte cardstock or photo glossy paper (at-home printing is, of course, an option, but I find professional printers usually print colors and images more vividly and clearly).
These print best at 8×10, but you can easily resize to 5×7 or 8.5×11.
Frame (see below for our favorite all purpose frames), display (or gift!) and admire!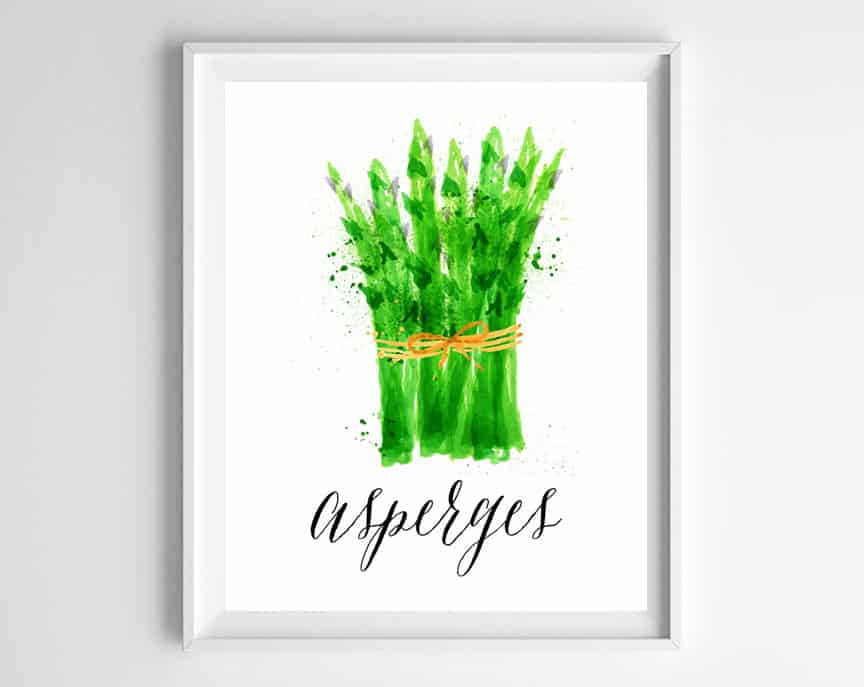 "asperges" watercolor printable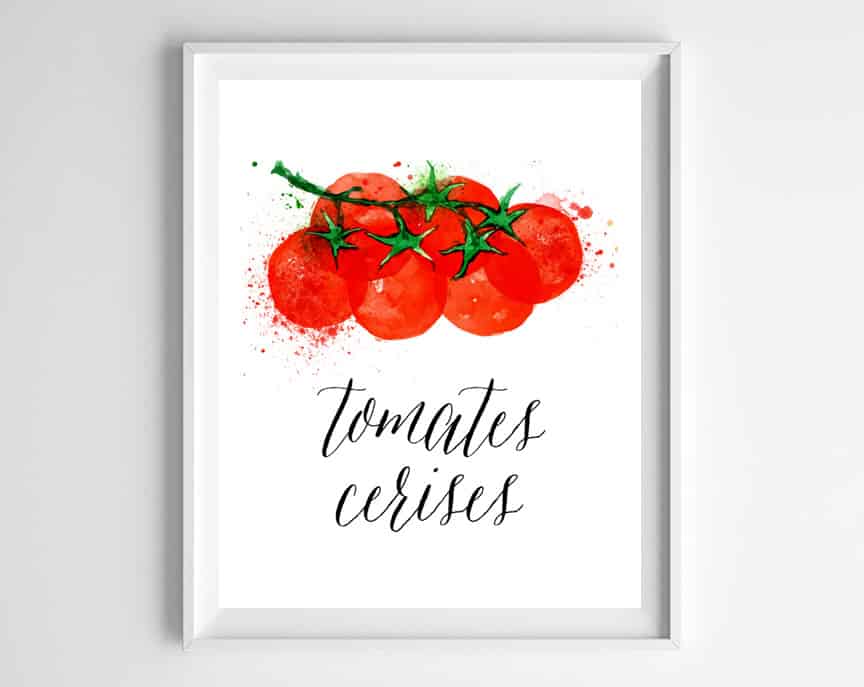 "tomates cerises" watercolor printable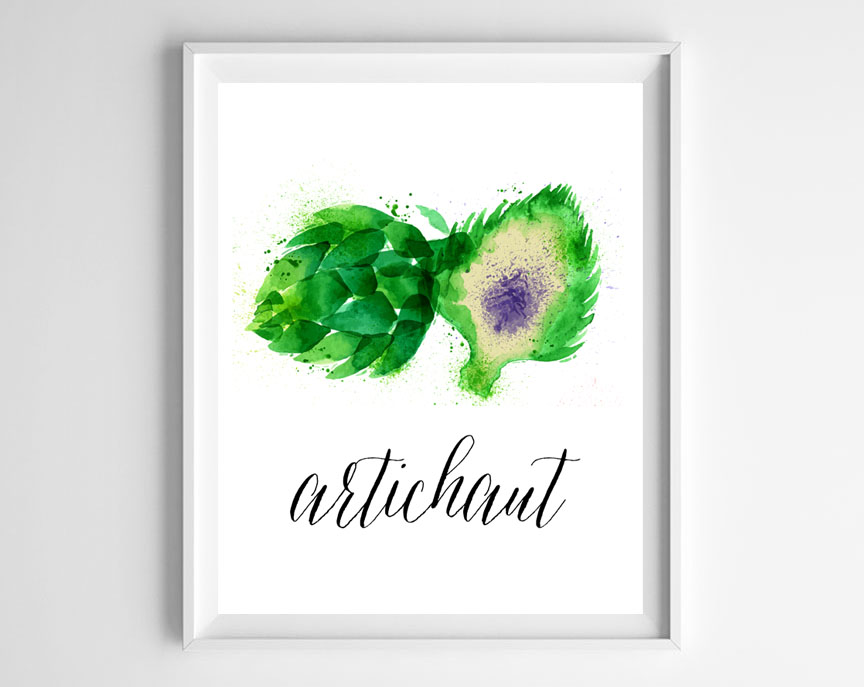 "artichaut" watercolor printable
I get a lot of questions about where I buy my frames. This set from Amazon includes 7 frames for under $40!Basically, I like frames that are simple, inexpensive and white!
Have you tried Barber Foods Stuffed Chicken Breasts yet? Next time you're in Walmart, I encourage you to give them a try, then come back here and let me know which variety you prefer!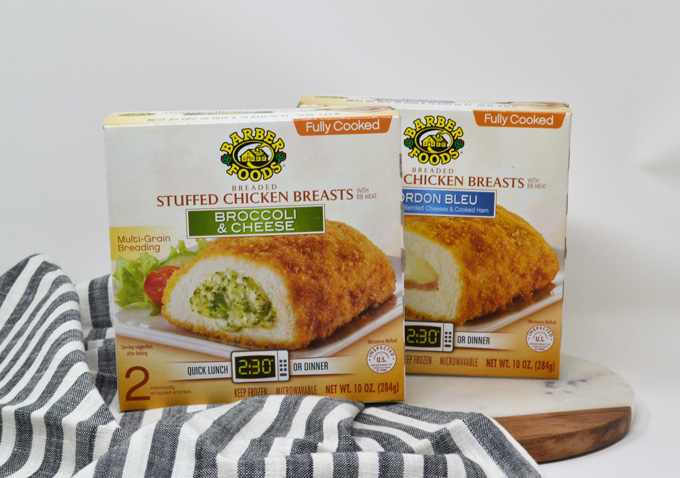 Thanks so much for reading all about how we are Making Dinner Easy with Barber Foods + Free Kitchen Printable Art.
Have a lovely day!