"This post is part of a social shopper marketing insight campaign with Pollinate Media Group® and Smithfield®, but all my opinions are my own. #pmedia #PutPorkontheMenuhttp://my-disclosur.es/OBsstV"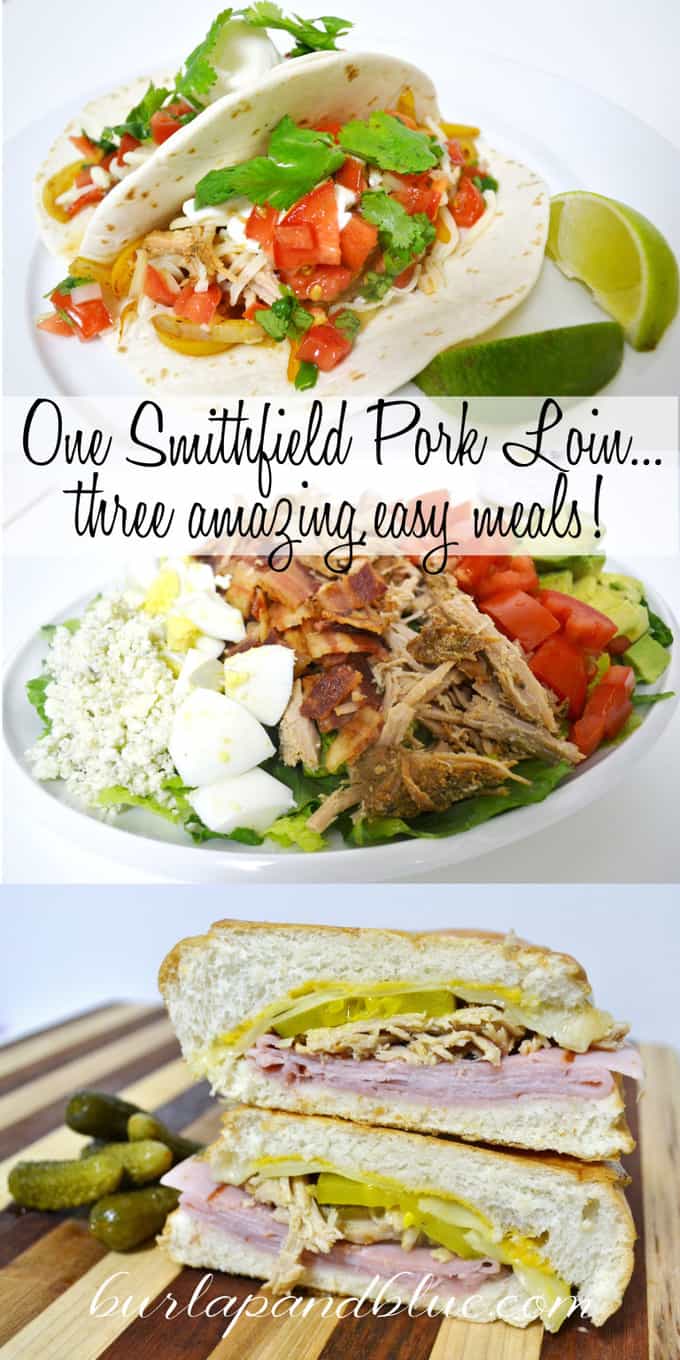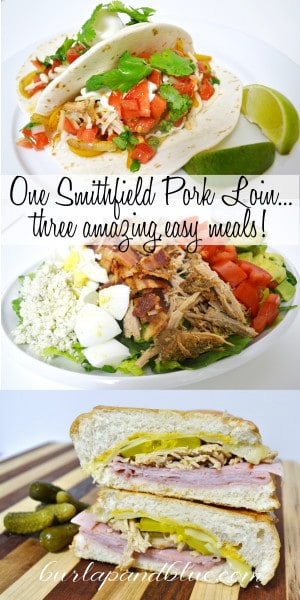 If your family is anything like mine, between school, homework, sports and other extracurricular activities, dinner can easily start to feel like just one more thing you definitely do not have time for. Am I right?
The reality of it, though, is that putting a healthy and delicious meal on the table each night IS important, and is one of the best ways you can love on your family. So what's a busy mom (or dad!) to do? Enter Smithfield Marinated Pork.
I took one Smithfield Marinated Pork Loin, that I purchased last weekend at Walmart, and created THREE easy and delicious meals that my family loved. Never had a Smithfield product before? It's perfectly seasoned and expertly marinated, and  perfect for any night – Grilled. Roasted. Sautéed.
I wanted to do something a little different with mine, so I took my pork loin and cooked it in the crock pot until it was tender, shredded it with two forks, and created three amazing, 30-minute recipes with it. Here's the step-by-step…
I chose the Garlic & Herb Pork Loin Filet, that I purchased at Walmart, and put it in my crock pot on low for 6 hours. Because it's marinated for little prep or mess, I did nothing but cut open the package and drop it into the crock pot. Six hours later…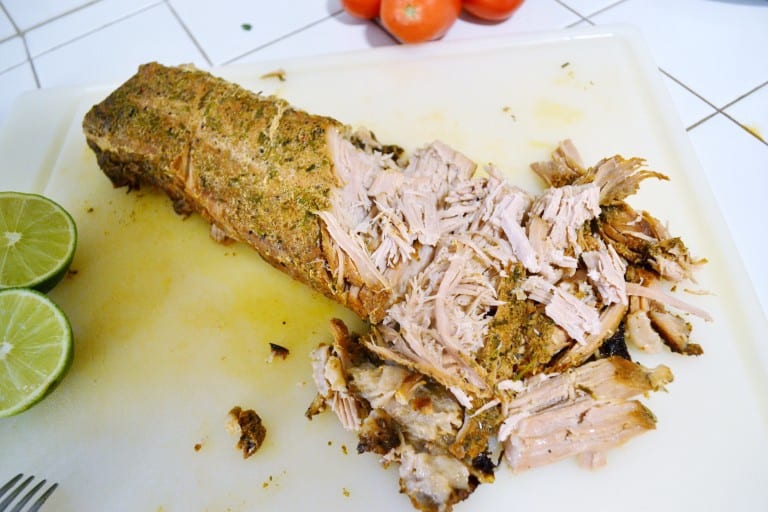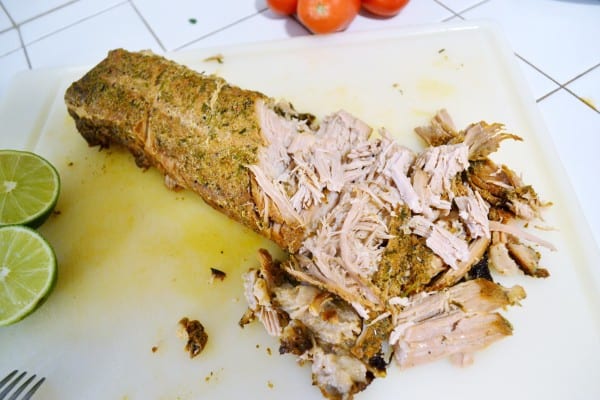 I hope this picture does the pork loin justice…it was so tender and moist, and super simple to pull apart with two forks. I divided it into thirds, put one third back in the crock pot to keep warm for that night's dinner, and put the leftovers in the refrigerator for later in the week. Let's dive into what you are really here for–the recipes!
Night One: Shredded Pork Fajitas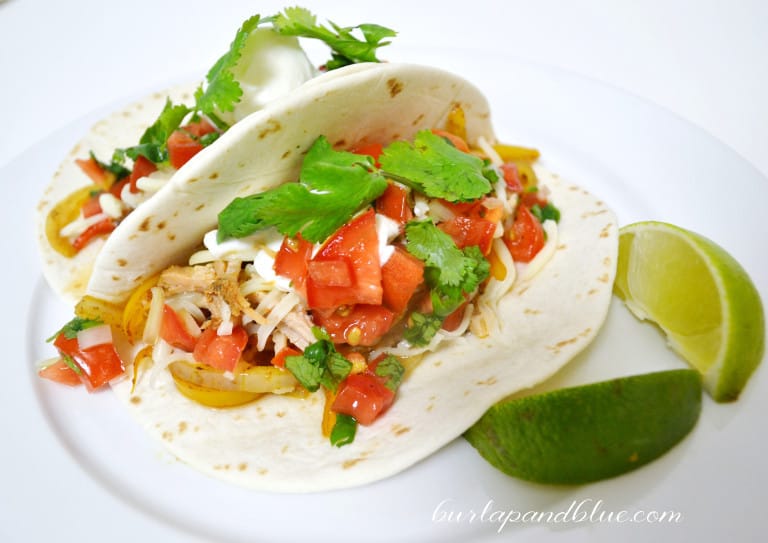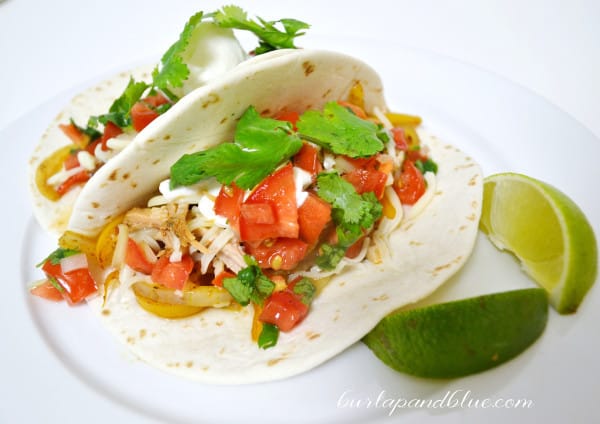 My family loves tacos and fajitas, but we'd never tried them with shredded pork before. I am so, so glad we got a chance to remedy that; these fajitas were flavorful, fresh and oh so delicious! I dare you to try them and not agree:)
Here's the printable recipe for you to try!
Shredded Pork Fajitas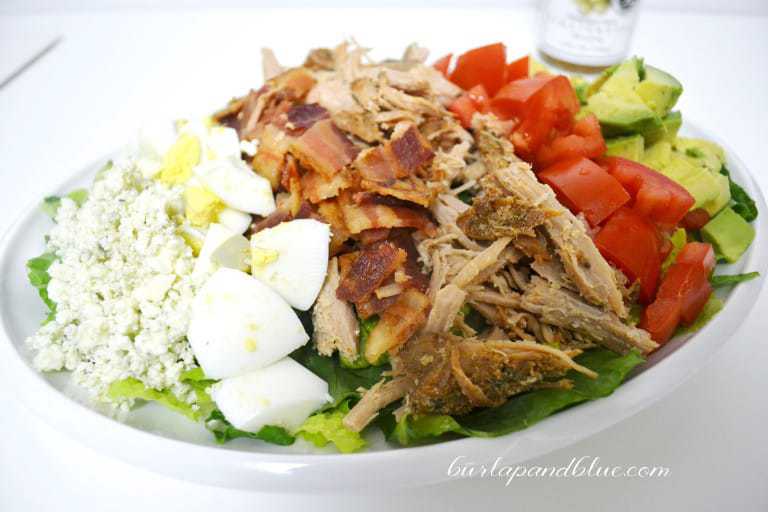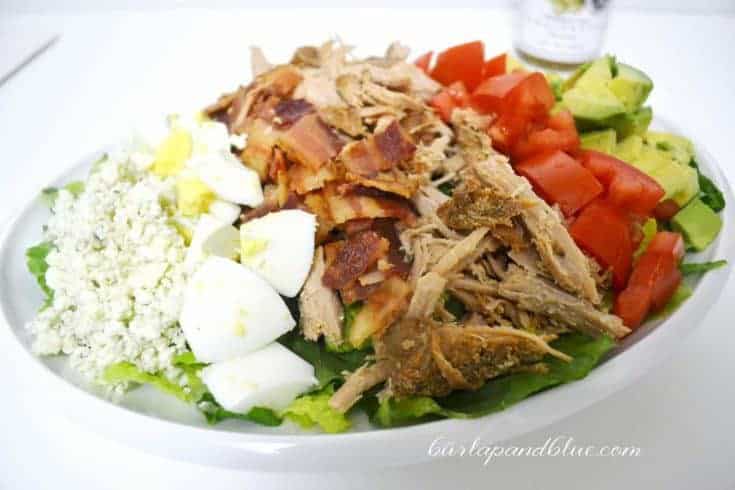 Ingredients
1/3 of a Smithfield Pork Loin, shredded (I chose Garlic & Herb flavor)
1/4 cup Olive Oil
3 Tablespoons Worcestershire Sauce
1/4 cup Lime Juice
3 cloves Garlic, Minced
1 Tablespoon Chili Powder
1/2 teaspoon Red Pepper Flakes
1 teaspoon Salt
1/2 teaspoon Black Pepper
1 Tablespoon Sugar
1/2 cup Sliced Onion
1 cup Sliced Bell Peppers
 Flour Tortillas, Warmed
 Shredded Queso Cheese
 Salsa
 Sour Cream
 Cilantro Leaves
Lime Wedges for Garnish (if desired)
Instructions
In a dish (or gallon sized bag), mix together olive oil, Worcestershire, lime juice, garlic, chili powder, red pepper flakes, salt, pepper, and sugar until combined. Place all the veggies in the dish, turning to coat. Place in the refrigerator to marinate for at least an hour.
Prepare tortillas, salsa, sour cream, and cilantro.
Heat a heavy skillet over medium-high heat and drizzle in some oil. Add the veggies and cook them for a few minutes, until they're cooked but still slightly firm. Remove to a plate and set aside.
Place a tortilla on a plate and add shredded pork, cooked veggies, cheese, salsa, sour cream and cilantro. Enjoy!
Night Two: Shredded Pork Cobb Salad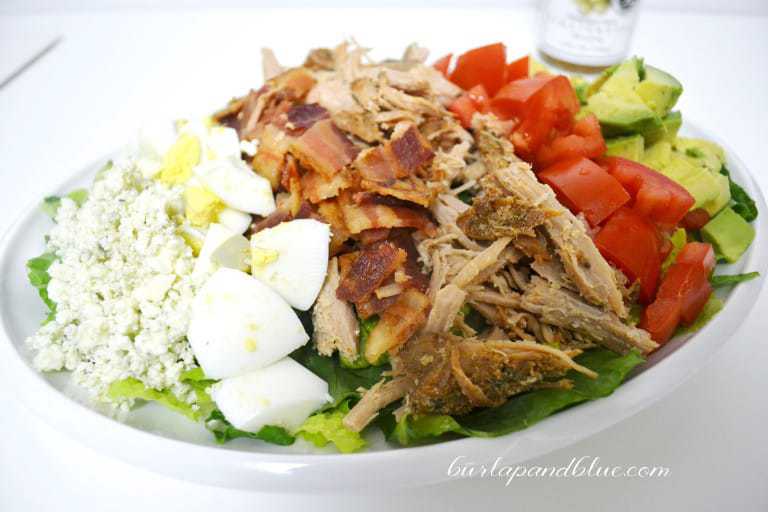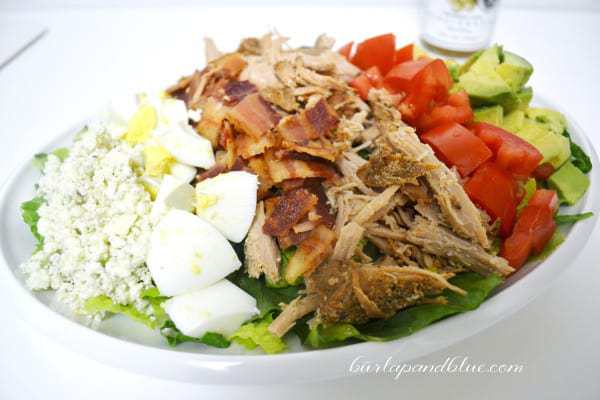 Nothing is better in my book than a good Cobb salad. The key here is to use the best and freshest ingredients you can, it really does make a difference! The pork adds a salty, savory goodness that makes this recipe a keeper!
Shredded Pork Cobb Salad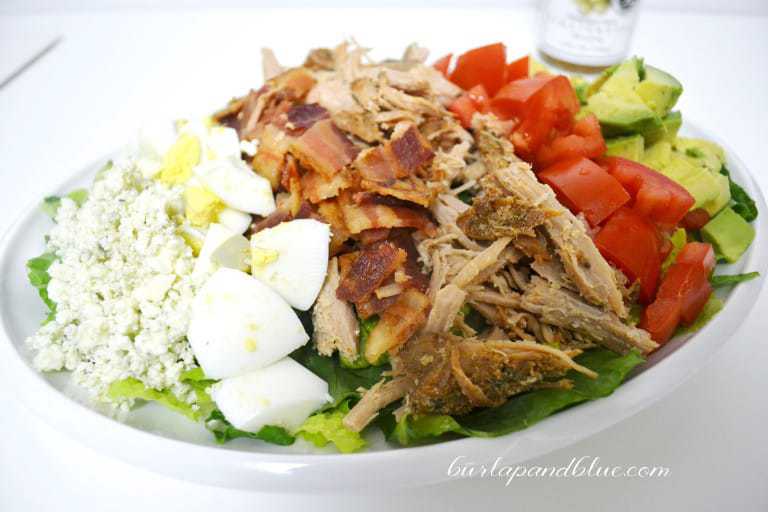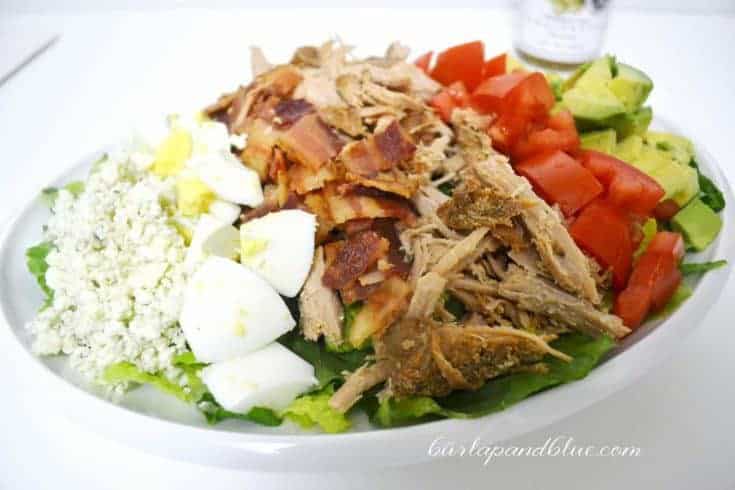 Ingredients
1/3 of a Smithfield Pork Loin, shredded
Lettuce (I chose romaine, but choose your favorite)
2 Hard Boiled Eggs, Chopped
1/4 cup Blue Cheese
3 Slices of Bacon
2 Roma Tomatoes, Diced
1 Avocado, Diced into Cubes
Dressing of Your Choice
Instructions
Wash your lettuce, and spread over a serving platter. Add Smithfield pork to the center of your platter over the lettuce. Add cheese, eggs, bacon, tomatoes and avocado around the pork. Add dressing and serve.
I know a lot of people like ranch with their Cobb Salads, but with the richness of the ingredients, I like to keep the dressing a bit lighter. I chose a Champagne Caper Vinaigrette that we just loved!
Night Three: Cuban Sandwiches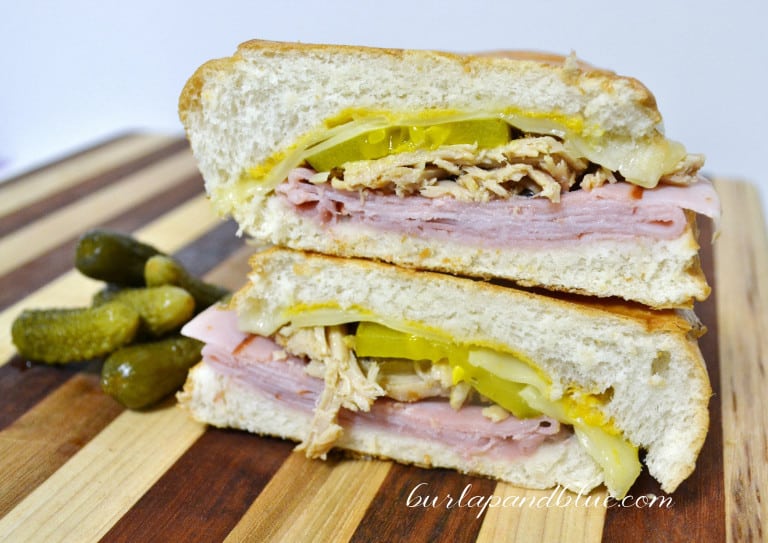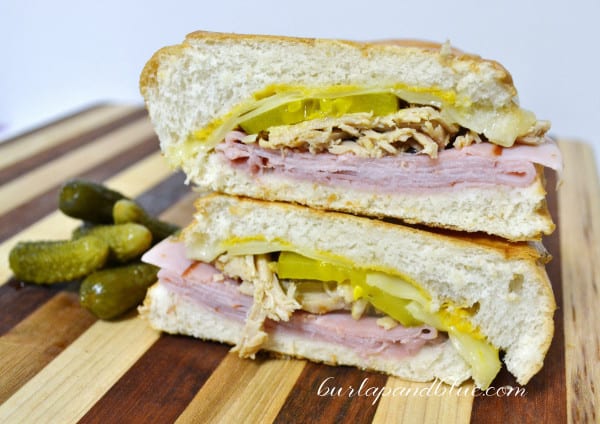 A good Cuban sandwich is one of life's best pleasures. The saltiness of the meat, the tang of the pickle and the bite of the mustard all combine to make a meal that's much more than the sum of it's parts.
Pork Cuban Sandwich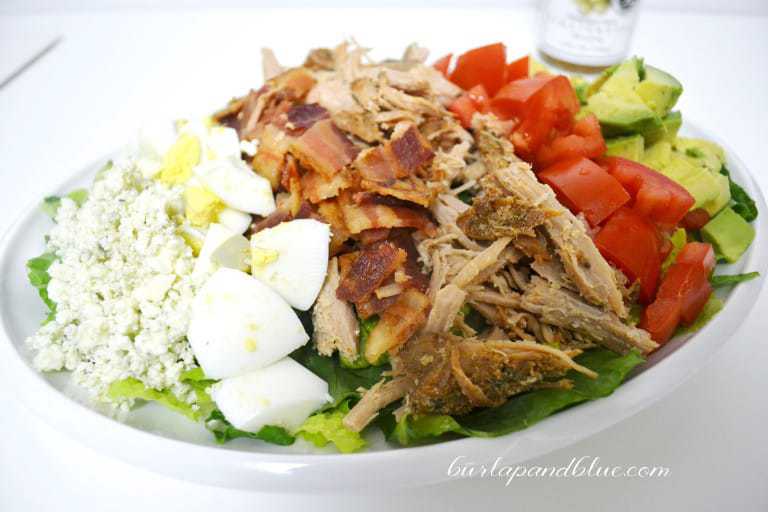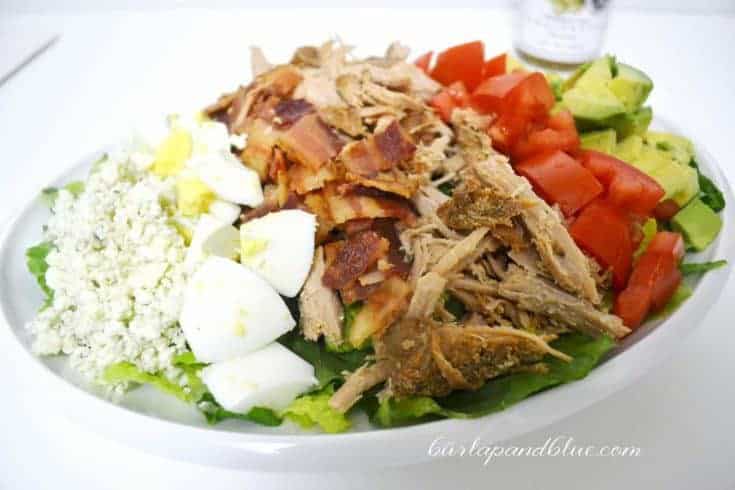 Ingredients
1/3 of a Smithfield Pork Loin, shredded
Sandwich Rolls (choose your favorite!)
Sliced Ham
Swiss Cheese
Dill Pickle Slices
Yellow Mustard
Butter
Instructions
Slice your bread in half, and add several slices of ham to one half. Layer shredded pork, swiss cheese and pickles on top of the ham, add mustard to the other half of bread, and put the two halves together.
Heat a grill pan to medium, add butter to the outsides of your sandwich, and place sandwich on grill pan. Cover with a piece of foil, and press down with a heavy pan (we use a cast-iron skillet). Turn over once sandwich is golden brown.
Cut in half, and enjoy.
Want to create one (or all three?) of these recipes yourself? Receive seventy five cents ($.75) off ONE (1) Smithfield Marinated Pork product (while supplies last), when you use this coupon and shop at Walmart. Need more recipe inspiration? Head to the Smithfield site for even more delicious ideas!
I'd love to hear-what is YOUR favorite recipe using Smithfield Pork?