an oldie but goodie repost from a while back….
Following a vast number of craft and decorating blogs has many advantages and only a few drawbacks (lack of sleep comes to mind). Among the advantages, though, is that I get the opportunity to notice trends in what people are creating, coveting, and decorating their homes with. One of the big trends, in addition to burlap and toile, is numbers.
I have seen numbers used on everything from placemats, to pillows, to banners. A few of my favorites…
These Pottery Barn-inspired placemats would be perfect in my kitchen, and I LOVE the stencils Lisa used.
I had not thought of numbering jars before! Good thing Tiffany from Lemon Tree Creations did.
Heather Chadduck's style is just too spot-on for words…who wouldn't want these gorgeous stools for their own dining room?
Taking the lead from these ladies, I wanted to have a bit of numbered fabulousness to call my own. So, with my son's bedroom in mind, I got to work and came up with this: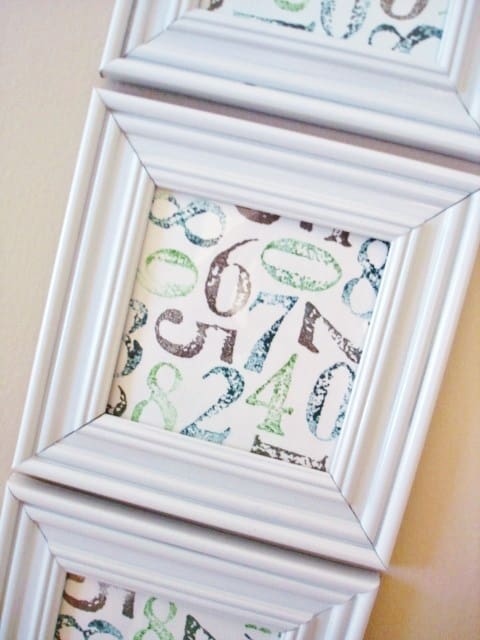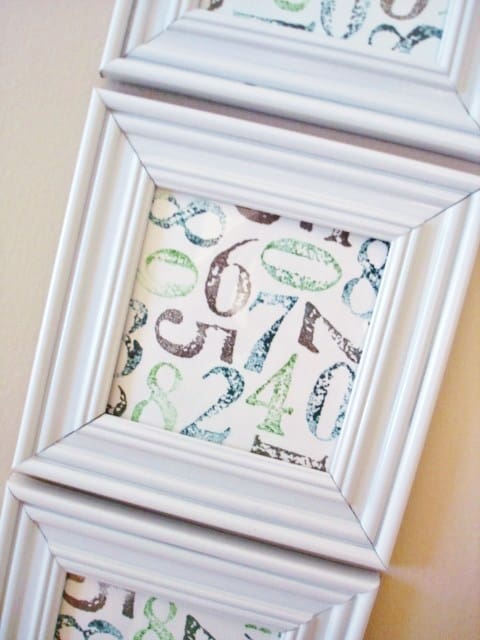 Materials Needed:
cardstock
frames (mine were 5″ x 5″ and came from Dollar Tree)
numbered acrylic stamps
ink pads
Step One: Gather materials and cut out squares of cardstock about an inch or so larger than frame opening. This will give you a bit of flexibility in choosing the final layout.
Step Two: Using your acrylic stamps and ink, start stamping numbers going from the center out. I made my numbers both sideways and vertical, using 3 different colors of ink.
Five minutes later and halfway done…
Step Three: When you are done stamping your numbers, take a piece of glass from one of the frames, position it over each of your pieces of paper, and figure out where it looks best. Trace and cut out your squares.
Step Four: Frame, stand back, and admire your new wall art.