Love pasta salads? Me too. This easy pasta salad recipe has lots of colorful veggies in it and an easy vinaigrette dressing.
Pasta salads are one of my favorite things to make.
They're easy, usually healthy, and are perfect for big families, potlucks and entertaining.
I have several pasta salads on rotation in my house, and this Veggie Pasta Salad is definitely one of them.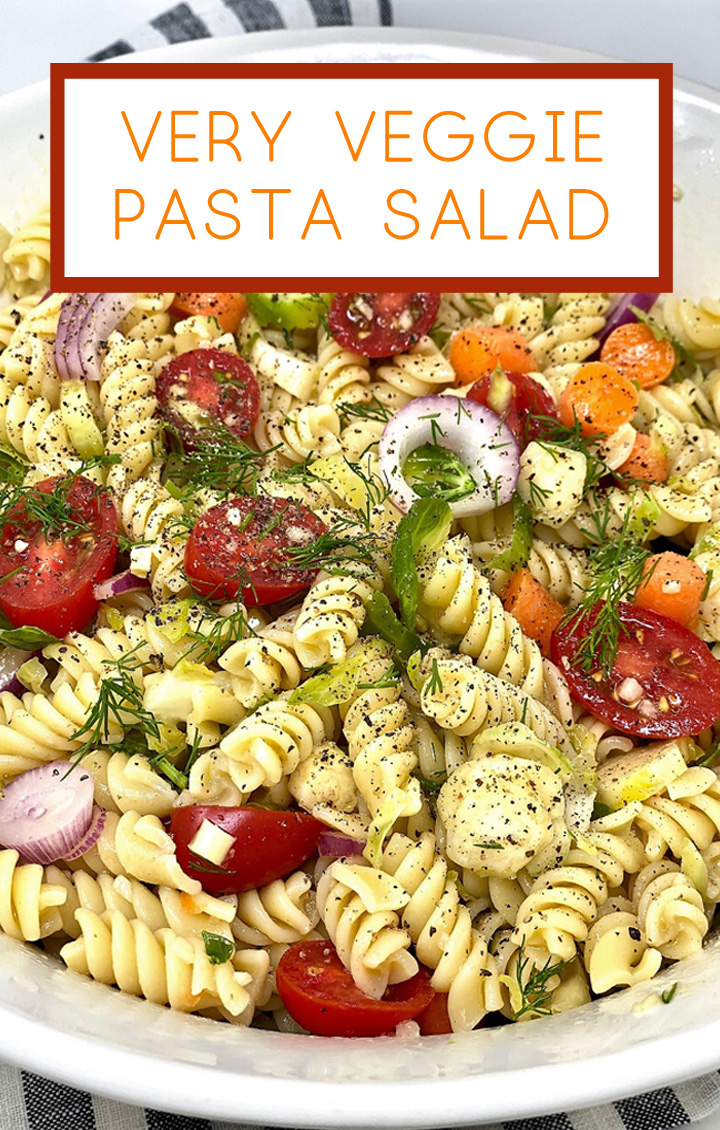 Best of all, pasta salads are so versatile.
Choose your noodle, add your veggies and other ingredients, and choose a dressing.
What's the Best Pasta for Pasta Salad?
I use a variety of noodles for pasta salad and it's really hard to choose a favorite!
My go-to noodles for salads tend to be rotini, orecchiette, or orzo. I know a lot of people like spaghetti or angel hair for pasta salads, and I've even seen rigatoni or farfalle used.
As you know, there are so many pasta varieties out there. From plain, to whole wheat, to veggie, lentil, chickpea, corn and more, the varieties are endless.
I've used all of the above for salads, and my go-to is probably the good old fashioned durum wheat pasta. It's not the healthiest pasta out there, but it's got good texture, a mild taste, and is inexpensive.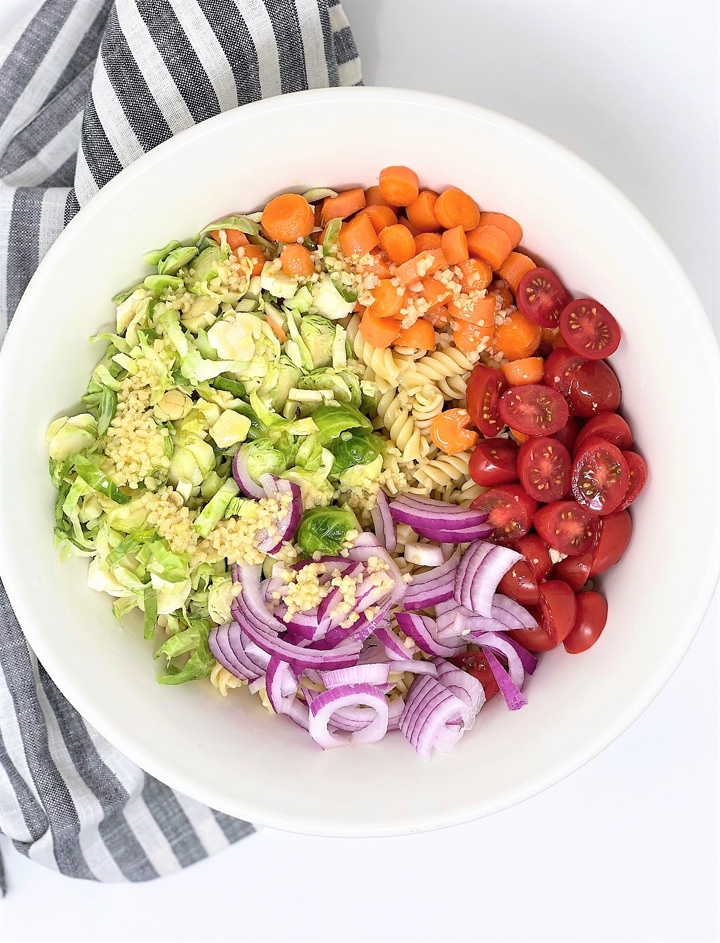 What Should You Add to Pasta Salad?
Here are some of my very favorite pasta salad additions.
Vegetables: Broccoli, carrots, tomatoes (regular or sun dried), shaved brussel sprouts, onions (red onion or green onion), bell peppers (any color), celery, cauliflower, red cabbage, asparagus, cucumber, radishes
Greens: Kale, spinach, arugula, herbs (favorites include mint, basil, dill, oregano, cilantro and parsley)
Cheese: Feta, parmesan, diced mozzarella and goat cheese are my favorites
Other toppings: Beans, chickpeas, green peas, olives, artichoke hearts, nuts, tuna, pepperoni, salami, sunflower seeds, hearts of palm, avocado
Basically, almost anything goes in a pasta salad!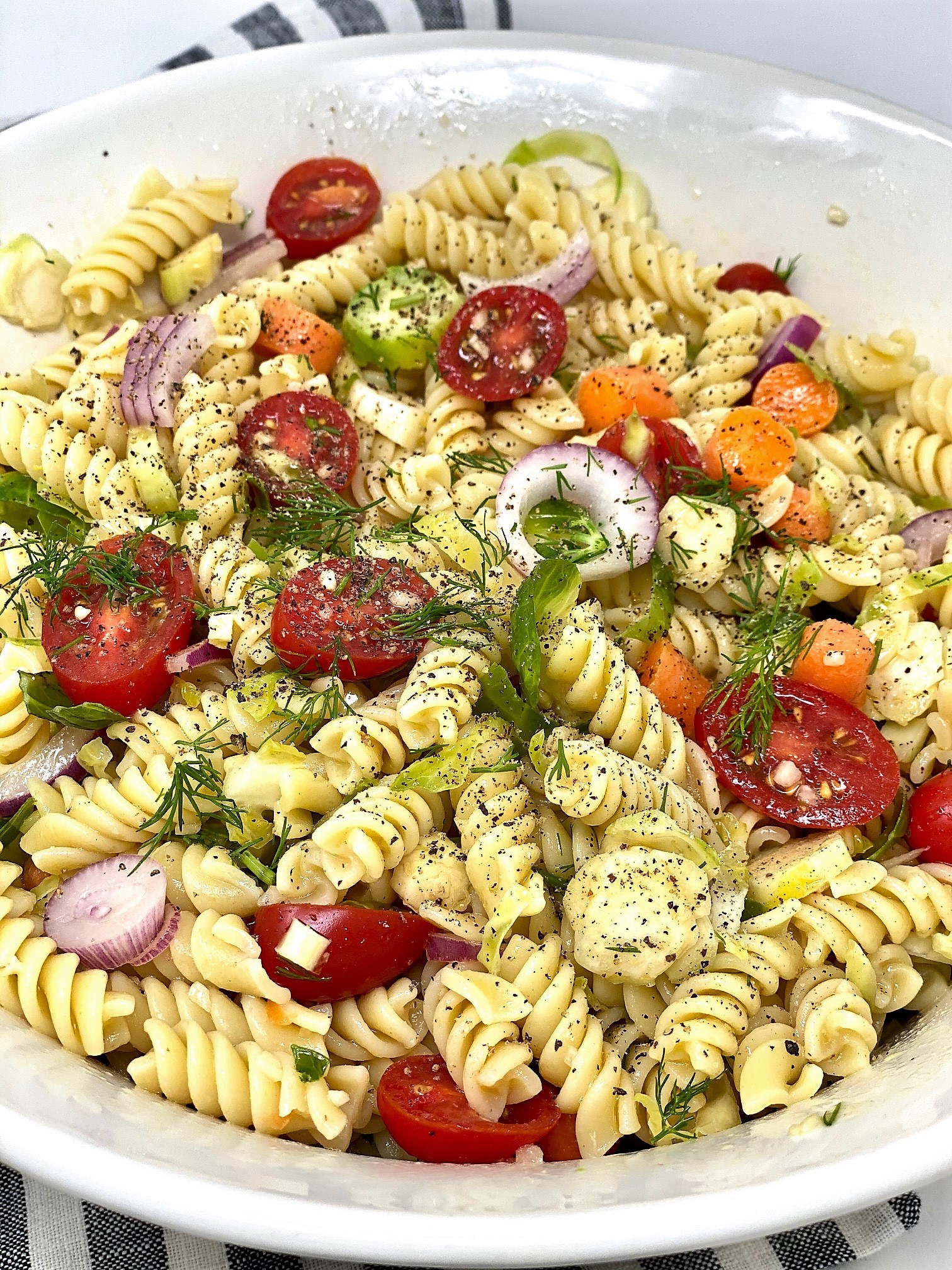 How to Make Pasta Salad
How to Make a Veggie Pasta Salad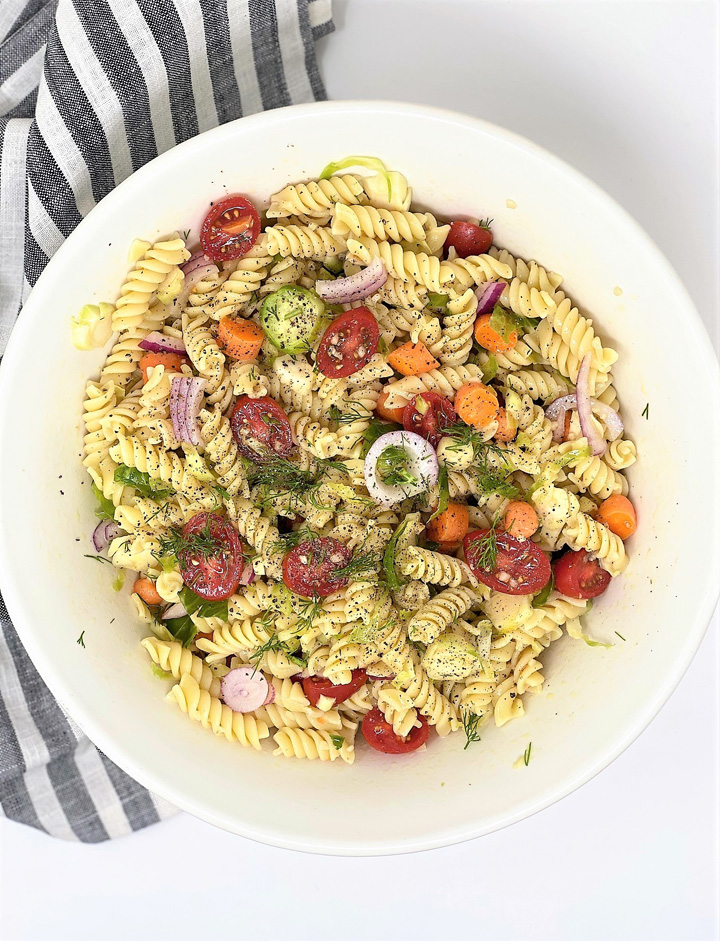 Love pasta salads? Me too. This easy pasta salad recipe has lots of colorful veggies in it and an easy vinaigrette dressing.
Ingredients
1 pound pasta, cooked and drained (I used rotini pasta)
Shaved brussel sprouts, 3/4 cup
Sliced tomatoes, 1/2 cup
Diced carrots, 1/4 cup
Diced red onion, 1/4 cup
Diced green onion, 2 tablespoons
Chopped dill, 2 tablespoons
Chopped parsley, 2 tablespoons
Chopped garlic, 1 tablespoon
Salt and Pepper to taste
1/2 cup extra virgin olive oil
1/4 cup red wine vinegar
1 teaspoon dijon mustard
Instructions
Cook pasta and add to a bowl.
Add in brussel sprouts, tomatoes, carrots, red onion, green onion, dill, parsley and garlic.
Add olive oil, vinegar, and dijon to a mason jar and shake to combine.
Add dressing to salad and mix well. Add salt and pepper to taste.
Refrigerate leftovers for up to three days.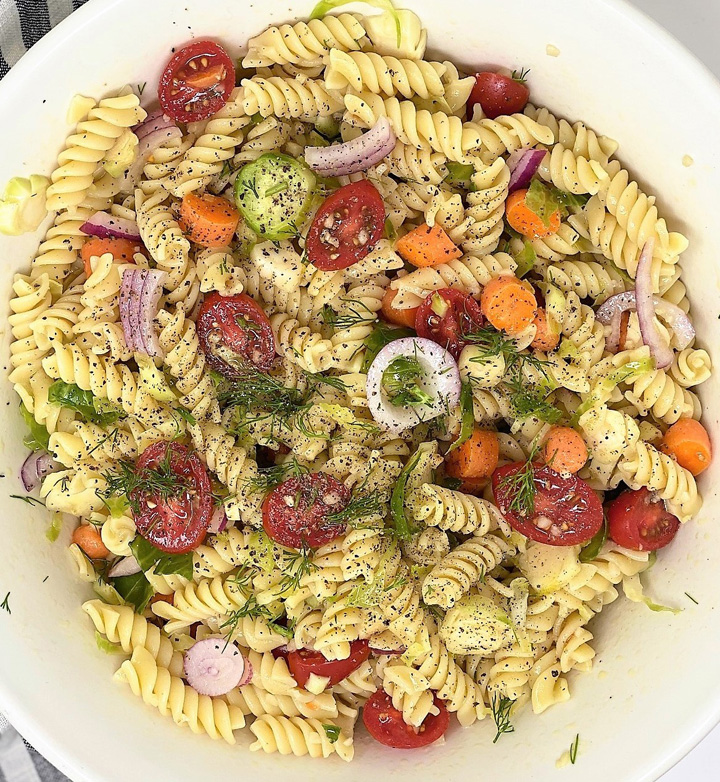 Are you a pasta salad lover, as well?
I'd love to hear about your favorite pasta salad toppings and variations! Let me know in the comments.
Thanks so much for reading all about our Veggie Pasta Salad Recipe.
Have a lovely day!