Felt is some of my favorite material to craft with. It's versatile, colorful and inexpensive.
Today, I'm sharing some of my favorite DIY crafts that use wool felt and craft felt!
I have many favorite crafting materials, but near the top of the list is wool felt.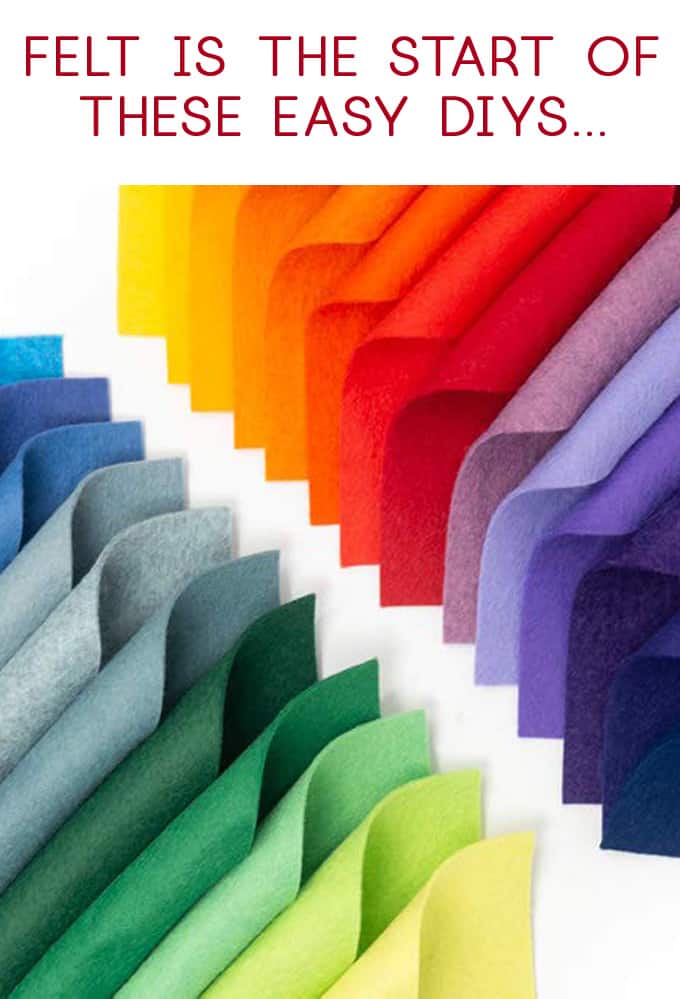 You can find it in every color, and it's perfect for so many craft projects from wreaths to garlands and more.
First, let's talk about where to find wool felt and some of the differences between different kids of felt.
Wool Felt vs Craft Felt
There are a few differences between wool felt and craft felt.
Wool felt is substantially pricier than craft felt, but it's also more durable, softer, and the colors are often much more vibrant.
Look for 100% wool felt versus simply "wool felt" which is often made with wool combined with rayon.
It's the best felt to use for your very special crafting projects. It's also great for smaller projects, especially if you don't need a lot of it!
On the other end of the spectrum, craft felt is much cheaper, and more readily available in craft stores than wool felt.
Craft felt is often made using recycled materials such as water bottles, or even synthetic materials (such as acrylic).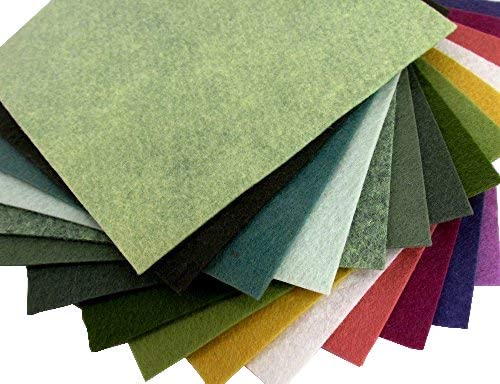 Where to Buy Felt
I've found and purchased felt in various places over the years, but Amazon has become my more recent go-to for the price and color selection.
Here is a listing for various sizes of felt for crafting.
You can also, of course, find felt in craft stores such as Hobby Lobby and Michaels.
If you're looking for wool felt, here's a great listing for 18″x18″ sheets of pure merino felt
Best Felt for Crafting
For general, all-purpose crafting, it is probably just fine to use craft felt.
Wool felt is best, though, for your more special, heirloom-quality craft projects.
Craft felt does tend to pill, and is also thinner than wool felt. It's definitely a case of you get what you pay for!
I do about 75% of my crafting with craft felt, though, and it's fine for wreaths, felt flower making, kids crafts, etc.
Felt Crafts
Felt Crafts and DIY Ideas
Felt is some of my favorite material to craft with. It's versatile, colorful and inexpensive.
Today, I'm sharing some of my favorite DIY crafts that use felt!
You can use either wool felt or craft felt for these fun DIYs. Let's begin...
Photo Credit: www.pinkstripeysocks.com
These felt succulents from Pink Stripey Socks are a fun and easy craft project!
Photo Credit: www.burlapandblue.com
If you've ever wanted to know how to make a felt magnolia wreath, this tutorial is for you! Felt wreaths are inexpensive and easy to make-perfect for beginners. Before spending a hundred dollars on a magnolia wreath, try this!
I just adore this easy felt succulents craft kit!
It teachers you how to make 18 pretty succulents out of felt to display in a frame.
There are other options of craft kits available, if you'd like to try something different.
Photo Credit: www.burlapandblue.com
I created these felt ball ponytail holders with three different felt balls, but you could easily do this with single balls for something a bit simpler and easier.
Photo Credit: www.burlapandblue.com
You can add a hair clip to these simple felt bows or string them together to make a lovely little garland!
Photo Credit: www.burlapandblue.com
This felt wreath combines gorgeous wool felt with one of my favorite decor trends-ombre!
Photo Credit: www.wildflowerfeltdesigns.com
LOVE this DIY felt poppy from Wildflower Felt Designs!
Photo Credit: www.diyncrafts.com
This felt bird paperclip bookmark from DIY n Crafts is so cute!
Photo Credit: happyhappynester.com
Happy happy nester shares her tutorial for making three felt flowers!
Photo Credit: luloveshandmade.com
This star felt garland from Lu Loves Handmade is easy and so so cute!
This highly-rated, award winning best buy is great if you're looking for a fun felt craft kit.
This kit contains 9 colors of felt, 32 yards of floss, 2 embroidery needles, polyester fill, paper patterns, and plenty of pre-cut eyes and cheeks.
Photo Credit: www.burlapandblue.com
Looking for a super quick felt craft perfect for kids or adults?
This modern felt wreath can be done in less than an hour! Perfect for when you need a quick crafting fix.
Photo Credit: allcraftythings.com
This easy and modern felt circle wreath can be made in any color! Perfect for your indoor or (covered) outdoor decor!
This took a couple hours to make, so it's perfect for your favorite movie or Netflix binge.
Photo Credit: www.burlapandblue.com
These stitched felt votive holders are a fun craft and perfect for your next party or get together!
Choose any colors of felt to match your decor or color scheme. Only very, very basic sewing skills are needed.
Photo Credit: liagriffith.com
What a fun, cute and quirky craft project with felt!!
Lia Griffith shows us the step by step tutorial to make this darling stuffed felt cactus!
Template and full tutorial are in the post.
Did you find a new felt craft to try?
I hope so!!
Thanks for reading all about our Wool Felt Craft Ideas. Have a lovely day!