We hope you enjoy the products we recommend. Just so you know, burlap+blue receives a commission from products purchased from this site. Oh, and one more thing, prices are accurate and items are in stock at time of publication.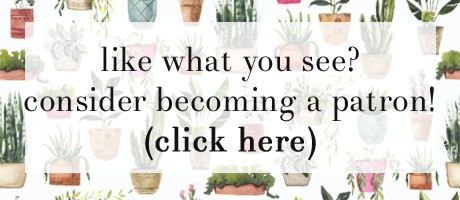 Fixer Upper dining rooms, living rooms and more to inspire your own home decor! These rooms, all from HGTV's hit show, Fixer Upper, have the farmhouse, rustic style we all love.
Browse this large collection of Fixer Upper spaces from Chip and Joanna Gaines, and add some Fixer Upper decor to your own spaces.
HGTV's Fixer Upper has, for good reason, taken the design-world by storm. Of all the design and home decor shows out there, this has definitely become my new favorite, and I know I'm not the only one crushing on Chip and Joanna's vintage-inspired, found and farmhouse style.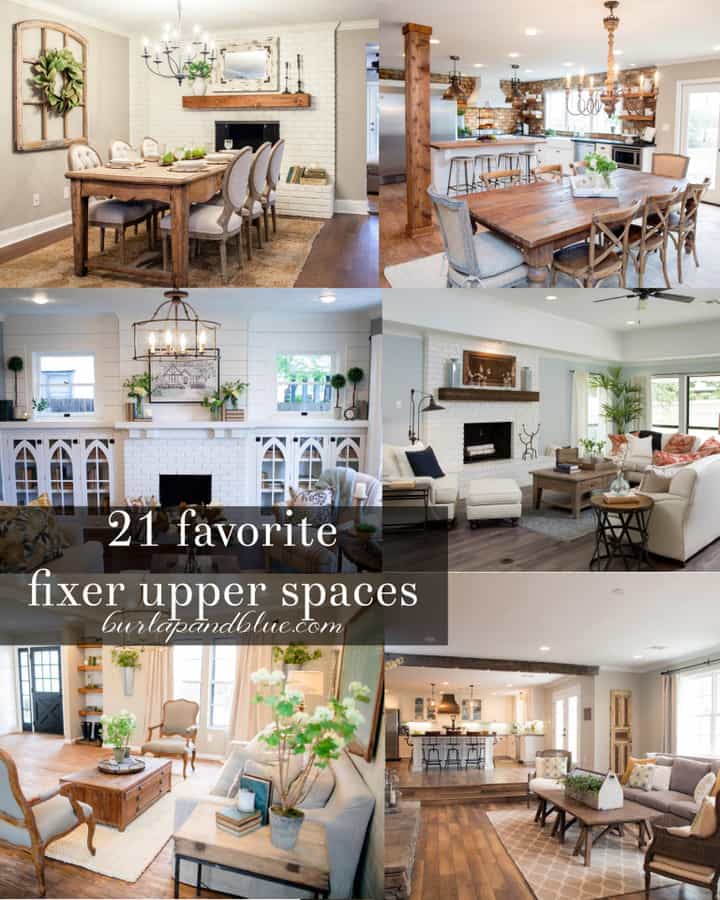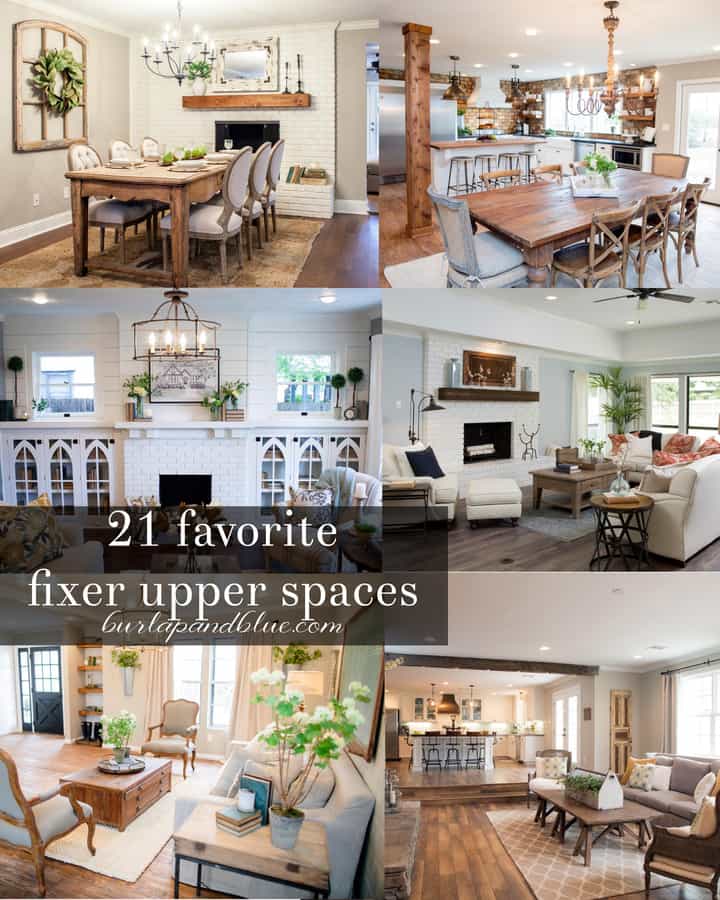 I've shared my favorite Fixer Upper wall art, and today, I'm sharing 21 of my favorite rustic, vintage-inspired, Fixer Upper dining rooms, living rooms, kitchens and more!
Take a look through these gorgeous spaces; I dare you not to be inspired by their fabulous, and attainable, style! And once you're hooked, check out my post on Fixer Upper-inspired DIY projects for the home!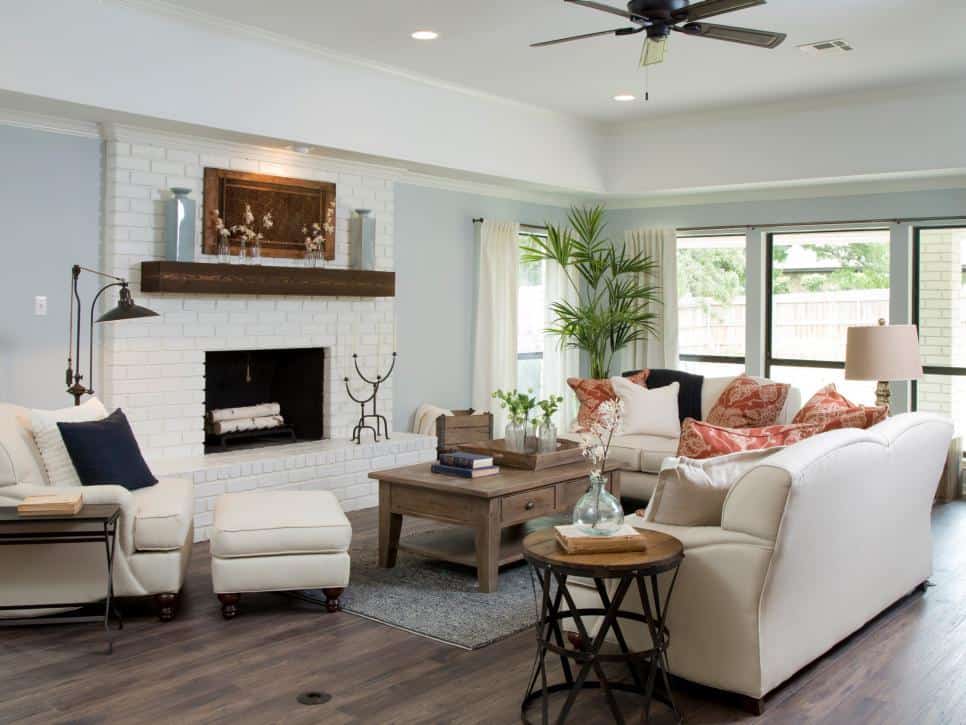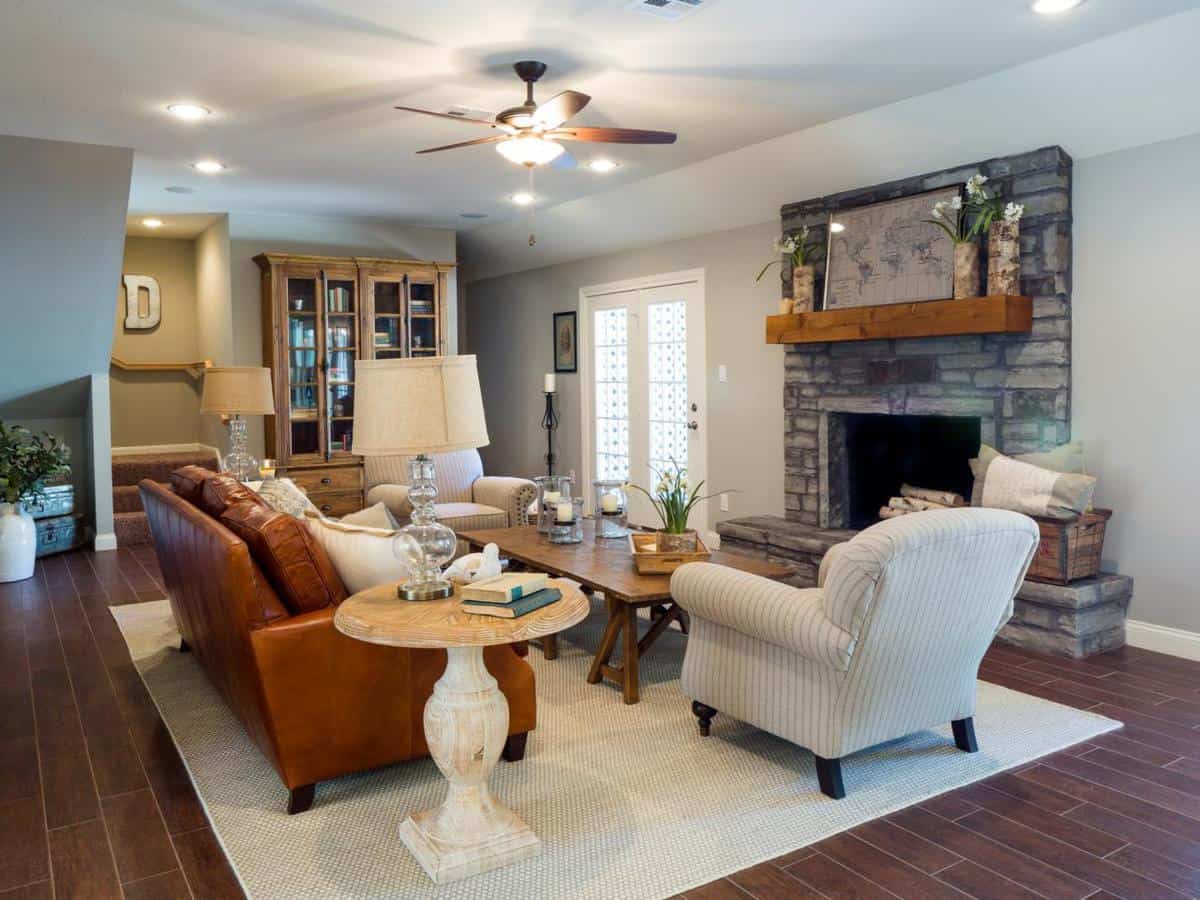 Both the stone fireplace and wood mantle are gorgeous! I love how, on the two images above, the plain fireplaces are gussied up with a piece of reclaimed wood for the mantle! Would love to replicate this in my own home!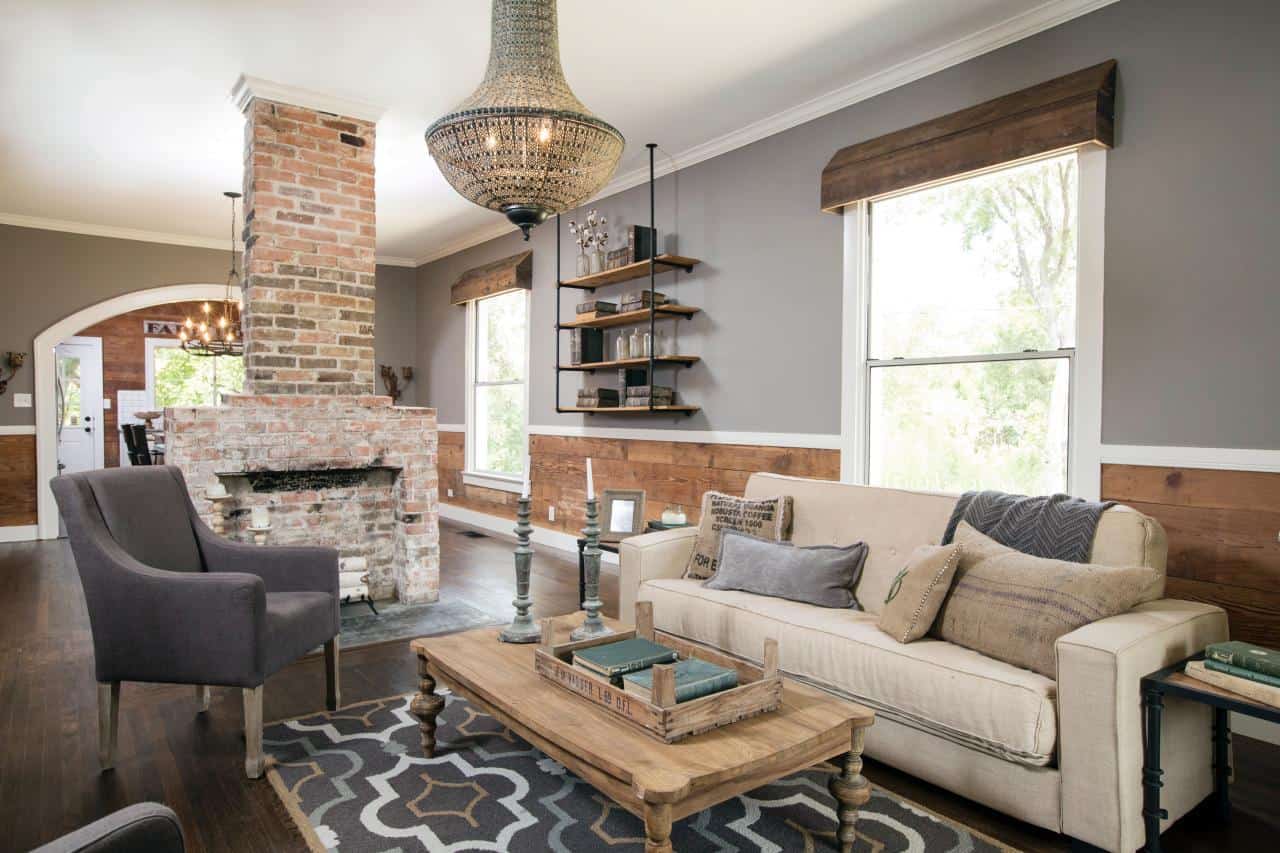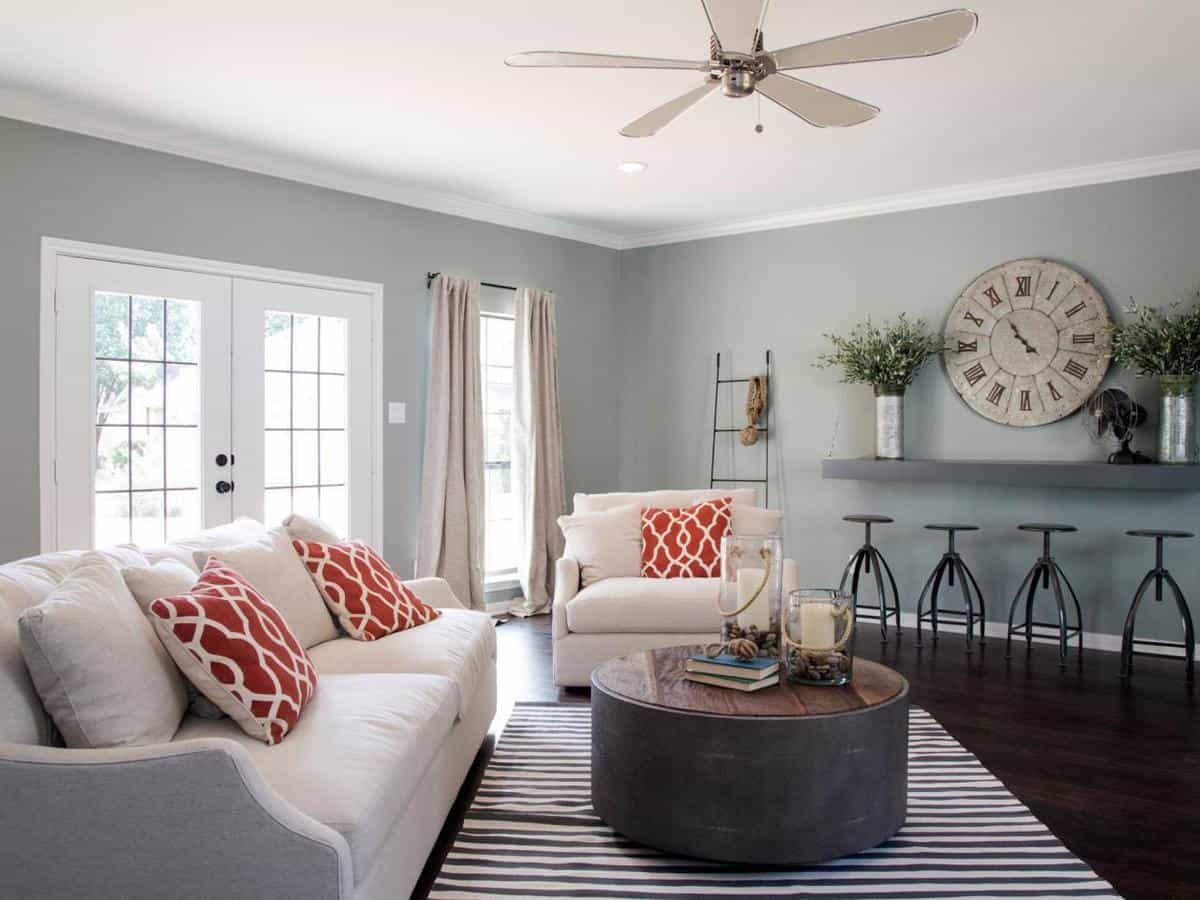 Love that clock? Me too. Find a similar one here!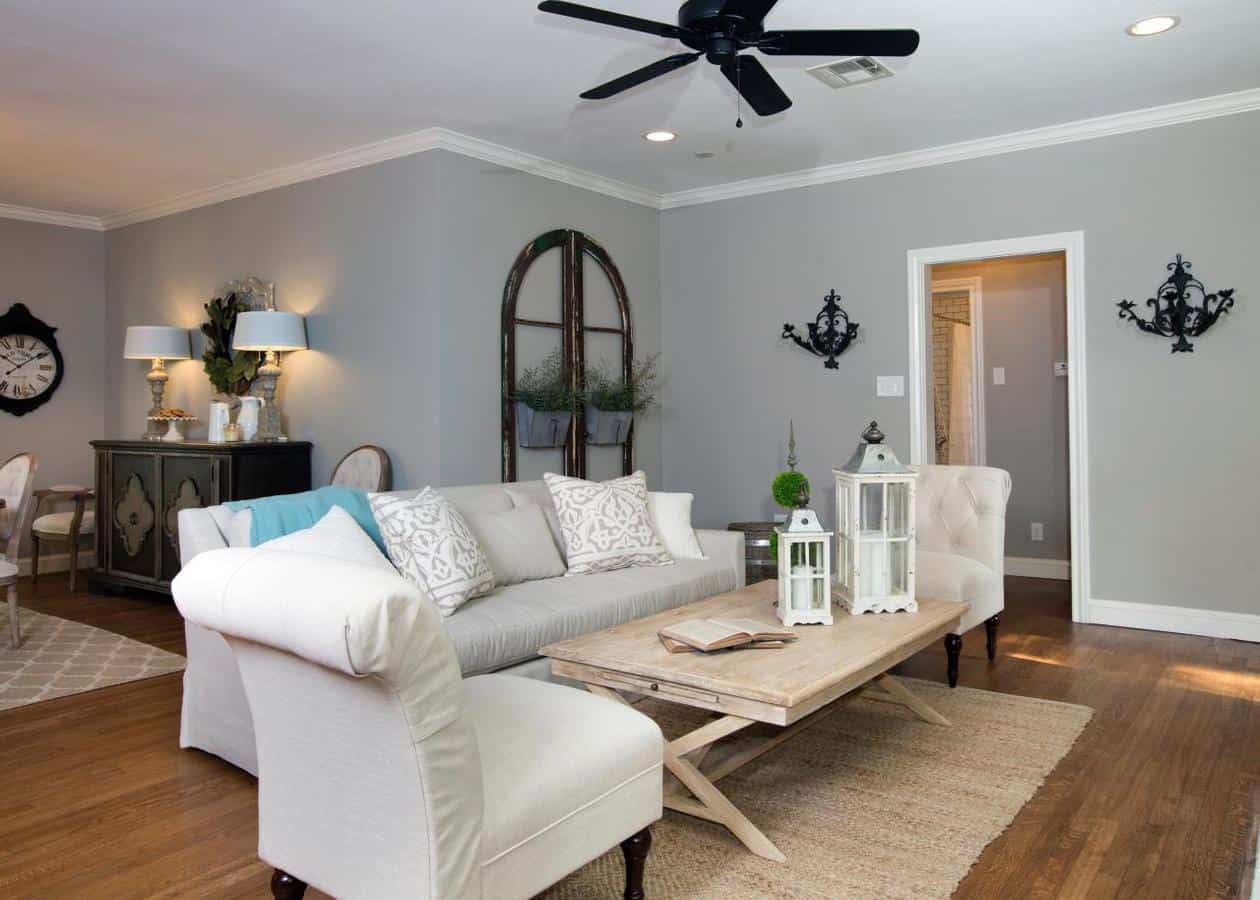 I love how Chip and Joanna combine wood and white so effortlessly! I did a post a while back on some of my favorite wood and white pairings…such a classic, timeless, yet on-trend look!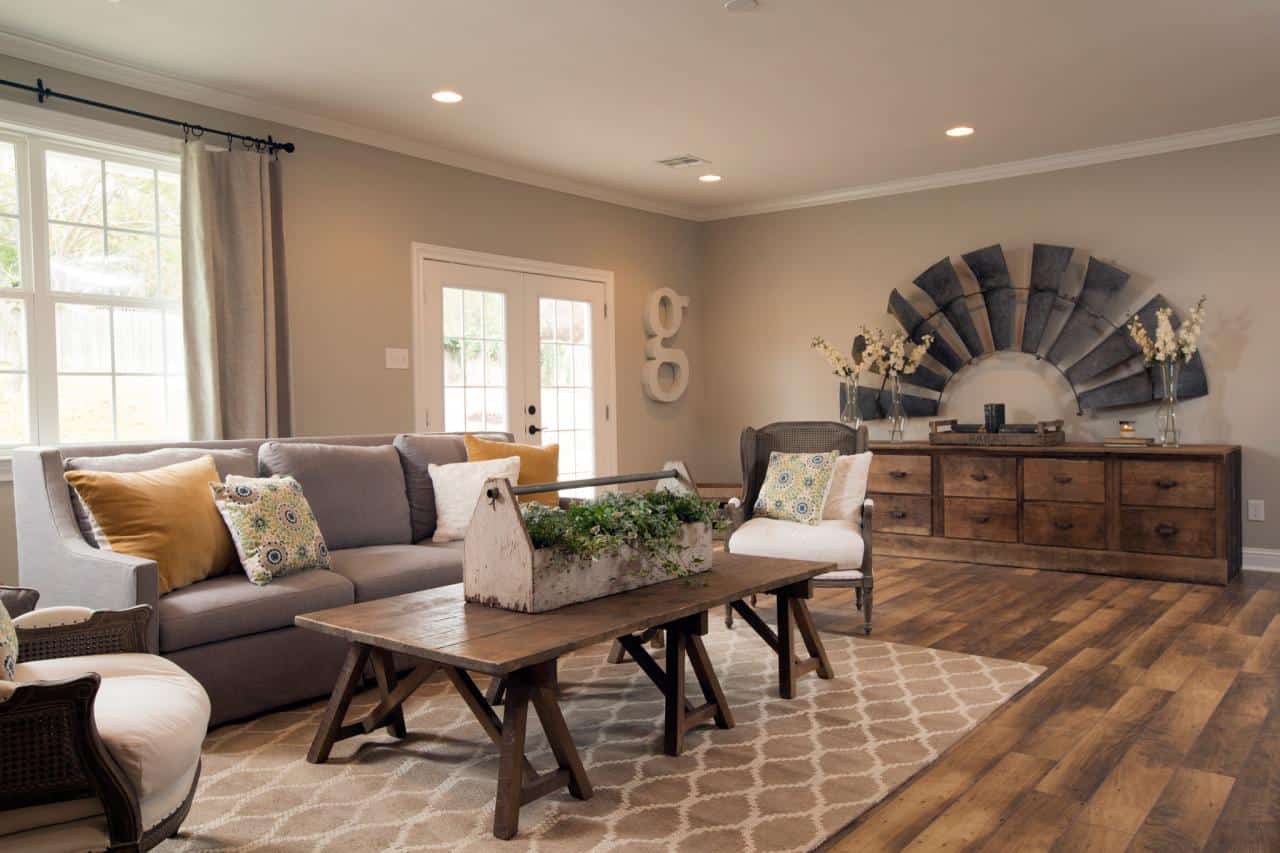 I'm always impressed by the creative and unique wall art pieces in Fixer Upper rooms, the metal art above is such a great conversation piece! I notice that Chip and Joanna also love using wooden letters, plants, mirrors and wreaths (magnolia, naturally) to add some color and texture to plain walls.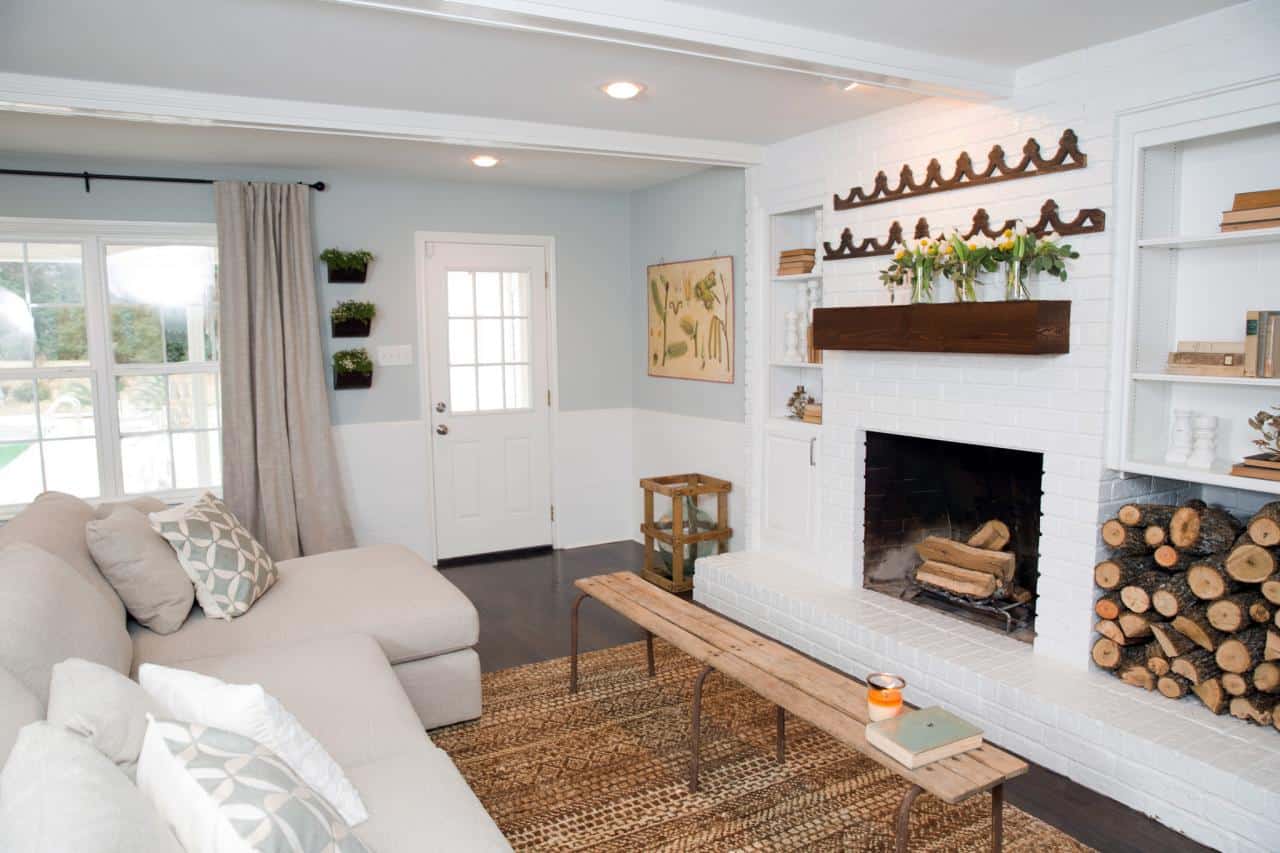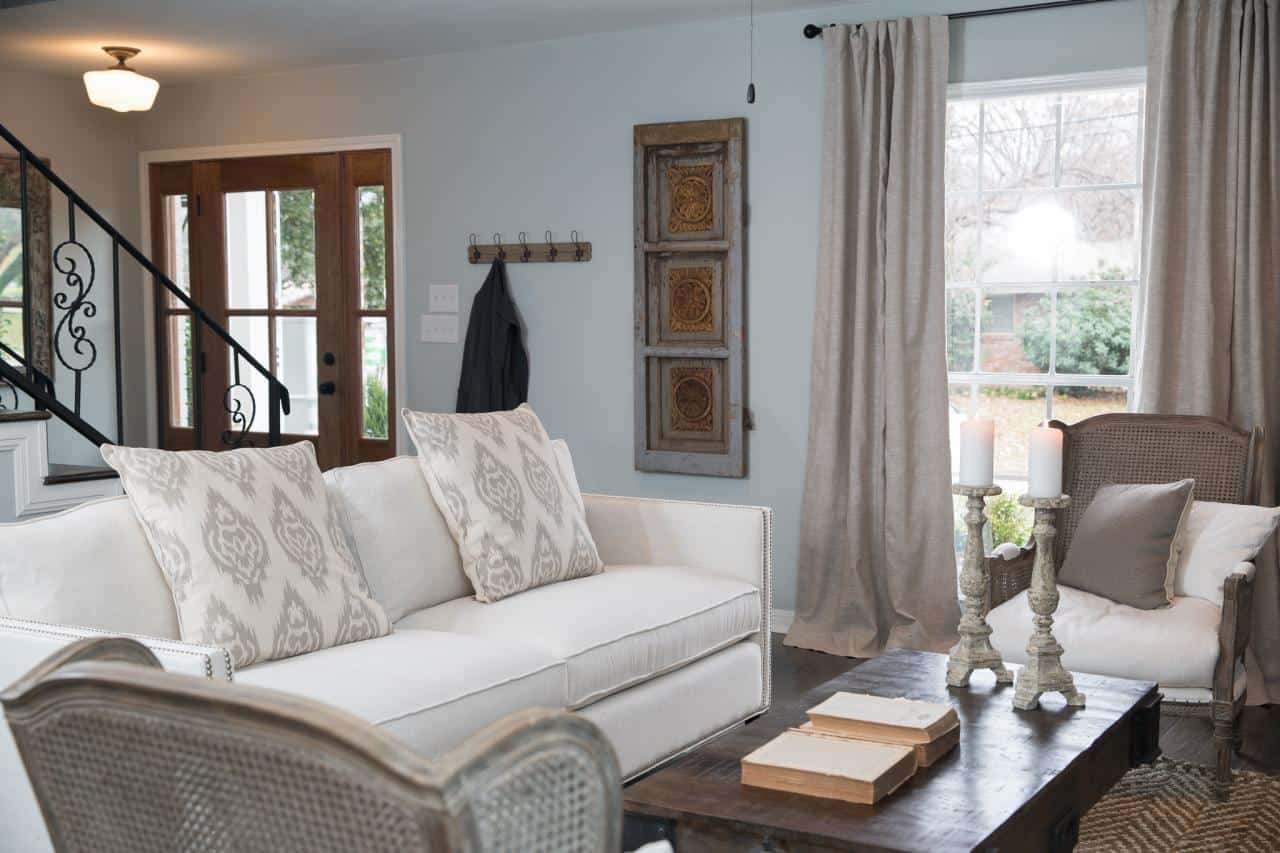 Natural and jute rugs seem to be a staple of Fixer Upper-style living. And, again, the wood and white combination is just lovely to me.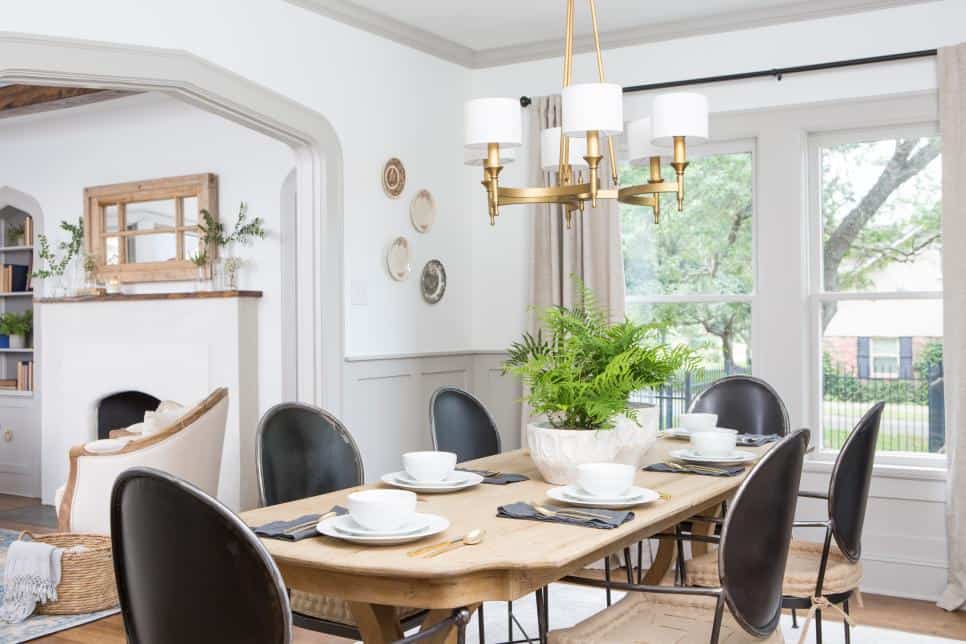 I adore a good Fixer Upper dining room, and these do not disappoint!
I LOVE this vintage window pane with a magnolia wreath hanging over it…I recently did something similar in my own home! I upcycled some window panes and added a gorgeous boxwood wreath and it's added such great texture to my living room.
You can find window panes similar to this almost anywhere now! They may not be vintage, but places like Target, HomeGoods and Hobby Lobby almost always have window panes…just add a wreath, and you have instant Fixer Upper style!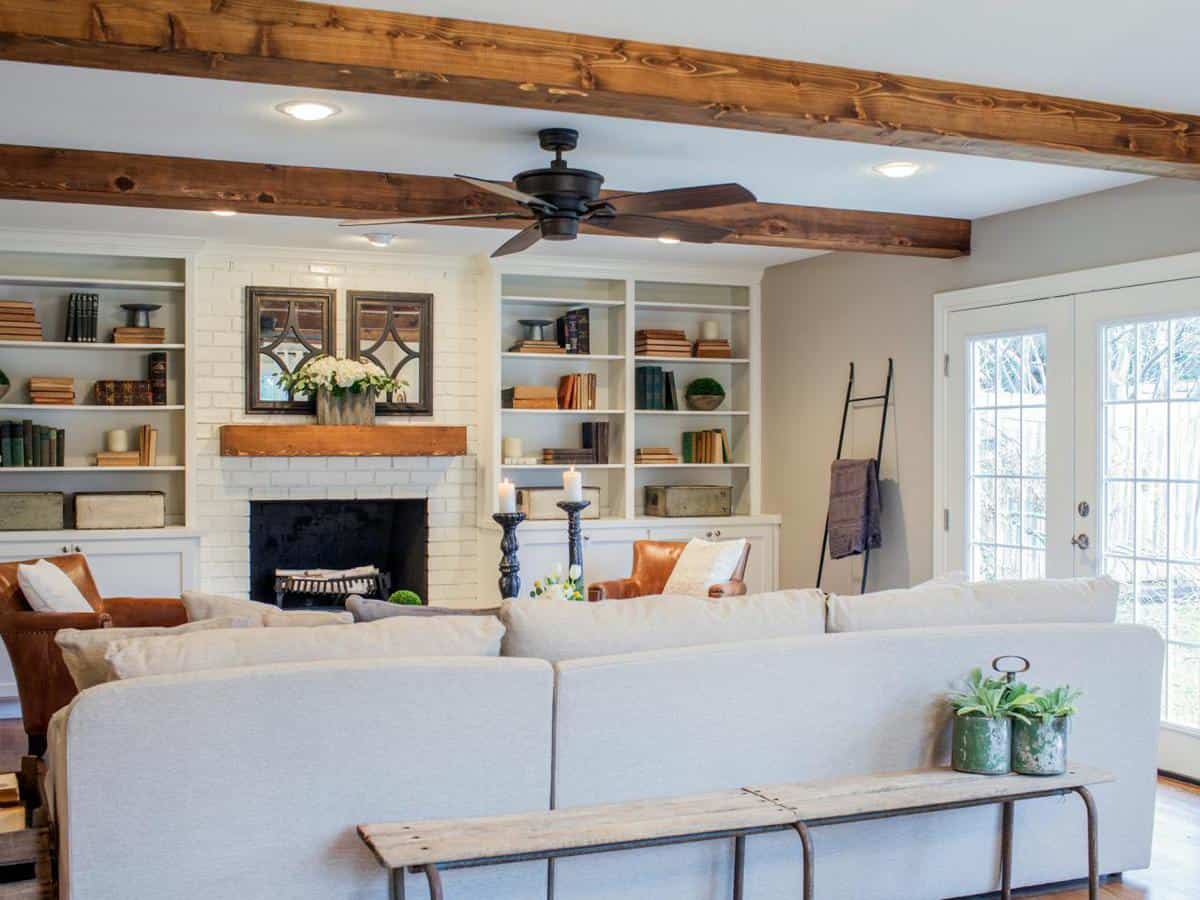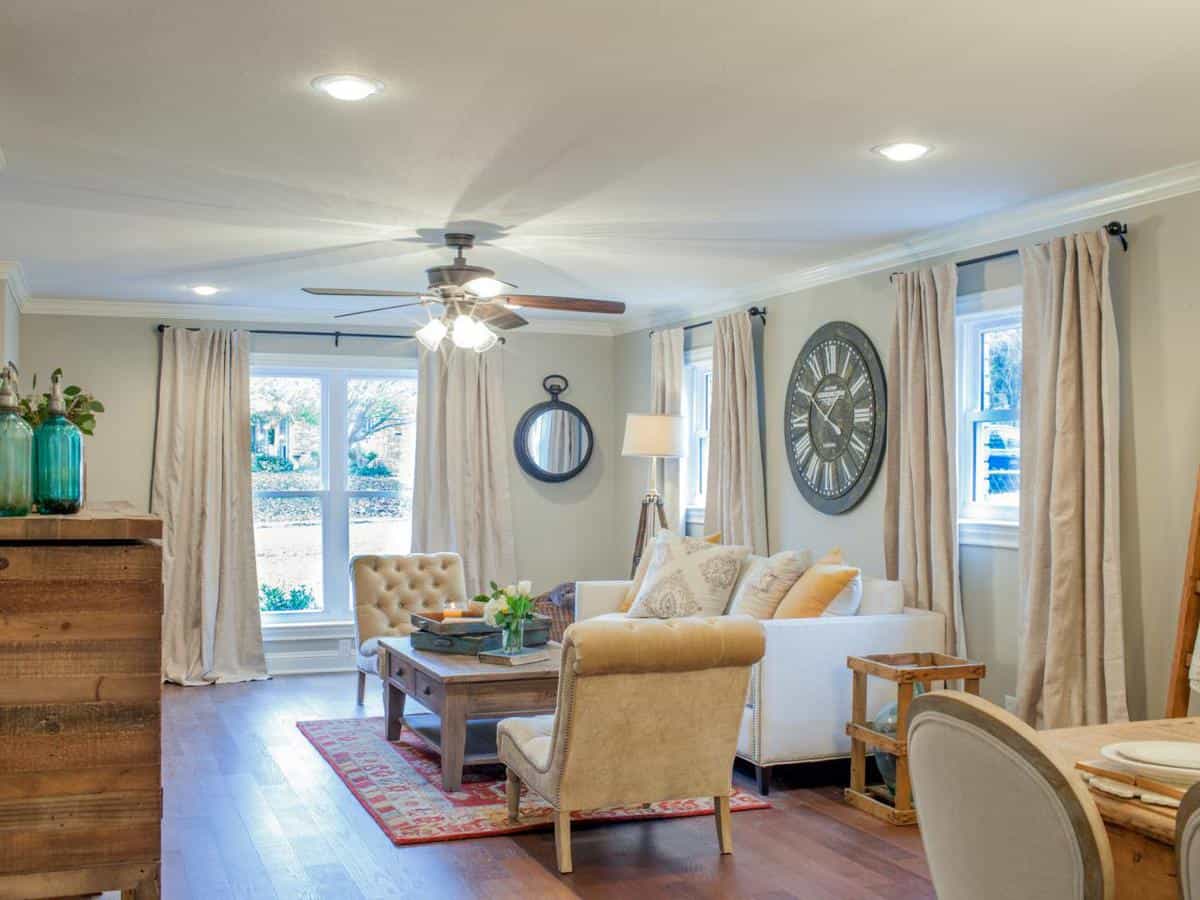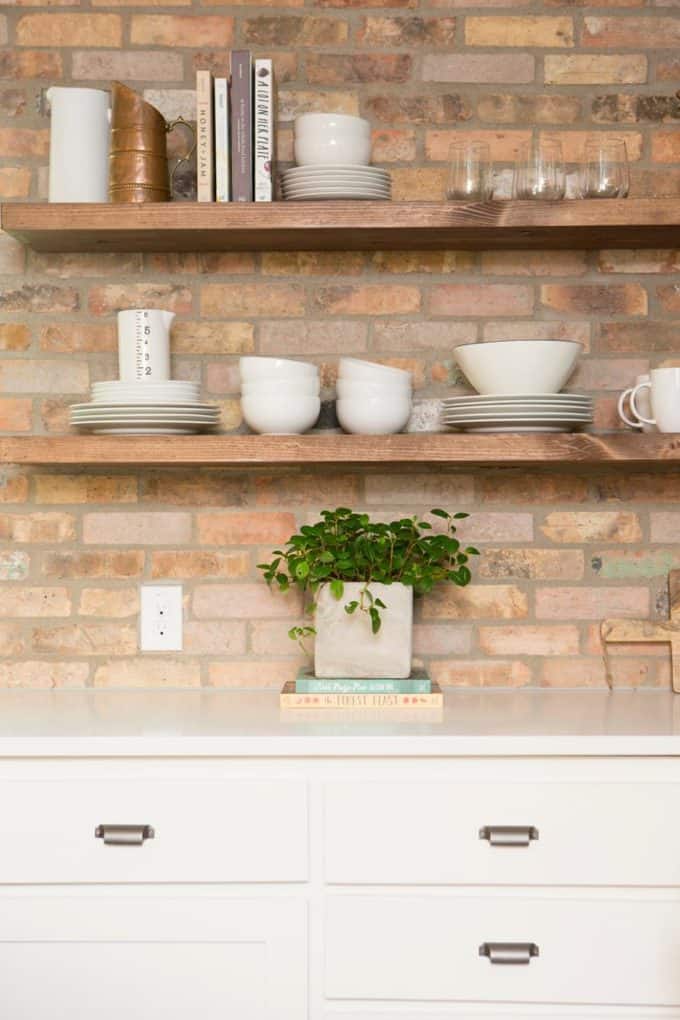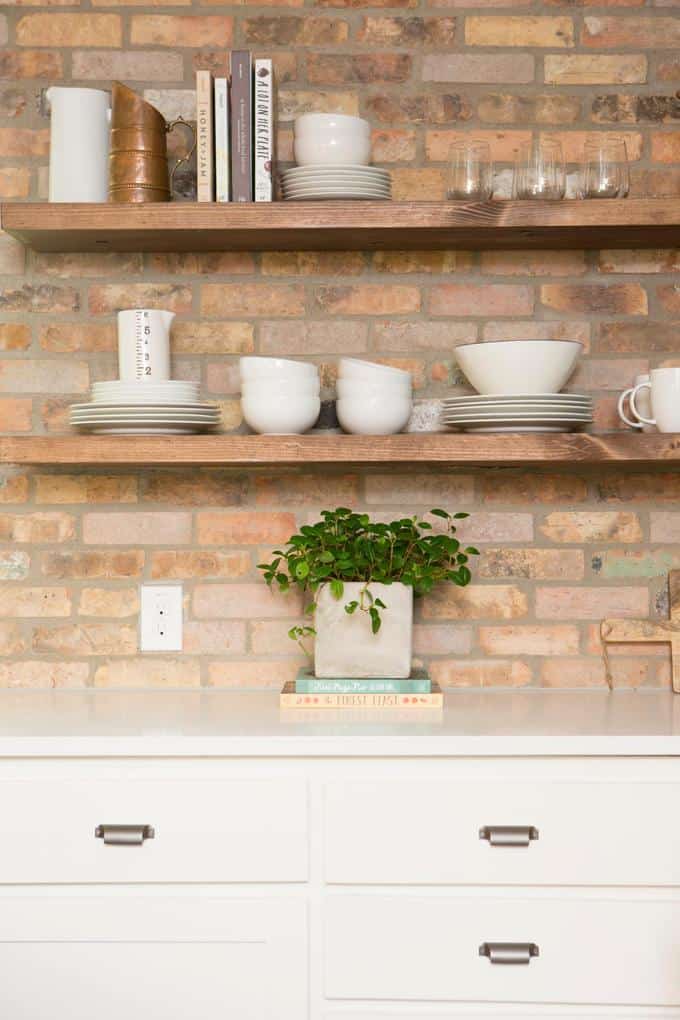 All of that gorgeous reclaimed wood!! I'm in love! And the contrast of the reclaimed wood with (nearly) white walls, and even white (and light colored) sofas and chairs is a winning combination.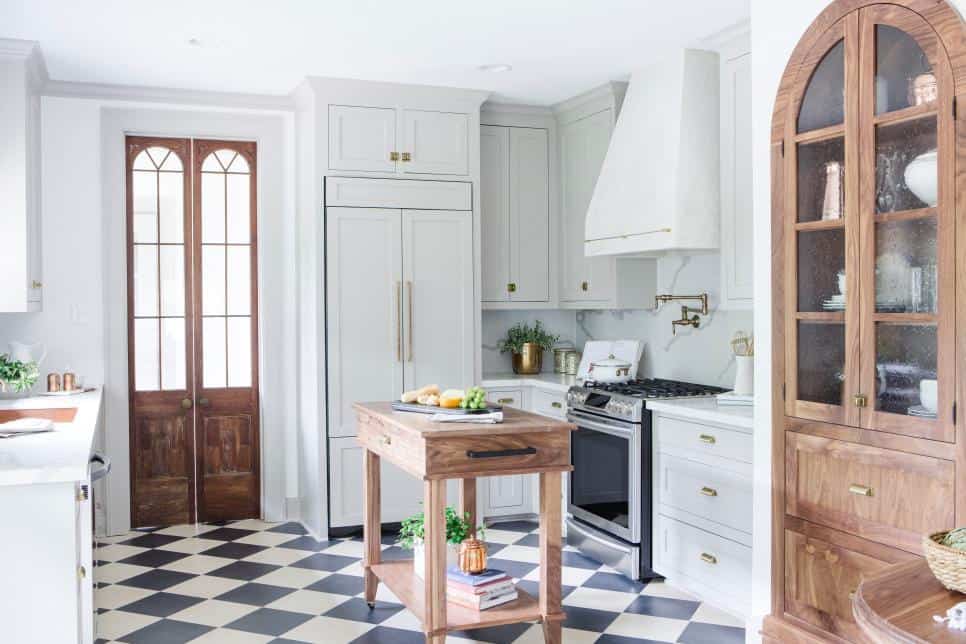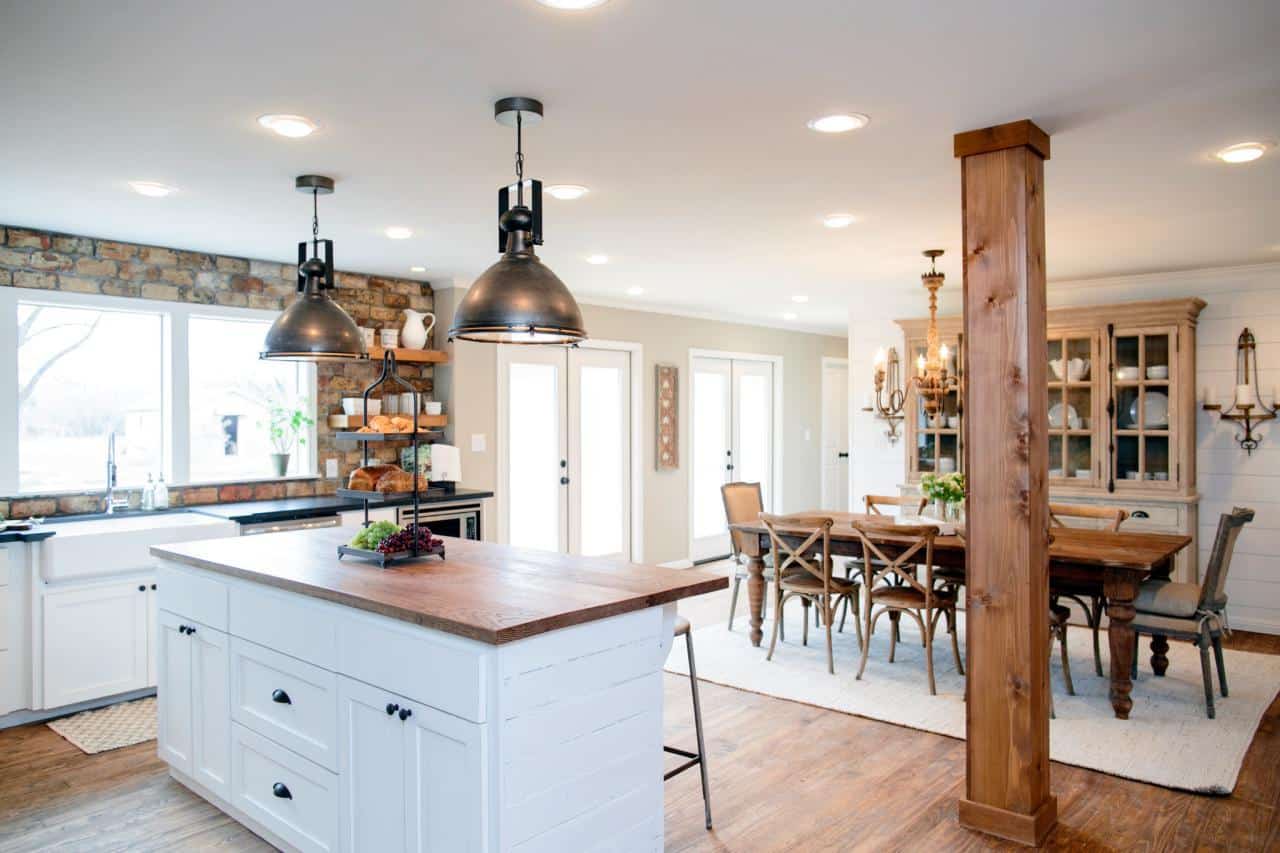 The exposed brick is another lovely farmhouse element in this space.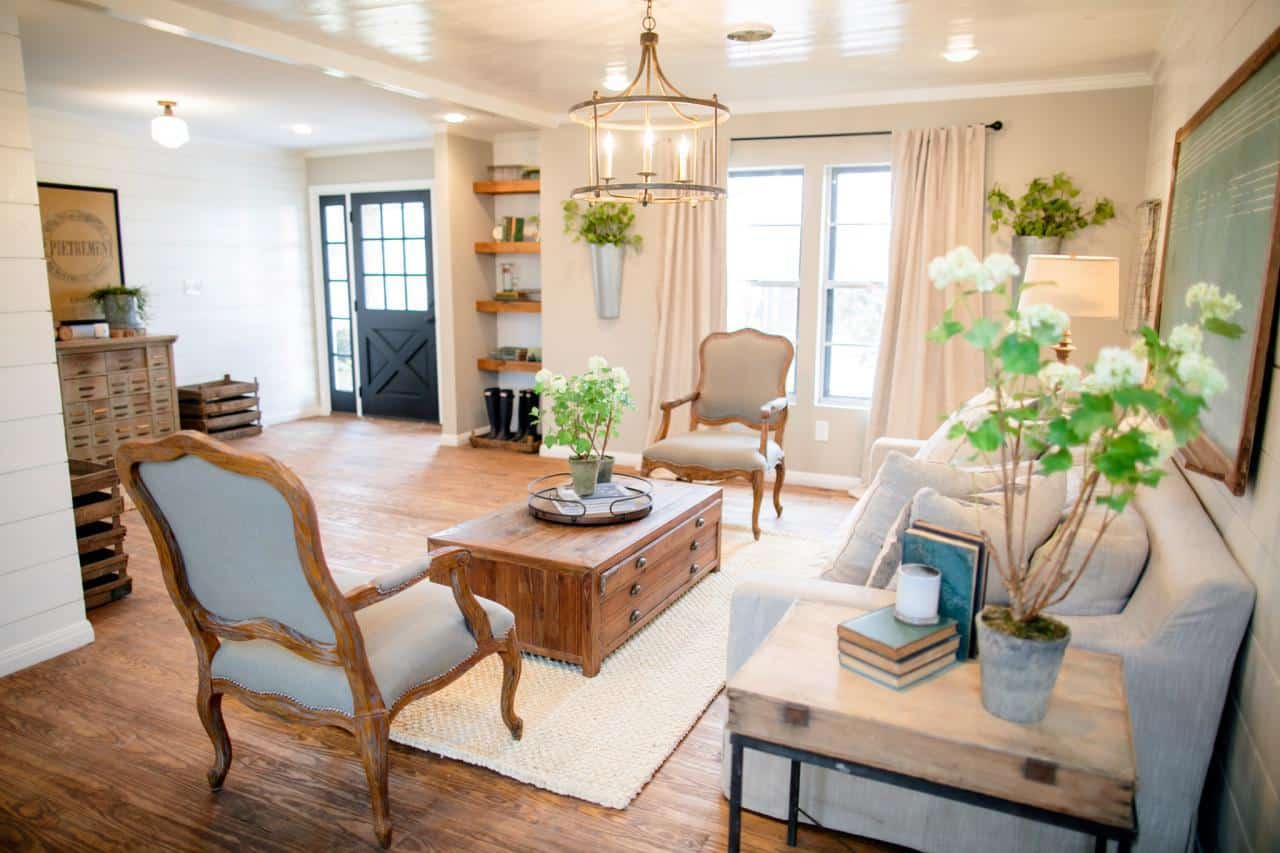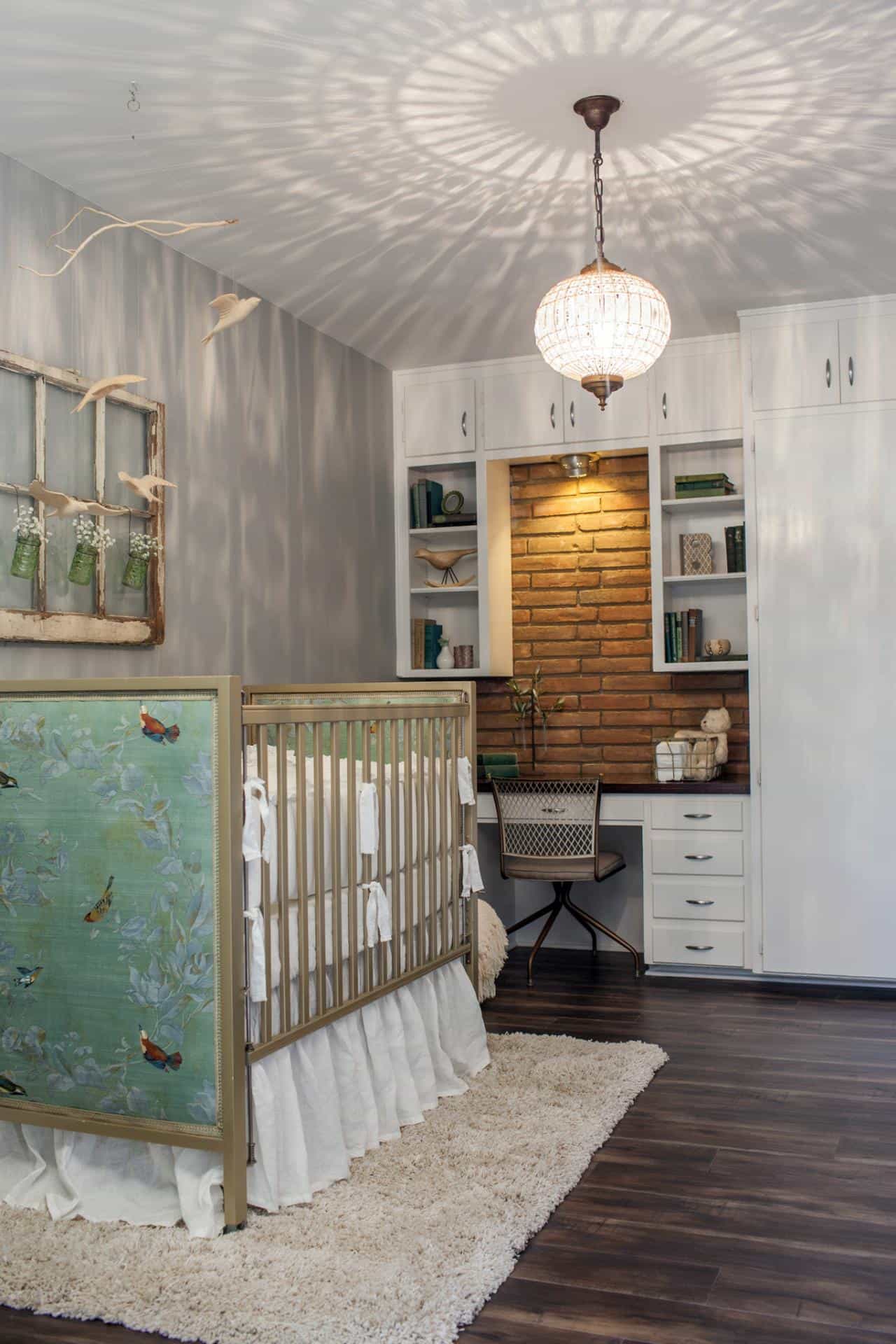 The side panel of this crib is so beautiful; I think I'd want this space for myself 😉 And what a gorgeous light fixture! Love the shadows it creates on the ceilings and walls. Love, love, love.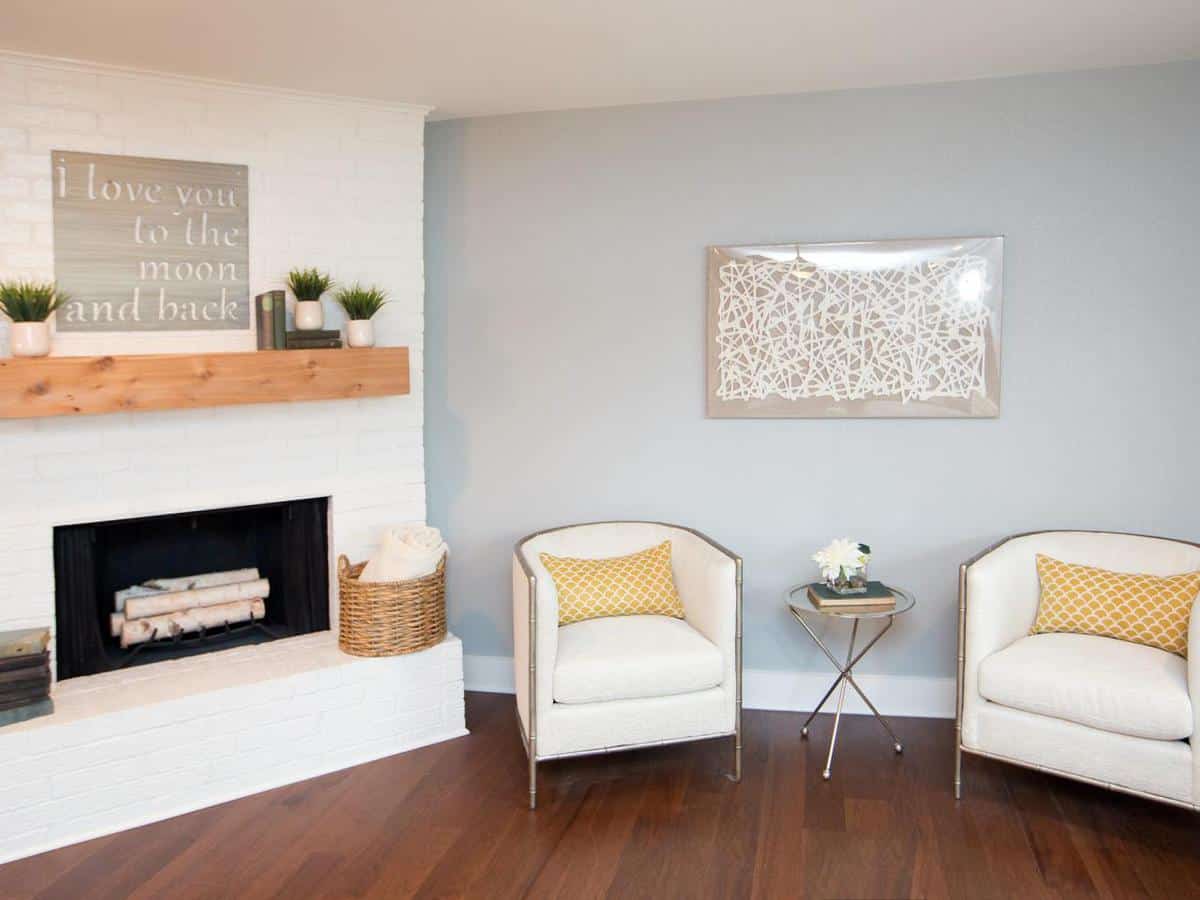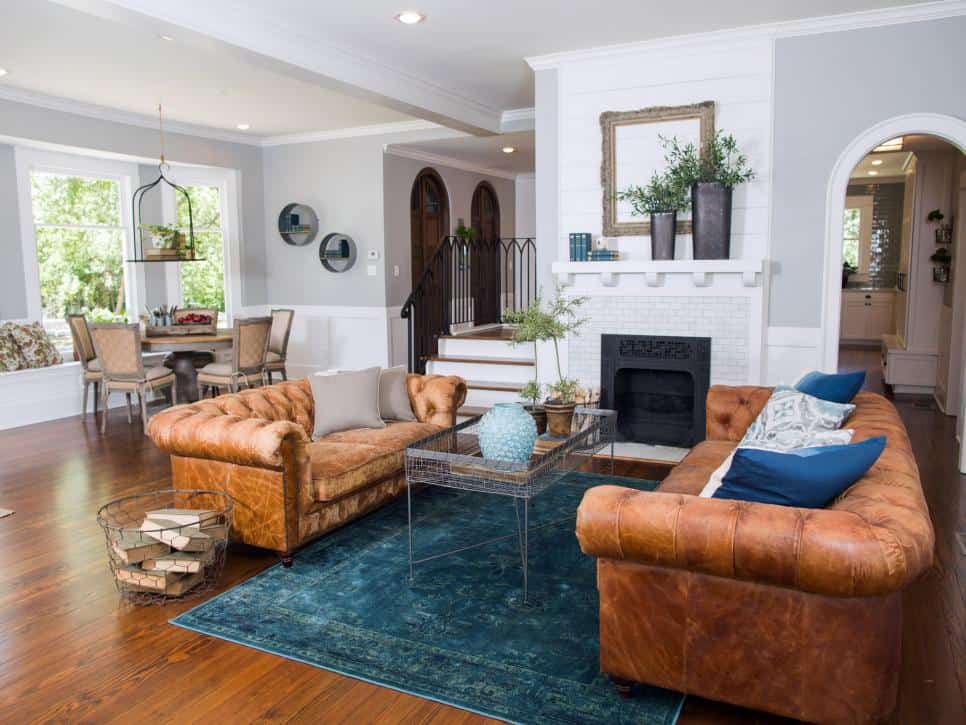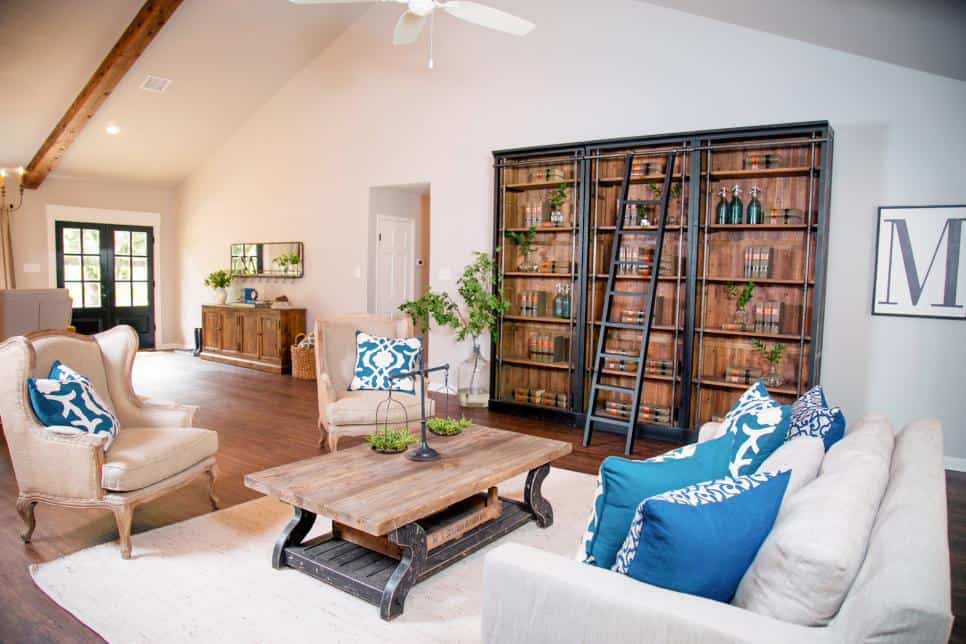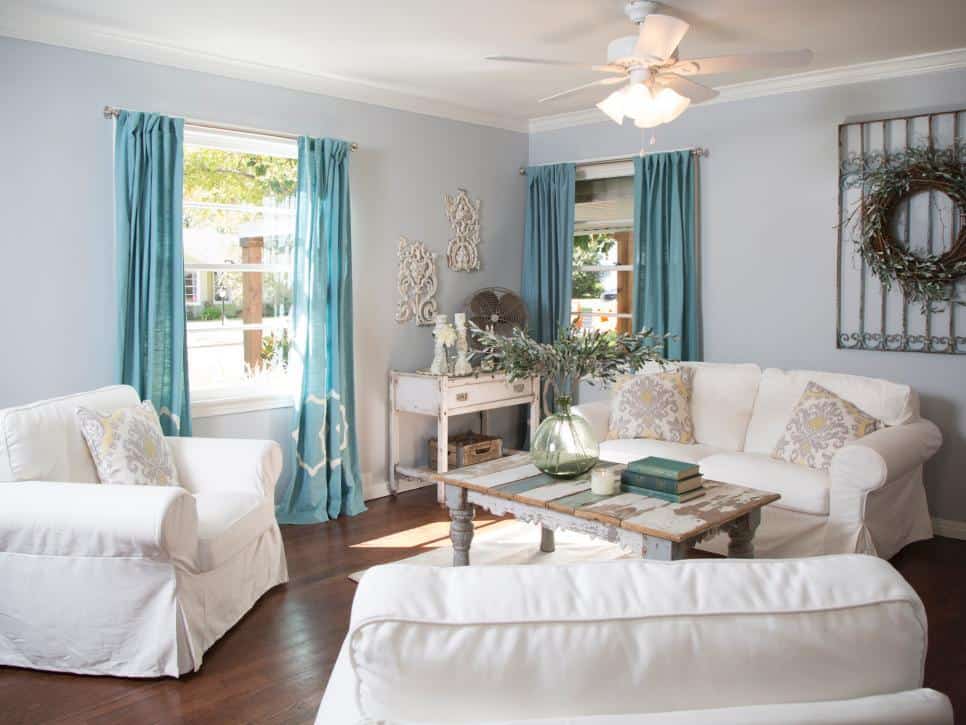 The three spaces above have one thing in common–a deep, gorgeous blue paired with lots of white and natural wood. I'm slowly adding richer blue tones into my living room, and I'm glad to know it's Chip and Joanna-approved 🙂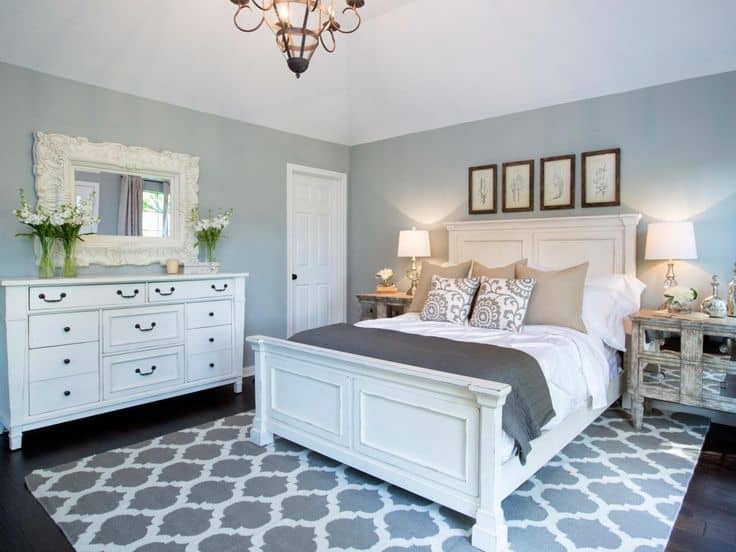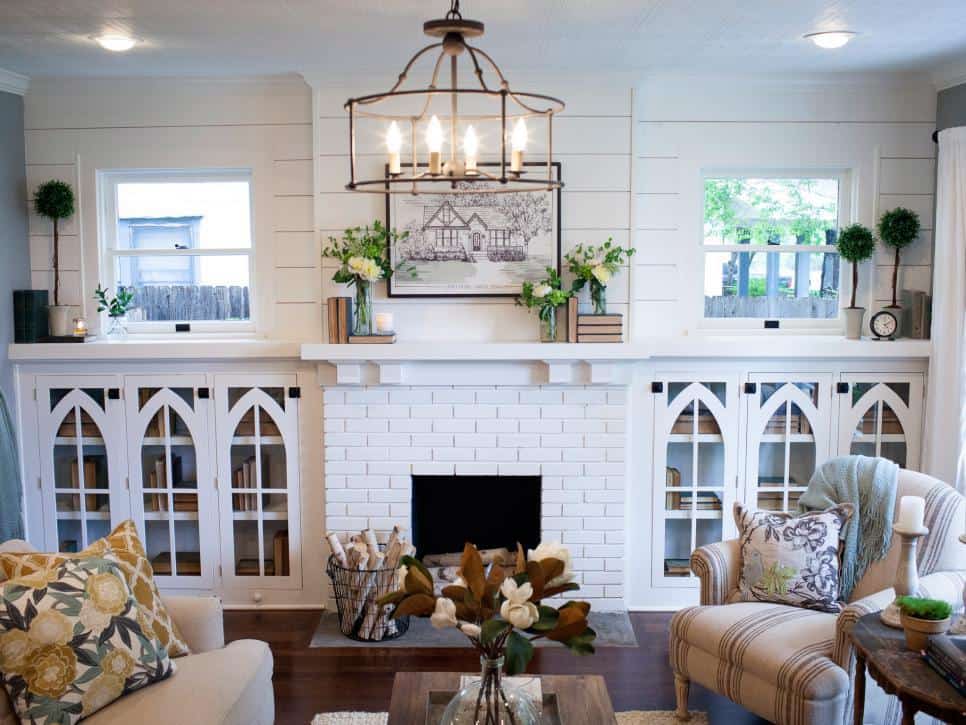 So, tell me! What are your favorite Fixer Upper spaces? I am really drawn to any rustic, vintage-inspired space with lots of bright light, natural wood and white!
There are so many great ideas and spaces to choose from, thanks for letting me share some of my favorite Fixer Upper dining rooms, living rooms and kitchens with you today!
Don't forget to check out this post on how to get the Fixer Upper for your own home, lots of goods in all price points, and my post sharing over 35+ Fixer Upper-inspired printable favorites!

Thanks for reading all about my favorite Fixer Upper dining rooms, living rooms and kitchens. Have a fantastic day!