Hello all! Today, I decided to jump on the "favorite fonts bandwagon" and share with you all MY current font crushes.
These aren't just fonts I like, they're fonts I use ALL THE TIME, both here on my blog and in my shops. About half are free, but even the ones you pay for have been, in my opinion, completely worth it. Let's take a peek at my faves and then, in the comments, I'd love to know yours!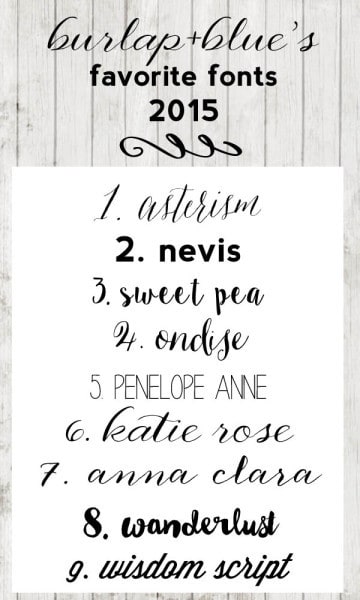 1. asterism
2. nevis
3. sweet pea
4. ondise
5. penelope anne
6. katie rose
7. anna clara
8. wanderlust
9. wisdom script
Have a cutting machine? Try these free fonts for cricut!
So tell me, what font can you not live without?
Thanks for reading all about my favorite fonts! Have a lovely day!