This post was created in partnership with Beyond Paint. All opinions are my own.
Living in a house built in the 1970's, we are always looking for easy ways to update and modernize some of the older features of our home. Painting our original oak spindles and newel post is something I've wanted to tackle for a while now, but was never sure of the easiest way to complete the job.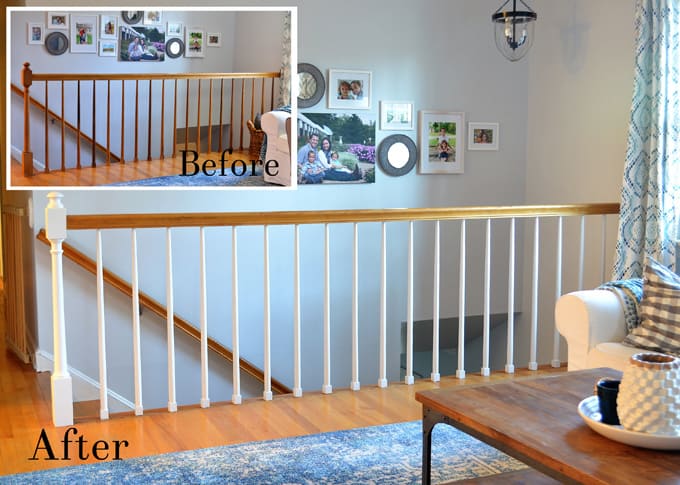 When I discovered BEYOND PAINT®, a product that helps you improve your home in less time, with less effort, and for less money, I knew I had found the solution!
BEYOND PAINT® is a revolutionary line of paint products that is changing the way we look at home improvement. They are an all-in-one bonder/primer/finisher that cures to a durable, washable surface in just one or two coats, which makes it perfect for most surfaces, but especially those tricky-to-paint areas like cabinets, furniture and countertops!
With BEYOND PAINT® there is NO no stripping, sanding or priming beforehand, saving you time, money and lots of effort! Since we used BEYOND PAINT®, we saved at least a couple of hours in sanding time and priming time. We also didn't have to purchase a separate primer, saving at least $30.
The paint is slightly textured to eliminate brush marks and provide a finish that conceals imperfections. It also contains more pigment, which yields better coverage.
The kit includes paint, a roller, paint tray, chip brush, instructional pamphlet and even a helpful video…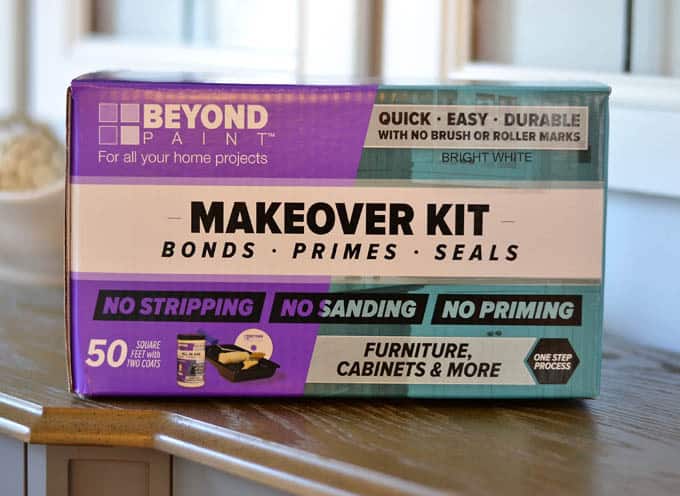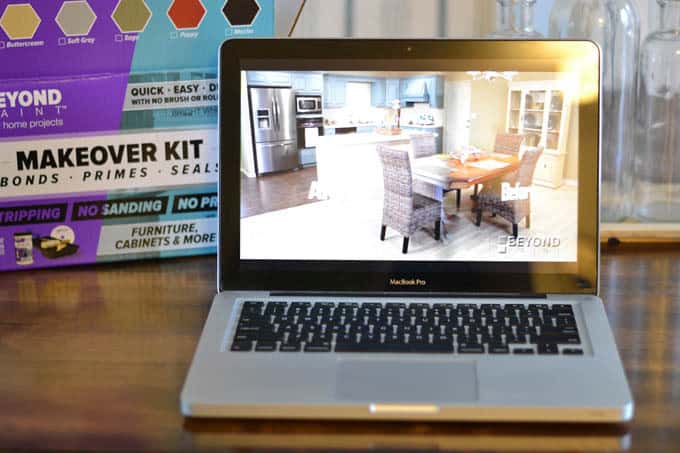 After watching the video, I was ready to get started! Here's an image of our oak spindles before…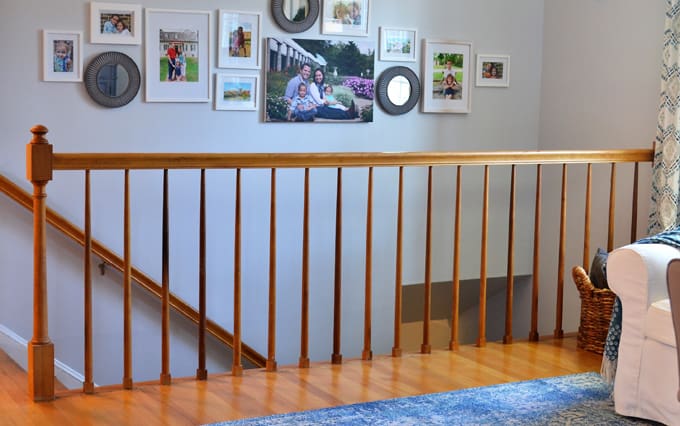 After cleaning (I used a vinegar solution, to keep things as natural as possible) and drying the surfaces to be painted, we taped off the spindles and newel post, and laid down a drop cloth.
You can also use mineral spirits or a good degreaser like Simple Green or Zep degreasers, especially on places such as cabinets, which may have residues, oils, waxes, grease and other general buildup on them.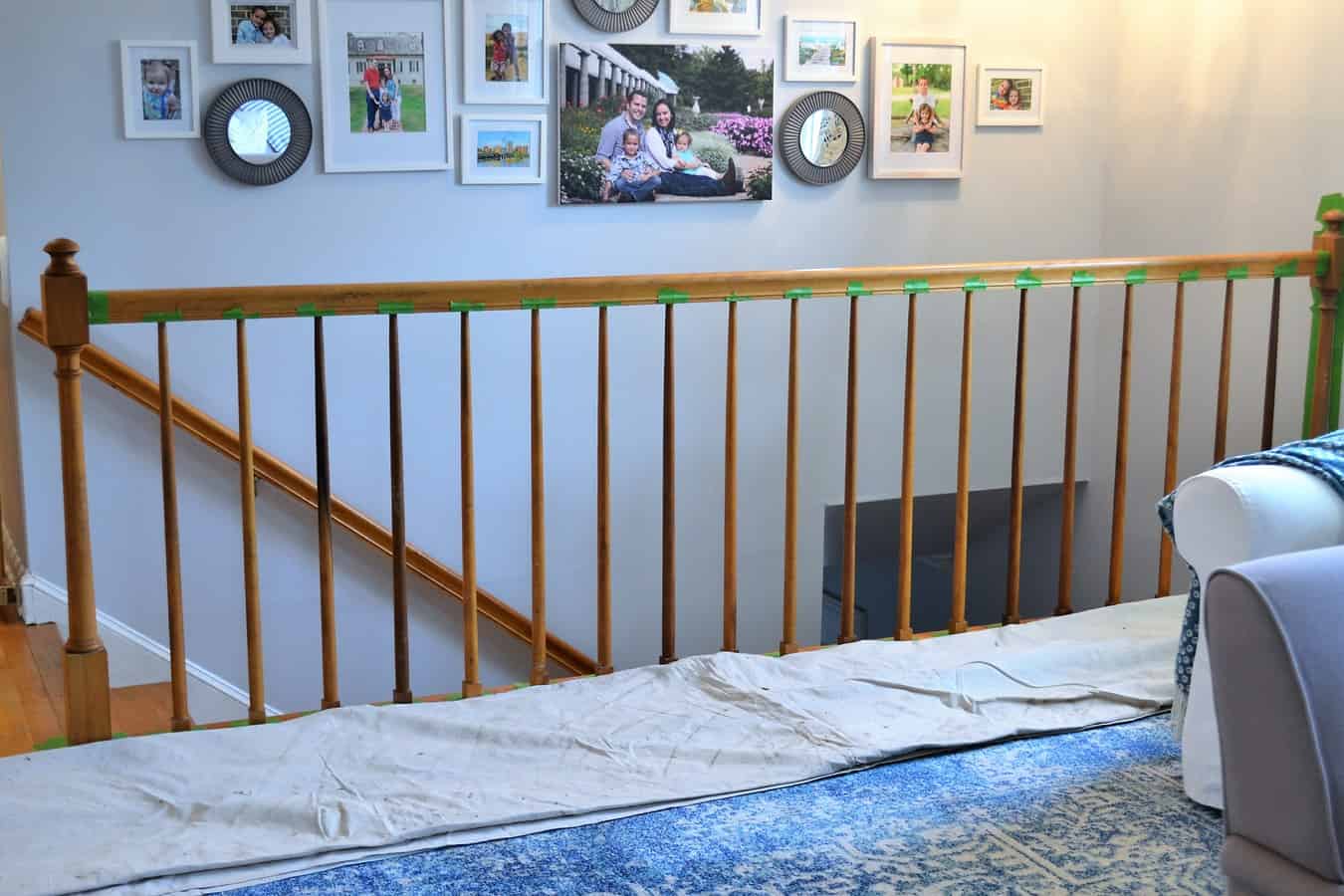 BEYOND PAINT® is unique in that there's no need to mix or stir product. The consistency of the paint is thick (like pudding!), and goes a long way. We used only about a fifth of the container for this project.
We let the paint dry for a few hours between coats (it may take more time in humid conditions). The longer you let each coat of BEYOND PAINT® dry, the better the next coat applies!
Most importantly, though, BEYOND PAINT® is low VOC, virtually odor-free from what we noticed, and safe for people and pets. They're a green, environmentally-friendly product, made in the USA!
Here is the end result!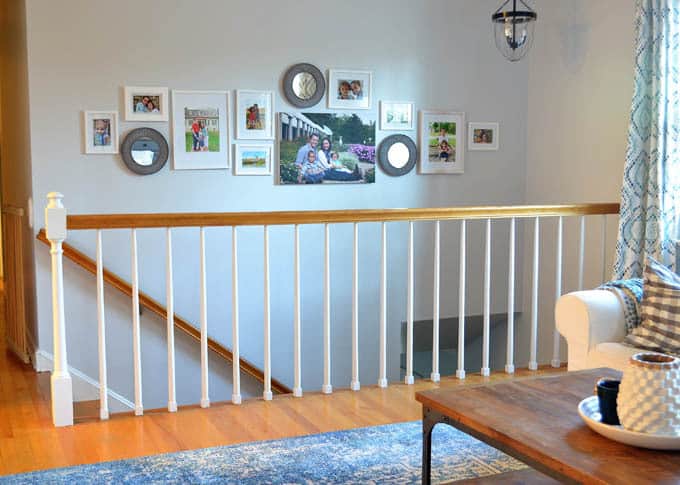 I love how we were easily and inexpensively able to modernize our oak spindles and newel post in less than a day!
You can go here to see where you can purchase BEYOND PAINT® for your own home improvement projects! In addition to their website, you can also find BEYOND PAINT® at ACE Hardware stores.
BEYOND PAINT® has generously offered one burlap+blue reader a Cabinet Makeover Kit, perfect for furniture, cabinets, and more! Just leave a comment with which area of your home could use some BEYOND PAINT® love!
(giveaway ended)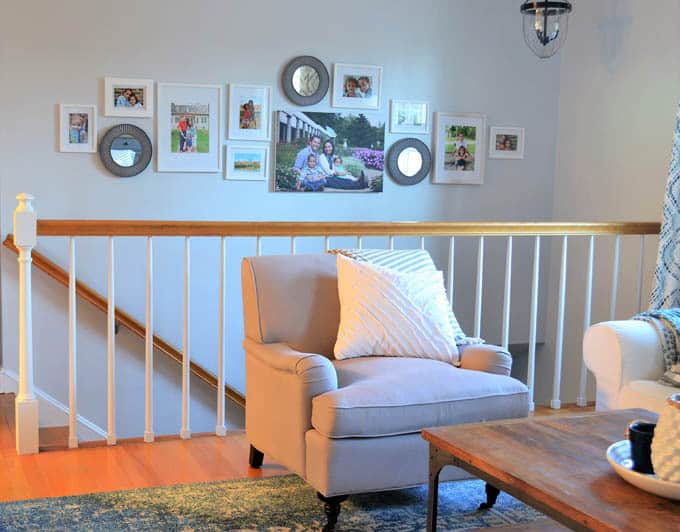 Thanks for reading all about how to paint your oak spindles and newel post! Have a crafty day!
*Giveaway ends in two weeks. Winner will be contacted by email and will have 24 hours to claim their prize.